10 Reasons You Need THIS Cricut Membership
If you're curious on why you need to join the Makers Gonna Learn membership and how you can you benefit from it, this post is for you! Today on the blog, we're going to share 10 Reasons You Need THIS Cricut Membership.
If you're a die cutting enthusiast, you are going to want to be a member of our membership platform. It is the number one place, a one-stop shop for all things die cutting, it is amazing and we love giving you that inspiration and pouring in to each and every one of our members. So, I'm super excited to share with you some of our favorite perks about our membership today.
10 Reasons You Need THIS Cricut Membership
In this post, we are going to highlight each and every one of the main perks of the membership for you to really understand what you're receiving when you decide to become a member with Makers Gonna Learn.
CUT FILES
First, we curate and share beautiful cut files several times a month. When you become a member, you get access to all the previous collections, Right now, we have a library right now of nearly two thousand cut files to get you inspired and get you crafting with your die cutting machine.
These are hand lettered artwork and designs that you will not be able to find anywhere else. Each and every month, you will find new cut files to use with your craft projects – and yes, we even ask our members for suggestions and release member-requested files too!
FONTS
One thing we're super passionate about is the huge desire for you to have access to fonts. Fonts allow us to give you the flexibility to design and create all the projects and customized projects you'll ever want in your entire life over the past few months. We have added over 200 different fonts for you to choose from!
This is one of the perks for our yearly members. It is our best value tier and we stack it full of lots of bonuses for the lowest price. You get the most access to our products for the least amount of money. It's an amazing deal!
We're always researching and finding trendy new font ideas for you, whether they're scripts, monograms, hand lettered or any other kind of font – you will be able to find it in our membership!
PROJECT TUTORIALS
When we were thinking and brainstorming and watching Makers Gonna Learn almost two years ago, we saw a huge lacking in the community of projects related to cut files, Traditional cut file companies are really just graphic designers for the vast majority. They are not creatives and crafters like we are, so we wanted to bridge that gap.
Not only is this a one-stop shop where you get amazing curated cut files and fonts, but then you're able to get full project tutorials and training to help motivate you to take full advantage of the those files! You don't have to just sit there and admire those files – we'll show you how to use them.
FACEBOOK GROUP
We have an ever-growing group of members and we are close to 4,000 amazing members at this time. That mean there is a huge community for you of like-minded crafting friends in our member-only Facebook community.
It is such a fun group of people that are always lifting each other up and it's honestly one of the best Facebook groups in my opinion because it is filled with people who are passionate about die cutting crafts.
They share tips on growing a business, on finding the best deals, and creating great craft projects. Have a question or problem with your latest project? Ask in the group and you'll find all kinds of friends chiming in to help!
VIDEO TRAINING
Next up is our live video training. This is something we are super passionate about. We come to you on our YouTube channel every weekday sharing new tips and tricks as well as full project tutorials for using fonts and cut files.
It is super important to us that we help get you motivated, inspired and educated on using your die-cutting machine because what's the point of investing in a machine if you're not actually using it? Our goal is to make sure you get that machine out of the box, you keep it going and you're creating really awesome projects for your home and your family.
PRINTABLE GUIDES
Printable guides have been one of the biggest hits with our membership. I had no idea how many of our members were going to find value out of simply putting all of the basics into a guide but they are printing them out and keeping them right in their craft rooms so they can consult them while creating!
They're packed full of tips, tricks, charts, and education especially for beginners and what we love about our printable guides is that they're available to every single membership tier!
COMMERCIAL LICENSE
If you invest in us, we want to make sure you're able to get your money's worth so with our yearly membership tier, you are able to receive a free commercial license. That means you can use our artwork and our fonts to create projects to sell. You are not able to resell or actual cut files but you're able to use them on any project and then sell it for profit.
We spend lots of time finding really awesome trends to create our cut file collections. We use the latest market research so that with each collection you can find some really awesome projects to create for your customers based on what's most popular at the time!
BUILDING A BUSINESS
What's more, we educate you on how to build a business with your die-cutting machine! Most die-cutting memberships only come with a personal use license so that means you're only able to create projects for yourself to either give or use personally but we want to make sure that you're able to build a business for yourself!
ONLINE CLASSES
We were finding so many beginners coming to Makers Gonna Learn and truly needed a one-stop shop on both education and inspiration, so we have added three courses completely free for our yearly members.
We will teach you how to use your machine from taking it out of the box, to making a project and understanding Cricut Design Space. After you've mastered that, we have a full six-hour training course on how to really build a business with your die-cutting machine.
We absolutely love our membership because we're able to have the flexibility to really serve you and be an independent source in the community. We just know you're going to love it too!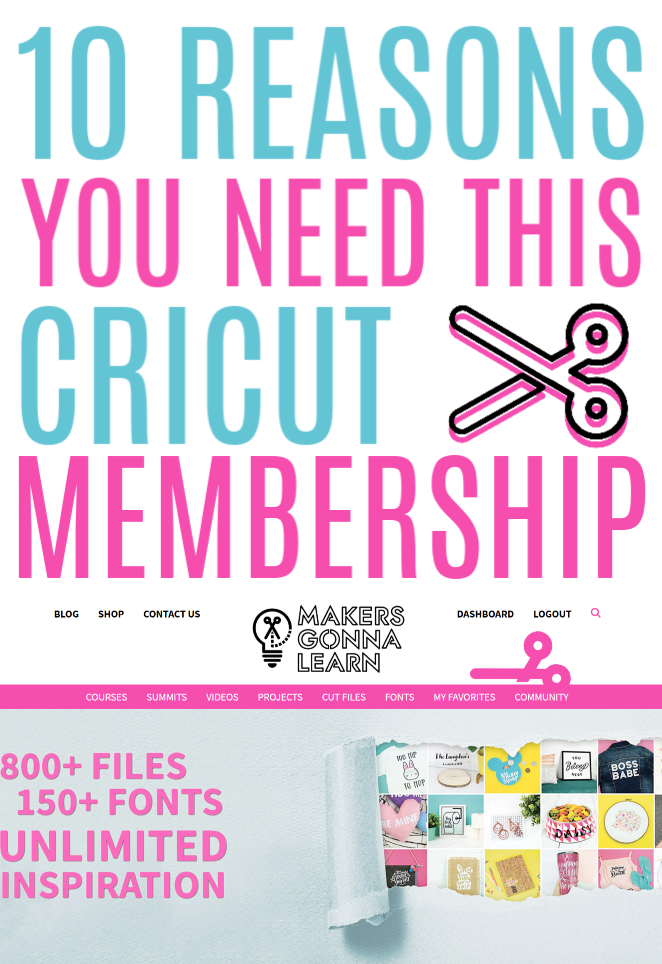 Tanner, Courtney, and the rest of the Makers Gonna Learn Team are all here because we love die-cutting and especially love sharing fun projects and tutorials with fellow makers. We are all great friends and are always having a blast when we are together- you will see this on camera, especially during live streams! We are here to inspire and support you in your crafting journey!