25 Materials You Can Cut with Your Silhouette Cameo 3
Are you a die cutting enthusiast with a Silhouette machine? Often when people first buy their new crafting machine, they think it can only be used for vinyl projects, but there are so many other materials you can cut with your Silhouette Cameo 3.
When you realize that there are so many more things you can cut with your die cutting machine, it really opens up the craft project possibilities. It's more than just making signs and customizing t-shirts, mugs and tumblers.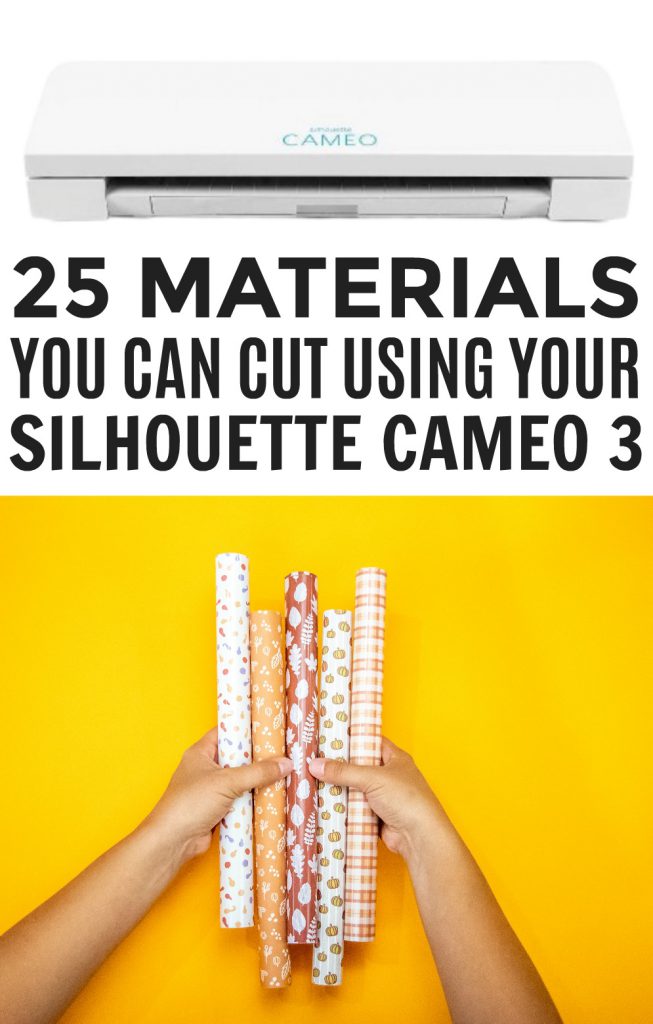 You can use your Silhouette machine for scrapbooking, greeting card making, sewing projects, magnets, stickers, temporary tattoos, and so much more. You've invested in this amazing craft tool – get the most use out of it that you can!
25+ Materials You Can Cut with Your Silhouette Cameo 3
Vinyl – but not just regular vinyl. Glitter vinyl, chalkboard vinyl, whiteboard vinyl, holographic vinyl, iridescent vinyl, glow in the dark vinyl and more!
Paper – scrapbooking, making greeting cards, so much more!
Specialty patterned papers
Cardstock – including Silhouette adhesive cardstock
Vellum – Vellum paper makes such a lovely addition to greeting cards and wedding or party invitations.
Iron-on heat transfer material – Make those customized t-shirts, hats, and sweatshirts that everyone loves so much!
Fabric (when using interfacing products)
Sticker paper
Felt
Fondant / Gum Paste
Wax Paper
Fun Foam
Tissue paper
Cereal box cardboard
Rhinestone template material
Magnet Paper – personalized magnets as gifts? Perfect!
Chipboard
Cork sheets – Think about the fun mini cork boards, coasters, and embellishments you can make with these!
Sticker Paper Foil
Temporary Tattoo Paper – you're going to love making fun temporary tattoos for your kids but also think about using them for school carnivals or when taking the family out for a day at the amusement park!
Washi Sheets – We LOVE adding Washi tape to our craft projects. Having it in sheet form so we can use it in our Silhouette is even better!
Window Cling – That's right. You can make your own window cling "stickers"! Create some for every season and occasion!
What are you going to make with your Silhouette Cameo?
Tanner, Courtney, and the rest of the Makers Gonna Learn Team are all here because we love die-cutting and especially love sharing fun projects and tutorials with fellow makers. We are all great friends and are always having a blast when we are together- you will see this on camera, especially during live streams! We are here to inspire and support you in your crafting journey!