5 Materials You Didn't Know You Could Use With Your Foil Quill
Hey everyone, today on the blog, we're going to share 5 Materials You Didn't Know You Could Use With Your Foil Quill. This is such an amazing tutorial that will inspire you to take full advantage of foiling on all kinds of different materials.
We absolutely love the foil quill and we have some really awesome cut files coming to Makers Gonna Learn very soon to use the Foil Quill. Whether it's home decor items, greeting cards, envelopes, or hundreds of other items, you are sure to find some great crafting project ideas making use of your foil quill.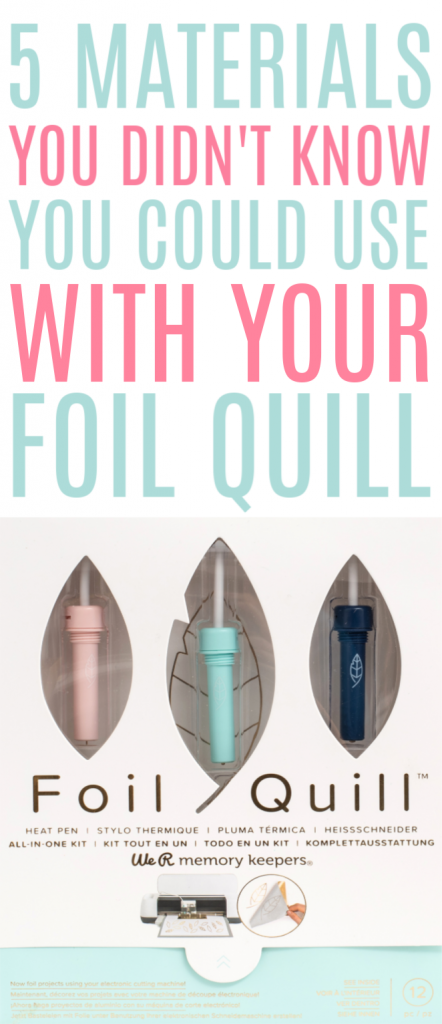 5 Materials You Didn't Know You Could Use With Your Foil Quill
Important tip before we get started: On the Foil Quill website, they recommend for you to do test pieces and test a section of all materials you use to make sure that your material is going to work effortlessly and flawlessly before you potentially wasting a large amount.
FABRIC
You all know you can cut fabric with your Cricut, that's no surprise, but did you know that you can actually Foil Quill on fabric? You can! Just think of the amazing craft projects you could create with the foil quill and fabric!
We think this would be perfect for some beautiful throw pillows for your home!
VINYL
Next up, we have vinyl. I love using vinyl all the time with my Cricut machine, but if you want to be able to take your vinyl projects to a new level, being able to Foil Quill and then cut around the edges can make some incredible designs! If I was going to recommend one of these materials for a beginner, I'd suggest that you start with the vinyl.
PAPER PRODUCTS
Another item to consider using is some type of paper product – everyday paper, regular copy paper, cardstock, anything like that. You are not limited to 80 pound cardstock and 10-pound cardstock – you're able to use just about anything that you can put in your Cricut. The paper crafters out there are going to LOVE adding foil quilling to greeting cards, stationery, wedding invitations, and more!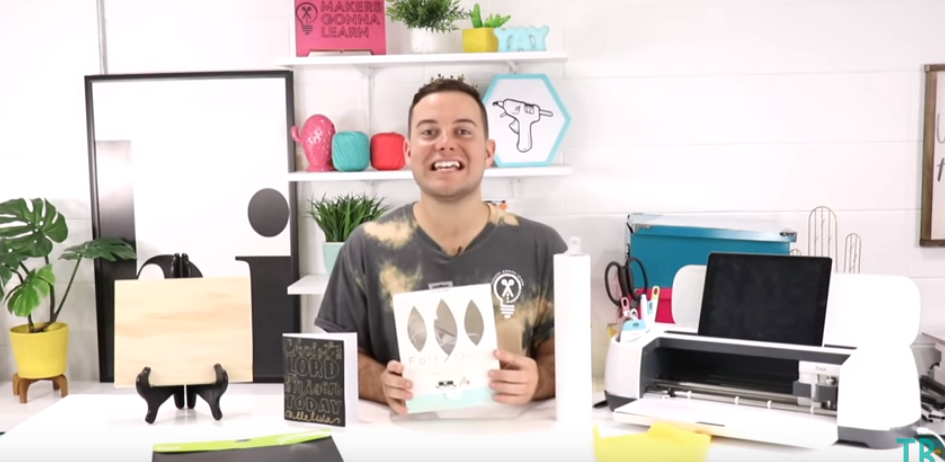 LEATHER
You can also use leather in the Cricut with the Foil Quill. How amazing would it be to make the leather earrings and be able to foil on them? I think it would be great to make some foil quilled leather bracelets with meaningful words on them. I'm really excited to try this out and see how durable they are.
WOOD
Last but not the least is wood. I'm all about using wood on as many projects as possible to create really awesome decor. The only challenge you're going to face when using the Foil Quill with wood is that you're going to need to use the knife blade.
That means you need to find a thin enough wood that will run through your Cricut machine easily. Just think, though, of the many beautiful signs, boxes, and other wooden projects you'll be able to make and enhance with your die cutting machine and your Foil Quill.
There are so many fun materials that you didn't know you could use with your foil quill. You'd be surprised how well it works on such a wide variety of materials. These foil quill tips and tricks will help you be a better crafter!
Have you tried any of these materials with your Foil Quill? Let us know about your experience in the comments below.
Tanner, Courtney, and the rest of the Makers Gonna Learn Team are all here because we love die-cutting and especially love sharing fun projects and tutorials with fellow makers. We are all great friends and are always having a blast when we are together- you will see this on camera, especially during live streams! We are here to inspire and support you in your crafting journey!