Changing Cut File Colors
Changing cut file colors is often the first thing that many beginning Cricut crafters want to know about. After all, you might have purchased a cut file or you've downloaded one from here on Makers Gonna Learn and the design is just perfect – except for the colors! This is one of the easiest ways to customize your craft project and truly make it to suit your preferences.
There are a few different types of cut files that you might be working with and each one has a slightly different work-around to change the color of the svg or png design. We are going to show you just how to do this in our tutorial today. You will love being able to make your cut files any color you want!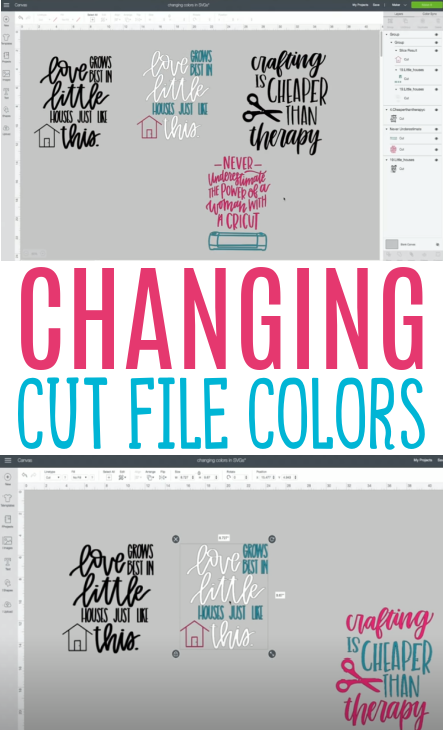 Changing Cut File Colors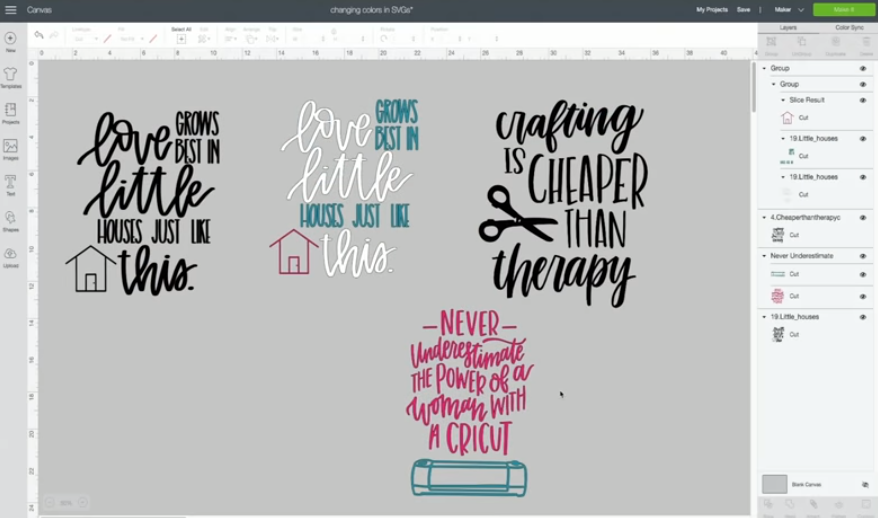 The cut files we are using for this demonstration: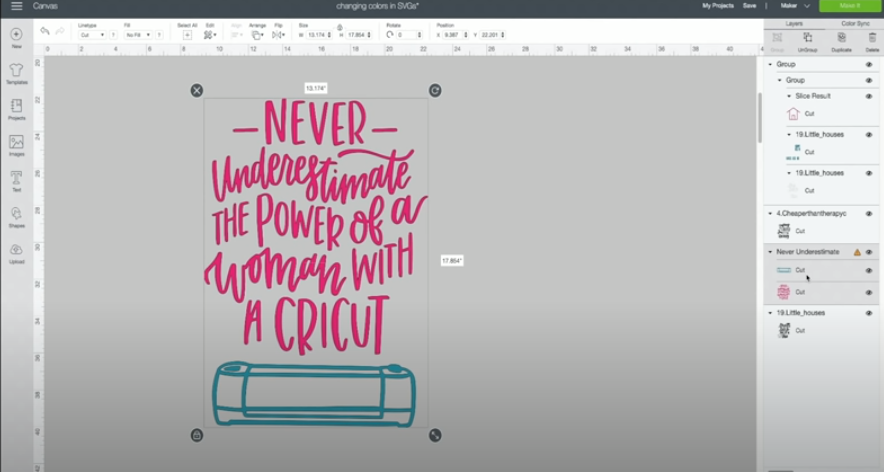 Changing colors in a file already in multiple layers
We'll start by working with this cut file. Take a look at the Layers Panel. You can see that the design is two different colors. To change the colors, click on each layer 1 at a time. You cannot change colors with more than one layer selected at a time.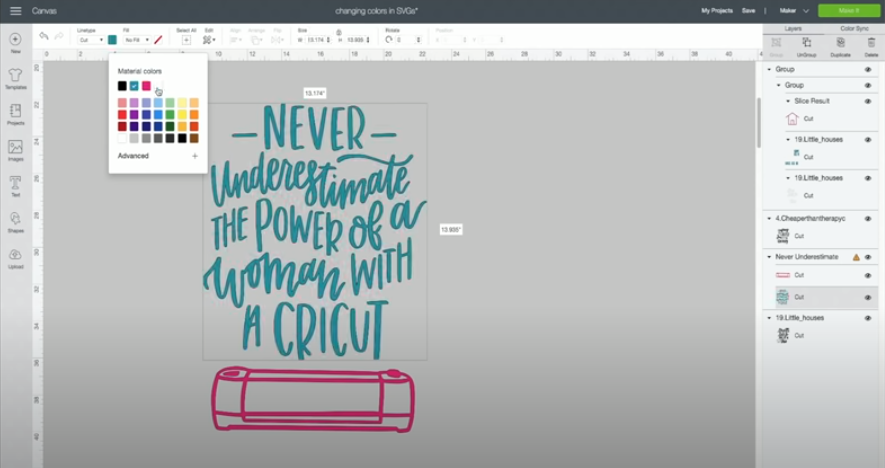 Select a new color in the toolbar at the top of design space. Repeat for each layer of your design to change the colors as desired.
Changing colors in a cut file that is only one layer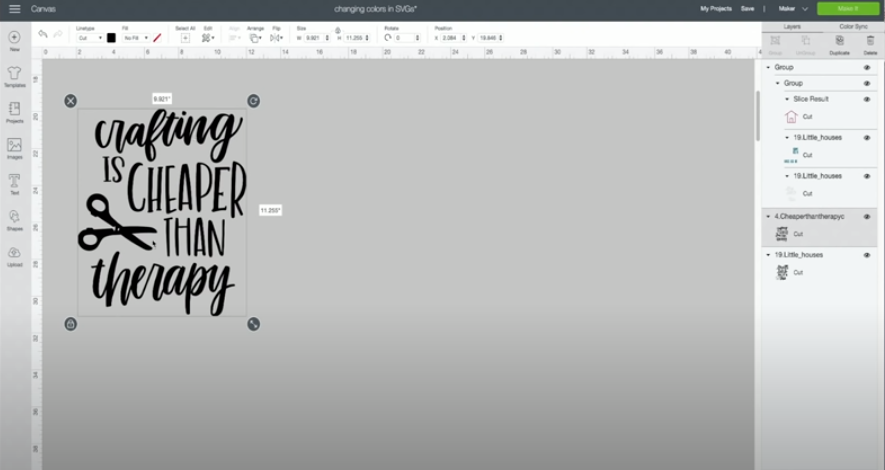 Next, we're working with a cut file that is all one color. If you check the Layers Panel, you can see that it's only one layer. We want to make the words "crafting", "therapy" and the scissors a different color. To do this, begin by duplicating the design.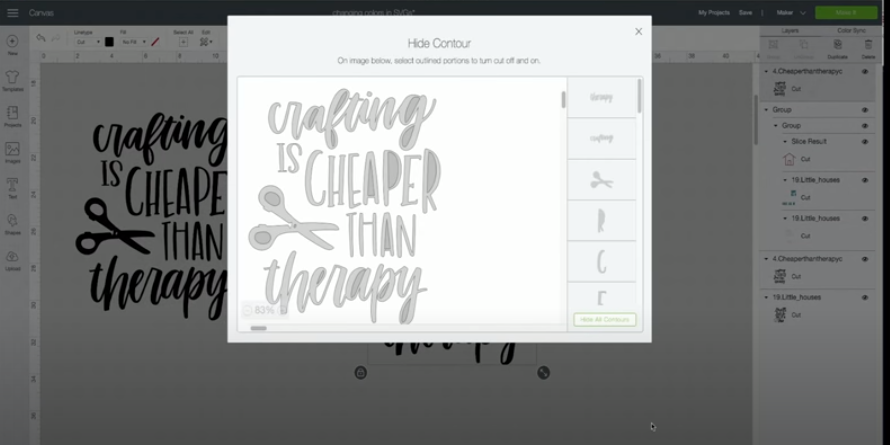 What we want to accomplish with the copy we made is to erase the words that won't be changing colors. To do this, we will contour them out. With the duplicate design selected, go down to the bottom of the Layers Panel and click Contour.
In the Contour panel, when you scroll over the letters, they sort of become highlighted and darken in color as you hover over them. Click on each one that you want to contour out (erase). You'll see it now is light in color and now longer darkens as you hover over it. Don't forget to also click on the centers of each letter as well.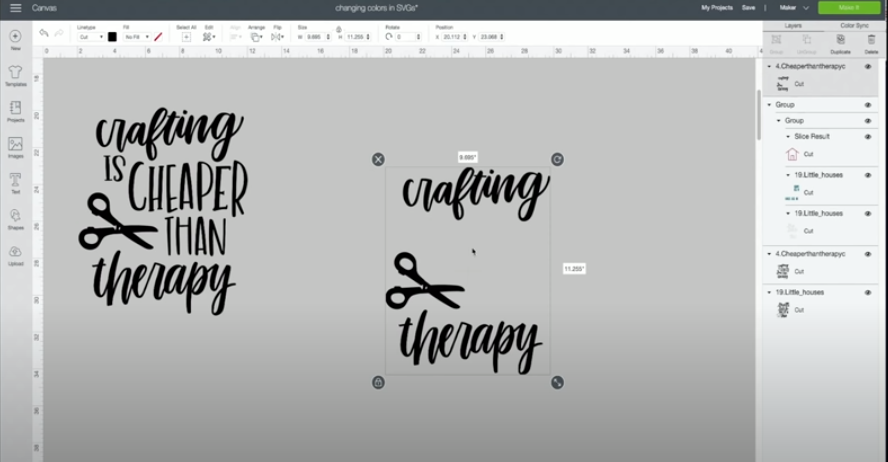 Once you've finished contouring out the words, click out of that screen. You'll see that the words no longer show on your duplicated design.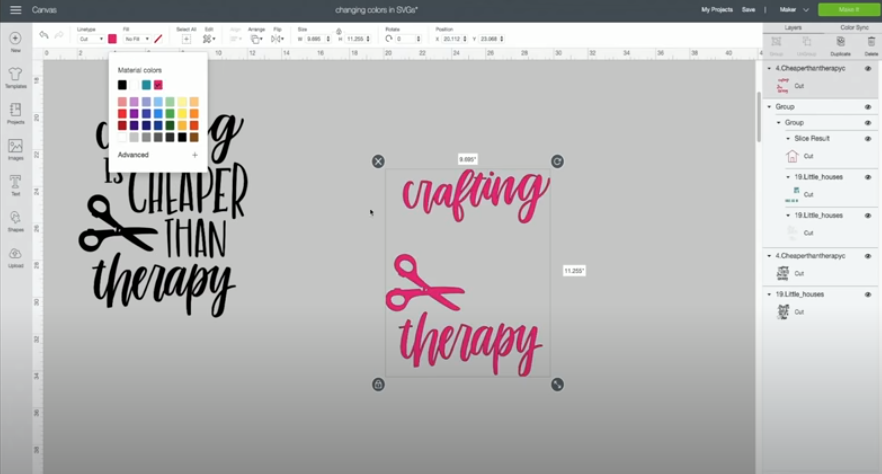 Now, you can change the color of the remaining part of your design.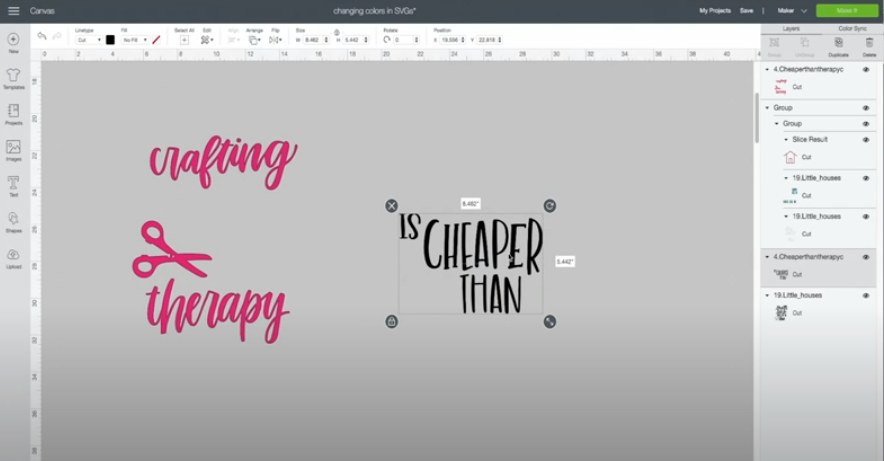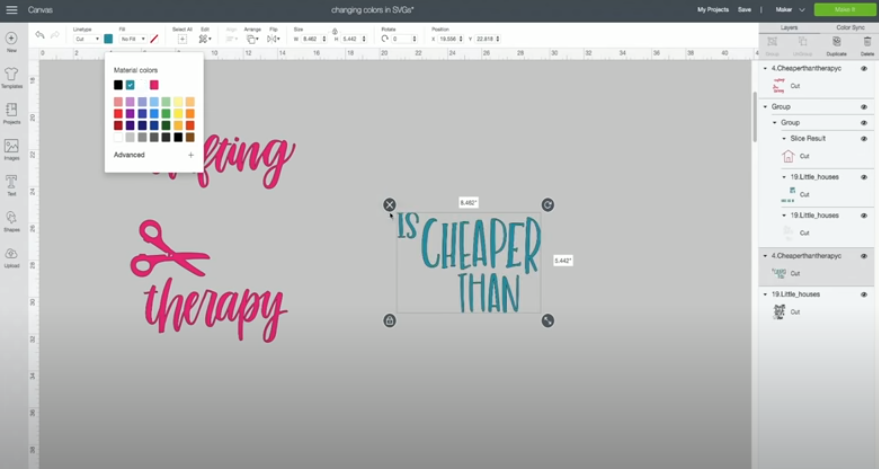 Repeat that same technique with the other part of the design so you can change the color of it as well.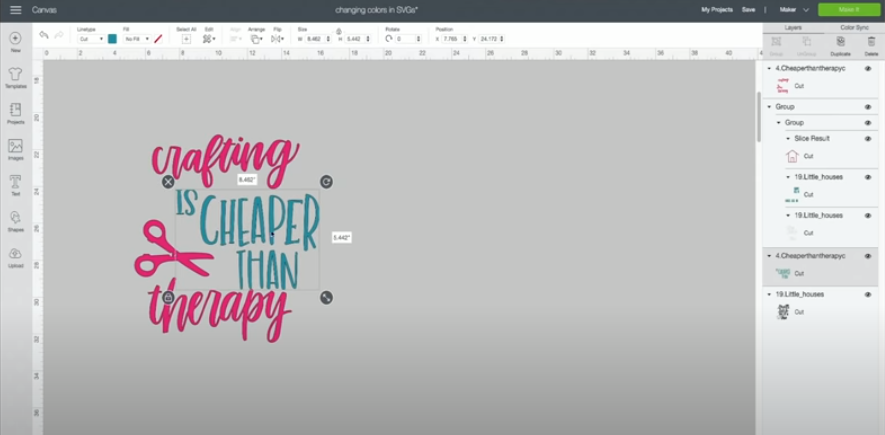 Now you can move your design back together to "reassemble" it. Select the whole thing and group it together. Don't use Attach or it will want to cut it all out in the same color.
Another hack you can use to make color changing easier
With this Love Grows Best in Little Houses Just Like This design, we want to change it to 3 colors. It's the same method we used previously, but you need to remember that you need to duplicate it so that you have enough copies for each color. We're using 3 colors so we made 3 copies.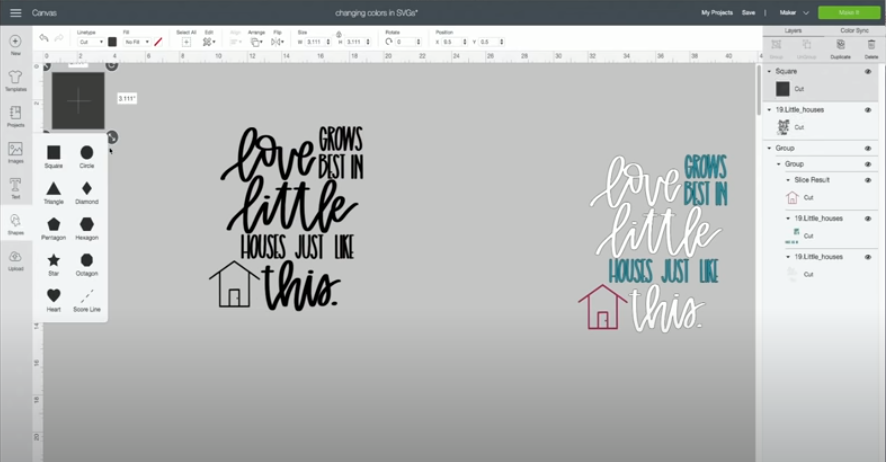 We have another little hack we want to teach you here so check this out. It would be a lot of work to contour out everything except the house. So, we will do it a different way.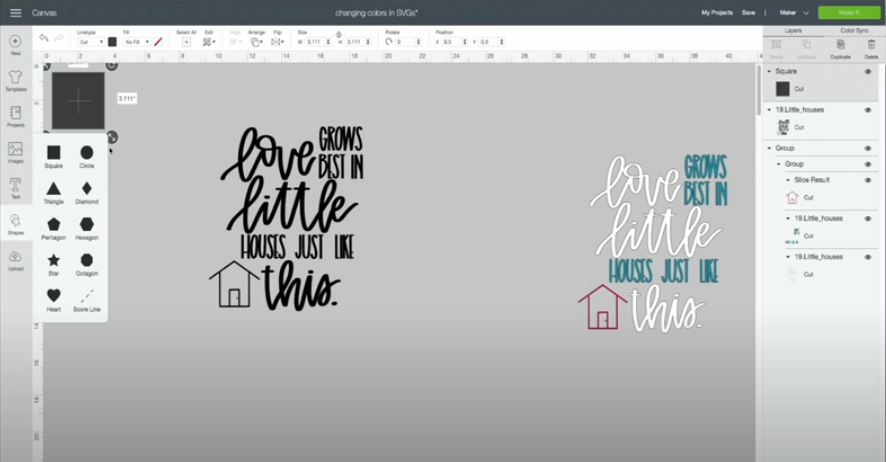 We are grabbing a square from basic shapes. Use that square to cover the house. Select your whole design (it should be two layers in the Layers Panel now) and choose Slice. This will slice the house out of the rest of the design and you can now change the color of it separately from everything else.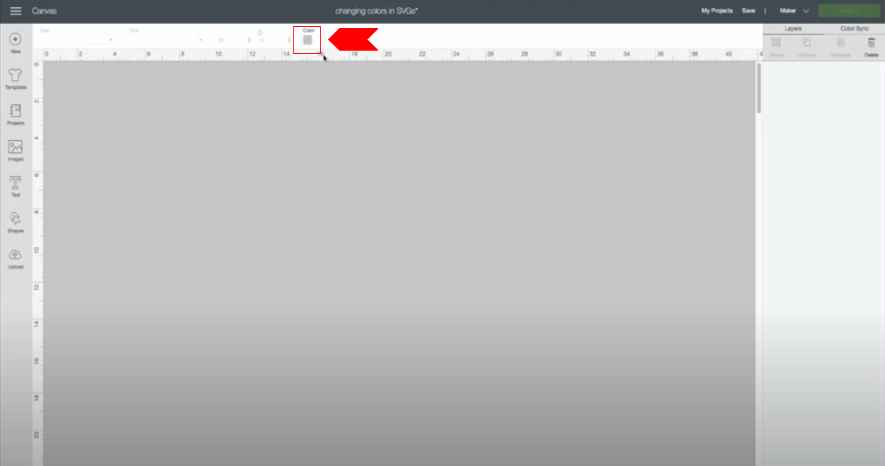 You might have noticed in this tutorial that the color of the Cricut Design Space canvas is different too. That's simple to change. Go to the bottom of the Layers Panel where it says Blank Canvas. Click on it and make sure it's highlighted. Now, up at the top, click on the Color to change it to whatever you'd like.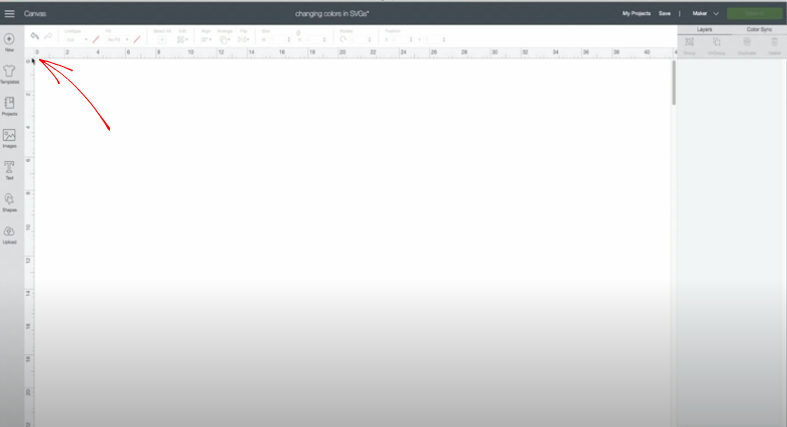 If you click the space between the 2 zeros in the top left corner, you can also add or remove the gridlines on your canvas. You will have the option of a large grid, small grid, or no grid at all.
Now you're all set to customize your cut files with whatever colors you want! We can't wait to see your creations. Be sure to tag us on social media using hashtag #MakersGonnaLearn!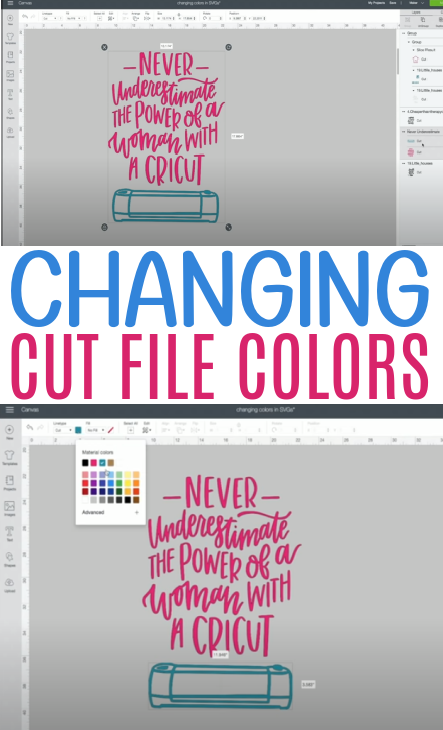 Tanner, Courtney, and the rest of the Makers Gonna Learn Team are all here because we love die-cutting and especially love sharing fun projects and tutorials with fellow makers. We are all great friends and are always having a blast when we are together- you will see this on camera, especially during live streams! We are here to inspire and support you in your crafting journey!