Did You Know THIS About Your Cricut?
How well do you know your Cricut machine? If you are a beginner or you're thinking of possibly buying one of these fantastic die-cutting machines, this post will definitely help you out with knowing more about your Cricut machine. Cricuts are so versatile and you can make so many different kinds of projects with them. You're going to love making personalized items for yourself or to give as gifts to family and friends. Sometimes though, we find that people aren't even aware of all the amazing things Cricut machines can do. Read on to find out more about your Cricut!
First, I love to point out to people, when they're considering getting a Cricut Maker or are new to using it, the amazing USB port over on the side of it. It is so handy and I think many people do not take advantage of it.
You can use the USB port in three ways:
You can use the Apple cord to charge your iPad. Perfect for using Design Space on your iPad.
If you were weeding vinyl a lot and you are in a space that does not have really great lighting, you are going to love using that USB port for your Bright Pad.
Plug in and take full advantage of the foil quill pen.
Next up is the amazing cradle where you can put your iPad. If you're like me and you're working on multiple projects at once and you need to be able to have a spot to put your tablet or device. This has seriously been a game changer for me to be able to just sit it right on the cradle. I'm able to monitor the progress of my cuts way better than when the iPads is just all over my table. It also helps me keep it within Bluetooth range when it's positioned here.
It keeps it stable and organized for me and I love being able to quickly look at the machine with the iPad and see what percentage I'm at with my cutting. It is so amazing especially with its new sleek design. They've eliminated the open button and the dial with the materials, so you're really relying on a tablet, a phone or your desktop/laptop. With the charging port and the awesome cradle, I feel like they've really thought of everything for us which I really appreciate.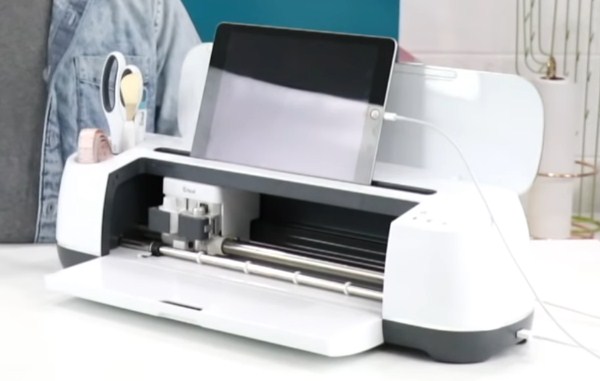 Of course, the Cricut Maker comes with the adaptive tool system. We already have the rotary blade, the scoring wheel, and the knife blade and I'm sure that more are coming. But where are you going to store them all? They took care of that too with this handy little compartment.
When I first got my Maker, I had no idea that was even there but it's super handy for a lot of different reasons. One thing I love that I didn't even think about at first was that I kept ordering replacement fine point blades but I kept losing them. I've been able to stop that because there's a piece of magnet in the left corner if you're facing the machine. Your blades will stay right there in place and you'll know just how many you have and be able to find them easily.
Next up were able to put some of our true control blades in here as well. This little pack fits perfectly in the second compartment and we even have the double scoring little attachment to put there which is super cool too. Then in that large pocket, we find ourselves putting all of our adaptive tools so the rotary blade, the scoring wheel, the knife blade. It even has room for us to have a bone folder handy for those 3D paper projects with that scoring wheel. You can even position your scraper tool in there too!
If you're someone that does not have a dedicated crafting space and can't leave your Cricut out on the table, you need to have some quick storage solutions. With this compartment, you can just close this up and put it in a closet.
They've thought about us even more with the Cricut Maker. They've added this deeper pocket to put those must-have tools like your spatula, your weeding tool, scissors, and your true control knife. All of this sits right down here. If you're crafting on your kitchen table and having to put it away when you're done, this is such a deep pocket that things are not going to be moving all over the place.
Next is the second pocket which is not near as deep. It has a piece of rubber in the bottom so if you are changing out your fine point blade and you know you're going to use it next, you could pop that here and it's not going to hurt anything. We like to keep our measuring tape right there because we always like to measure twice, cut once for our projects.
Of course, we love the overall look of the Cricut Maker. It's sleek, you're able to quickly open it, and it opens really smoothly. You can also pick this machine up in multiple different colors from champagne to pink to turquoise blue to suit your taste and personality.
Last but not the least, when you're cutting those thicker materials and it will show you on Cricut Design Space when you need to do this, you are able to move the star wheels on the roller bar over so that you're not having to worry about them creating indents on your project. So with those thicker materials, you can just manually move those over for effortless results every single time you're using your Cricut.
I hope you guys enjoyed this post as we've covered so many different things you might now have known! Hopefully, there are one or two you just didn't know about your Cricut and you're more informed because that will mean you're going to get more value out of your machine.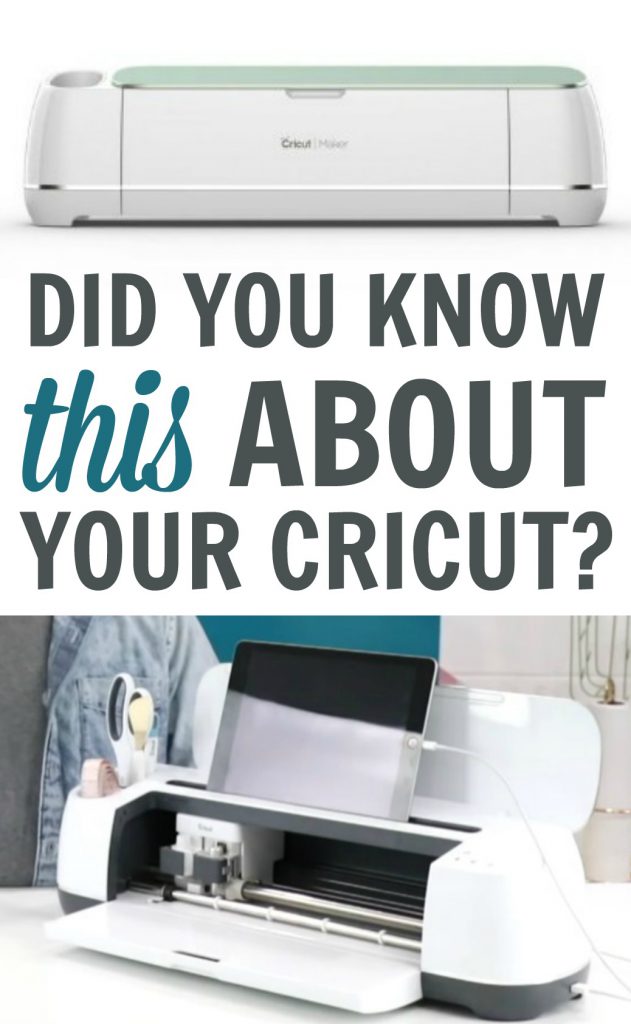 Tanner, Courtney, and the rest of the Makers Gonna Learn Team are all here because we love die-cutting and especially love sharing fun projects and tutorials with fellow makers. We are all great friends and are always having a blast when we are together- you will see this on camera, especially during live streams! We are here to inspire and support you in your crafting journey!