DIY Felt Sloth Ornament
This little felt sloth ornament is just the cutest! We're using a combination of HTV, gluing, and sewing to create ours, but you can easily make this a no-sew project if you want.
We added a drop shadow to create a backing for the ornament and stuffed it a little to give it some dimension.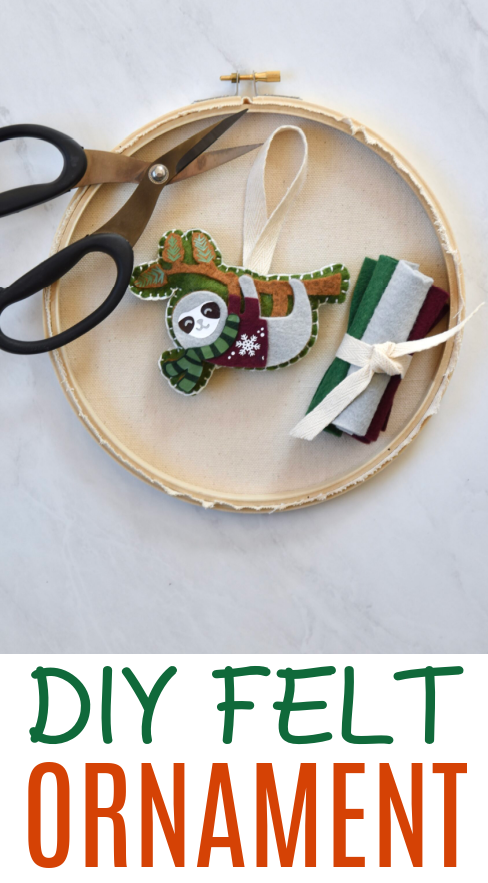 DIY Felt Ornament
Disclosure: Some of the links below are affiliate links provided for your convenience. This means, at no additional cost to you, we will earn a commission if you click through and make a purchase.
Cut File Used:
Supply Links: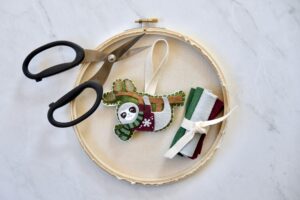 Step-by-step Instructions:
Import the cut files downloaded from Makers Gonna Learn to Design Space. NOTE: You can create a drop shadow in illustrator and import it to Design Space or you may use the cut file as is too if it's easier for you. For this tutorial, we manipulated the cut file. UPDATE: Cricut has now added the ability to add a drop shadow in Design Space on desktop (not mobile).
The leaves on this particular file are so tiny that when you try to cut them out, they will just disintegrate. So, we have a hack here for creating our own bigger leaves. Grab a heart shape and either duplicate it or grab the 2nd one. Place one heart upside down on top of the other and so that they overlap. Select both hearts and click Align and center horizontally. Then, select both again and Weld.
Duplicate your leaves and move them over to the branches that the sloth is hanging down from. Arrange and size them as you want to cover the existing leaves. Now, go to the Layers Panell and select all the layers you need (the sloth file where the leaves would be and all of the leaves, but not the background layer or any of his clothing or facial features) and Weld.
For the smaller, more intricate pieces that would be difficult to cut out of felt – for example, the stripes on the scarf and the markings on the leaves – we are going to cut them out of HTV and apply them to the vinyl.
We are duplicating our drop shadow layer so that we can use one as the backing of our ornament. Change the colors of your various pieces as needed to ensure that they end up together on the correct mats.
Now that they are ready, click Make It. Make sure your materials are set to Everyday Iron-On for the HTV pieces and the proper kind of felt (ours is Wool Felt) for the felt. Remember to Mirror your designs for the HTV.
We like to cut all the felt pieces first (skipping mats as needed) and then all the HTV after that so you don't have to keep switching your material settings over and over again.
Once you've placed your material on the mat, load the mat into the machine, and cut. Repeat until all your pieces have been cut out.
Apply all the HTV and heat and adhere with your EasyPress Mini. Use your glue gun to glue the felt pieces together (the ones that are not being sewn). In fact, if you don't want to do any sewing, you can glue all of it.
We're adding a bit of stuffing to add some dimension to the ornament and a ribbon as a hanger.
Meet the Makers Gonna Learn team! Tanner, Rachel, and Courtney are all here because we love diecutting and especially love sharing fun projects and tutorials with fellow makers. We are all great friends and are always having a blast when we are together- you will see this on camera especially during live streams! We are here to inspire and support you in your crafting journey!