Tie Dye Hacks You Should Try
Tie dye is so popular again and with good reason – it's so fun and colorful! In this post, we're going to share some amazing Tie Dye Hacks You Should Try.
If you love the look of tie-dye, you have got to check this out. One of the current trends is using dyed shirts and other wearable items as a backdrop for sublimation projects. Of course, it also is really a pretty surface when using regular iron-on vinyl too.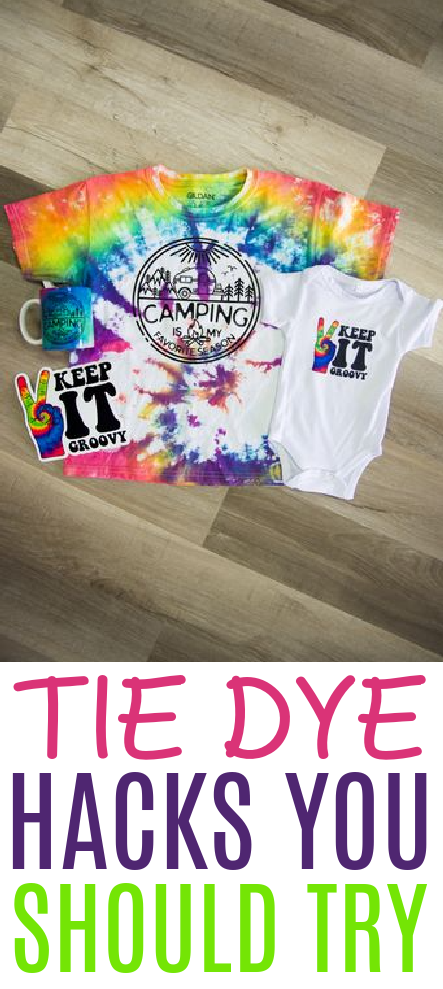 Tie Dye Hacks You Should Try
Supplies we're using:
Cut Files and Fonts Used: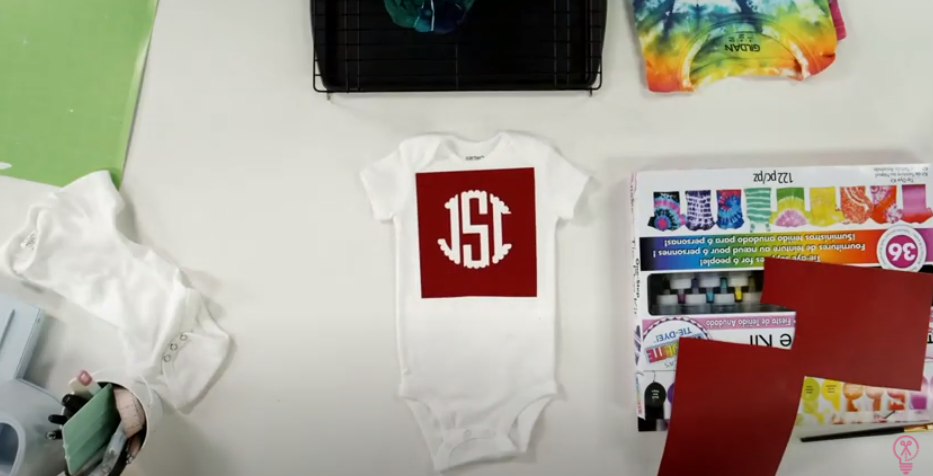 Easy Screen Printing Technique
To do the screen printing technique, we will be using on this onesie, we began by creating our monogram design in Cricut Design Space. We cut this out of vinyl to use as a stencil on the baby onesie.
Place paper inside the onesie to protect the back from any dye seeping through. Make sure that the vinyl is well-adhered especially around the monogram itself.
If you're looking for a more traditional screen-printing technique, we have a class on how to do it included as part of our yearly membership here at Makers Gonna Learn.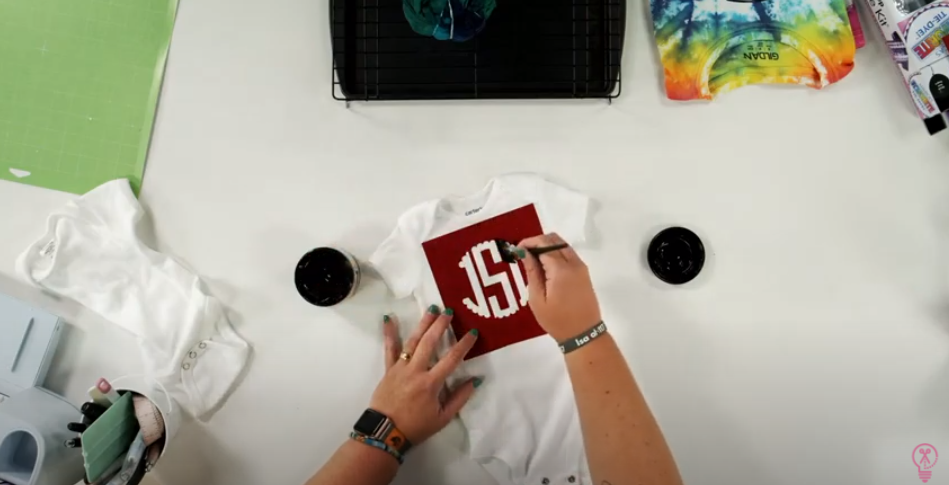 We're using Speedball stencil ink and a paintbrush to dab it on the onesie. The dye can be brushed on too, but you need to make sure the vinyl is well-adhered and that you're using a good quality vinyl so none of the ink gets underneath.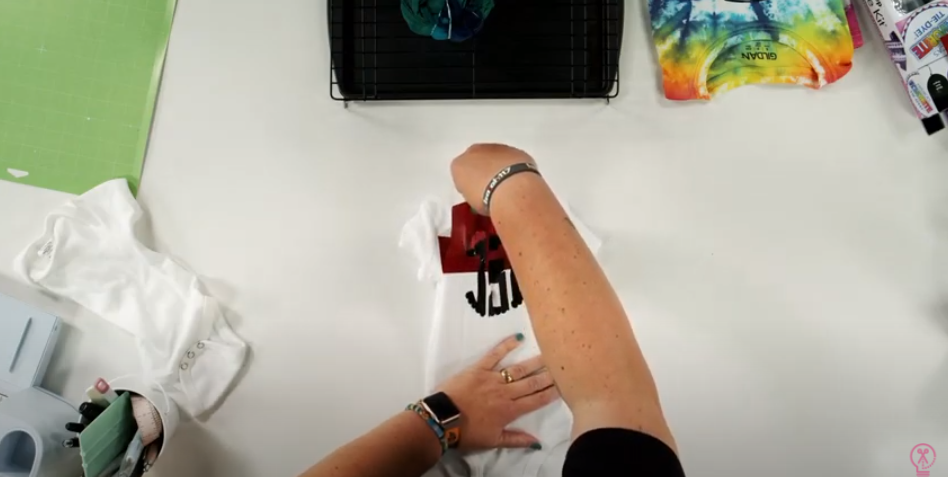 You don't have to wait for it to completely dry before removing the stencil. But do make sure you haven't missed any spots and that it's well-saturated. Remove it carefully and slowly. Let it dry thoroughly.
Once your screen-printed design is dry, you can actually tie dye right over the top of it. This is a great way to plan an activity for a party or family get-together. Screen print your design onto the shirts ahead of time and then everyone can grab a shirt and tie dye it themselves. Oh, wouldn't this be fun with onesies at a baby shower too?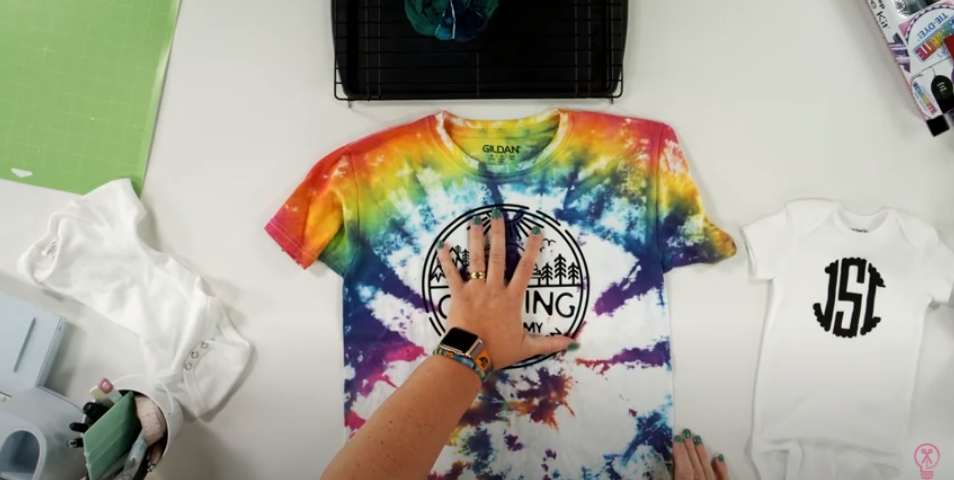 There are many different ways to fold shirts and other items when getting them ready for tie dyeing. You can add your design and then tie dye or you can tie dye first and then add your design on top.
Note: the design for the t-shirt is not one cut file. We combined several cut files to create a custom design.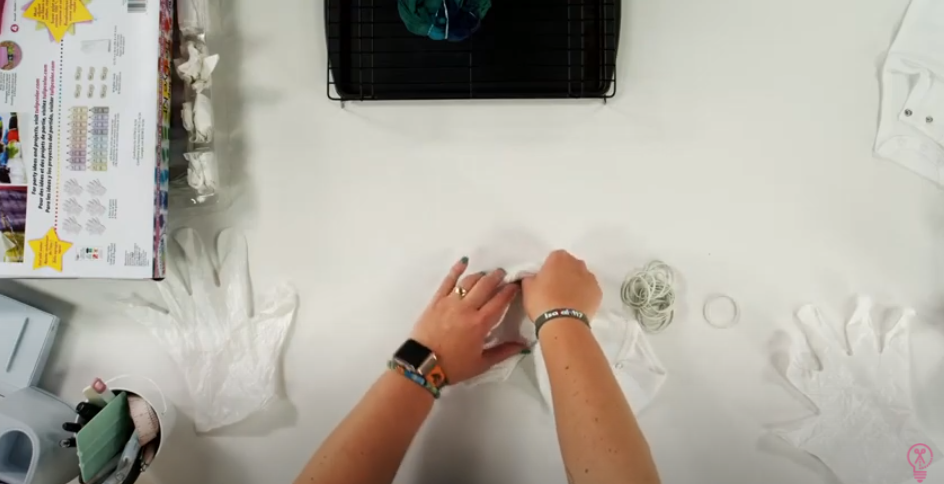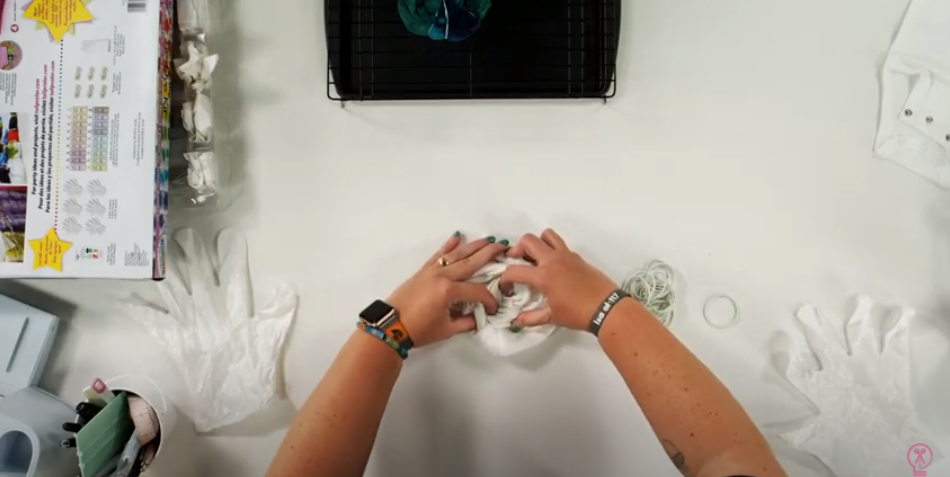 For this tie dye design, we're pinching a piece of the onesie and then turning it around that pinched area. You'll be creating a "swirl" in the fabric. Add rubber bands all the way around it to hold it in place.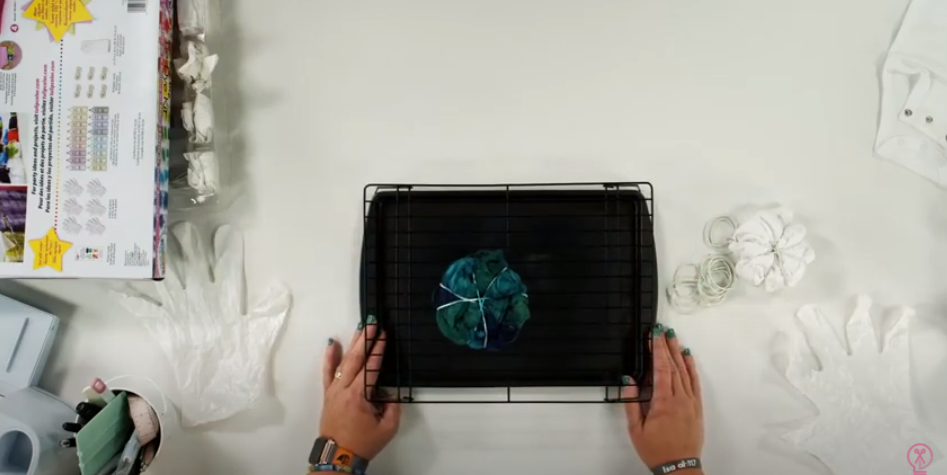 Be sure to wet your shirt before applying the dye. This helps the dye apply evenly and you use less dye than on a dry shirt. Then, we suggest placing it on a cooling rack that you have placed inside a baking sheet.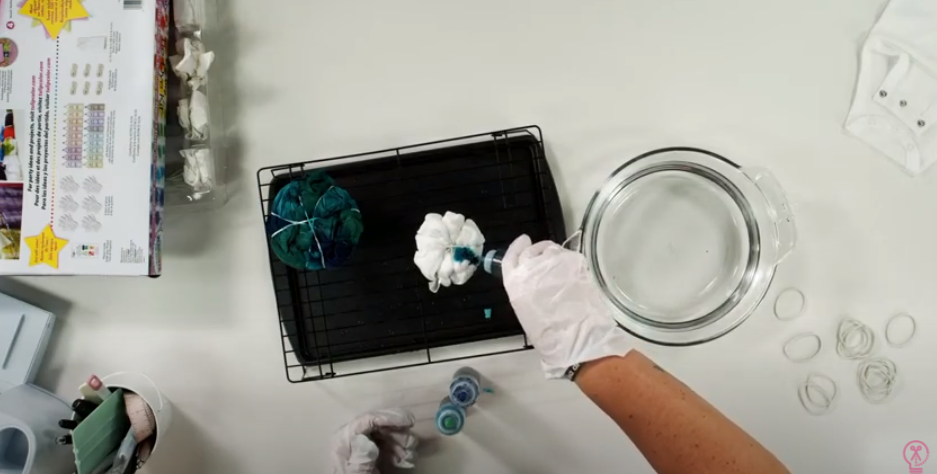 Squeeze the dye onto sections of the shirt (or in this case, onesie). Get the nozzle down into the folds and don't forget to flip the shirt over and do the back as well. Once covered in dye, we recommend putting it down in a plastic bag or something so the dye doesn't get everywhere while it's setting.
The instructions with your tie dye kit will tell you just how long you have to leave it. The longer you leave it, the deeper the colors. You can leave it up to 24 hours with no problems.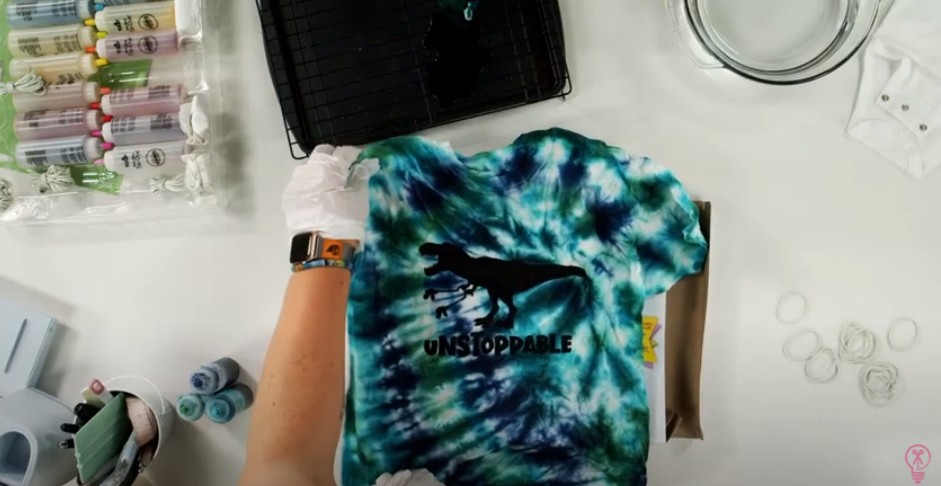 When ready, remove the rubber bands and unfold the shirt. You can see that with this one, we have already screen printed the T-Rex design on it before dyeing.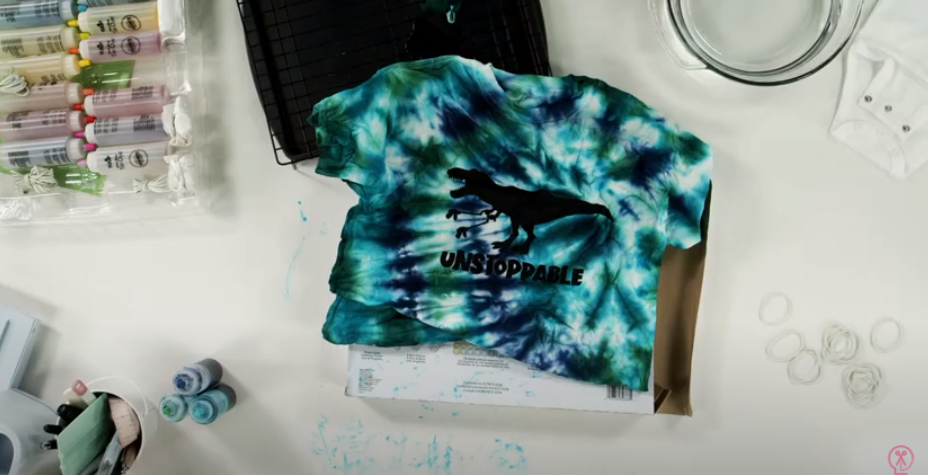 Rinse the shirt until there is no color coming out of it. Throw it in the washer (by itself) and wash it on cold.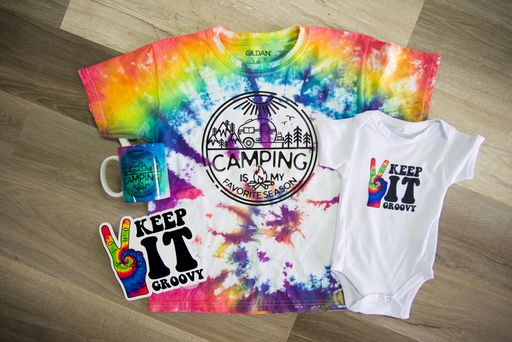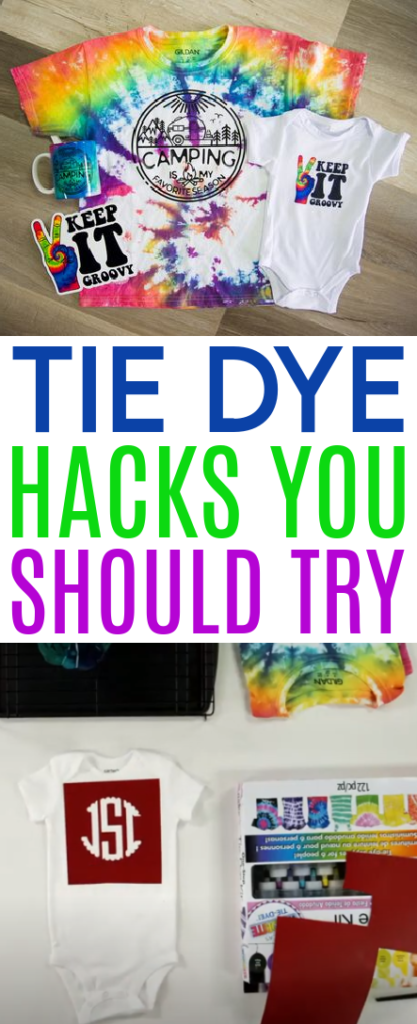 Tanner, Courtney, and the rest of the Makers Gonna Learn Team are all here because we love die-cutting and especially love sharing fun projects and tutorials with fellow makers. We are all great friends and are always having a blast when we are together- you will see this on camera, especially during live streams! We are here to inspire and support you in your crafting journey!