Ugly Christmas Sweater Craft
If you're looking for an idea for an ugly Christmas sweater, we have got you covered. Your die-cutting machine is the perfect tool for helping you whip up a holiday sweater quickly and easily. You'll be all set for your holiday photos and get-togethers!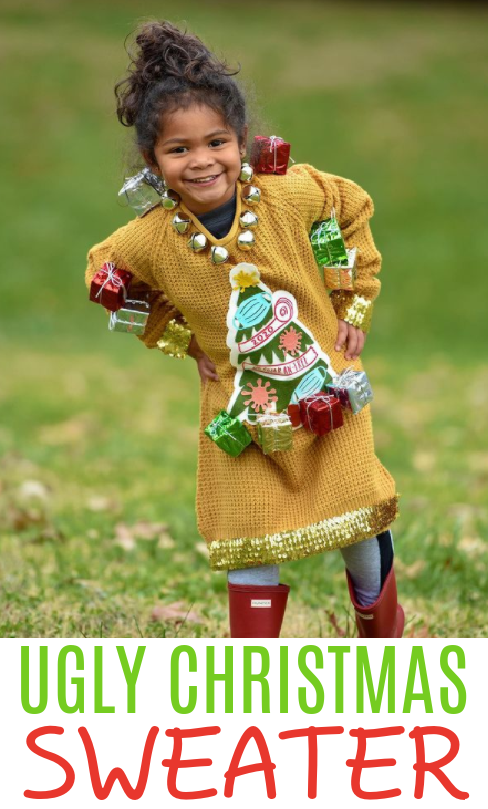 Ugly Christmas Sweater Craft
Disclosure: Some of the links below are affiliate links provided for your convenience. This means, at no additional cost to you, we will earn a commission if you click through and make a purchase.
Cut File Used:
Supply Links: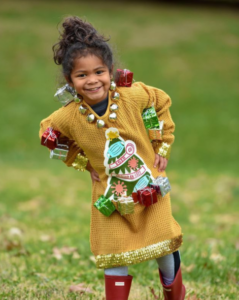 Step-by-step Instructions:
Import the cut file downloaded from Makers Gonna Learn to Design Space.
Select the cut file and go to the top right section then click "ungroup". We are only working with the tree and the text today, so we're deleting the rest.
The piece of felt we're working with is 9×12", so we need to bear that in mind and size our design to fit those dimensions.
The Oh Quarantree text needs to be curved in order to fit into the toilet paper ribbon on the tree. There are several different ways to accomplish this. (1) Work the text in Illustrator or Inkscape to curve it and then pull it back into Design Space.. (2) You can contour the text. You will need to begin by duplicating your text so that you have 13 copies of the text in total (one for each letter/character). Select the text and go down to the bottom right and press "contour". Contour out each piece so that you are left with each letter/character of the text as its own separate layer. (3) Or you can use Slice. Grab a square and size it down to cover one letter/character at a time. Make sure both the word and the square are selected and choose Slice. Discard the unnecessary slice layers. Repeat for every letter/character in your text. (4) Choose a font and type in the text yourself. Then, with your text selected, go up to the top menu and use Curve. You might also need to play around with the letter spacing to get this exactly the way you want it. Notes: Curve is only available on the desktop version of Design Space. If you want the font that matches this cut file, use Mary Katherine.
You may change the color and the size of the germs if you'd like. Go to the left-hand side where it says "shape" and get a circle, and then cover the germ on top of the tree with it. After that, select that shape and go to the "layers panel" on the right-hand side and select the germ too. Now you can press Slice. You can delete the slice results you don't need.
Now that the germ is sliced, select it once again and go down to the bottom right to click "contour" and there will be a pop-up box where it says "hide contour" then select all the little holes to contour them out. We are doing this because as a cut file, each of those tiny little holes in the germs will be cut out and they will be very difficult to weed.
Do the same process to the other 2 germs and the face masks so you can manipulate each of them separately to change sizes, colors, and contour out any small areas you might not want to weed. .
Now go ahead and click "make it" and you'll see the different mats in there. For the tree itself, we're cutting it out of felt. We are also cutting out the tree stump and the germs out of felt. With the tree garland (the toilet paper and text) and the masks, we're cutting them from HTV, so be sure for those mats that you have a Mirror on.
Once that part is set, click continue and connect to your maker. We are using a thicker felt, so we're selecting Wool Fabric for that material setting and then Everyday Iron-On for the HTV items. Place the material on your mat, load it into the machine, and cut. Repeat for each mat of items you need to cut out.
Once all the pieces are ready, you can go ahead and lay them all out on the EasyPress mat while preheating the EasyPress Mini. This will help you get the correct placement before you start heating anything.
Use your EasyPress to heat and adhere the pieces of HTV. We are using glue to glue the felt pieces on.
Now that your design is all put together, you can glue it onto your sweater.
From there, it's simply a matter of continuing to embellish your sweater as desired to make it as over the top and "ugly" as you'd like.
Tanner, Courtney, and the rest of the Makers Gonna Learn Team are all here because we love die-cutting and especially love sharing fun projects and tutorials with fellow makers. We are all great friends and are always having a blast when we are together- you will see this on camera, especially during live streams! We are here to inspire and support you in your crafting journey!