Where To Buy Blanks For Cricut Projects
Doing a lot of crafting with your Cricut machine? It's so much fun but it can get expensive if you don't know the best places to buy your craft supplies. If you're looking for Where to Buy Blanks for Cricut Projects, you've come to the right place.
We have some places to share with you that you might not usually think of, and they can save you money. There are some obvious ones that probably come to mind right away when you are ready to shop for your Cricut supplies, but keep your eyes open for the more unusual ones too. That's where you'll find the bargains!
Where To Buy Blanks For Cricut Projects
Walmart
I'm going to start with one we all know and love and that is Walmart. We got this pillow from Walmart for 4 bucks! They have a bunch of different colors so you can easily find some to match your decor. These are perfect for Cricut iron-on projects!.
We also get our mugs at Walmart and can often find other household items like plates too. Walmart can be a great place to pick up some t-shirts, mugs, pillows, blankets, and a wide variety of notebooks that you can put decals on. It should definitely be on your list!
Dollar Tree
Another place to look is Dollar Tree. It's the perfect place to find little organizers for kids toys or gardening tools or anything like that. You can use Makers Gonna Learn fonts and cut files to add cute labels and get organized! Be on the lookout for bags, totes, and cups too. You are definitely going to want to check out Dollar Tree if you are a die cutting crafter.
Etsy
If you're into trendier things, be sure to check Etsy. They're full of amazing little blanks that you can buy in bulk and personalize yourself. Key chains, pendants, signs, and tumblers and so much more are available at Etsy. You can find almost anything there and the blanks there tend to be a little bit more high end.
Chalk Couture
The next place that we absolutely adore is Chalk Couture. We love to get blanks there, especially frames. I know Chalk Couture is chalk based and you wouldn't really think to use that with Cricut products, but vinyl sticks so well to Chalk Couture frames. If you want a more professional look to your finished projects, Chalk Couture is definitely the way to go.
Amazon
Next is Amazon. Amazon has everything you want and more. You can find chalkboards, mugs, display plates, and so much more. Amazon is absolutely full of ideas! They have awesome gift bags, tags, and a ton of stuff that you will love to iron on.
They have a ton of t-shirts and a huge selection of koozies and you can get them really cheap. If you want to find some great deals, you must definitely check Amazon next time you want some Cricut blanks.
Local Craft Stores
Don't forget to also check your local craft stores like Hobby Lobby or Michaels. There are a ton of brands in those places that can blow you away and the savings can be great if you have coupons (like those 40% off coupons!).
They have beautiful paper trays, glass vases, mats, floor mats, mugs and a ton of stuff stuffed animals. You can get inspiration in every single aisle, so definitely check out your local craft store!
Once you start shopping around, you'll get to know which places are most likely to carry the items that you're looking for. It's always a great idea to shop around when you have time and stock up on the great bargains you find.
Remember that when it comes to places like dollar stores that once they sell out of those items, they may never get them back in again. If they have some blanks that you know you're going to use and they're a good deal, get them while you can!
We would love to hear about the places where you buy blanks for Cricut projects too! Share them in the comments below.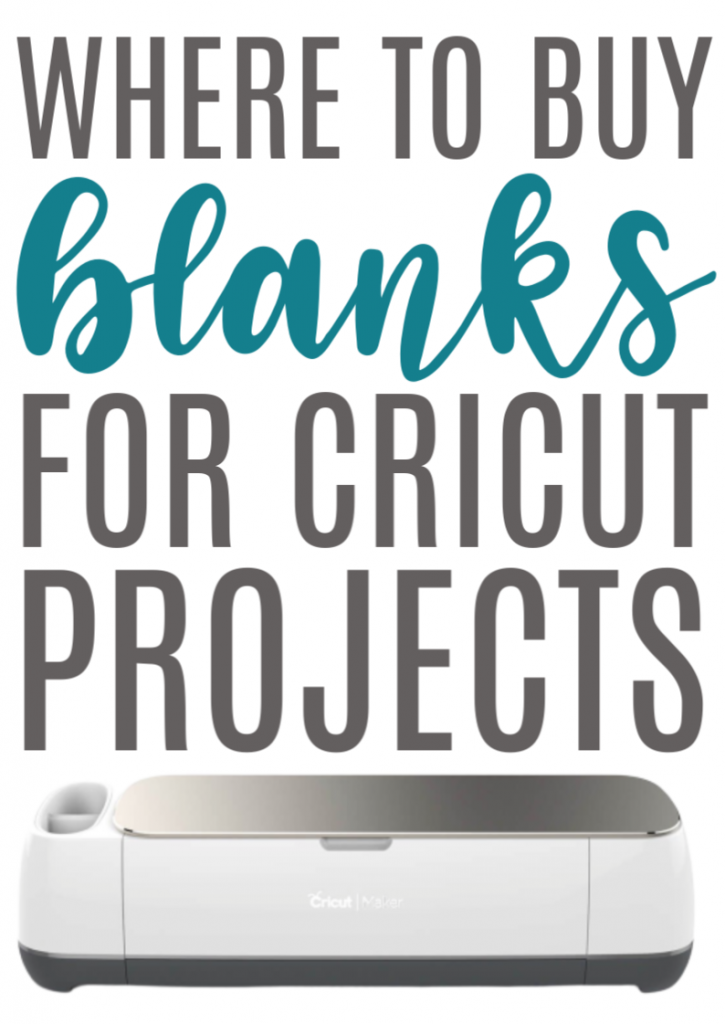 Tanner, Courtney, and the rest of the Makers Gonna Learn Team are all here because we love die-cutting and especially love sharing fun projects and tutorials with fellow makers. We are all great friends and are always having a blast when we are together- you will see this on camera, especially during live streams! We are here to inspire and support you in your crafting journey!