All About the Cricut Mug Press
With it recently hitting the shelves and causing quite a stir, we thought it was about time to tell you All About the Cricut Mug Press. In this post, we are going to answer your Mug Press questions and give tons of Cricut hacks, Cricut tips, and helpful advice to aid you in making an informed decision about the Cricut Mug Press.
If you are thinking about getting one, you need to check this out. We'll tell you what you need to know (and maybe what hasn't been talked about yet)!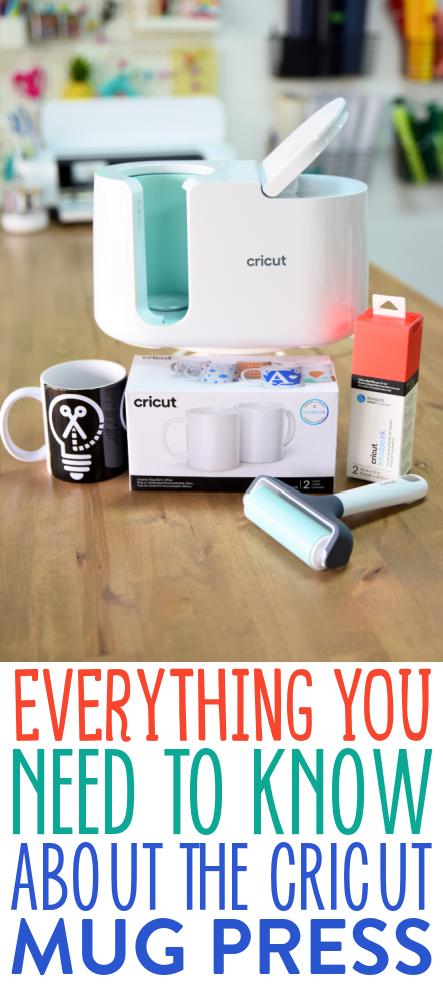 All About the Cricut Mug Press
If you are looking for an in-depth step-by-step tutorial on how to use the Cricut Mug Press, be sure to check out our helpful post and video on it.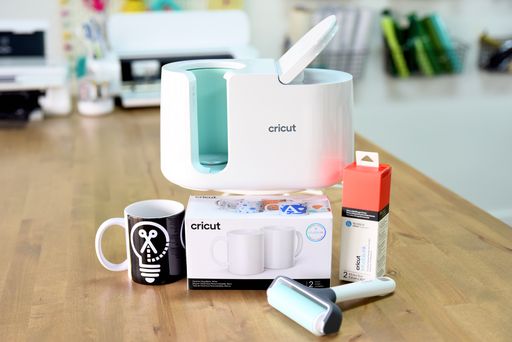 Supplies You May Need:
Cut Files We Used on the Mugs in The Video Below:
About the Mug Press Itself:
It's important to note that you can't change the temperature or set a timer on it. This is because it's supposed to have "smart technology" that does all of that for us.
You plug it in and turn it on. The Cricut Mug Press will sense the air around it and will adjust to it, preheating itself to the correct temperature. Once you slide your mug in and close the paddle, it then automatically detects how much time it's going to take to heat up your mug properly.
Heat times will vary according to the blank you use, the size of it, the air temperature, and so on. You will see a sequence of lights coming on – these will tell you how much time is left in the heating process.
The machine itself is fairly compact and doesn't take up much space. It can hold an 11-16 oz. mug. The diameter of the mug can be between 3.2 and 3.4 inches. The maximum height of the mug you can use is 4.72 inches.
About Infusible Ink:
Cricut has a variety of different Infusible Ink products that we want to go over for you:
Regular Infusible Ink comes in many colors and patterns. In one pack, you will get 2 sheets, each one being 12 x 12 inches. It's quite affordable for the amount you get and it can go a long way. This works with any of the Cricut machines including the Cricut Mug Press.
You'll also find packages of Infusible Ink that are packaged specifically for the Cricut Joy or the Cricut Mug Press. For example, the ones for the mug press have a symbol of a mug on them. They say "Ideal for the Cricut Mug Press" on the package.
In these packages, you get 2 sheets, each one being 4 1/2 x 12 inches. The one marketed for the Joy is slightly more expensive than the one for the mug press. The only real difference, though, is that it includes some butcher paper and a little cloth.
What you might not know is that all of these Infusible Ink products are the same! They can all be used in all of the machines. The only difference is the size of them and the fact that the ones marked for the Cricut Joy include some butcher paper and a little cloth while the Mug Press ones do not.
So, we recommend just buying the packages of the larger sheets. This gives you more value for your money and since it works in all of the machines why pay more?
Pro tip: If you are prone to having clammy hands, you can damage the Infusible Ink when you touch it. For that reason, you may want to work with the smaller sheets. It can be a little easier to limit the handling of it that way.
You can, of course, buy the larger sheets and cut them down before using them on your mat. A brayer comes in really handy for smoothing them out on the mat without touching it. We try to only touch the edges as we handle it as well.
Another solution: wear cotton gloves. It may sound crazy but it can really help!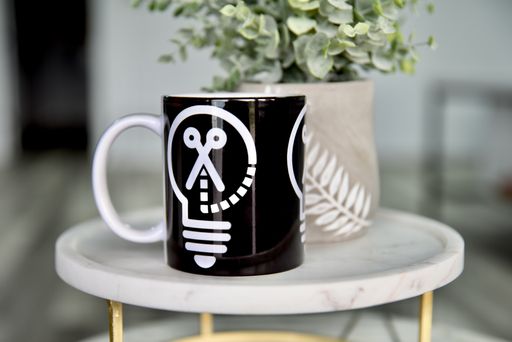 About the mugs:
We already mentioned the sizes of the mugs you can use, but another common question is about brands. Can you use something other than Cricut brand mugs in your Cricut Mug Press? The short answer is yes.
We do have a comparison post/video coming up soon where we tested out various mugs in the Cricut Mug Press. This will give you all the ins and outs of which ones performed best and what to look for.
We will tell you, though, that we found for quality and price, we just couldn't beat the Cricut brand mugs. We did find some mugs on Amazon that worked just as well, but they were a higher price than the Cricut ones.
Pro tip: when looking for mugs, think about the shape of them. We bought some that flared out at the top where the lip of the mug is. To do an overall design where the Infusible Ink goes from top to bottom of the mug simply didn't work with this style. Instead, we were able to use them with a design that would only add ink where the cut file itself was and the rest of the mug was left blank with its original color showing through.
So, if you have a craft fail with a mug, you can always try approaching the project in a different way. Change your design like we did, put the mug into the press upside down, move the placement of the design, and so on.
How does the Cricut Mug Press compare to other mug heat presses?
Many of you have asked this question, specifically when it comes to the 5-in-1 heat presses that can do mugs, plates, hats and shirts and so on. The answer? It depends.
If you already have several of the Cricut EasyPresses (which we LOVE!) and you are only looking for something for mugs, the Cricut Mug Press is the way to go. The other heat presses are bigger and bulkier and you simply don't need one like that if you already are set up with some Cricut products.
If you are starting from scratch, we recommend you look at reviews and prices and decide from there, bearing in mind how much space you have for these machines as well. One thing we will advise is that if you aren't already passionate about wanting to make mugs, why invest in a mug press at all? For most projects in your die-cutting craft room, a Cricut EasyPress Mini will be all that you need.
If you're only going to make a few mugs a year, there are so many ways to make them and make them well without a mug press. However, if you want to make tons and tons of mugs and you want the permanence of the Infusible Ink designs you get with the Cricut Mug Press, this machine is well worth the money. If you're passionate about Infusible Ink, you are going to love this.
About sublimation blanks:
When it comes to sublimation blanks in general, they can vary widely in terms of how well they take the ink from one brand to the next. If you want to use Infusible Ink on fabric, remember that it doesn't work well on cotton. You need a fabric that is at least 65% polyester in a t-shirt when using sublimation or Infusible Ink.
You can't just use any old material with sublimation or Infusible Ink. They are treated with a special coating to allow them to take the ink properly. So no, you can't just grab any old item from the dollar store and use it with Infusible Ink.
Do I have to seal Infusible Ink projects?
Infusible Ink is about as permanent as it gets! It is dishwasher safe, microwave safe, and is very durable.
Prepping your surfaces:
When working with Infusible Ink, you do have to take special care with your surfaces. Your mug, for example, needs to be prepped really well. The ink will not transfer properly if there are any finger prints, oils from your fingers, dust, or debris on the mug.
We like to use a lint roller on it to get up any little bits of debris. Then, you need to wipe it really well with a paper towel and some rubbing alcohol to ensure that it is thoroughly clean.
How do I get the best possible seal on the Infusible Ink in my Cricut Mug Press?
When you wrap your design around the mug and put it into the press, as soon as you put that paddle down, the mug press is going to squeeze the ink to the surface of the mug. This is nearly foolproof, but we have had a few times where there was a spot here and there that didn't get as much ink coverage as we would like.
So, we like to use heat transfer tape to give it that extra little bit of security in holding things in place, especially along the edges.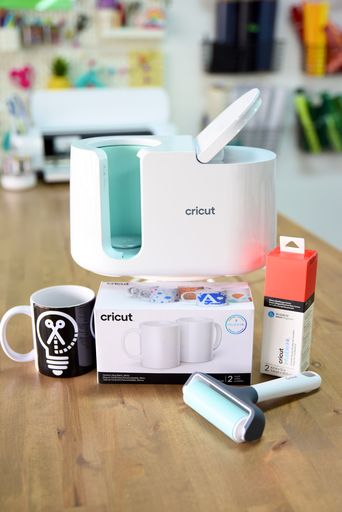 Is it worth the hype?
Should you invest your money in a Cricut Mug Press? You won't like this answer but, it depends.
You have to decide how passionate you are about making mugs and whether it's worth the money. It definitely works really well and you can create beautiful mugs with it. But that's all you can create with it.
For someone like Rachel, she loves mugs and has a large collection of them. So, making mugs to give as gifts for other people is something she would really enjoy doing and she could see herself getting a lot of use out of the Cricut Mug Press.
It's a lot of fun to use, but do bear in mind that there's a learning curve and you may need to practice a bit before you master it. We do think it's a great product though and well worth it if mugs and Infusible Ink are something you love!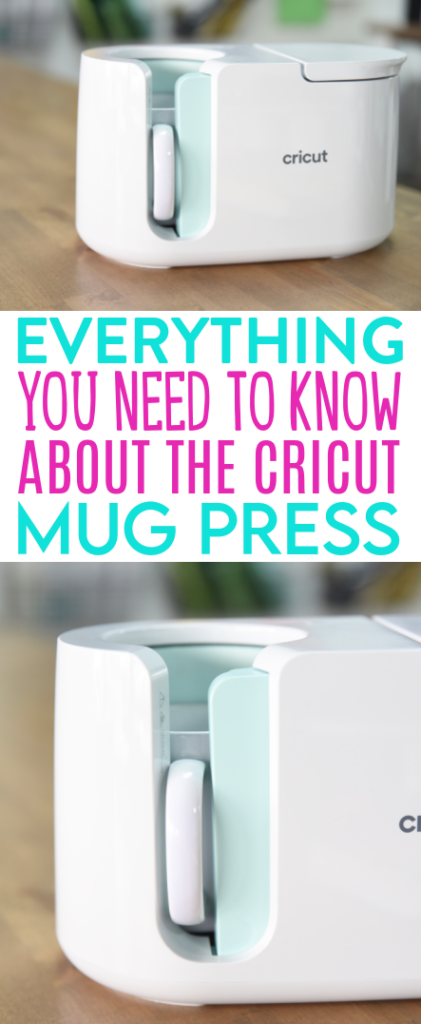 Tanner, Courtney, and the rest of the Makers Gonna Learn Team are all here because we love die-cutting and especially love sharing fun projects and tutorials with fellow makers. We are all great friends and are always having a blast when we are together- you will see this on camera, especially during live streams! We are here to inspire and support you in your crafting journey!