Cricut for Beginners: Guide to Cricut Vinyl Projects
If you're just starting out with your Cricut machine, first of all, congrats! You are getting started on a super fun journey. We know most of all that those first few projects with your machine can be intimidating and there's so much to learn. Don't worry though, with a little practice working with your Cricut machine will feel like second nature. And our tips, tricks, and hacks for working with vinyl will make it so much easier.
And, once you've learned all about how to make some amazing vinyl projects with your machine, you'll be so excited to know that the list of materials you can cut with your Cricut is nearly endless!
Let's get started!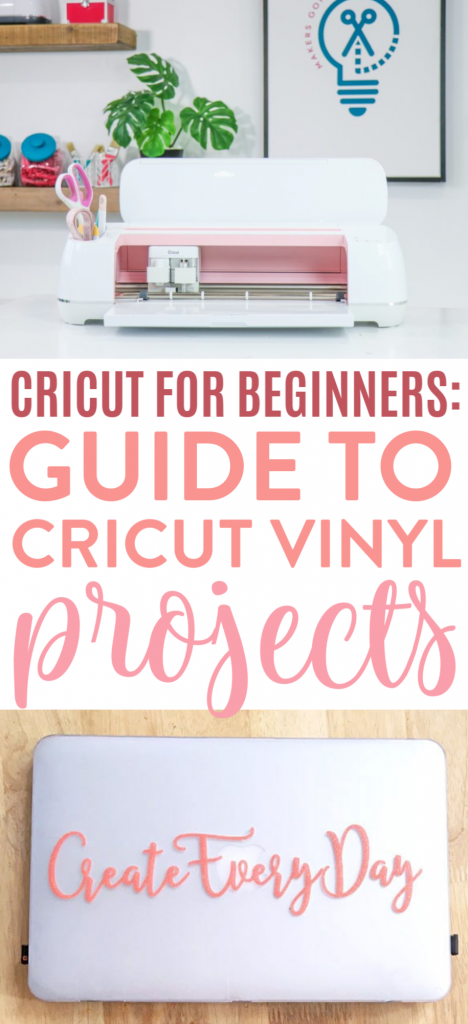 Cricut for Beginners: Guide to Cricut Vinyl Projects
Today, we wanted to give a little Cricut for beginners' tutorial on Cricut vinyl projects. Vinyl is definitely one of the most popular materials to die cut and there are also tons of amazing projects to make with Cricut vinyl. So it's a good idea to understand what types of vinyl you'll be using and the tips and tricks to ensure that your hard work doesn't end up in a craft fail.
Cricut Vinyl Projects Explained
Types of Cricut Vinyl
Of course, the type of vinyl you'll use will depend on the project you're working on, but understanding the various types and how they differ from each other will help you choose the perfect one each time.
Basic Vinyl
Your basic vinyl will be the permanent adhesive-backed kind. This will be your most used type of vinyl and it comes in all kinds of sheens, colors, and patterns. This vinyl can be used on wood, glass, metal, tile, and pretty much any other surface you dream up. You'll want to keep this type stocked for making home decor, tumblers, and many more projects.
HTV/Heat Transfer Vinyl
You may have seen the term HTV and wondered — what's that? HTV stands for Heat Transfer Vinyl and works by pressing the vinyl to fabric using a Cricut Easy Press or iron. You'll want to use this type to make custom t-shirts, kitchen towels, bags, pillowcases, and other fabric projects. HTV also comes in a variety of colors, sheens, glitter, and more. It even comes in a mesh that is really fun to use for sports-related projects.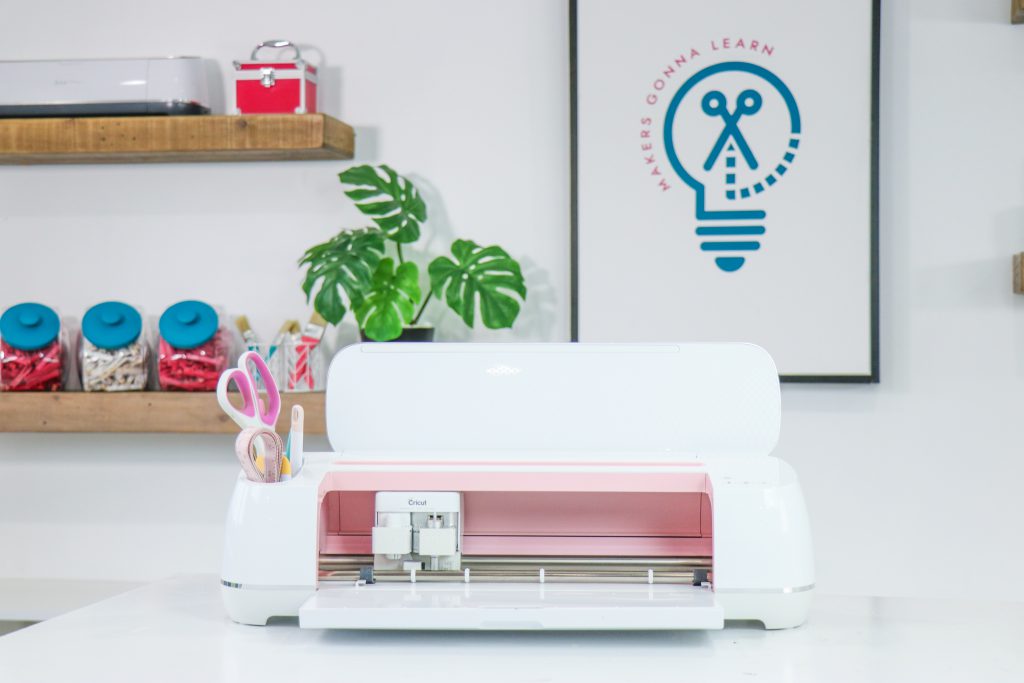 Premium Removable Vinyl
Premium removable vinyl is the perfect option for wall and door decals or for seasonal projects that you might want to change out regularly. As the name suggests, this type is easy to remove from surfaces and leaves no residue making it perfect for wall decor Cricut vinyl projects. You do not want to use permanent adhesive-backed vinyl on walls because it can damage the wall and be difficult to remove.
Those three are the most common types you'll be using day-to-day, but there are also special types of vinyl that usually aren't mentioned in Cricut for beginners' guides. Options for specialty vinyl include window cling, dry erase, and chalkboard. Just imagine all the die-cut projects you can make!
Be sure to check out our comprehensive guide to Cricut vinyl and start your next project with even more confidence.
Cutting and Applying Cricut Vinyl
Of course, the most important lessons you'll learn as a Cricut beginner is how to actually use all that vinyl. We wanted to share some basic tips we've learned through many, many failed projects.
Sizing your Project
The first is to make sure to have a measuring tape handy. You'll need to measure the surface you're working on to make sure that you don't cut a project too big or too small. Trust us — you do not want to guess or eyeball here.
Selecting your Material
Once you've sized your project, you'll select your material. With vinyl, we've found that it's better to increase the default pressure ONLY if you're working with a fine point blade that is a little bit dull. A brand new blade works perfectly with the default pressure. Vinyl will always be set to default, but increasing the pressure with a used blade makes it much easier to weed the vinyl after it's been cut. Now you're ready to start up the machine and cut that project.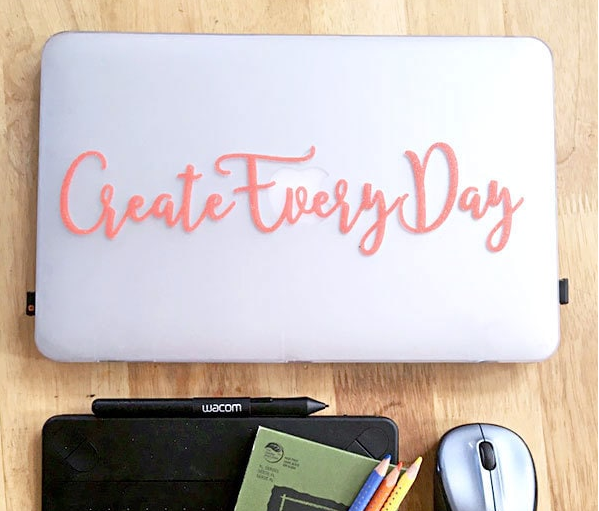 Weeding your Vinyl
Once your vinyl has been cut, we like to use a scraper tool to burnish the whole image before weeding it. If you're just getting started with Cricut vinyl projects, this is an important step because it will make removing the cut piece cleanly a lot easier.
Now you're ready to grab your Cricut weeding tool or pin pen and weed out any parts of the image you don't need. This part can take some time but it's important to go slow and carefully. You don't want to accidentally weed out pieces that you need.
Apply Vinyl to Your Surface
Next, you'll want to grab your transfer paper and apply it to the project. We like to use the scraper tool to burnish here too just to make sure everything is sticking really well. When you go to peel the backing off and transfer there will be less of a chance that parts of the image will stick to the backing.
You'll also want to make sure you clean your surface with rubbing alcohol before going to apply the vinyl if working with a non-porous slick surface like glass or ceramic. We found that this little step helps the Cricut vinyl stick beautifully.
Now you're ready to apply! Once you have your image placed how you want, burnish with your scraper tool or your fingers to really adhere the decal. Then peel back on the transfer paper being careful to watch out for any vinyl bits that didn't stick.
If you're a visual learner, we have a video that walks Cricut beginners through this whole process!
More Articles on Cricut for Beginners
Now we know you're just getting started, so once you're ready, make sure to check out these other helpful articles with tips for making your Cricut vinyl projects turn out picture-perfect every time.
Cricut Vinyl Weeding Hacks You Probably Didn't Know
How to Seal Vinyl Decals
Vinyl Hacks You Probably Didn't Know
How to Use Cricut Printable Vinyl
Creative Ways to Store Vinyl
Projects to Use Vinyl Scraps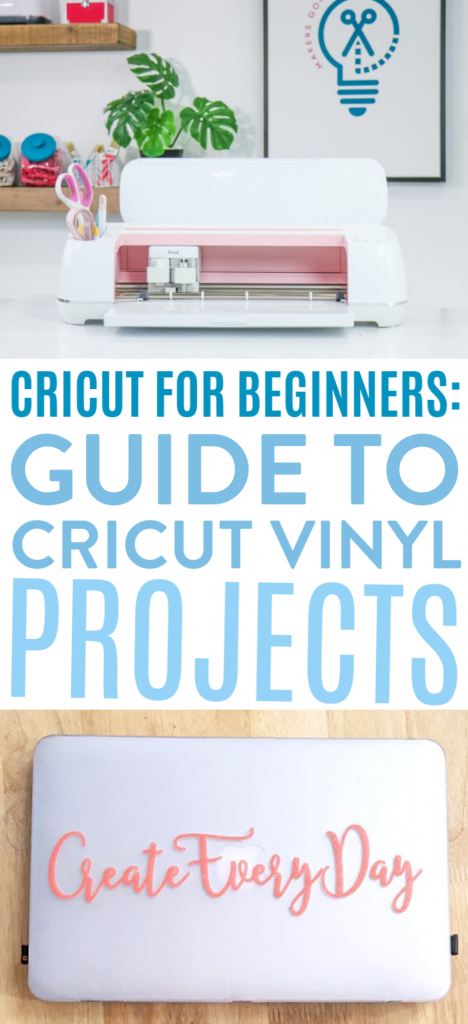 Tanner, Courtney, and the rest of the Makers Gonna Learn Team are all here because we love die-cutting and especially love sharing fun projects and tutorials with fellow makers. We are all great friends and are always having a blast when we are together- you will see this on camera, especially during live streams! We are here to inspire and support you in your crafting journey!