Cricut Wedding Gifts You Will Love
Wedding season is nearly upon us! Whether you're able to attend in person or watch from afar, we know that these Cricut Wedding Gifts You Will Love will give you the opportunity to make an amazing handmade gift for a special couple.
Whether for the wedding itself or a bridal shower, we have lots of lovely and fun gift ideas for you here. With your Cricut or other die cutting machine, you'll be able to make special custom craft projects that are simply perfect for the newlyweds. Be sure to check out the DIY wine glasses. It's one of our favorite gift ideas!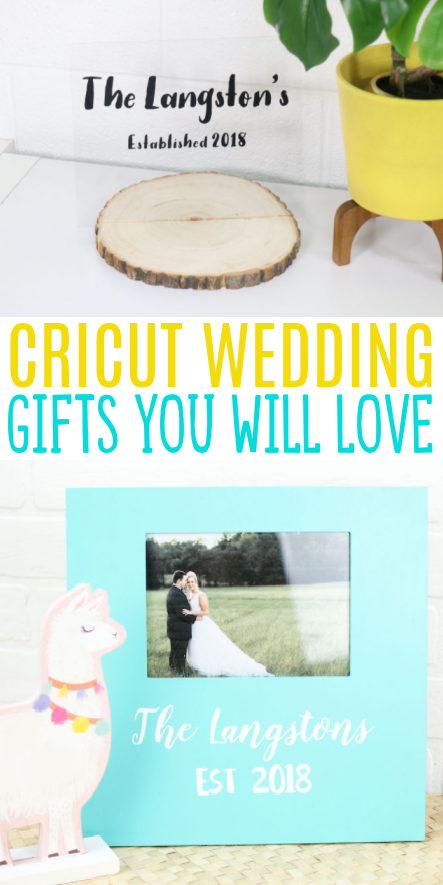 Cricut Wedding Gifts You Will Love
Many of these take very little time or materials, but still pack a big punch when it comes to just how amazing they are. They are sure to be met with smiles of appreciation and cherished for years to come.
Newly married couples often love celebrating the start of their new family. Things like this sign that are personalized with their family name or monogram are popular gifts that are sure to be appreciated.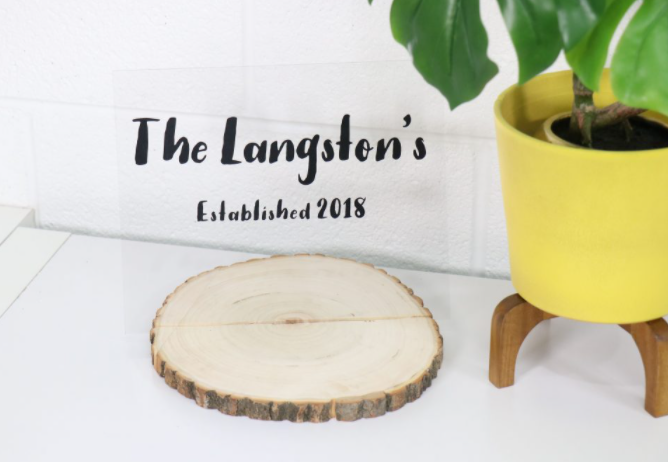 How fun would this be for an outdoorsy couple? Set them up for a summer of making memories together with this super cute Smores Caddy.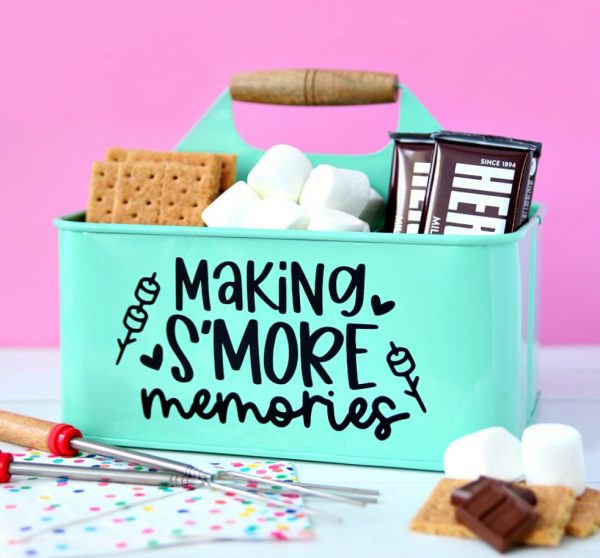 Another approach to the family name sign – this one is in shadowbox form and filled with paper flowers you make with your Cricut!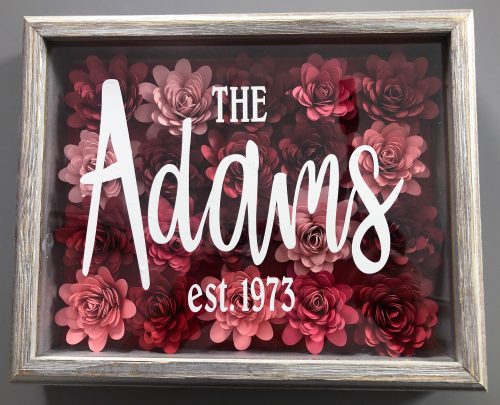 Warm and cozy, most people we know find they can never have too many comfy throw blankets around, especially during winter. This one, while practical, would also look beautiful thrown over a chair or the back of the couch.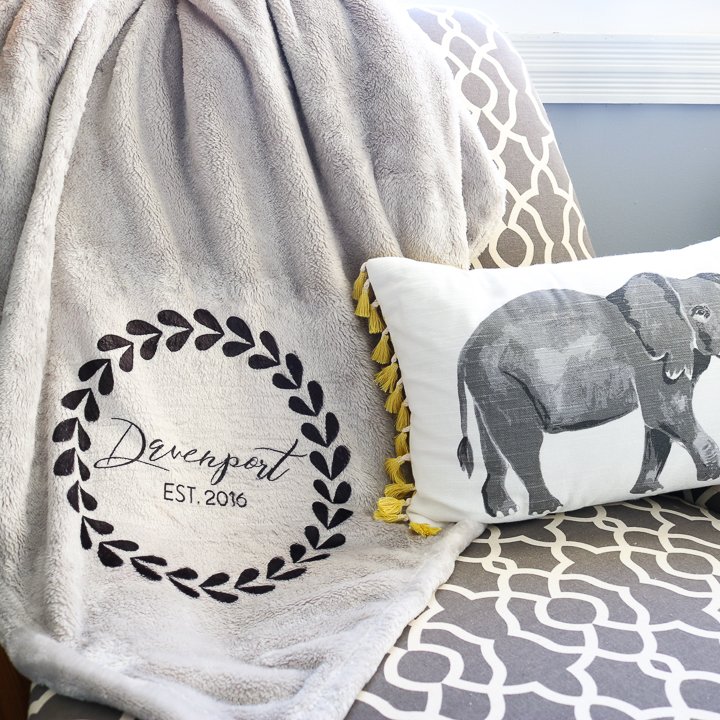 If the couple enjoy a glass of wine together from time to time, they are sure to love these fun wine glasses. Add a corkscrew and a bottle of special wine (you could even personalize the bottle with a label containing a photo of the happy couple) and you've got a special gift.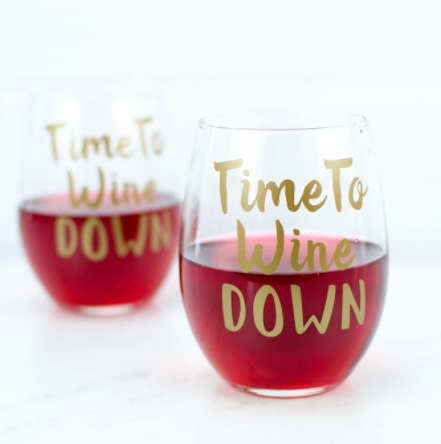 These are so beautiful – trendy and sophisticated, they will add flair to anyone's home decor. Personalized with their family name, these are another gift sure to please. Want to take it to the next level? Include a set of glassware to go with it!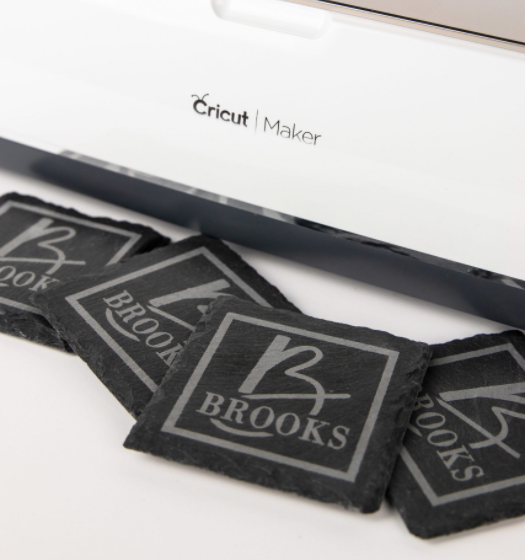 Aren't these gorgeous? You could personalize them with the family name, a monogram, an amusing saying, or anything you'd like! Round out the gift with a beautiful cake stand or a personalized pie plate.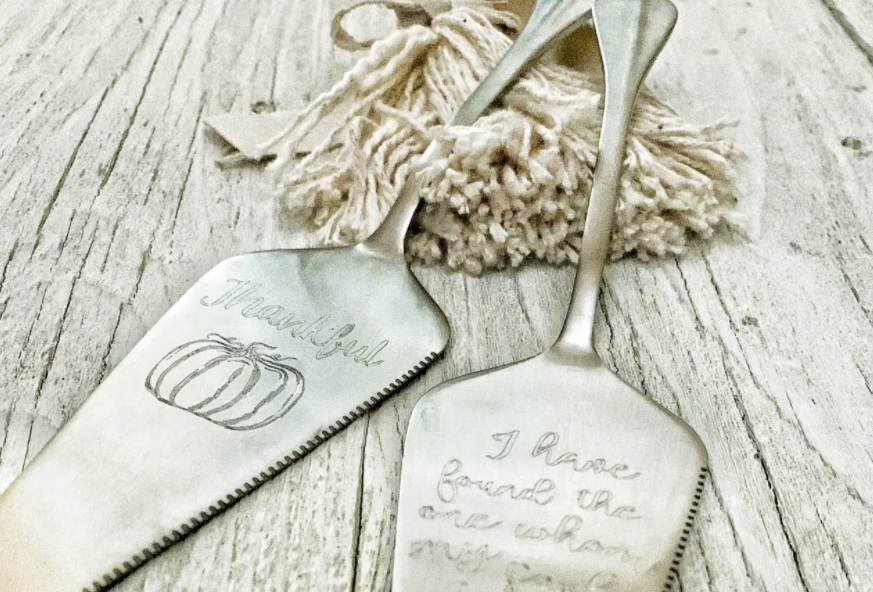 Pretty much everyone loves to receive a special photo frame and especially when that frame is personalized. Newlyweds are sure to have plenty of special photos they are itching to have framed so we are sure this gift will be well-loved.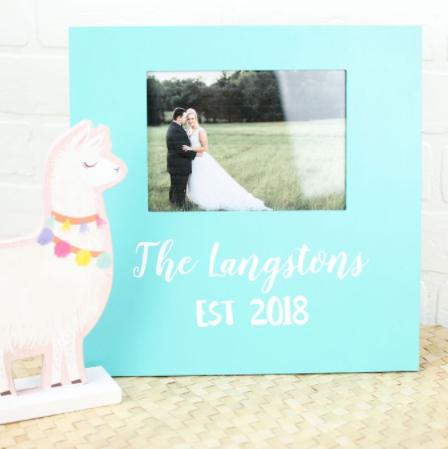 What a fun idea for the couple to take with them on their honeymoon – or on weekend jaunts all year long! Give as is or fill with personalized beach towels, sunscreen, customized flip flops, and other summer necessities.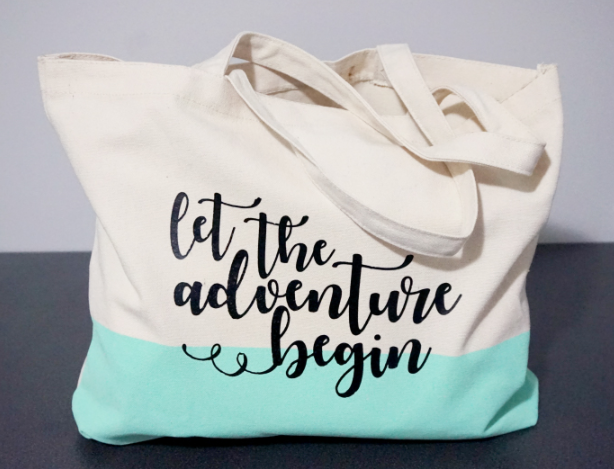 Bring a smile to their faces with these adorable, quirky mugs. Give as is or combine with some custom coffee blends.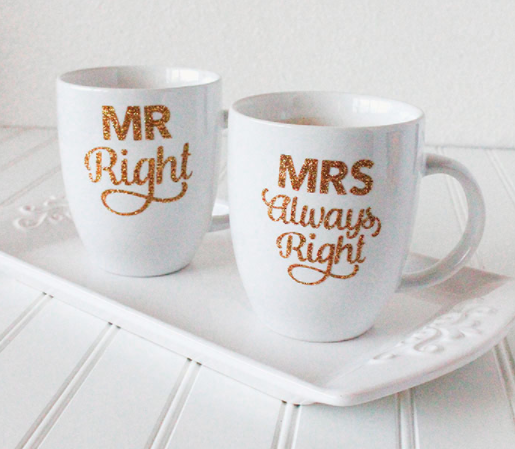 These are a perfect gift! Not only are they personalized with the family name, but when taken to a potluck, there will be no doubt as to who they belong to! This is one baking dish that will never get lost. Give a dish filled with customized tea towels, some basic kitchen utensils, measuring cups and spoons, and other small kitchen essentials.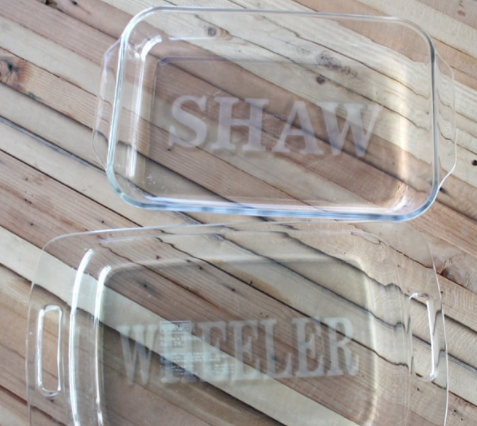 This is the perfect place for the happy couple to store their rings when washing dishes or washing their hands – anytime they need to take them off. You could even make separate ones for each of them.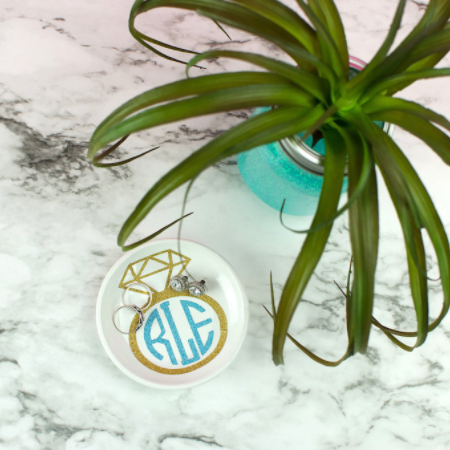 Mugs and a fun plate for the treats! We love this gift set and know the happy couple will too.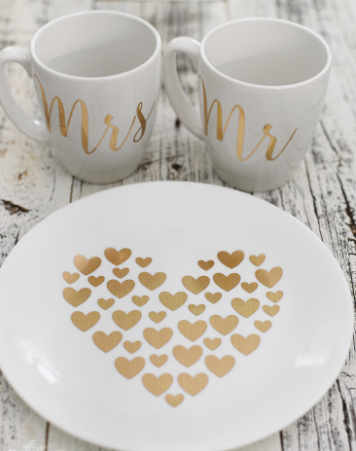 How fun is this? Present them with a plant in a personalized mason jar vase. Or how about a whole indoor herb garden in a variety of jars in different colors and with different messages on them? Such a lovely idea.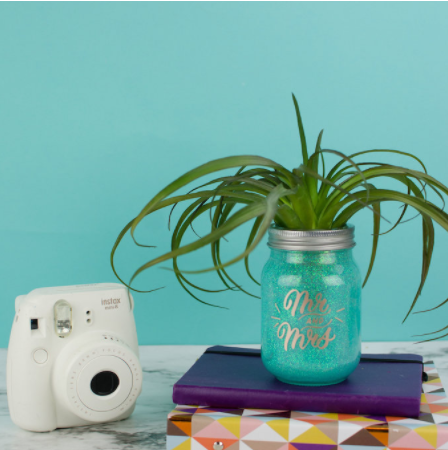 Have their vows commemorated for them so they can enjoy seeing them forever with this beautiful project. Give as is or with a coordinating photo frame for one of their wedding pictures.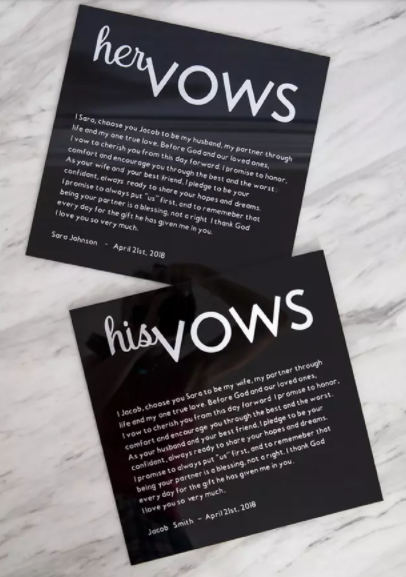 So sweet and simple, yet so beautiful! You could even put this design on a larger plaque with space to personalize it with the happy couple's names and wedding date.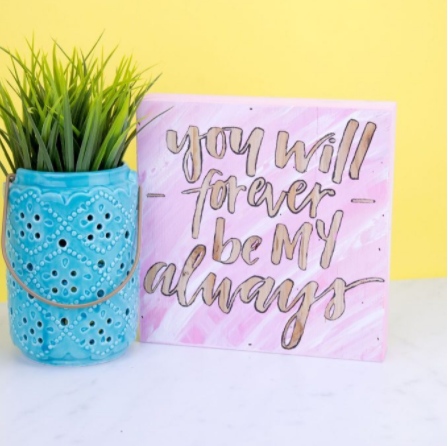 This is such a fun way to let the world know about the big event! You could even personalize the other side with a different saying or their name or monogram so they can enjoy it for years to come!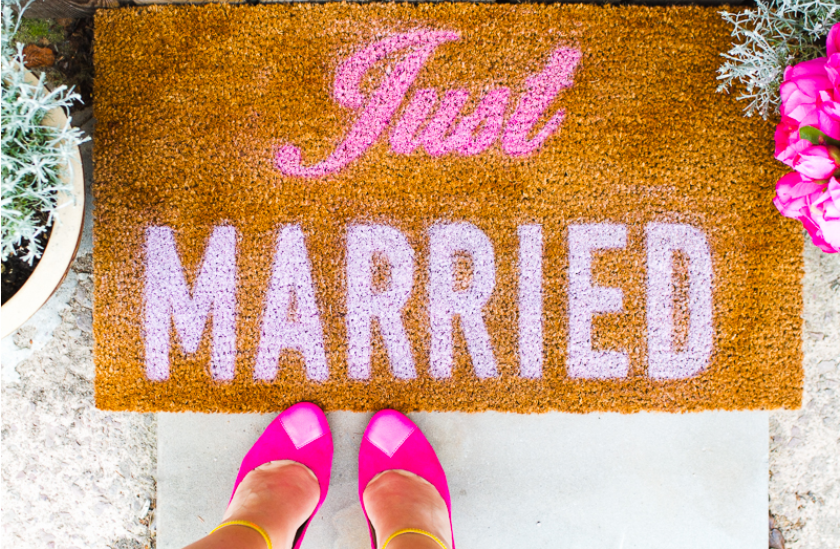 Okay, hear us out. We think coordinating pairs of these socks could be really fun wedding or shower gifts. Just think of all the possibilities of phrases you could put on them! Make it into a bigger gift with a big popcorn bowl, some DVDs, packages of microwave popcorn and candy, and other fun items for a movie date night at home.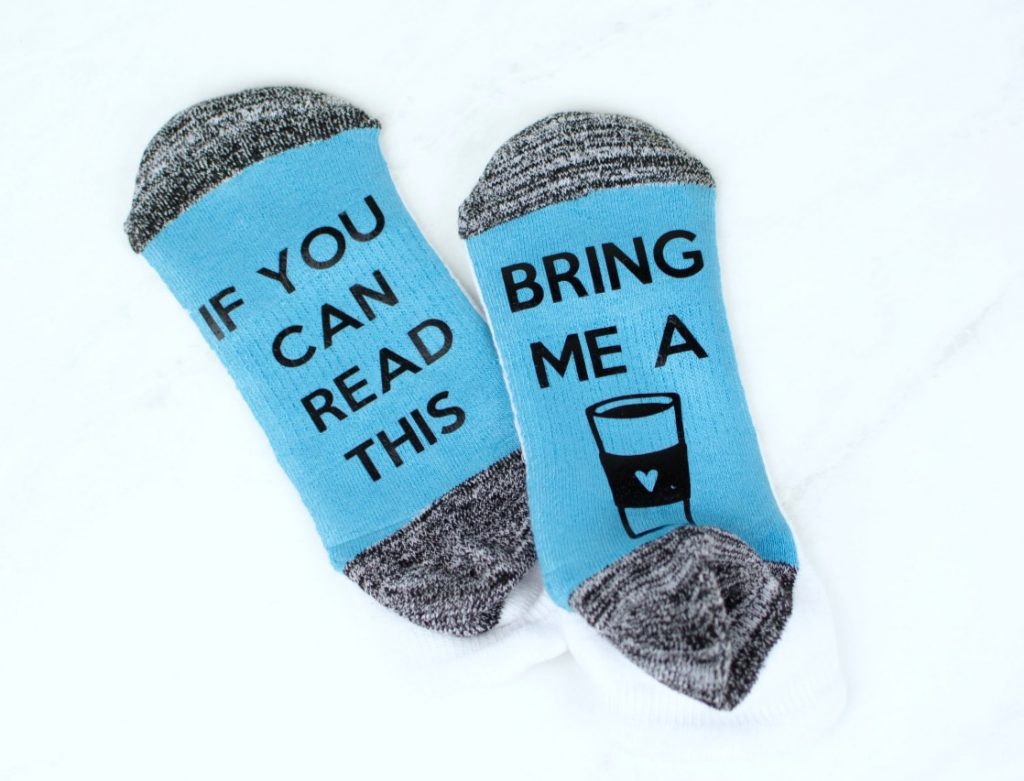 Aren't these fantastic ideas? So much to choose from – there is pretty much something here for every couple! We can't wait to see how you take this inspiration and run with it. Share your craft projects on social media using hashtag #MakersGonnaLearn so we can see it!
Tanner, Courtney, and the rest of the Makers Gonna Learn Team are all here because we love die-cutting and especially love sharing fun projects and tutorials with fellow makers. We are all great friends and are always having a blast when we are together- you will see this on camera, especially during live streams! We are here to inspire and support you in your crafting journey!