EASY CRICUT IRON-ON T-SHIRTS
These adorable and Easy Cricut Iron-On T-Shirts will take less than half an hour to make. Seriously! They're so easy – you'll want to make some for everyone you know!
EASY CRICUT IRON-ON T-SHIRTS
My absolute favorite projects to make with my Cricut Maker are iron-on crafts. It's just so versatile and you can use it on so many surfaces.
Sometimes, I love the challenge of making something elaborate and beyond what I've made in the past, but most of the time, I really do love to keep it simple. Crafts that take very little time to complete mean that even on my busiest days, I can still be creative.
Check out our tee-shirt project below and then be sure to have a look at our memberships too!
This is a fun shirt you can make for anyone at anytime. It doesn't have to be a special occasion to surprise your friend with a fun homemade gift like this.
We used silver glitter iron on for this shirt and I think it pops on the purple so well. Both of these shirts are so easy to make because they're just one layer.
That also means you can make them more quickly. If you know someone spectacular in your life, you've got to make them this shirt!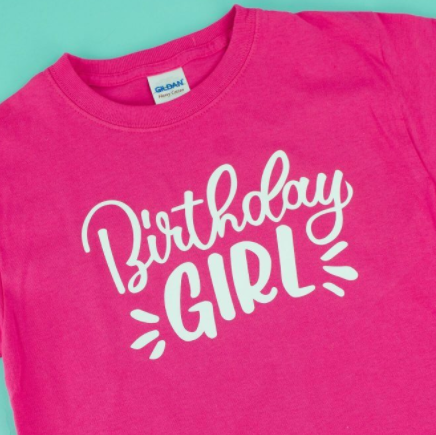 Every birthday girl needs a shirt like this! If you or a family member or friend has a birthday coming up then you're just in time to make them a fun homemade shirt I'm sure they'll love.
You could even take this idea a step further and add the year on the back. So they'll always remember the year it was when you gave it to them.
No one wants to wear a birthday girl crown or sash anymore; go simple and make them this perfect birthday girl shirt.
I hope you enjoyed seeing these fun T-Shirt ideas. I told you they were so easy to make. You don't need to be a master crafter to enjoy making some simple shirts for you and your friends.
Tanner, Courtney, and the rest of the Makers Gonna Learn Team are all here because we love die-cutting and especially love sharing fun projects and tutorials with fellow makers. We are all great friends and are always having a blast when we are together- you will see this on camera, especially during live streams! We are here to inspire and support you in your crafting journey!