Easy Galaxy Card With Cricut
Hi everyone, today we're going to create an Easy Galaxy Card With Cricut using the Tim Holtz Distress Oxides. These are amazing and you have got to have them! We'll and we're gonna be using vinyl with a cut file from Makers Gonna Learn. This is going to be great!
Here are the colors you need, Dried Marigold which is a really dark yellow, Picked Raspberry which is a kind of a hot pink, Seedless Preserves which is a bright purple grape-like color, Broken China, and last but not least Cracked Pistachio.
You will need an ink blender or a makeup brush. You can get these at Walmart, Amazon or your favorite retailer. They're great for blending ink. We also need some white acrylic multi-surface paint, a water brush for the flickering and your card base. This has been pre-cut and scored, so let's get started!
We're going to begin by cutting the "Congrats" on our white vinyl with our Maker. We're going to go ahead and click Make It. We are now going to press continue and select our materials and set it as "Vinyl". Then, we're going to use more pressure and do this on fast mode. So, now just press the flashing Cricut button.
We're going to begin by creating our galaxy background. I really like to start with the lightest colors first. So, starting with our lightest color is going to be the Dried Marigold. Because we are blending, you want to get your brush pretty saturated. Apply to the cardstock and blend. You can do galaxies with bright cardstock or dark cardstocks depending on what you're trying to achieve. We're going to keep blending and then move on to our next color.
I feel like this cracked pistachio is our next lightest color. So we're going to saturate our brush again. I really like these makeup brushes because they just grab the pigment and really allow you to blend in. I am blending some of each of the colors into the next one. That's what is going to create that galaxy background appearance.
Remember, you want to leave some white spaces for the other colors in your color selections. Next, we'll use the Broken China and then the pink Picked Raspberry. This is why we do the darkest last because honestly they can be overbearing and hide some of the other colors. Just keep blending outwards to really fade out and blend out those circles. By doing that you're going to mix those colors a little bit more making them darker and creating that outer space look.
Last but not least, we're going to use our Seedless Preserves color. It's such a dark color that we're going to be light with our application. If it covers up one of the lighter colors a bit too much, simply go back in with that lighter color again.
Once you've achieved a good base, this is where we really turn it into a galaxy. We're going to grab our water brush and flick water over our background. Allow that to dry.
Put a little bit of the white paint on your palette and add a bit of water. Grab a paintbrush and flick the white paint onto your card. This is really what's going to me get that gorgeous outer space look.
Let the paint dry and let's work on our Congrats vinyl piece! We have removed it from the Light Grip Mat, weeded it, put our transfer tape on it, and now we're going to transfer this gorgeous vinyl onto the card. This is a great way to incorporate vinyl with your paper crafts. So I'm going to place this down on our paper and use my fingers to press it down and then we're gonna burnish it.
Peel it up slowly. If your paper is wet, it's probably going to pull up a bit of the paint with it. We're going to finish this card off with some little white sequins. Isn't it super easy and fun to create your own Galaxy card? We're just incorporating a few materials to create a beautiful project! I hope you've enjoyed this quick tutorial as much as I did!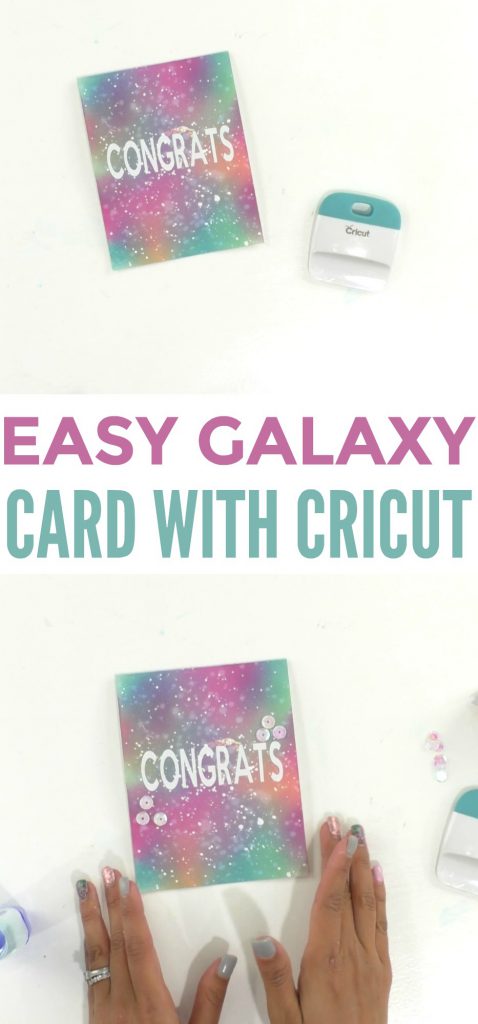 Tanner, Courtney, and the rest of the Makers Gonna Learn Team are all here because we love die-cutting and especially love sharing fun projects and tutorials with fellow makers. We are all great friends and are always having a blast when we are together- you will see this on camera, especially during live streams! We are here to inspire and support you in your crafting journey!