Easy Watercolor Card With Cricut
I just love adding a personal touch to any celebration with a handmade greeting card. You just know that it's something out of the ordinary that the recipient is going to love! Today, I'm going to show you how to make an Easy Watercolor Card With Cricut. This is such a simple but beautiful card, perfect for any occasion or no occasion at all!
This watercolor greeting card is super fun to make and it's a great craft project idea especially if you're a beginner when it comes to making cards. Today, we are using the feathers from the Makers Gonna Learn cut files and our Cricut Maker to create a lovely piece of art we can send to someone special. Grab your die-cutting machine and let's get started!
Easy Watercolor Card With Cricut
Materials needed:
Water-based inks: We're using ink pads from Catherine Pooler. They're absolutely gorgeous! We've picked the colors "Melon Ice", "Sauna", "Something Borrowed", "Aquatini", "Royal Treatment" and "Be Mine". The darker the colors the better when it comes to water coloring!
A piece of watercolor cardstock. You should be able to find this at any craft supply shop. You can use regular cardstock in a pinch but it's going to be a slower process because it's not going to absorb the water the way watercolor cardstock does.
Black cardstock. I went ahead and cut it to the size I need for my card base and scored it.
Craft foam adhesive. I'm using Scrapbook Adhesives Foam. It's perfect for sticking my feathers onto the card.
Paper towel.
Watercolor paintbrush. I'm using a water brush that holds water right within it.
As I mentioned, we are going to be using the feathers file from the Makers Gonna Learn and cutting our feathers out of the watercolor cardstock. These are going to be sized to fit on our card base which is four and a quarter by five and a half inches.
Painting the feathers
So let's get started! We are going to begin by placing our feathers on a paper towel. This helps absorb the water and prevents us from making a mess. It also gives you a nice clean surface to be able to wipe down your watercolor brush.
Now, we're going to begin by using the ink colors and you can do these several ways. I'm actually gonna place the color on the inside of my ink pad lid but you can do it on an acrylic block or a piece of packaging. I just find the lid to be the easiest and cleanest way to do it.
My water color brush has some water in it and I'm going to add a little water to my ink. These inks are water-based so they're just going to grab that pigment beautifully. To create that watercolor effect, you want to dab this watered down ink onto your feather.
We're going to be layering our colors. So once you have finished with the first color, you can move on to the next one. Be sure to apply it away from the first color. That first one is still drying and you don't want them blending together. Dab on the second color just as you did with the first one. If you find that you want the color darker, you can always add more color in once the first layer dries.
Continue with the third color and then let this dry. You can use a blow dryer to speed up the drying process if you'd like. Once it's dry, you can add the last three colors. Be sure to clean off your brush between colors so you don't get any color mixing. If you're using your ink pad lid, you also want to clean off the excess water before putting it away so you don't water down your ink pad.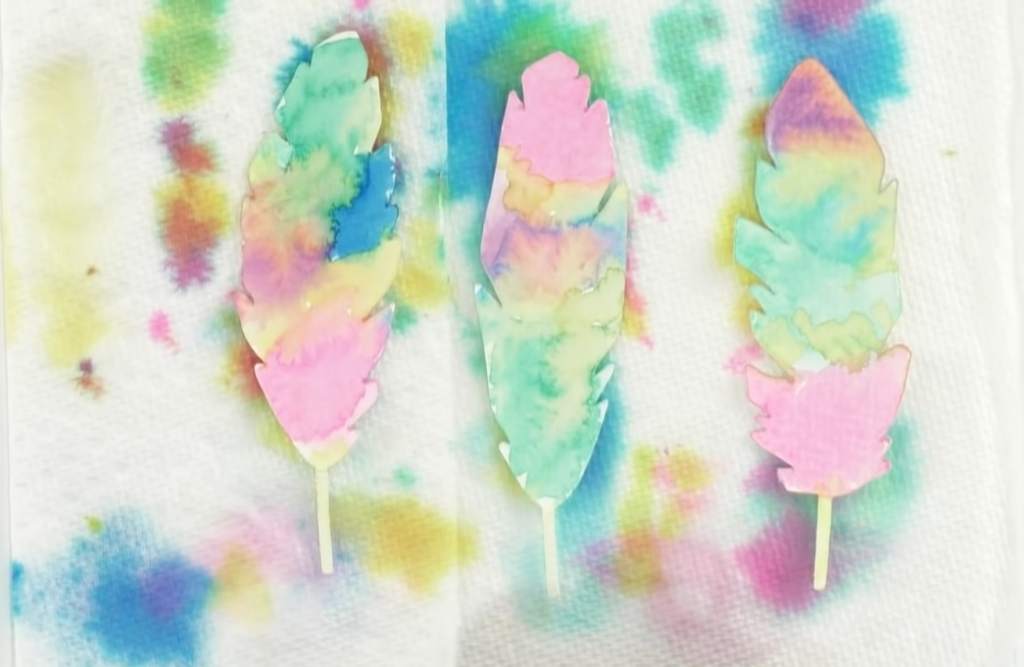 Assembling the card
Let them dry completely and then we can place the feathers onto the black card. I chose black because just look how it makes those colors pop! It's so pretty!
Place some foam adhesive onto the back of each feather and apply them to the card. That's it! Simple and simply beautiful! Each time you make these feathers, they will come out a little bit differently and that's part of the fun of it. I hope you enjoy making a beautiful Easy Watercolor Card With Cricut too! Happy crafting!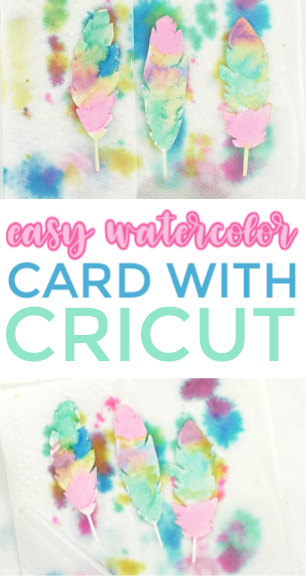 Tanner, Courtney, and the rest of the Makers Gonna Learn Team are all here because we love die-cutting and especially love sharing fun projects and tutorials with fellow makers. We are all great friends and are always having a blast when we are together- you will see this on camera, especially during live streams! We are here to inspire and support you in your crafting journey!