Faith Wooden Pallet Sign
If you have seen some of those super cute wooden pallet inspired signs and been too intimidated to make them, you are going to just love this craft project. For this Wooden Pallet Sign, there are no power tools involved. We're using hot glue to assemble it!
Don't think that means it won't be just as beautiful as the other signs you have seen. It's still just as lovely, but so much easier to put together. We're using a couple of our cut files from our new Member Requested Faith Collection. Just wait until you see all the amazing designs you can choose from. You're going to love them!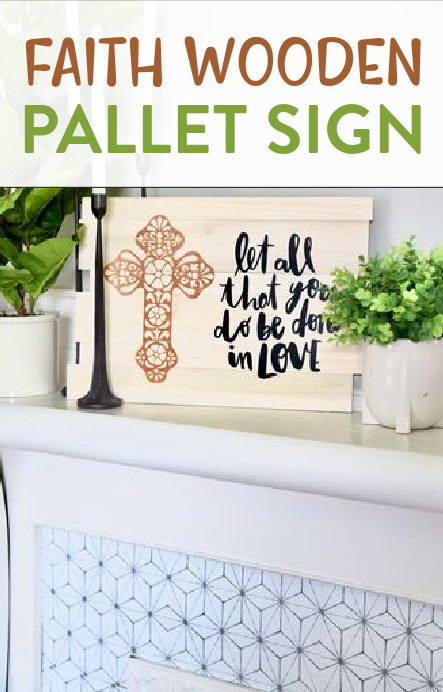 Faith Wooden Pallet Sign
We mentioned that there is no need for power tools here. That's because we find that at most home improvement stores, they will cut your wood to size for you, often free of charge, upon request. Be sure to ask!
You can find the member only video tutorial below:
MGL Cut Files Used:
Supplies:
Plywood cut at 10.5" by 13.5"
Poplar wood boards 3.5", 2.5", and 1.5" all cut at 20" (we used three 1.5", 1 2.5" and 2 3.5" pieces for ours)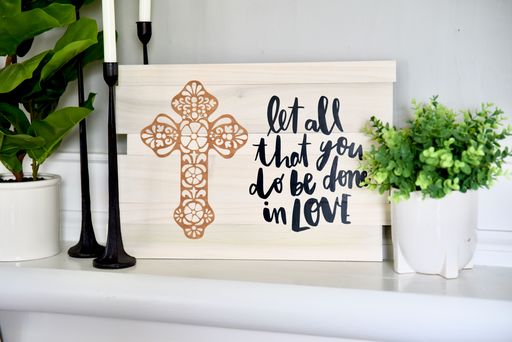 Steps:
Sand and stain your wood boards. We used 2 coats of stain. Allow them to dry.
Position the boards where you'd like them to go on your plywood backing and glue them down one by one starting with the center board.
Measure the pallet sign and apply the same dimensions to a square in Design Space. Size both of your cut files to fit well on both sides of the pallet sign. Change the color of the cross to brown in Design Space
Cut both materials out using the correct material setting. "Premium Vinyl" for the vinyl and "Faux Leather (paper thin)" for the faux leather.
Once cut weed both materials and apply transfer tape to your vinyl.
Set both the faux leather cross and the vinyl decal onto the pallet sign to visualize where you want them to go.
Remove the backing from the vinyl and position and adhere the vinyl to the pallet sign. Burnishing and going slow to ensure all of the letters are sticking well.
Now place your cross face down onto a poster board in a well-ventilated area and spray with a good coat of spray adhesive. Then carefully place it onto your pallet sign. When you like the positioning, apply pressure.
If you want to add a bit more stability to the cross, carefully peel up the sides of the cross one by one and add small dots of hot glue placing down and adding pressure to help adhere it to the pallet sign.
Be sure to check out the full new Faith collection here!
Meet the Makers Gonna Learn team! Tanner, Rachel, and Courtney are all here because we love diecutting and especially love sharing fun projects and tutorials with fellow makers. We are all great friends and are always having a blast when we are together- you will see this on camera especially during live streams! We are here to inspire and support you in your crafting journey!