How to Kern Script Fonts
Today, we are going to show you how to kern script fonts in Cricut Design Space. You might be scratching your head and thinking, "What is kerning?" right now. Well, keep reading because if you want to master working with fonts for your Cricut craft projects, you need to know this.
Maybe you are a Cricut beginner and the first time you worked with a cursive font, you cut it out, weeded it, and started applying it to your project when you noticed that something wasn't quite right. Or you wondered how people made it look so easy to create projects with script fonts.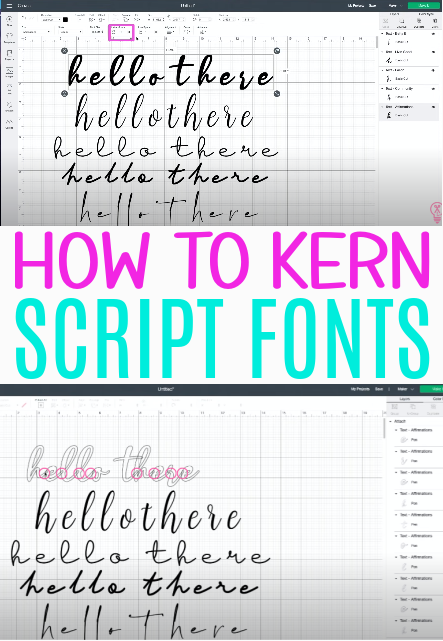 How to Kern Fonts
Most of the time, we find that the issue that new crafters have with script fonts is that they are not kerning them. Kerning means to decrease the spacing between the letters. In the case of script fonts, this would also connect them together. Think about writing in cursive with a pen and paper. Those letters join together in one fluid movement.
Kerning your cursive fonts in Design Space allows you to achieve that same sort of continuous writing look you would get if you were writing the text out by hand. When it comes to working with script fonts, it is THE step that takes you from beginner to pro with your craft projects.
Fonts being used here:
As you can see, there is a lot of variety when it comes to script fonts. Some of them will already be somewhat closer together, while others are placed farther part. You'll find that you will need to adjust your kerning to that particular font, but the basic principles are the same for all of them.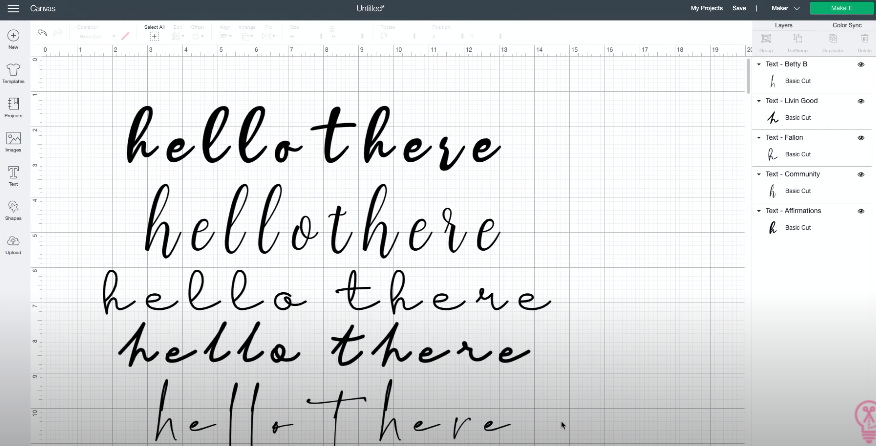 Remember, even regular fonts (that aren't script-style ones) can have issues with letter spacing that you want to fix. These skills will help you with those as well!
Start with Letter Spacing.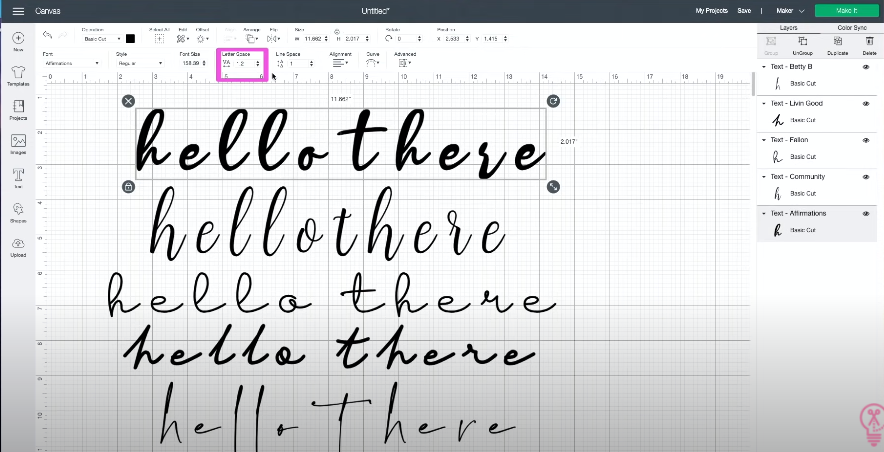 For the first phrase, we want all of the letters to be closer together. So, we are using the Letter Spacing controls to move the letters to slowly move them.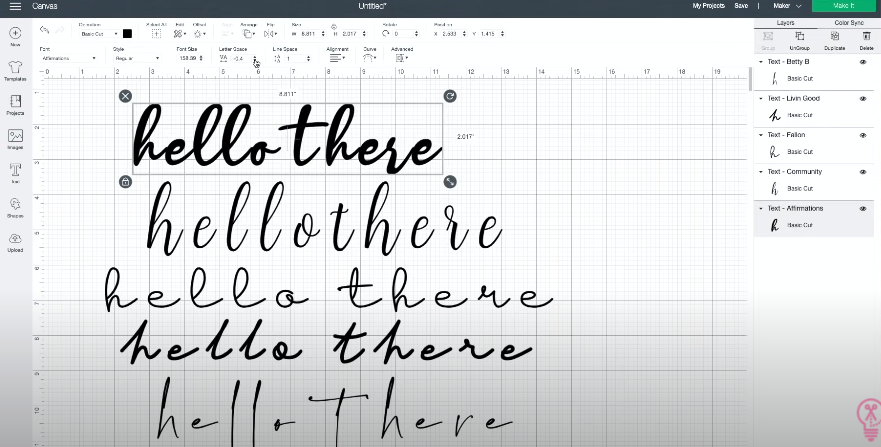 In the case of our first font, we managed to get all the letters perfectly kerned using Letter Spacing – except for that "t". It is not touching the rest of the word. If we keep using Letter Spacing though, it will mess up the rest of the letters.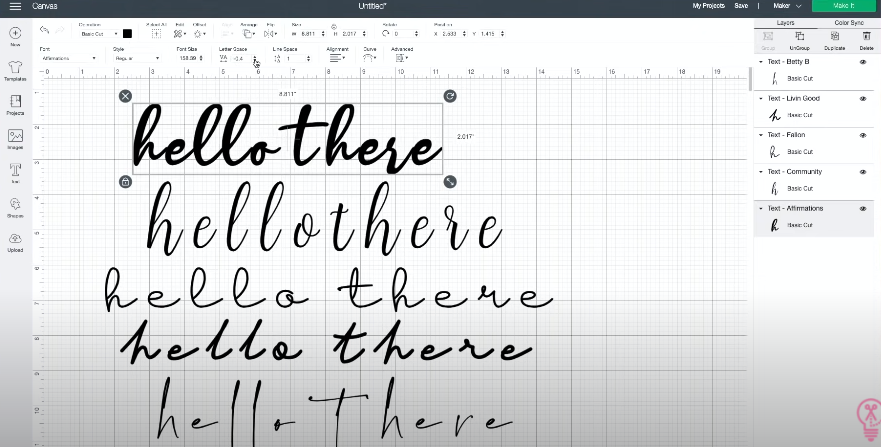 Use your arrow keys.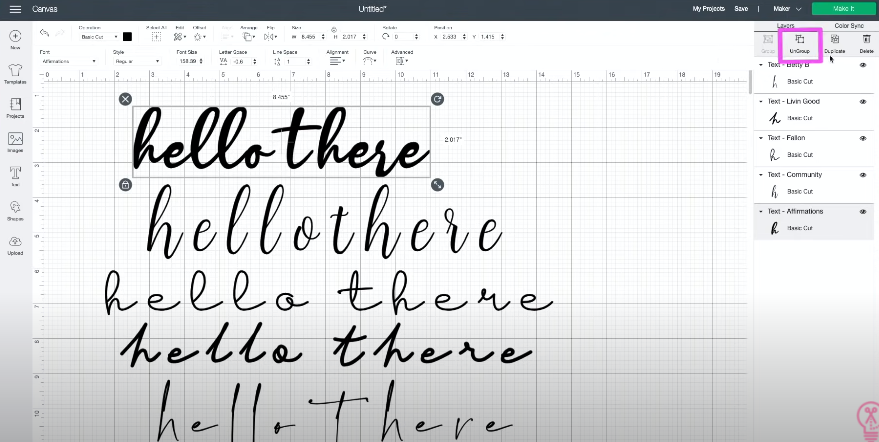 So, the trick now is to make sure your text is selected and go up to the top of the Layers Panel to choose Ungroup. Now, each letter in your text is its own separate layer and can be moved independently of each other.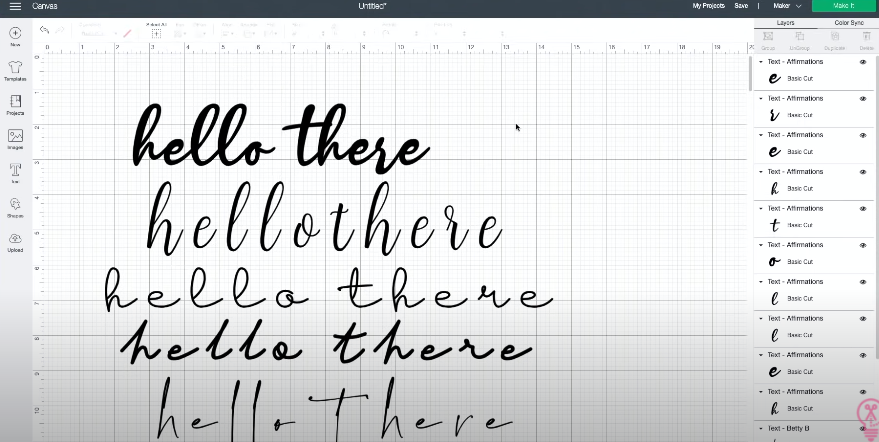 You want to select the "t" and then using the arrow keys on your keyboard, click the arrow to move the "t" to the right until it is touching the rest of the word as it should be.
One final step
Now you're ready to hit Make It, right? Wrong. There's one more step you have to take. You need to select all of your text and choose Weld just below the Layers Panel.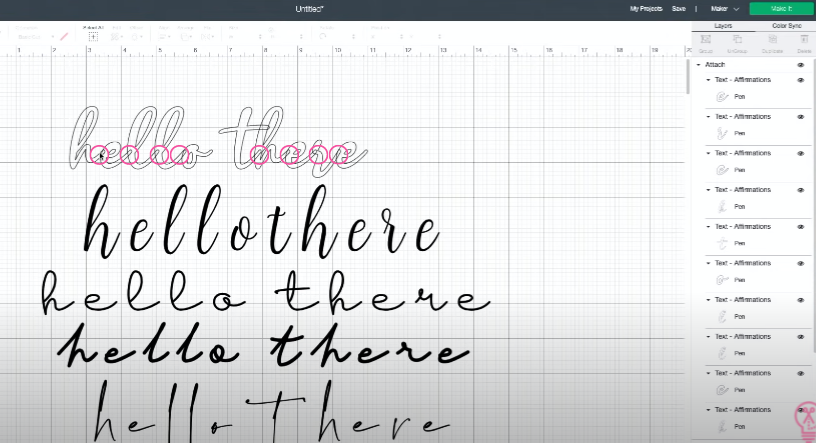 Why Weld and not Attach? Weld is the one that will turn your entire text into one layer and seamlessly join it together. With Attach, it joins the text together, but since they are still separate layers, it's as if each letter were written separately side-by-side.
The best way to see what we mean is by changing the text from "Cut" to "Pen" (under Draw). In the picture above, you can see that where the letters are touching, they are still regarded by Design Space as individual letters and so your Cricut is going to cut every one of those lines.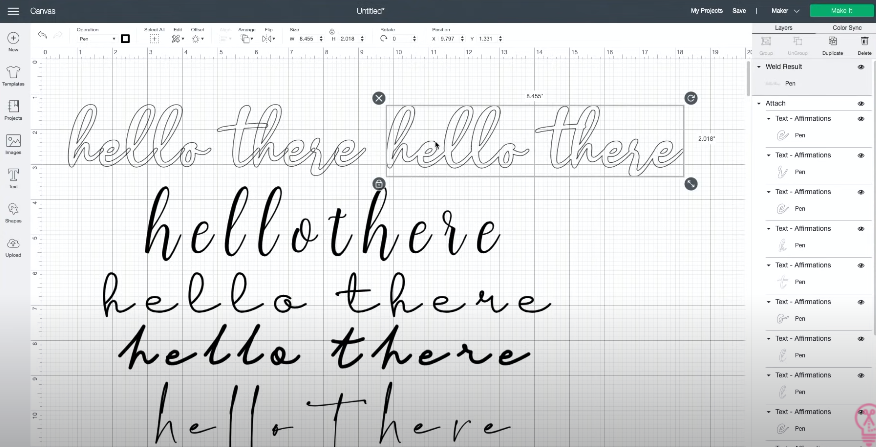 On the left, you can see the font that we kerned but then Attached. On the right, you can see the same font kerned and then Welded. The joining of the letters is seamless and where they touch, there are no overlapping bits that will cut out and ruin your design.
Simply select your text and choose Weld at the bottom of the Layers Panel.
Another kerning example:
As you can see in our next example, by simply using Letter Spacing, it actually joined the two words together. So, we're going to have to Ungroup again.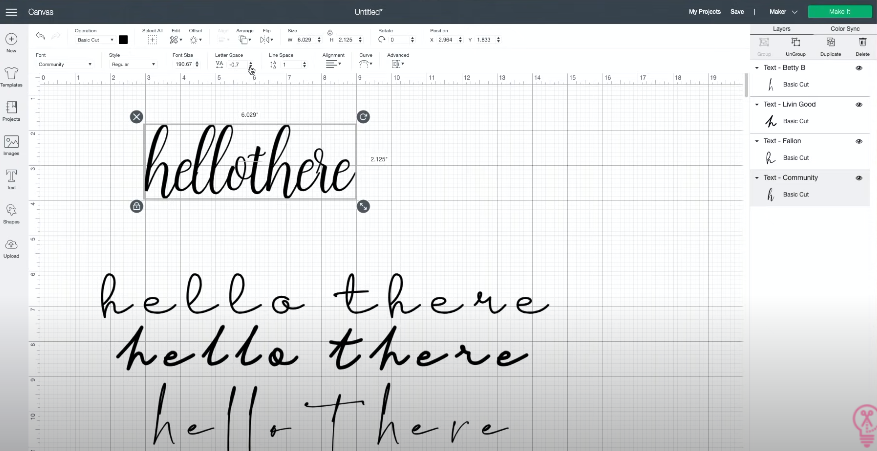 This time, since we need to separate the two words, we are going to select the second word and using our keyboard arrow keys, move that word over to create space between them.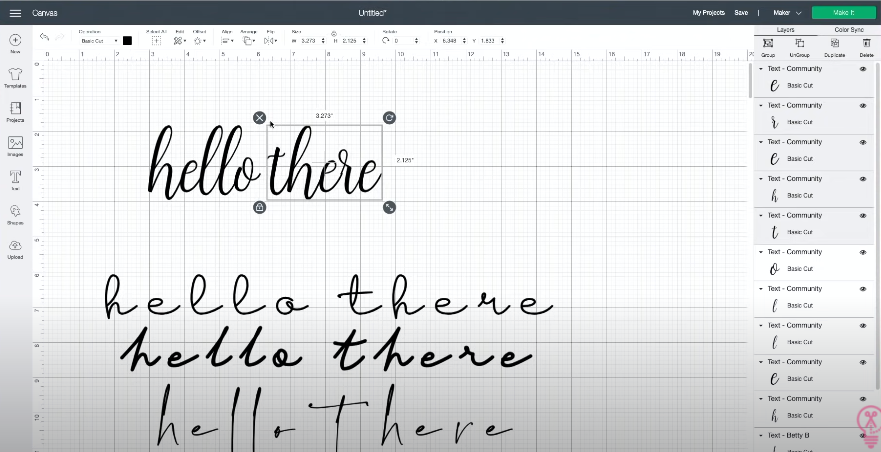 We find that we like to enlarge our text designs while kerning to get a closer look and make sure they are joined correctly. As you can see here, when we did it with this text, we could see that the "r" was not connected to the word correctly.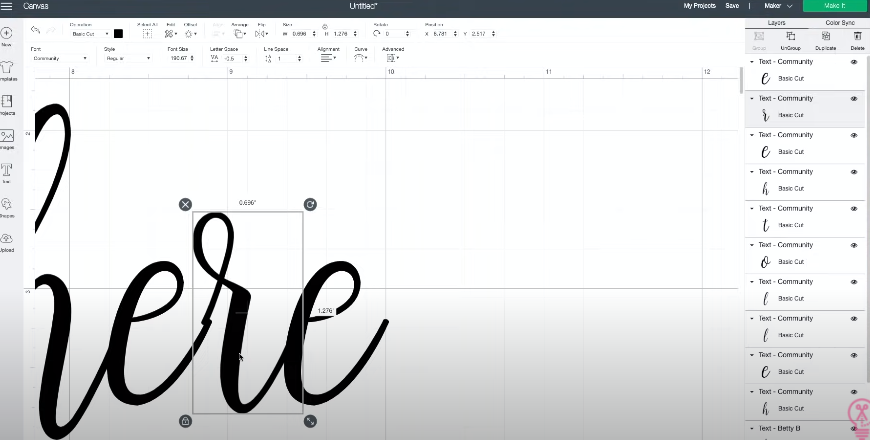 To fix it, we selected the "r" and the "e" and then using our computer mouse, we moved them over to get them lined up perfectly with the rest of the word.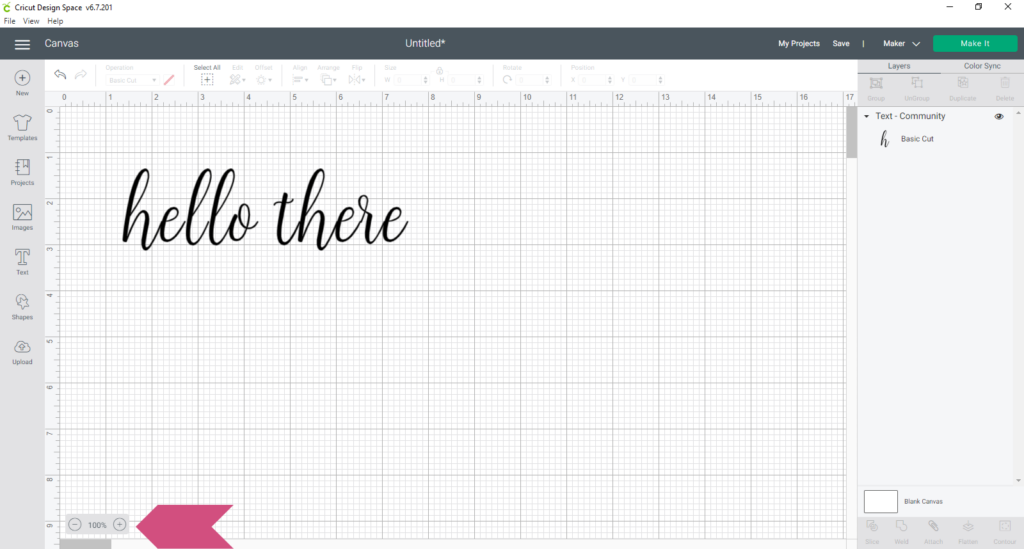 Note: When we say to enlarge our design, we just want to enlarge our view of it. Don't change the sizing of it. You want all of your text to be sized together to keep it all consistent. Simply go to the bottom left of your canvas to enlarge your view without changing the sizing at all.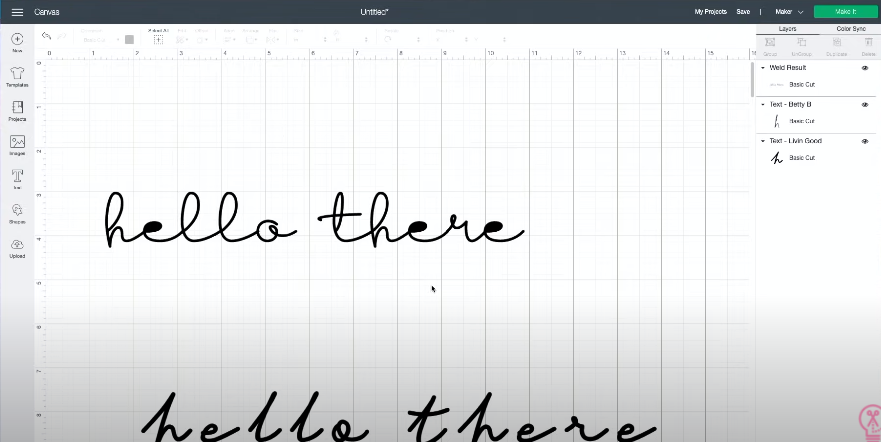 Working with skinny fonts.
This is an issue many Cricut users have had when working with really thin fonts. They get them kerned beautifully, weld them, and oops! the centers of the letters have filled in (check out the letter "e" above).
To fix this, start by clicking your Undo arrow key in Design Space. Next, select your text and click Ungroup. We know that the "e's" are the issue so they are what we need to have a closer look at.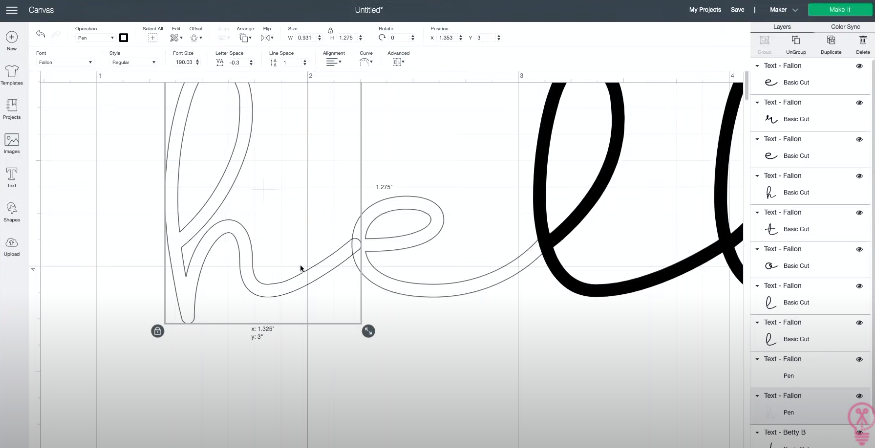 Bring your view in so you can see a closeup of the first "e". Change the "e" and the letter right before it ("h") to Pen. Now, you can see how they are joining together. Select your "h" and scoot it over to the left a bit so it's not so close to the opening of the "e". Once finished, change them back from Pen to Basic Cut again.
Repeat those steps as needed with any other problematic letters. This time when you Weld, you shouldn't have any issues. If by chance you do, just hit that Undo button and try again!
Final Font Kerning Example
It's always a good idea to really look at your text and think about how you want to your final result to look. Sometimes, you want every letter in each word joined together. Sometimes, there are fonts that look really good with the first letter of each word separate from the rest of the word. There are so many different ways to do this.
It can be really helpful to consider how the font was designed as well. This font. Betty B, was meant to look like a messy handwritten font. That can often help guide you when making your kerning choices.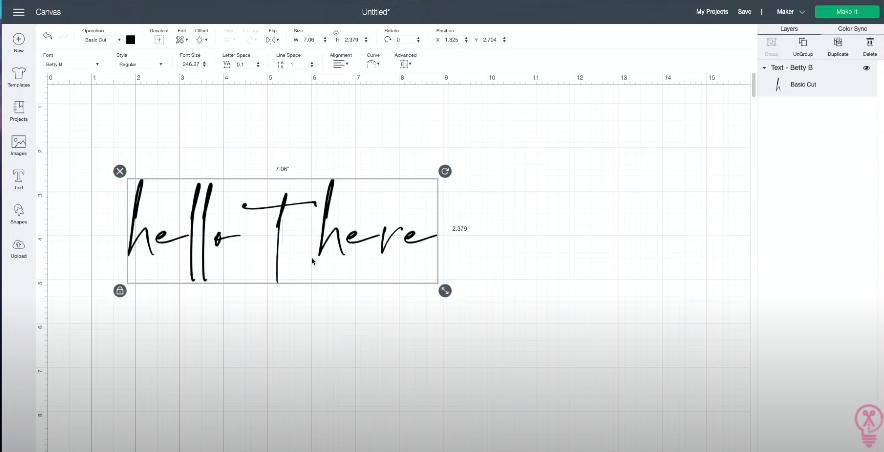 After using Letter Spacing to move these letters in a bit, we think that we might only want to tweak the "e" with the "l" and the "e" with the "r". So, it's time to Ungroup.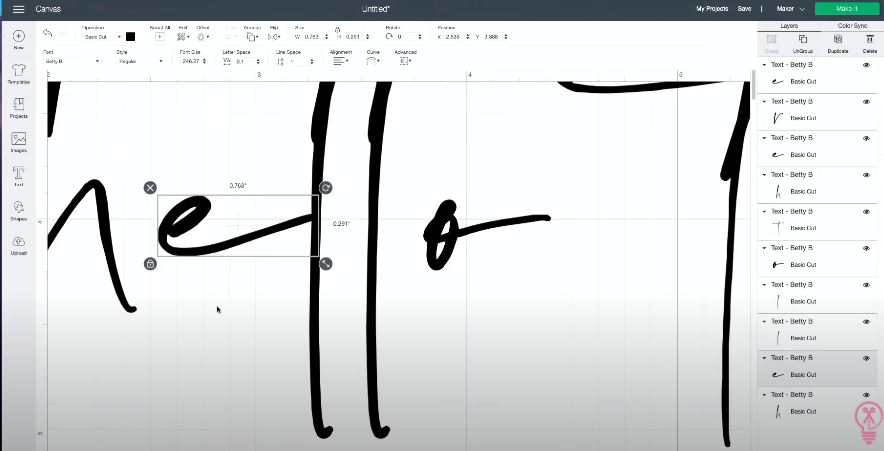 Select one of the letters you want to work with and use your keyboard arrow keys to move it over. Note: if the arrow key moves it too far over, you can always manually adjust that.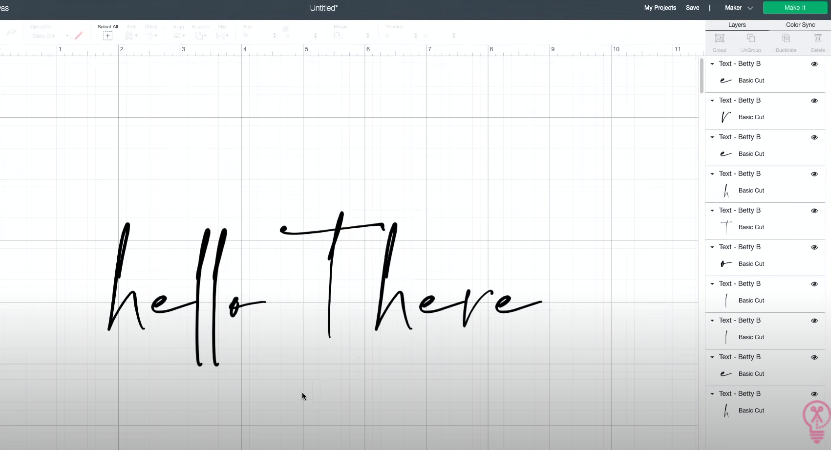 After repeating that step with the other letter, we are now pretty happy with the design. Once we have seen what those changes look like, we did decide to move the letter "T" over and down to better work with the rest of the word.
Keep playing with your text until you're happy with it. Once you are, don't forget to weld your text so they will be successfully cut out and your project will be beautiful!
If you want to have professional looking craft projects using fonts, you need to learn how to kern fonts. Once you master this, you will be thrilled by the results you get with your creations!
Tanner, Courtney, and the rest of the Makers Gonna Learn Team are all here because we love die-cutting and especially love sharing fun projects and tutorials with fellow makers. We are all great friends and are always having a blast when we are together- you will see this on camera, especially during live streams! We are here to inspire and support you in your crafting journey!