How to Personalize a Cut File
Today, we're going to show you how easy it is to personalize a cut file. If you're like us when we first started out using our die cutting machine, you have seen some really cute SVG cut files that you are excited to use for your craft projects. There's only one problem. You want to add some words. Or you want to take away some words. You would like to add a dingbat. It's a great cut file but there's just something you'd like to change about it.
That's what this tutorial is all about! We want to show you that it is really simple to manipulate cut files and make them work for you. You aren't locked into a cut file design. They are quite versatile and easy for you to customize.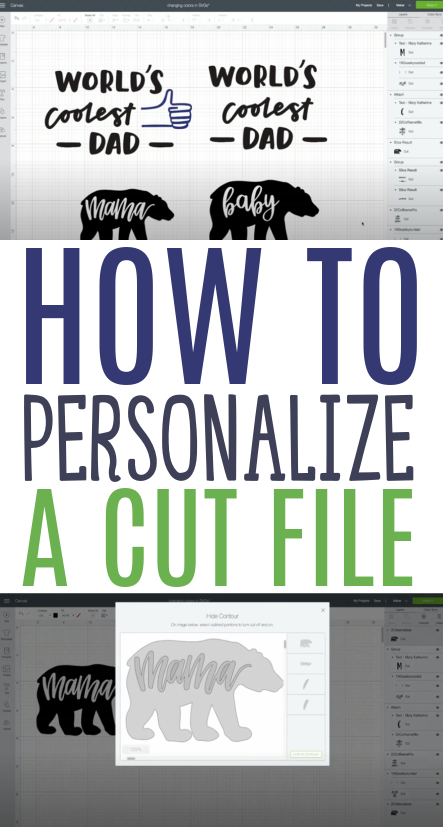 How to Personalize a Cut File
We're working with 4 different cut files today from Makers Gonna Learn to show you a variety of ways that you can edit an SVG file in Cricut Design Space to make it your own.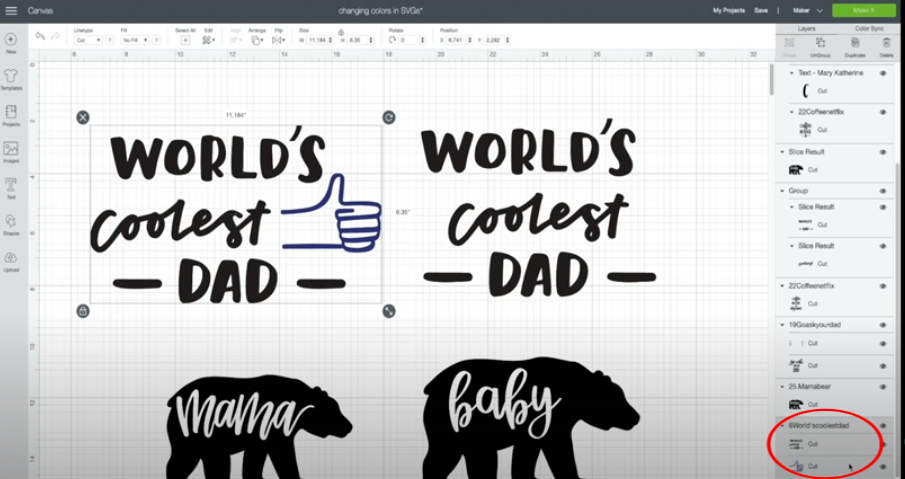 Removing Unwanted Graphics
In this first example, we want to remove the thumbs up from the World's Coolest Dad cut file. Begin by selecting the whole file. Then, go over to your Layers Panel. Simply click on the one layer (the thumbs up, in this case) that you want to delete so that it's the only one selected and click Delete.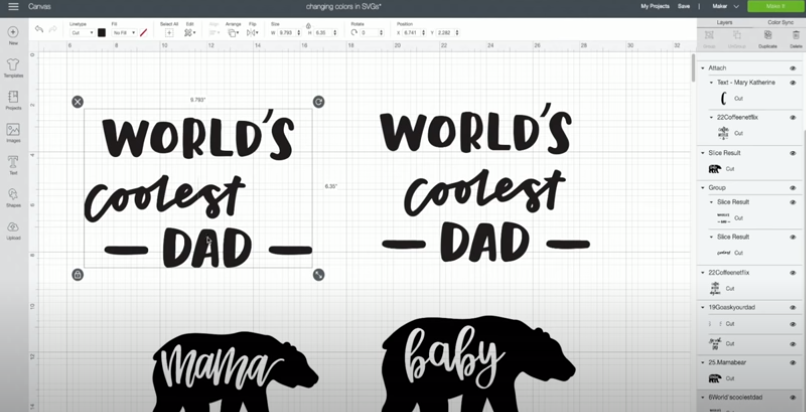 You can see in the image on the upper left of our screen, the thumbs up is now gone. Unfortunately, the word "coolest" is not centered. Don't worry – we can fix that too.
Go into Basic Shapes and grab a square. Unlock it.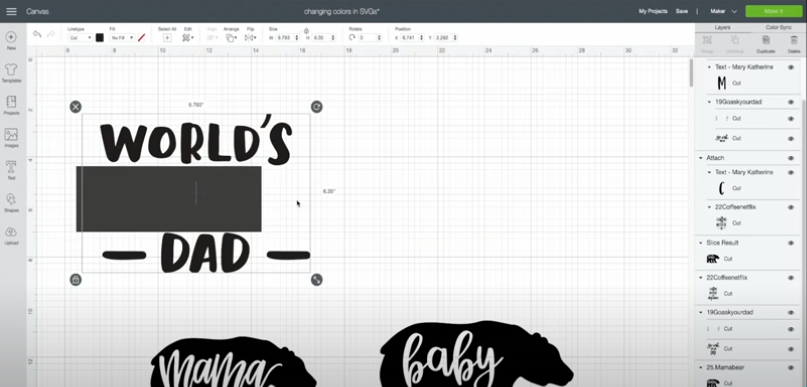 Manipulate the size until it's big enough to cover the word "coolest".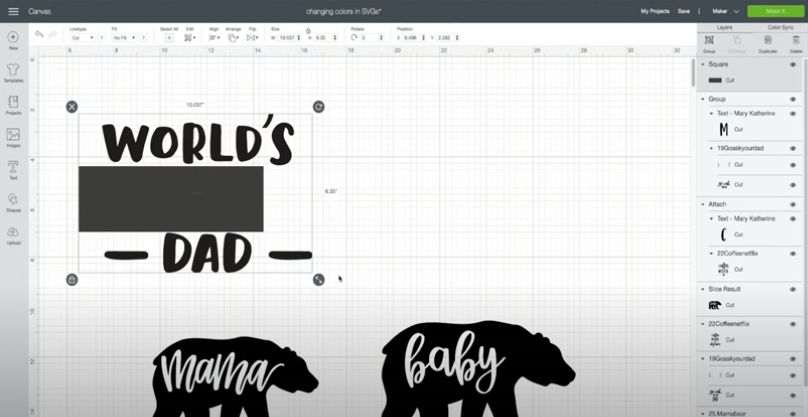 Click and drag over the entire design (the words and the rectangle) to select it.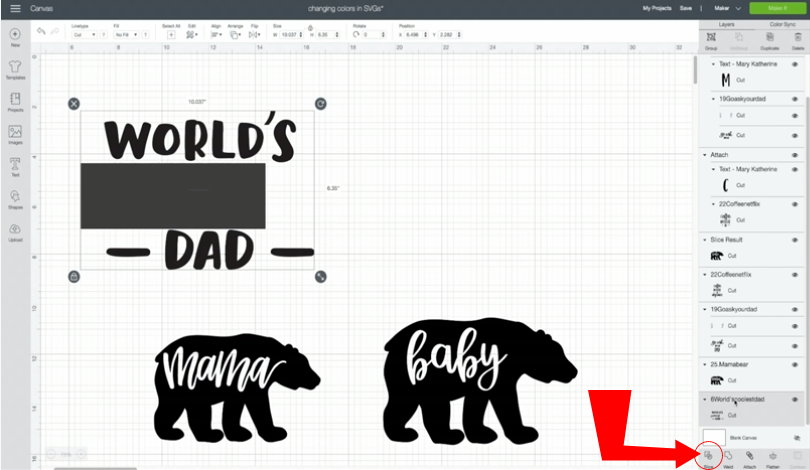 At the bottom of your Layers Panel, you'll find the Slice function. Click on that to slice the rectangle out.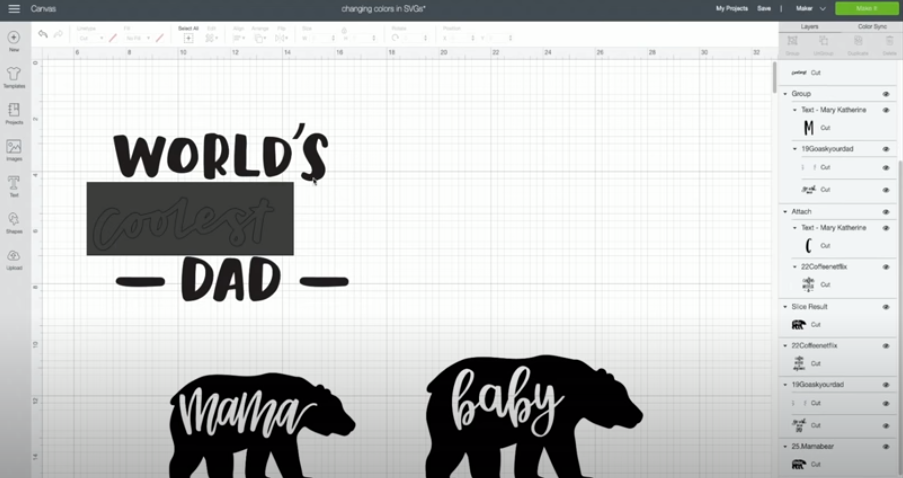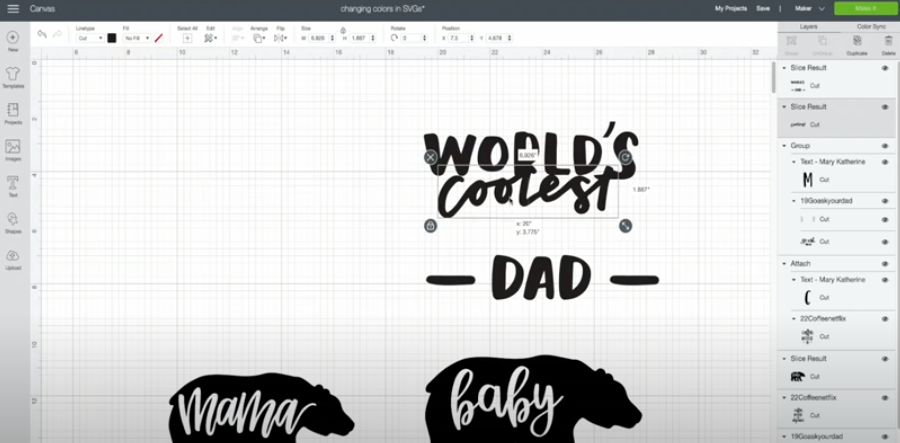 Delete the layers you don't need. Move the remaining layer – the word "coolest" – into place back into your design.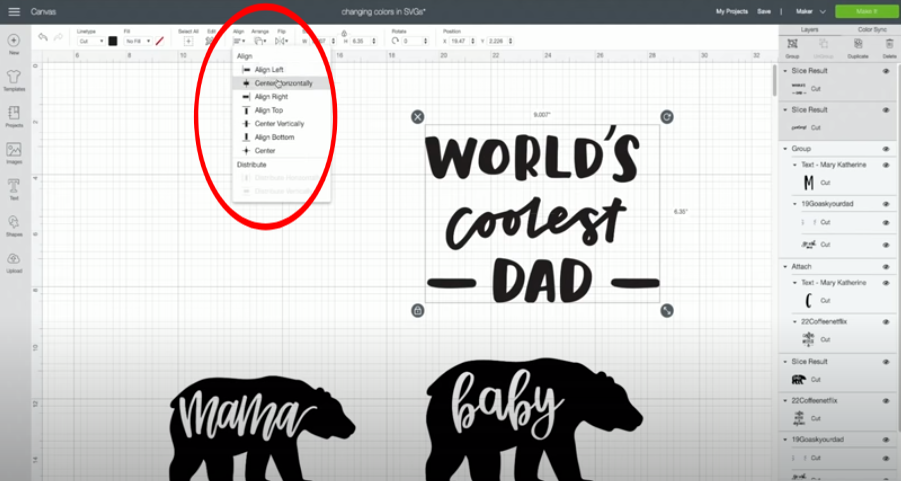 Once you have placed it back in your design, don't worry about getting it perfectly lined up. We can get Design Space to do all the work for us there. Simply click and drag to select the whole design (both layers). Go to the top of your canvas and select Align. Then, in the drop-down menu, choose Center Horizontally. Once aligned, click Attach and you are all set to use your design.
Contouring out unwanted text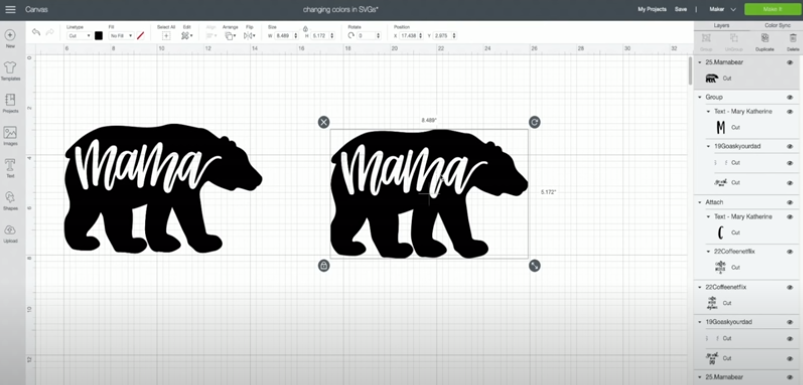 Next, we're going to work with this bear file. If you wanted to make a whole family of bears, you could select your bear and then duplicate it. If you want to change the name or maybe change the font on the second bear, we need to get rid of the word "mama". There are several ways to do this, but the easiest way to do this is by using contour.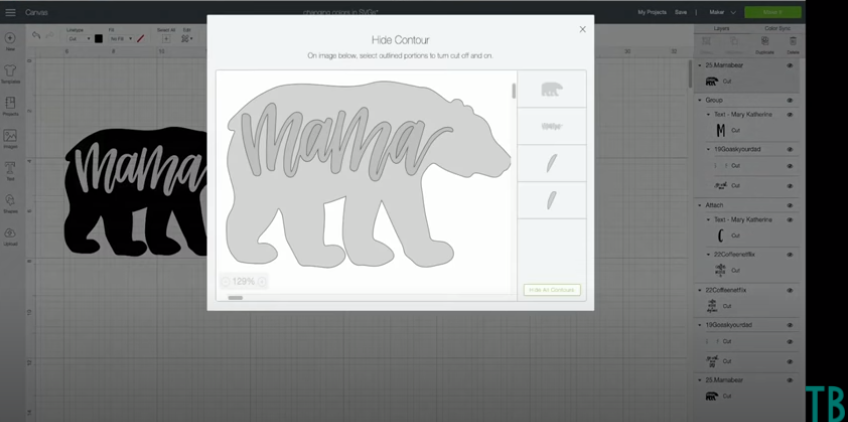 Make sure your design is selected. Scroll down to the very bottom of your Layers Panel and click Contour. Click on each letter to contour them out. Don't forget to do the centers of the letters as well!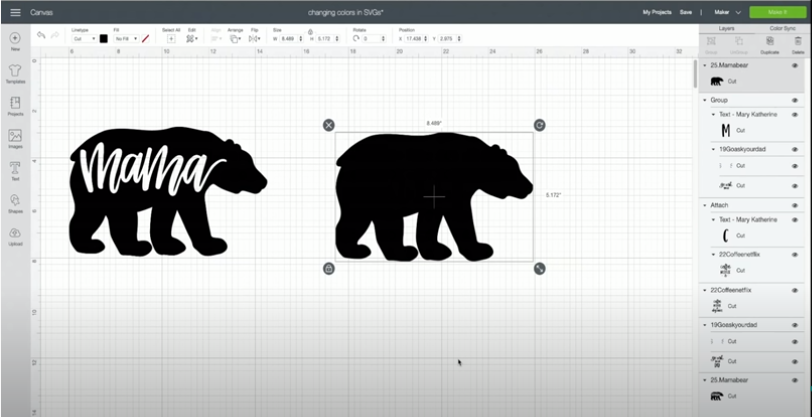 You should now have a bear with no lettering on it at all.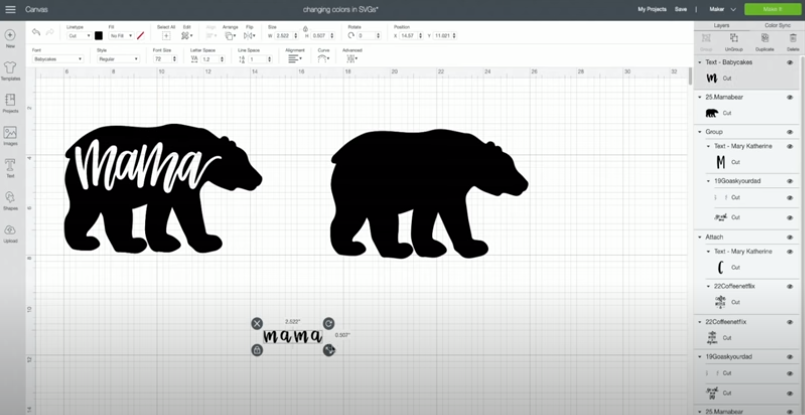 Open a text box and using the font of your choice, type the word you want to add to your cut file.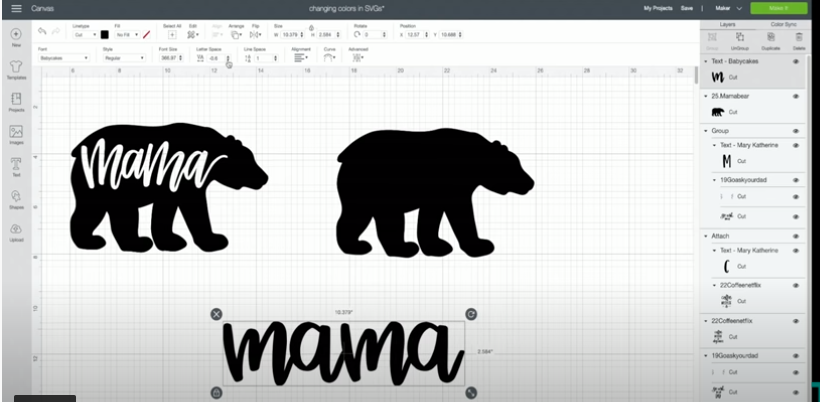 Kerning cursive fonts
Use the letter spacing and other techniques to connecting (also called kerning) your font as needed. If you're not sure how to do this, be sure to check out the this post and video tutorial on kerning fonts which goes into much more detail on it.
Kerning must be done with words written in cursive. You will be removing the spaces between the letters and joining them together so it looks like cursive lettering should.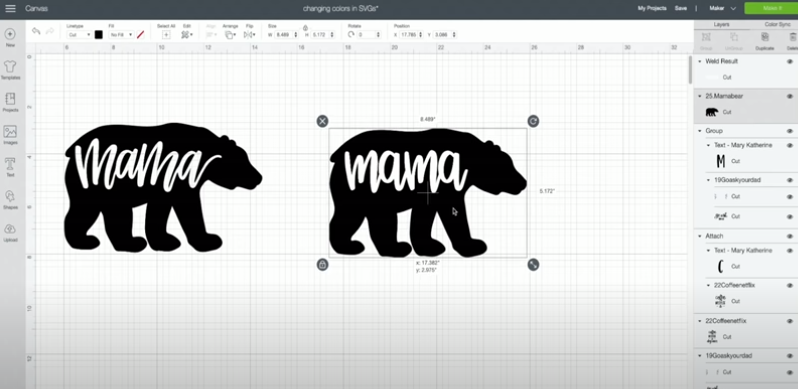 One you are happy with the text, you can place it back on your bear. Select your whole design and once again, go down to the bottom of your Layers Panel and select Slice. Delete the sliced layers that you no longer need.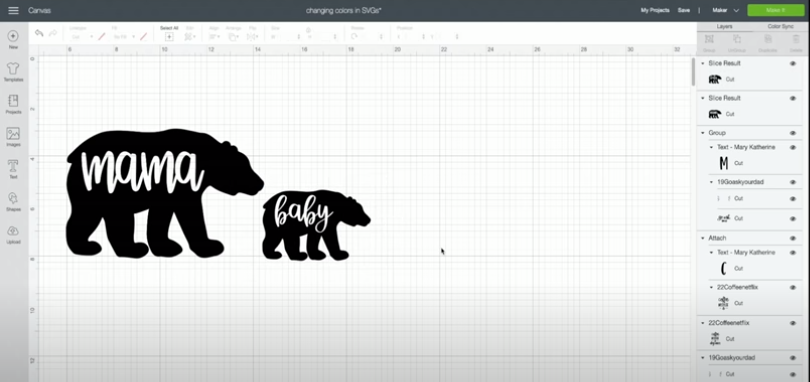 Repeat as many times as needed to create all the different bears you want for your craft project!
A few more examples of customizing a cut file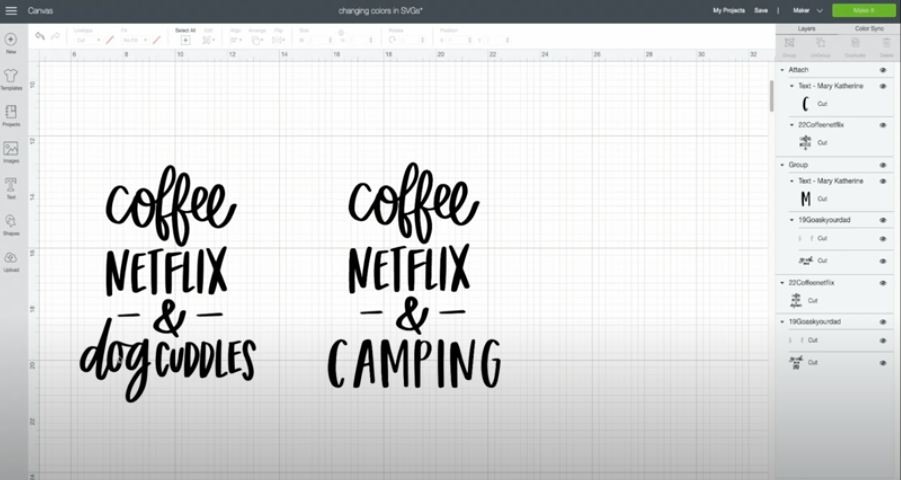 You can see in the example above that we removed "dog cuddles" and replaced it with "camping". If you want to watch the step by step tutorial of how we did this, be sure to check the video below. However, it's pretty much the same technique we showed you already. We contoured out the words "dog cuddles" and then added text saying CAMPING.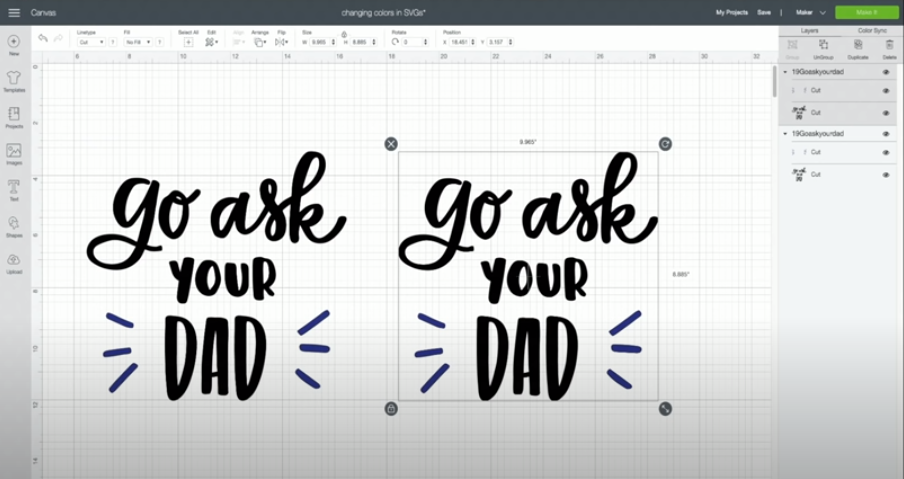 In this final example, however, if you will notice when you duplicate it as before and start to try and contour out the word "dad" so you can change it to "mom", you'll see that the Contour function is unavailable. Now what?
Well, if you look at your Layers Panel, you will see that this file is presented in 2 layers. Contour only works on one layer at a time. So, looking at your Layers Panel, simply make sure that you select only the layer that has the part you're trying to contour out. Once you do that, you're all set!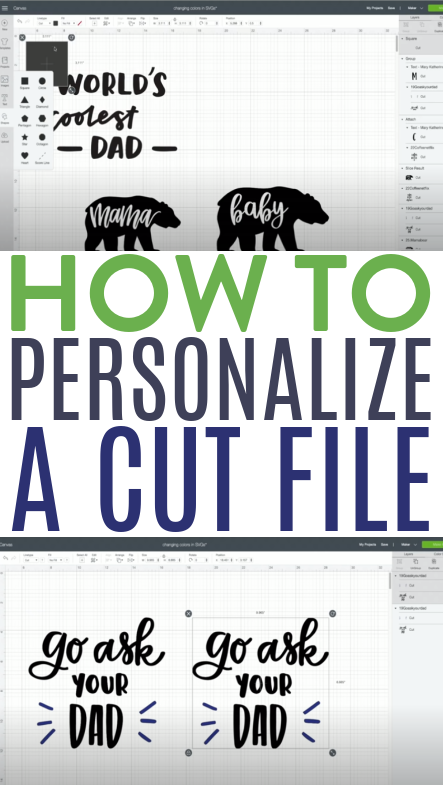 Tanner, Courtney, and the rest of the Makers Gonna Learn Team are all here because we love die-cutting and especially love sharing fun projects and tutorials with fellow makers. We are all great friends and are always having a blast when we are together- you will see this on camera, especially during live streams! We are here to inspire and support you in your crafting journey!