Using Cricut Design Space Templates
When it comes to sizing your vinyl die-cutting designs properly, it can sometimes get a bit tricky to figure out. We have several tips and tricks that we use for sizing our vinyl projects, but one of them is Using Cricut Design Space Templates.
It's really important to get your designs sized correctly in Design Space, so that you don't waste vinyl by cutting out something that is either too large or too small. These kinds of craft fails with your Cricut machine can be very frustrating. Thankfully, there are several ways to overcome this issue.
If you'd like to learn more about our other hacks for sizing designs, be sure to check out this post: Vinyl Sizing and Placement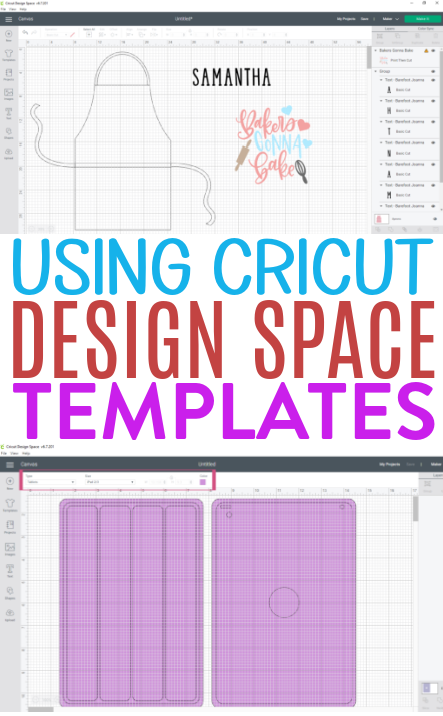 Using Cricut Design Space Templates
We used to use Cricut Design Space exclusively on iOS, so we didn't know these templates existed back then. They are only available for desktop. During that time, we developed our systems for sizing and placing our designs and they work well. However, now that we're aware of the templates, we wanted to be sure to point them out to you.
Some Cricut crafters we know find them very useful so you might want to try them out. You'll see the icon for them over in the left sidebar. Click on that to open up the Template menu.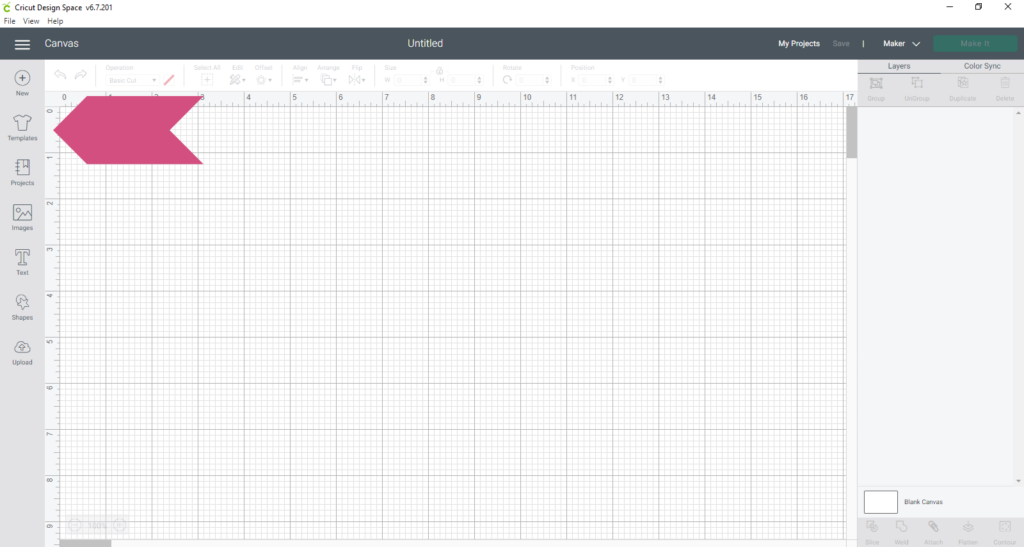 Here's a selection of the templates available. As you can see, there are things like aprons, backpacks, luggage tags, banners as well as onesies, t-shirts, hats, and so much more.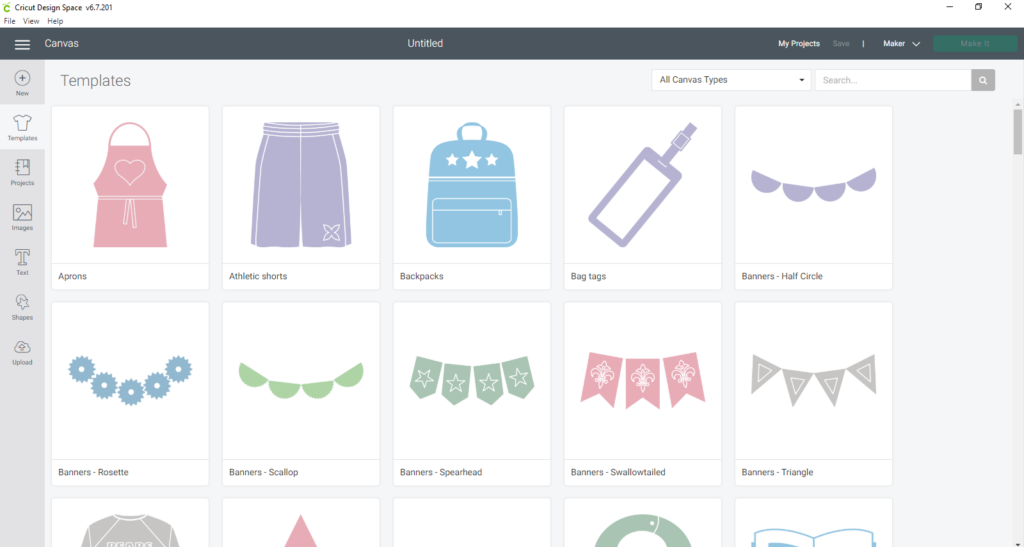 You can browse, use the Search function, or click on Canvas Types to narrow down your selection.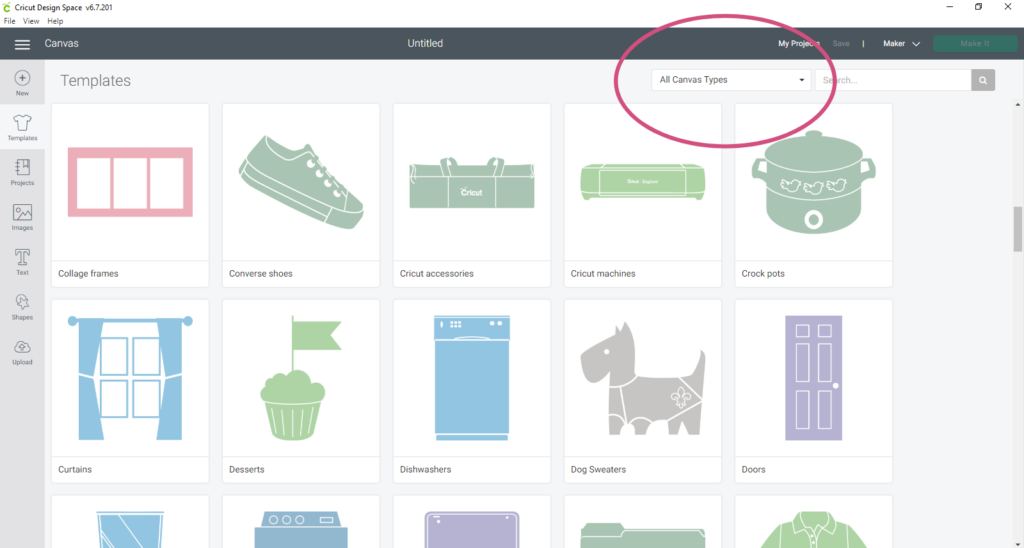 This opens up a dropdown menu of categories you can choose from.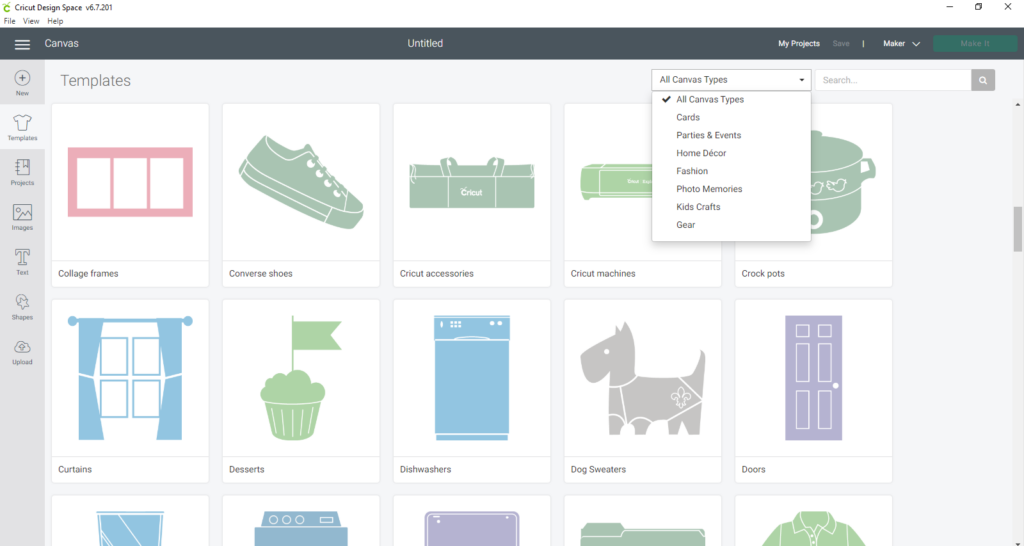 So, once you find the template you're looking for, now what?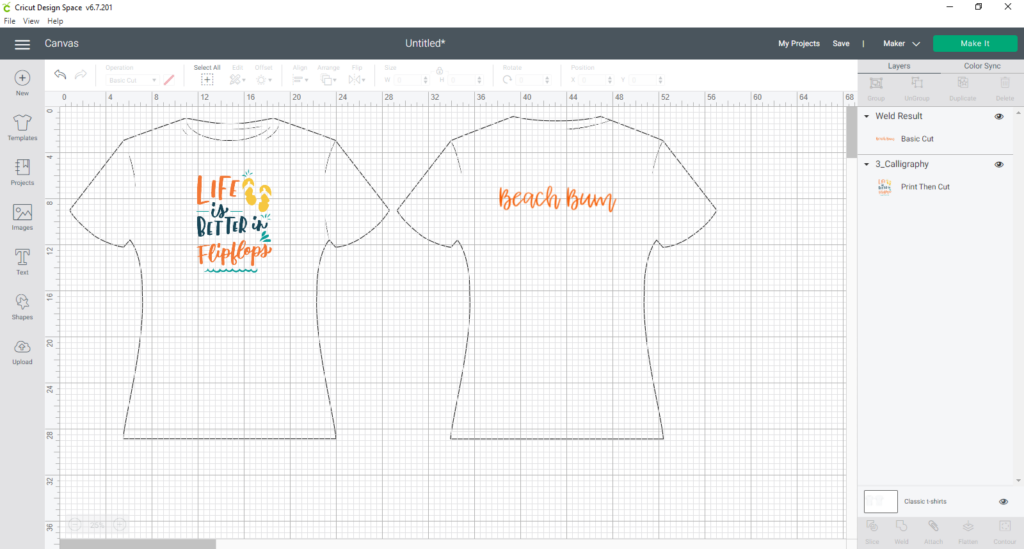 When you select the template you want to use, it will be added to your canvas and Design Space will automatically zoom out so you can see the whole thing. You'll also be given a reminder that this is only there for reference and visualization. The template will not be saved with your project.
Upload or create the designs you want to use for your project. Here we used the Life is Better in Flipflops cut file from here on Makers Gonna Learn. Using the MGL font Cynthia, we typed out the words we wanted to add to the back of the shirt.
After adding the designs, we dragged them onto the shirt. In this case, we were adding designs to both the front and back of the shirt. We sized them accordingly.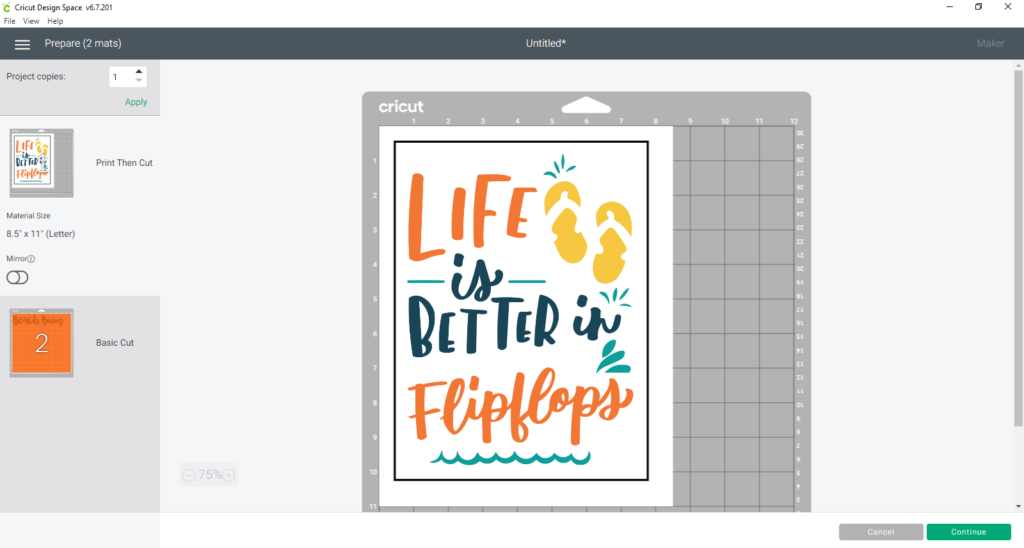 As you can see, once you click Make It, the template is not carried over to the cutting mats. As mentioned previously, the template will also not be added to your project when you save it, so be sure to keep that in mind too.
Pro tip: You can add a text box to your project. Use it to make notes on what template you used, the size, color, and any other details that will help you the next time you want to work with this project again. This can be really helpful since the template itself won't be saved. Be sure to hide the text box before cutting.
Here's another example using a template to create an apron design: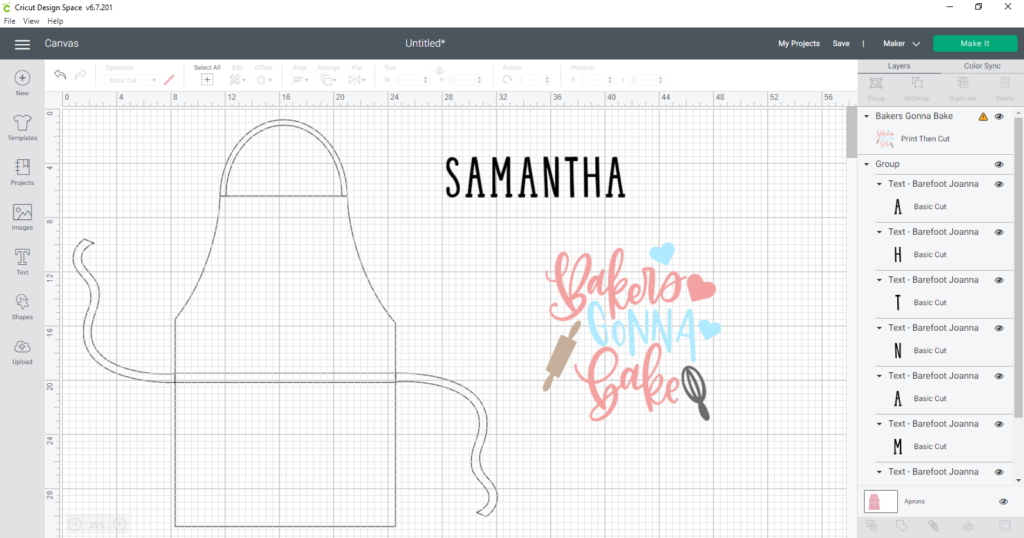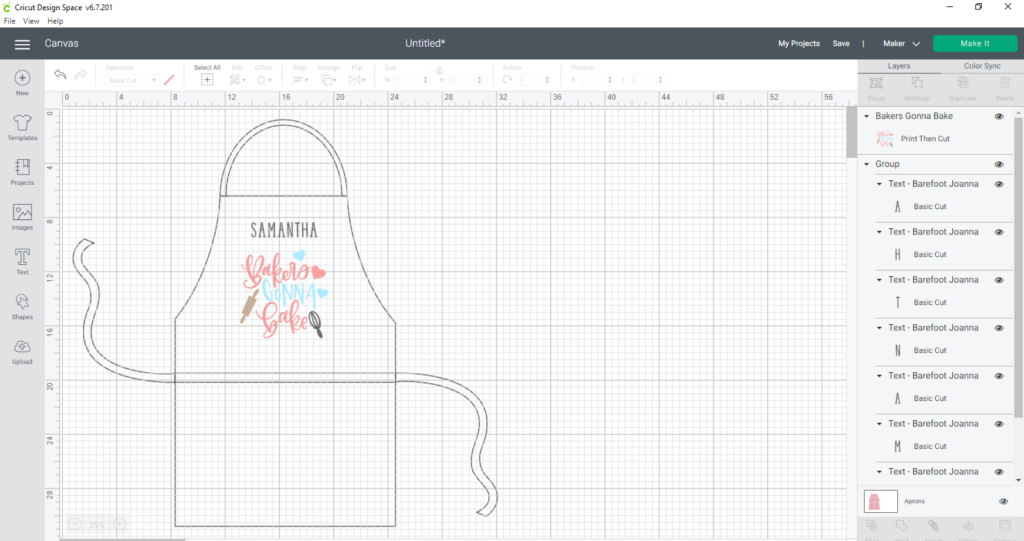 For some of the templates, you can even narrow down the sizes and designs by more specific measurements in the dropdown menus – for example, brand of device, model, etc. You can also change the color to help with visualization.
For this tablet case, you can choose brand and model.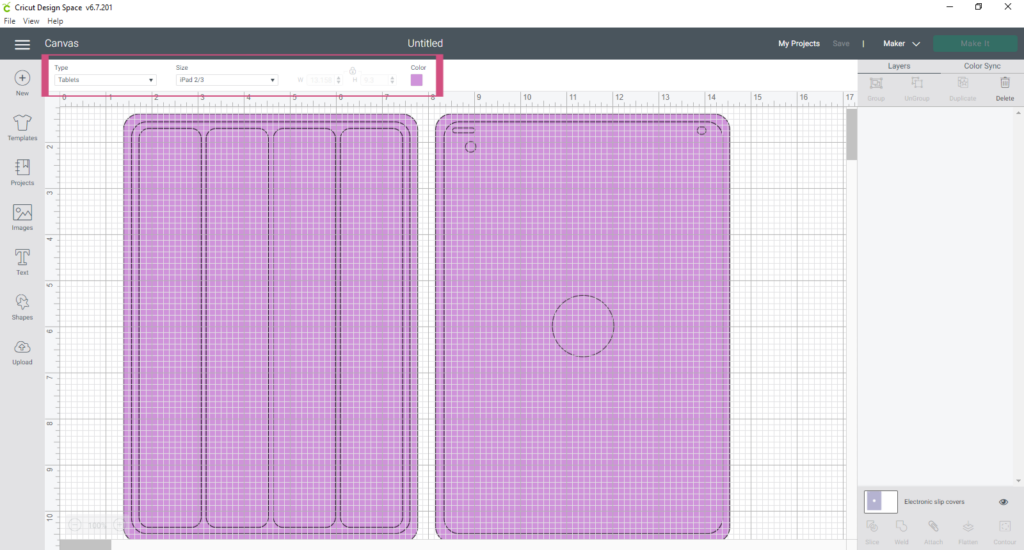 For the baby onesies, you can choose short sleeve, long sleeve, or t-shirt style romper.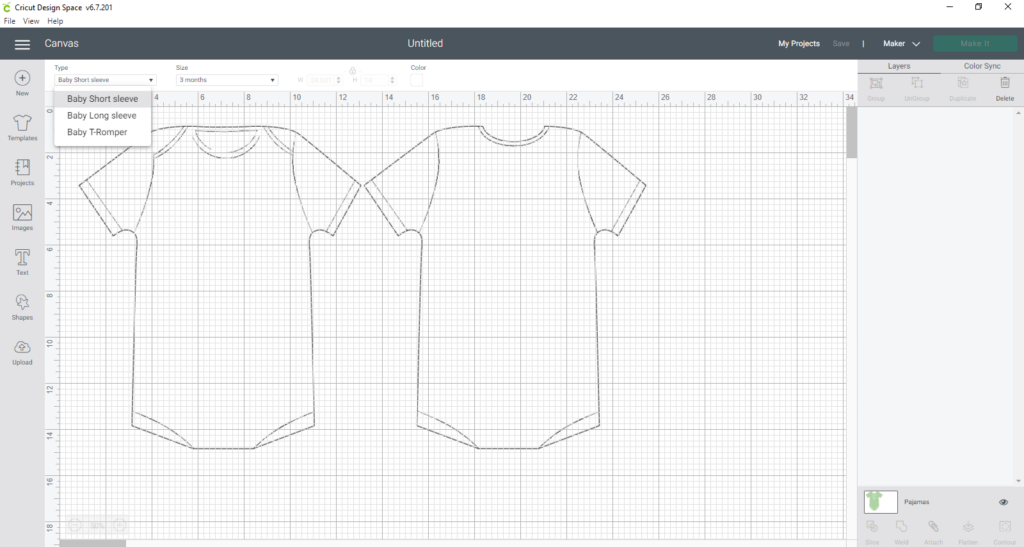 You can also select the size that you need.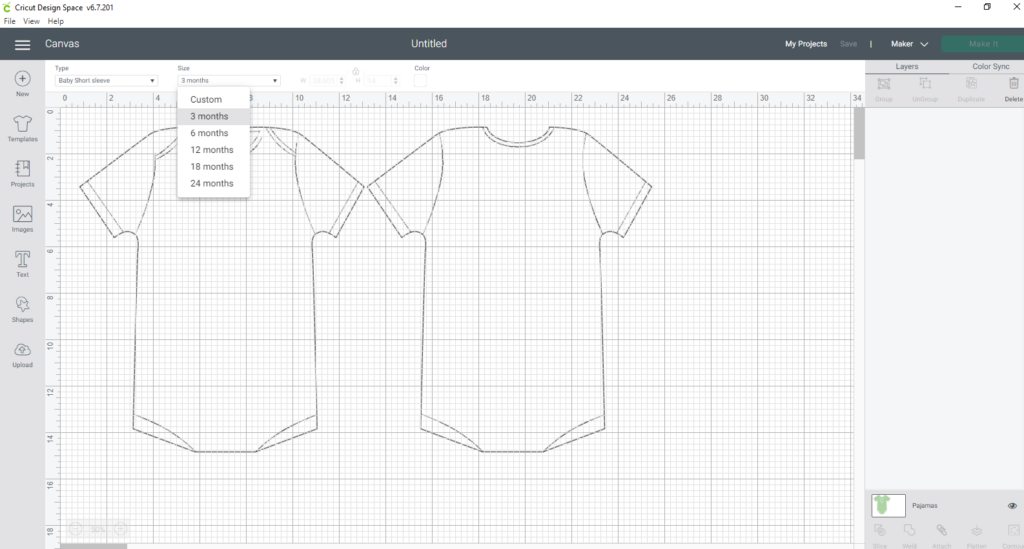 With these various templates, you have a great tool at hand to help you design your vinyl craft projects. In most cases, we find that the other methods we use work really well for us, but this is a great tool and reference, especially for some of those less common blanks.
These can be really helpful too, if you want to create a gift for someone. For example, if you want to make a design for tablet case for your Mom who lives far away from you. You won't need her tablet on hand, Instead, you can use the provided templates, put in the brand and model she has, and start designing!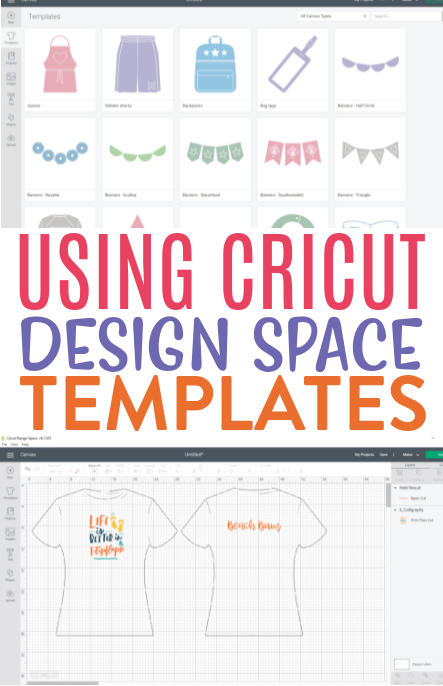 Tanner, Courtney, and the rest of the Makers Gonna Learn Team are all here because we love die-cutting and especially love sharing fun projects and tutorials with fellow makers. We are all great friends and are always having a blast when we are together- you will see this on camera, especially during live streams! We are here to inspire and support you in your crafting journey!