Vinyl Sizing and Placement
One of the aspects of creating Cricut craft projects that we find people struggle with the most is the vinyl sizing and placement. It's not always easy when you're a die-cutting beginner to figure out exactly what size you want your designs to be and precisely where you want to place them. In fact, it can be really frustrating.
That's why we are here to help. We want to share some of our best tips for sizing your projects so that when you place them on your chosen blanks, you are creating a project that is flawless and beautiful!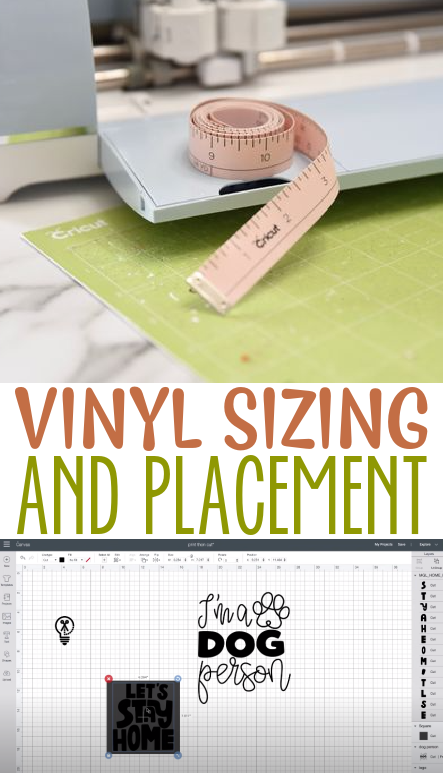 Vinyl Sizing and Placement
The most important thing to remember with sizing and placement of your vinyl is that you want to take your time. You don't want to rush through this. You will become faster and better at it over time, but when first starting out, go slowly and double check your measurements.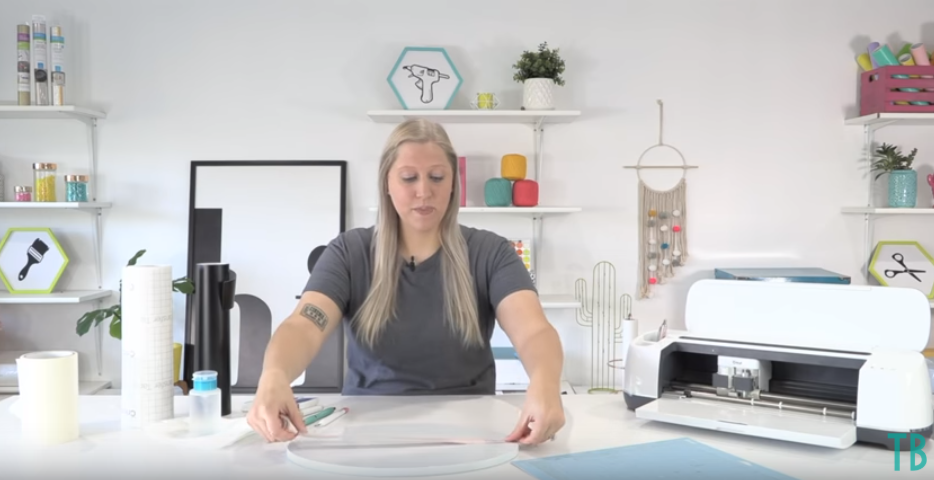 Measure. Measure again.
One of the first things we have to say – and we say this again and again! – is to measure twice and cut once. We know it's a common saying that you've heard time and time again, but it's really important.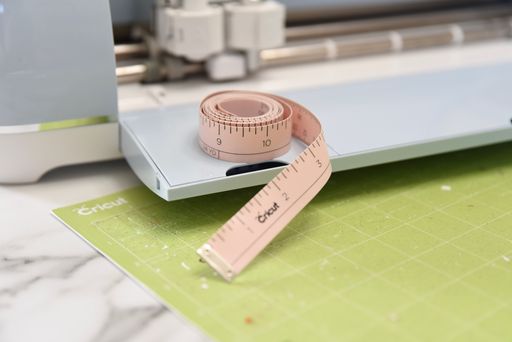 You should never be without a measuring tape in your craft space. In fact, when we talked about the top 7 products we think all Cricut crafters should have in their craft rooms, a measuring tape was on the list. Step one, when making craft projects, is always to measure the surface you are placing the design on.
Important reminder: Measure the area available to you for placing your design. For example, if you're making a sign, measure only the area that will be showing when framed – don't include the space that will be hidden under the frame itself.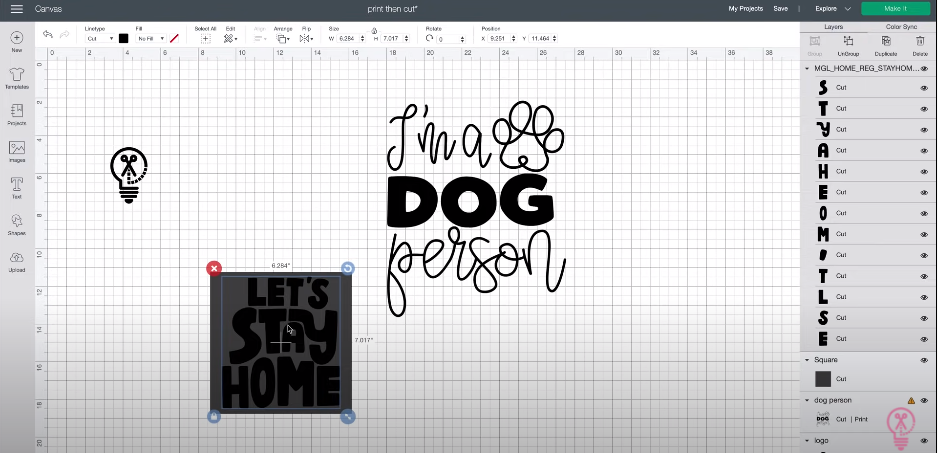 Use a background in Cricut Design Space.
Next, using those measurements you took in step one, create a background in Design Space with the same dimensions. So, if you are making a tumbler and the maximum space you have to work with on your tumbler is 3 x 4 inches, pull in a square from basic shapes and resize it to be 3 x 4 inches.
Now, as you are creating your design, you can place it in that background shape and size it accordingly. This way you will know for sure that it will fit! When you are ready to cut out your design, just make sure to delete the background before sending it to the mats. You don't need to cut that out – it was for visualization and sizing purposes only.
Get ideas from sample items.
Already have a t-shirt or onesie with a design on it? Reverse engineer the process by taking measurements of that and using those to gauge the sizing and placement of the project you're going to make.
This can help you create your own customized guide of what you think looks best in terms of sizes and placements of designs.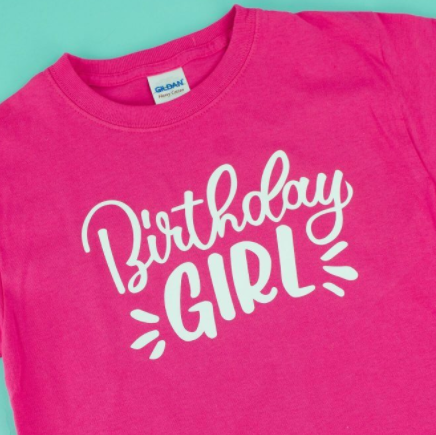 Centering designs.
When working with some surfaces, like t-shirts and tote bags, you can fold your item in half and give it a light pressing with your EasyPress. This crease will help you line up and center your vinyl design perfectly.
With other surfaces, we generally like to "eyeball" it. It can be really helpful to get up over your project, looking straight down at it, instead of having it in front of you on a table while placing your design. This makes it much easier to line up perfectly.
Pro tip: for adult-sized shirts, we generally like to measure down 3 inches from the neckline of the shirt and place the design there. You may want to adjust this measurement for plus-size shirts or for those in children's and youth sizes.
Makers Gonna Learn members have access to our Heat Transfer Vinyl Sizing and Placement Chart with specific sizes and placement guidelines for a wide variety of sizes. It's included in your membership. Find it on your dashboard in the Member Resource Library!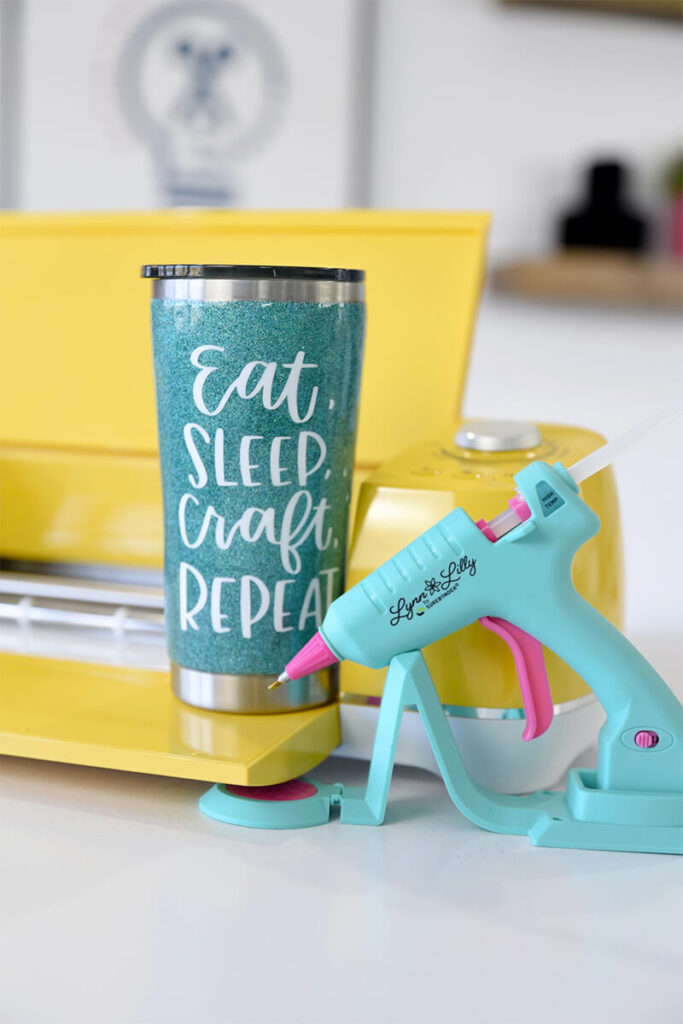 Sizing and placement for mugs and tumblers
When working with mugs and tumblers, it's important to consider a few things. Let's begin with something like a mug which has a handle.
You need to consider if the person using the mug will be picking it up with their right hand or their left. Do you want the design facing the person who is drinking from the mug or facing the people who are sitting across from them? Maybe you want a design that's visible to both! Some people even like to place the design on the opposite side of the mug from the handle.
If there is no handle, often you can place your design wherever you'd like it, but we like to pick up the cup/tumbler, and pretend to drink from it just to be sure we're not missing something! Some cups, while lacking a handle, still have other built-in elements that would affect the placement and size of your design.
Use the templates in Cricut Design Space.
We used to use Cricut Design Space exclusively on iOS, so we didn't know these templates existed back then. They are only available for desktop. During that time, we developed our systems for sizing and placing our designs (the ones we've previously mentioned), so we've never actually used the Cricut templates.
However, we wanted to mention them because we know that some people find them very helpful. You'll see the icon for them over in the left sidebar. Click on that to open up the Template menu.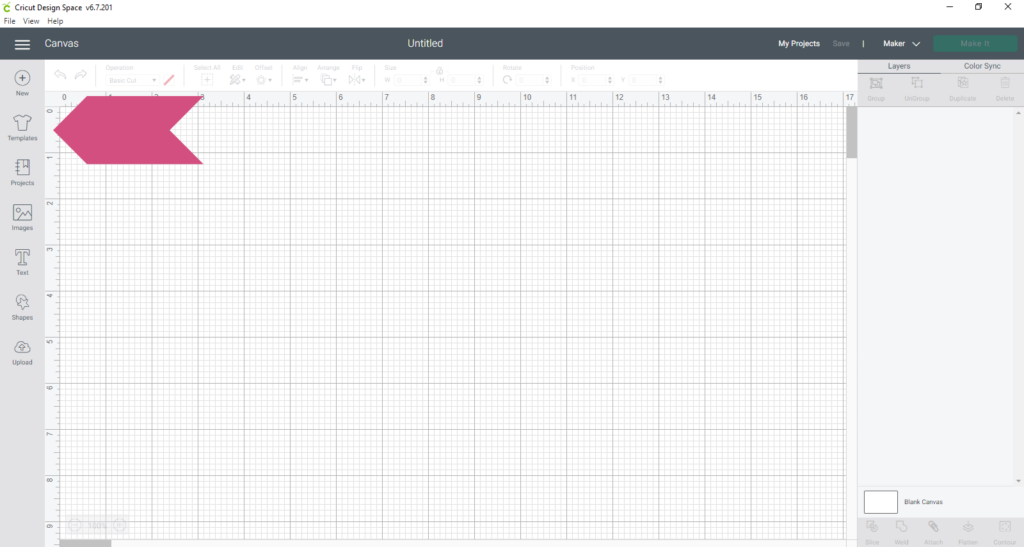 Here's a selection of the templates available. As you can see, there are things like aprons, backpacks, luggage tags, banners as well as onesies, t-shirts, hats, and so much more.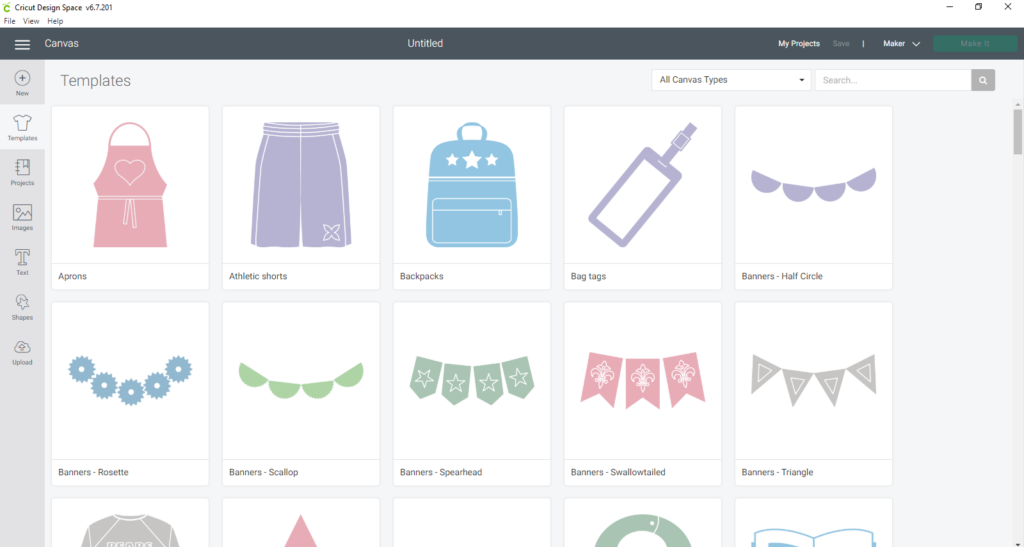 You can browse, use the Search function, or click on Canvas Types to narrow down your selection.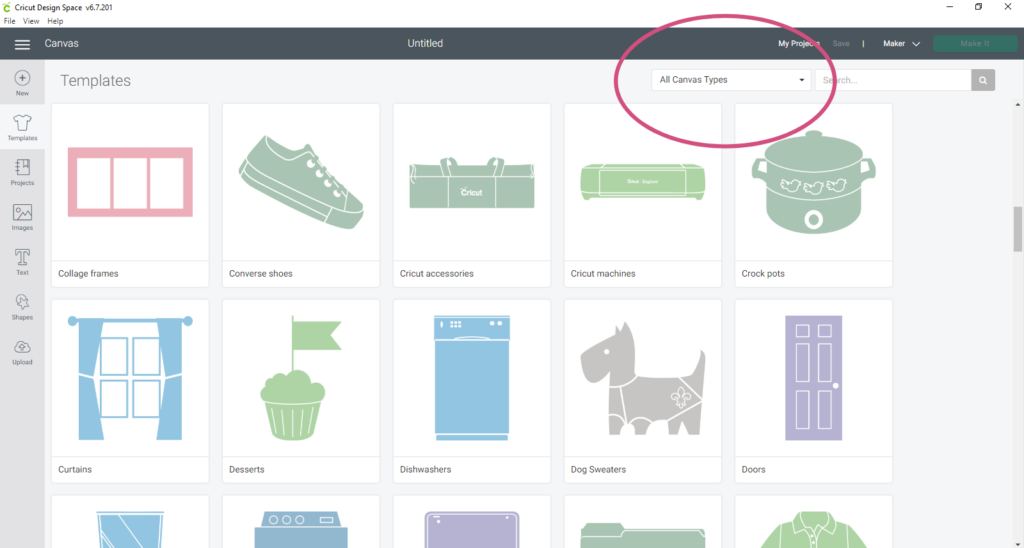 This opens up a dropdown menu of categories you can choose from.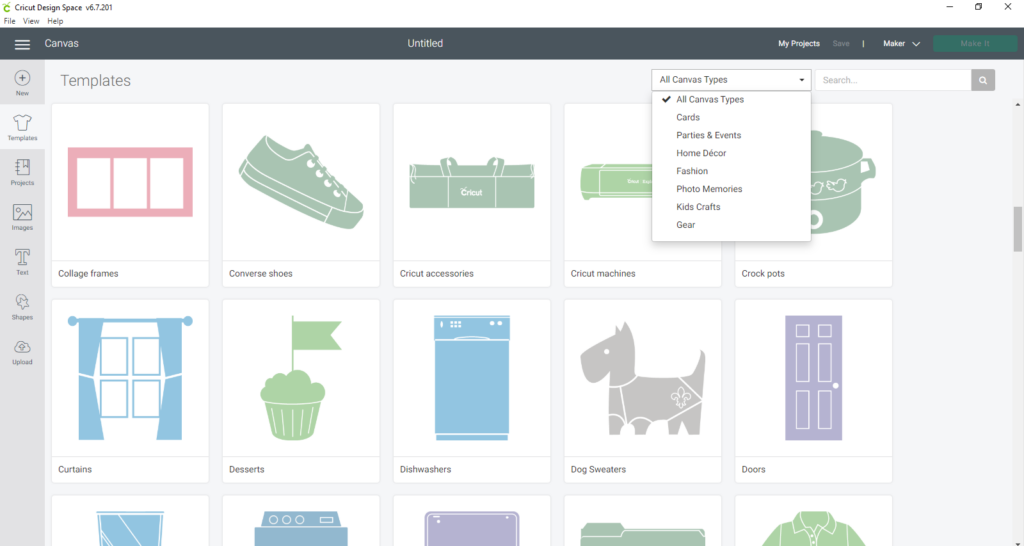 Once you click on one, it will be added to your canvas where you can use it for visualizing your finished design.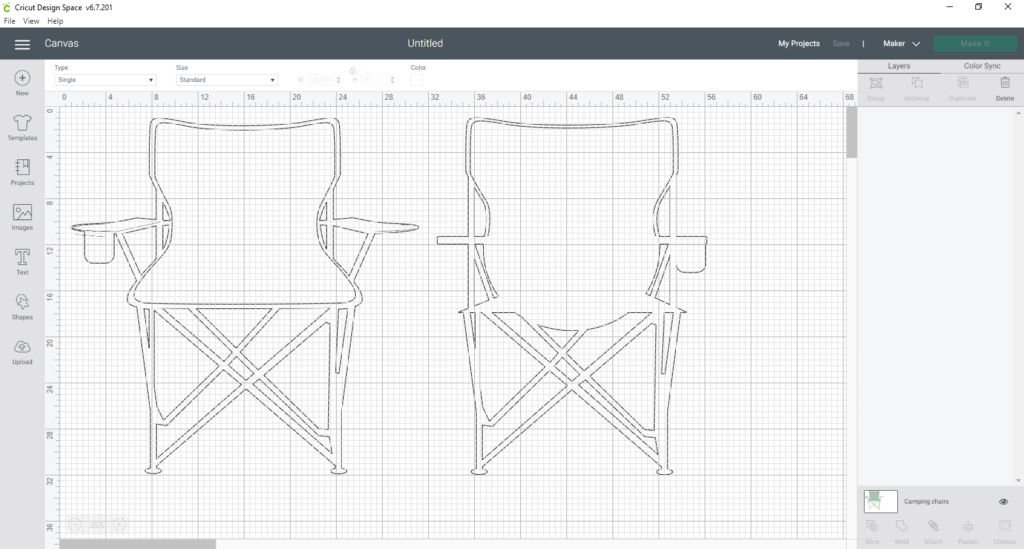 We hope that these various options and methods help you find what works for you in terms of sizing your designs and placing them on your blanks.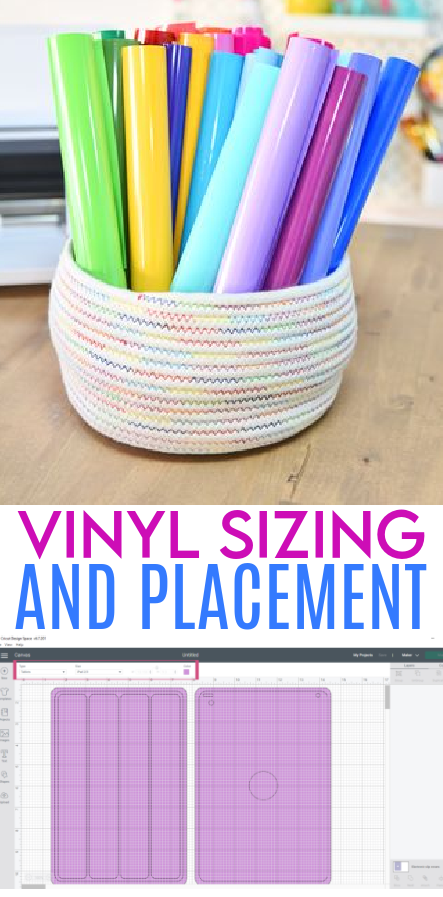 Tanner, Courtney, and the rest of the Makers Gonna Learn Team are all here because we love die-cutting and especially love sharing fun projects and tutorials with fellow makers. We are all great friends and are always having a blast when we are together- you will see this on camera, especially during live streams! We are here to inspire and support you in your crafting journey!