Which EasyPress Should I Buy?
Other than "which Cricut machine should I buy?", the next most common question we get is, "Which EasyPress should I buy?" Crafting with your Cricut is an investment, so it makes sense to do your research and get some recommendations before spending money on something that isn't the right fit for you.
With 3 different choices, it can be frustrating trying to figure out which EasyPress is the best option for you and your crafting. Some look at the biggest one and think, bigger is better, right? Others choose the smallest simply because it's the cheapest.
You're going to love these Cricut EasyPress Hacks! Check them out!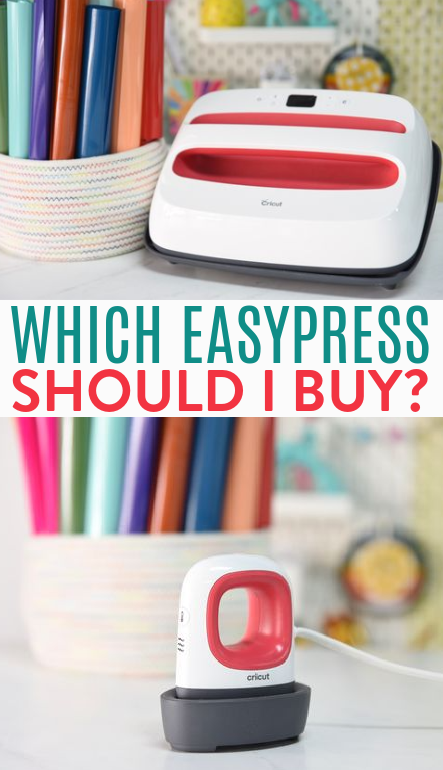 Which EasyPress Should I Buy?
Today, we're going to break it down for you in detail. We will talk about each of the 4 choices you have for a Cricut EasyPress and the pros and cons of each. By the end of this article, you should be ready to make your choice based on your own personal needs.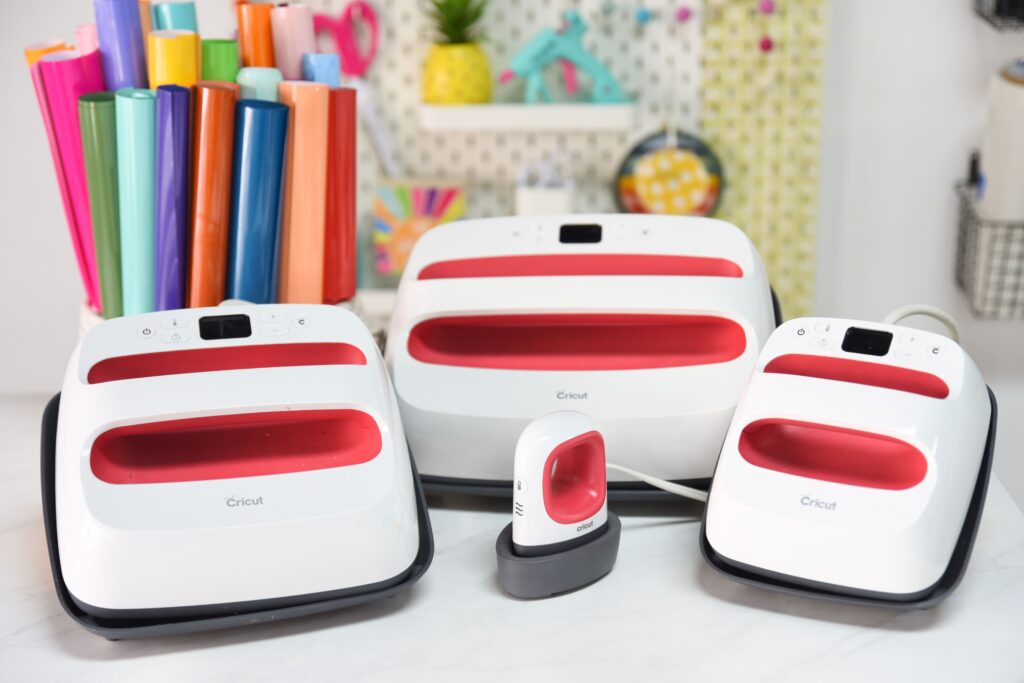 What is a Cricut EasyPress?​
If you aren't sure what an EasyPress is, let's back up for a moment and clarify that for you. Essentially, it's a really smart iron. It's used for heating your heat transfer vinyl (also known as iron-on) designs so they adhere to your blanks.
We call it a smart iron, because unlike a traditional household iron, the heat is provided evenly across the heat plate. In addition, the Cricut EasyPresses all come with built-in safety features, meaning you are far less likely to be burned by one of them than you would be with an iron or heat press.
By the way, speaking of the EasyPress as being similar to an iron (but superior in our view when it comes to crafting), we know many people who have purchased them to use for sewing and quilting projects, not just to use with die-cutting. The EasyPress Mini, in particular, is a popular choice for this.
About Heat Presses
Speaking of heat presses, they are much larger than the EasyPresses. They're big and bulky and take up a lot of space. Not only that, but in our experience, they take up so much power that they will even cause our lights to flicker!
Heat presses can work very well, but we have safety concerns about them, especially if you're working around children. Obviously, anything that produces heat needs to be used carefully, but the Cricut EasyPresses have so many safety features built into them in order to prevent burns. So, we find them a much better option in a typical craft room than a heat press.
Heat presses are also a more expensive option than the EasyPress. When you can do what you want with your craft projects for less money, that's a win in our books!
What EasyPresses are Available?
Our favorite>>>Cricut EasyPress Mini
***Note: this one may not be available anymore other than as used ones you might find for sale: Cricut EasyPress 2, 6"x7"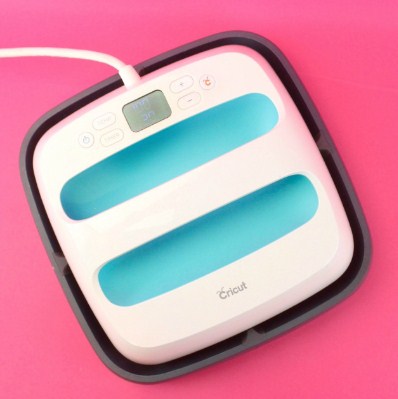 Original EasyPress
This was the first generation EasyPress. It is 9 x 9 and had a bigger cradle than the second generation EasyPresses do. The only color it came in was blue and it sold for about $150.
This, much like the newer EasyPresses, had controls for the time, temperature, up/down keys, and the start button. Most of that has remained the same with the newer EasyPresses, except for the Mini. The maximum temperature setting is 350 degrees.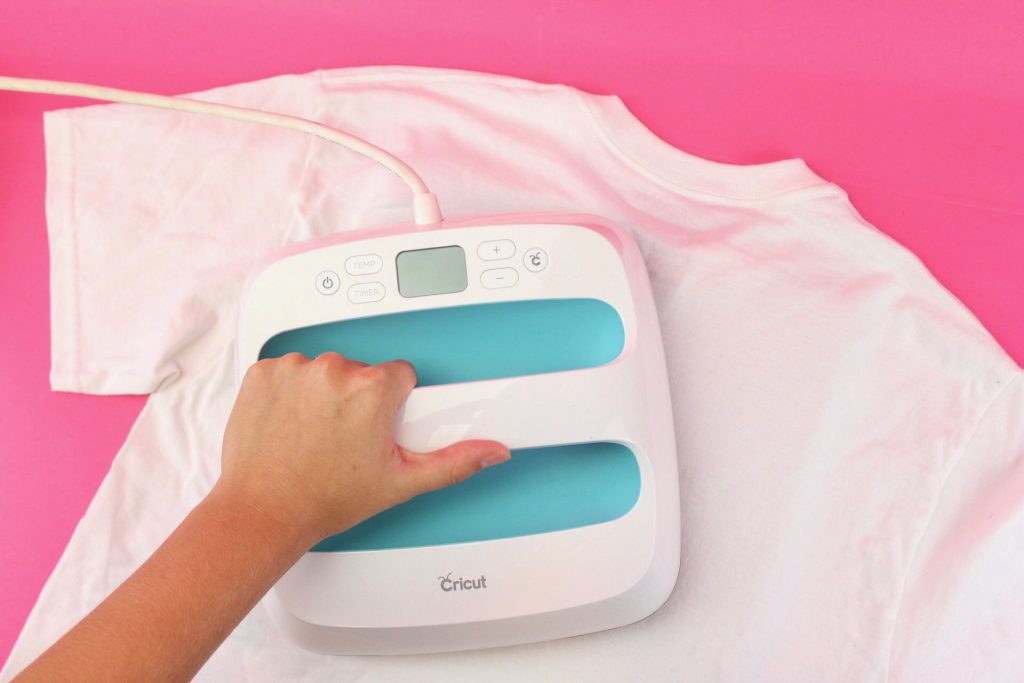 Note: We are not aware of any stores that still have any of these for sale. You may find them secondhand thought. So, we wanted to give you some basic information about them.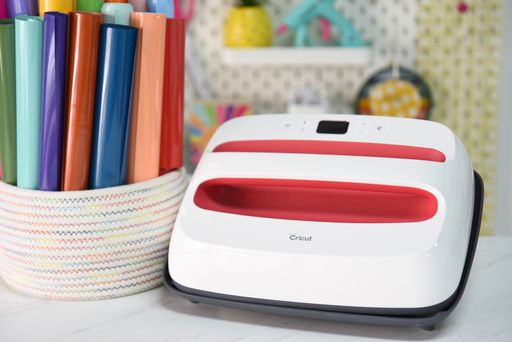 Cricut EasyPress 2, 9 x 9
At the time we recorded the prices in this comparison post, we found this model for the regular price of $189.99 on the Cricut website. This price can vary from seller to seller. Of course, may go on sale from time to time. In fact, at the time of this writing, it was on sale for $139.99.
We are providing these prices so you can compare one model to the next. It is really important that before you make your final decision, you shop around and check on current prices. Be sure to look for coupons and deals you might be able to take advantage of!
As you can see, the cradle has been updated and made a bit smaller on the 9 x 9 EasyPress 2 as compared to the original model. It's available in their red (raspberry) color and mint. Other than that, everything else about it is the same (same controls) except that it can go up to 400 degrees. .
This is great for things like t-shirts and tote bags, but not the best for things like sneakers and hats or for ironing on wood.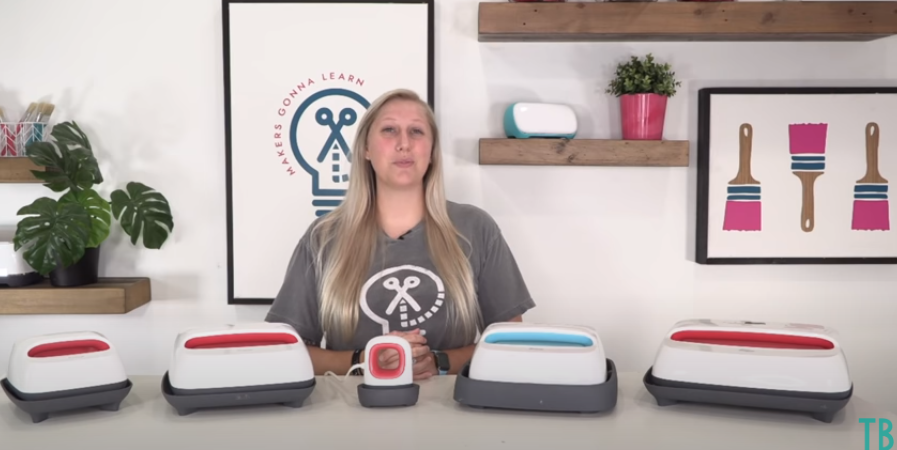 Cricut EasyPress 2, 6 x 7
This EasyPress is no longer available on the Cricut website. It can be difficult to find from other sellers as well (unless used). We paid $159.99 for it and as you can see, it is also in the raspberry color.
It has all the same features as the 9 x 9, just in a slightly smaller machine.
This is one we don't use much – perhaps once or twice a month. It is a compact model as compared to most of the others, while still providing a heat plate that is appropriate for many designs on things like t-shirts, tote bags, onesies, and so on.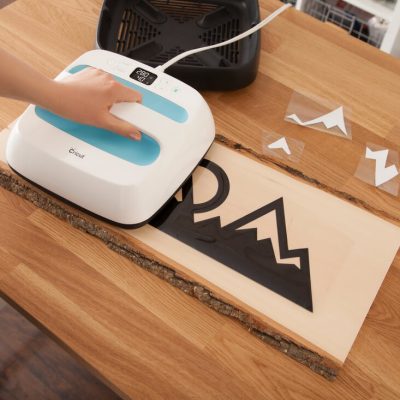 Cricut EasyPress 2, 10 x 12
The largest of the EasyPresses, this one is currently listed on Cricut's website for $239.99 (at the time of writing this, on sale for $189.99). It's available in raspberry, mint, and lilac.
Again, this EasyPress has all the features of the others, but just in a bigger size. This is another one that we don't use much. If you have a crafting business making t-shirts, this is going to be a good option for you. In general, though, we just don't have as much need for something this large.
Because it's so big, we find Cricut EasyPress 12 x 10 bulky and heavy, so we generally only use it when we have to. In addition, with this one, in an older home, we have found that just like with the heat presses, this one may cause your lights to flicker because it's drawing so much power. If we are using this, the Cricut Maker, and a glue gun all at once, we have even blown some circuit breakers!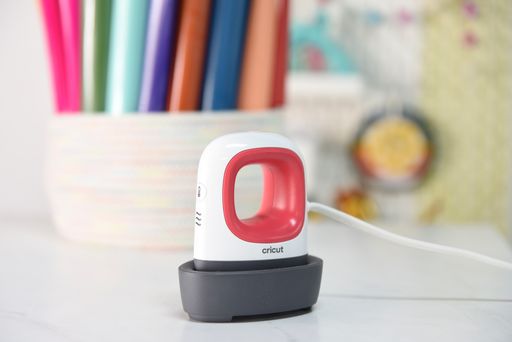 Cricut EasyPress Mini
The newest and smallest of the Cricut EasyPresses, the Mini EasyPress is currently priced at $69.99 (on sale for $49.99) on the Cricut website. Please note that it is almost always offered at that $49.99 price at other stores like Walmart. Be sure to shop around before buying!
The Cricut Mini EasyPress is the one that we use the most – in fact, every single day! It is by far the most versatile one. You can use it for everything from hats and sneakers to shirts and tote bags.
We were so unsure of this EasyPress when it first came out, but it is mini and mighty! It takes up little space and is a very economical option. It doesn't draw much power so there are no worries of blowing circuits or anything like that with using it.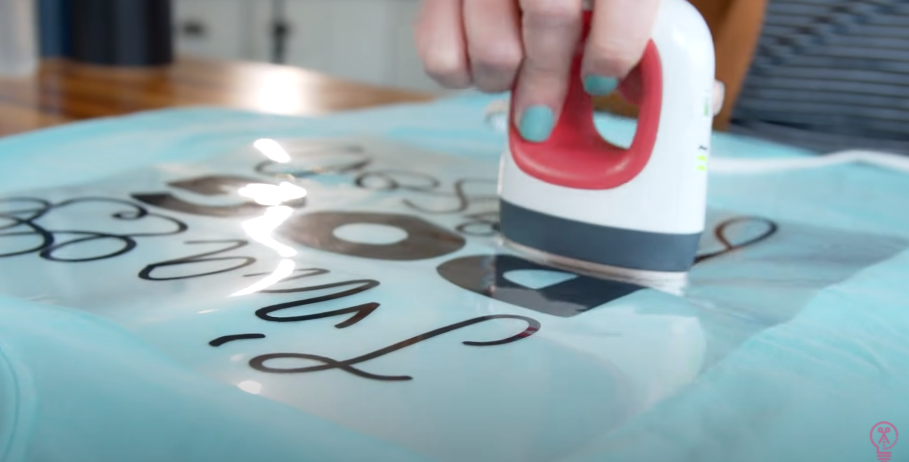 What makes the EasyPress Mini Different?
Not only the size makes this EasyPress Mini different. It also only has 3 temperature settings (300, 350, 400) and no timer, which makes it quite unique. This concerned us at first, but there was no need to be worried. Three temperature settings are plenty and because of the design of this EasyPress, you don't need a timer.
With the bigger EasyPress models, you can't see what's happening to your design as it heats. You just have to trust the temperature setting and the timer.
With the Mini Cricut EasyPress, you can see exactly what is happening with your design as it's being heated. This allows so much more control over your design!
The bigger EasyPresses are meant to hold in place as it heats your design. The Mini has a double ceramic coating on the heat plate so that it can move around easily. It is meant to move! As you move it around, it heats your design evenly because of that ceramic coating.
Since you aren't holding it in place, there's no fear of overheating your design. In fact, we have never had anything less than perfect results with it. If you can only get one EasyPress, we highly recommend getting the Cricut EasyPress Mini. If you're working on a large project, of course, it may take a bit longer, but for the versatility, price, and size, we think it's well worth it.
Important exceptions to bear in mind:
Please note, for the most part, you can use any of the EasyPresses on anything. However, the question is, how easy is it to use them and get perfect results? As you can imagine, trying to use the 10 x 12 on a hat, is going to require more patience and practice than with the Mini.
It's important to note that if you are working with Infusible Ink or sublimation, you need a heat plate that is large enough to cover your entire design all at once. You need to keep this in mind if you are planning to make a lot of Infusible Ink projects. If you plan to make a lot of crafts with printable HTV on them, we find it better to use one of the larger EasyPresses as well.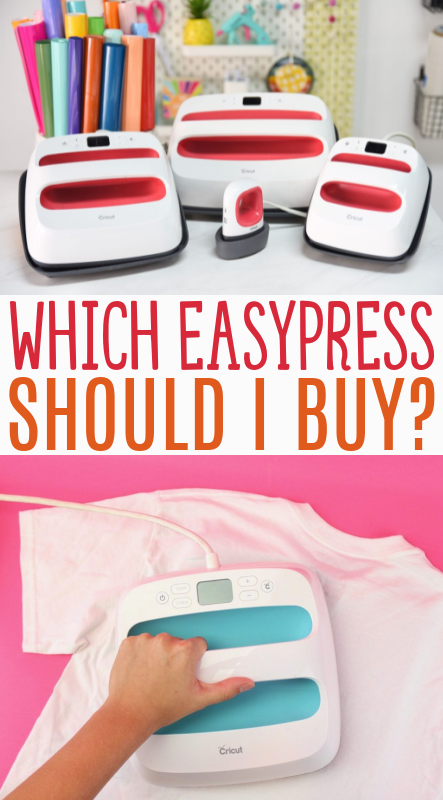 Tanner, Courtney, and the rest of the Makers Gonna Learn Team are all here because we love die-cutting and especially love sharing fun projects and tutorials with fellow makers. We are all great friends and are always having a blast when we are together- you will see this on camera, especially during live streams! We are here to inspire and support you in your crafting journey!