3 Cricut Maker Projects for Beginners
Got a brand new Cricut Maker? Or maybe you've ordered one and are anxiously waiting for it to arrive. You are going to love this blog post and video sharing the 3 Cricut Maker Projects for Beginners we feel are the perfect FIRST Cricut projects you should make.
If you are a brand new Cricut user it's important not to choose projects that are too difficult when you're first starting out. The Cricut hacks and tips that Becca shares here will be very valuable now and in the future.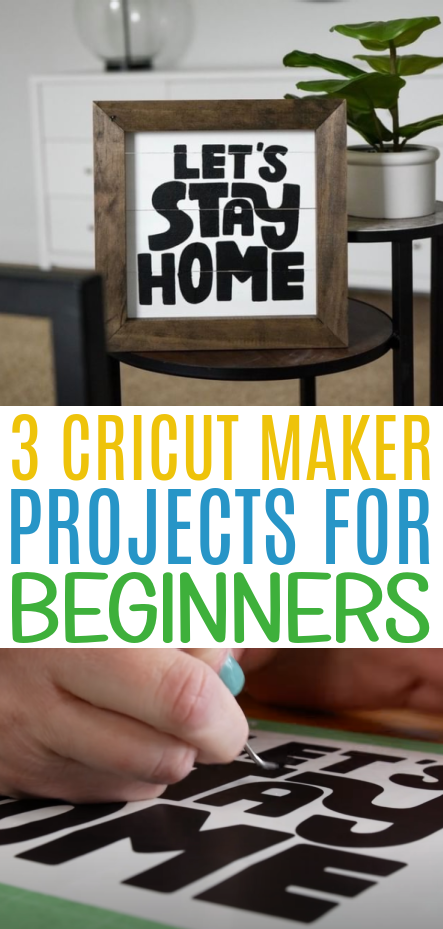 3 Cricut Maker Projects for Beginners
If you are a yearly member of Makers Gonna Learn, we highly suggest that you begin by taking our 30 Days to Master Your Cricut challenge. It will take you step by step from opening the box to creating your first project, teaching you basic die-cutting techniques and Cricut terminology you need to know.
Once you've done that, this is a great next step to take. In this tutorial, we're going to be making 3 simple Cricut Maker projects to show you just how quickly and easily you can produce a fun craft with your Cricut machine. The three craft projects are: a t-shirt, a sign, and a mug.
We will be using heat transfer vinyl (also known as HTV or iron-on) for the t-shirt and regular vinyl for the sign and mug. You can find a full list of materials below.
Materials needed: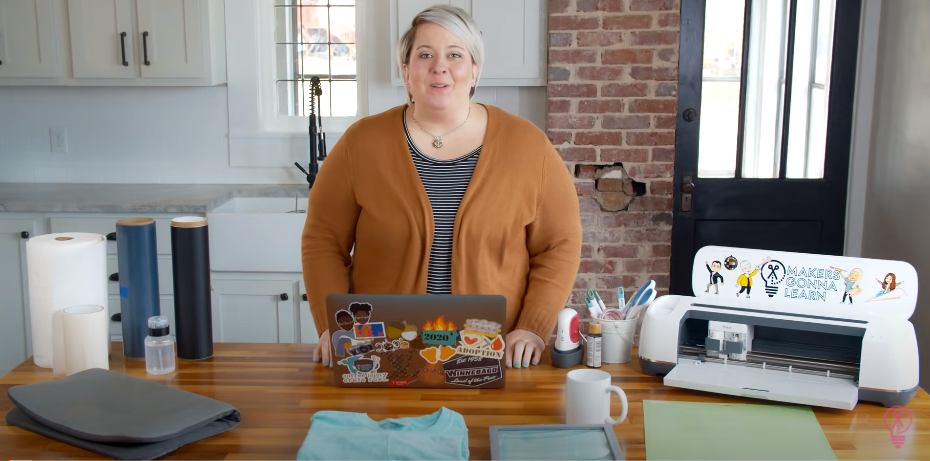 Instructions: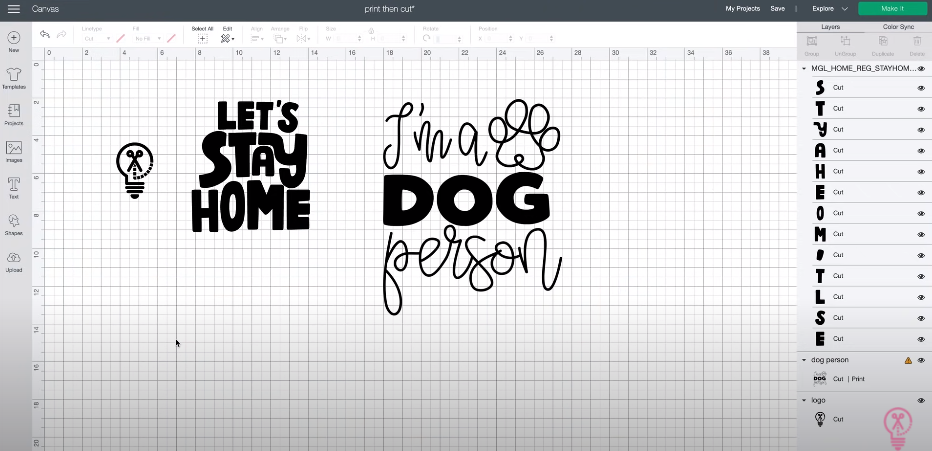 Download your cut files – ours are from here on Makers Gonna Learn – and upload them into Cricut Design Space. Open them up on your canvas.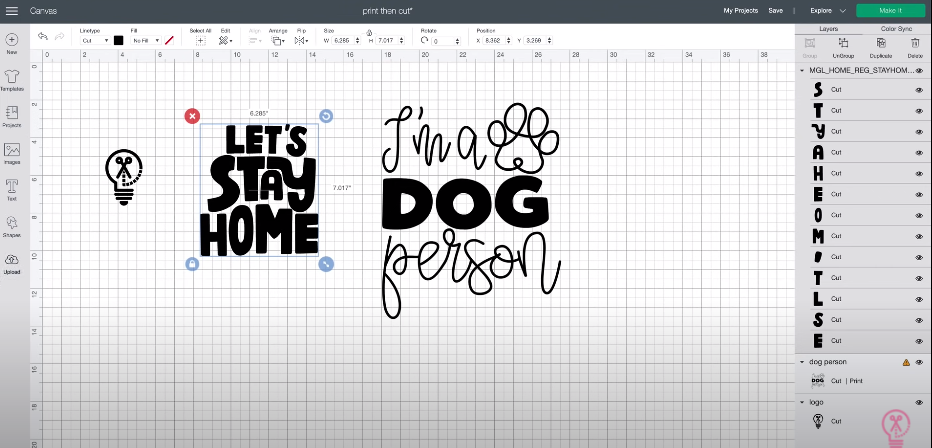 Sizing your projects:
Begin by measuring each of the surfaces – the mug, the shirt, and the sign. You need to measure the available area for your design so you can size it accordingly. Bear in mind that the maximum size for cutting in Cricut Design Space is 11.5 x 11.5 inches for the 12 x 12 cutting mat) or 11.5 x 23.5 inches (for the 12 x 24 cutting mat).
Here's a quick hack for sizing projects like the sign. Grab a square over in Shapes in the left hand side bar. Size it to match the dimensions of the available working space on your sign. If you need it to be a rectangle instead of a square, click on the lock symbol to unlock it.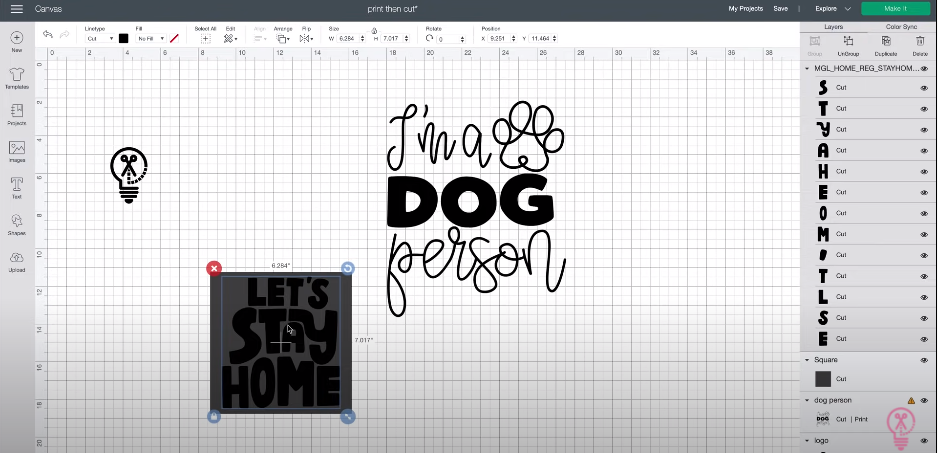 Now, you can move your cut file over onto the square and size it to fit as you'd like. Once sized, you can delete the square.
Changing colors:
Since we're cutting both the mug design (the MGL logo) and the sign design (Let's Stay Home) out of the same type and color of vinyl, we can leave them as is. But, we'll be cutting the design for the t-shirt out of iron-on vinyl, so we need to ensure that Cricut Design Space places it on a separate mat.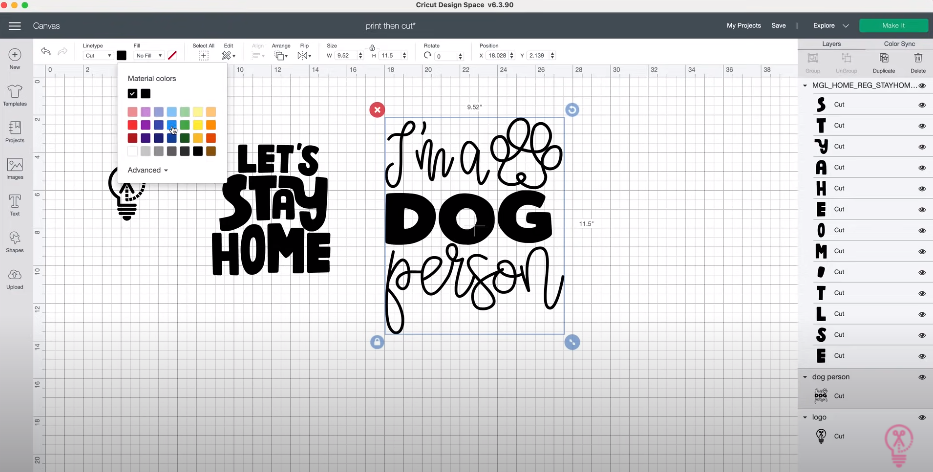 We can do this by changing the color of it. Simply select that design (I'm a dog person) and go to the top menu bar. You want to click the square (in this case it's black to match the current color of the design) next to Linetype.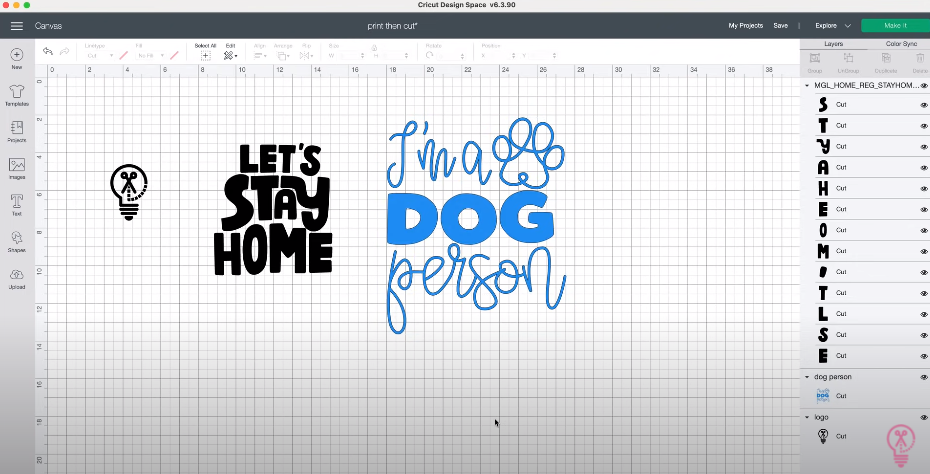 You'll get a color palette that drops down and from there you can choose whatever color you want – just something other than black. This will ensure that Design Space places it on a different mat.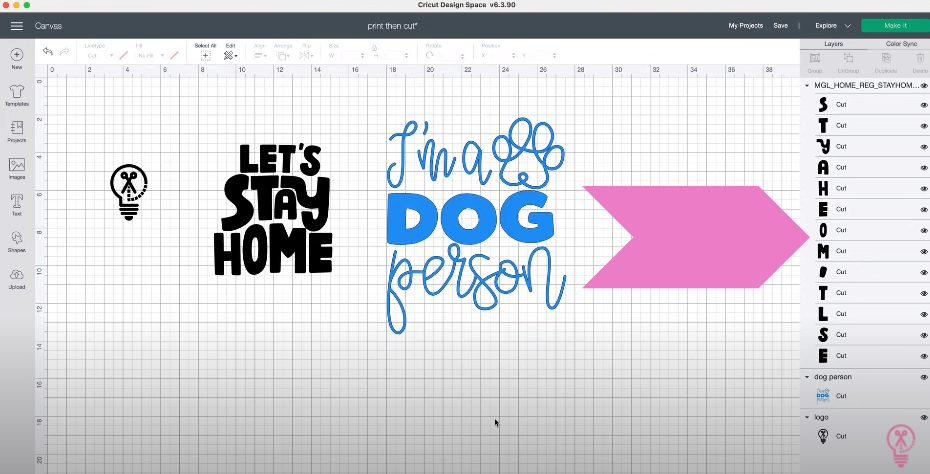 Welding text:
Next, we need to take a look at the Layers Panel. As you can see, all of the letters are separated and placed in a different layer on the Layers Panel for our Let's Stay Home design. If you leave it like that, Design Space will try to make the most of the space available and it will scatter them all over the place instead of keeping them together as entire words.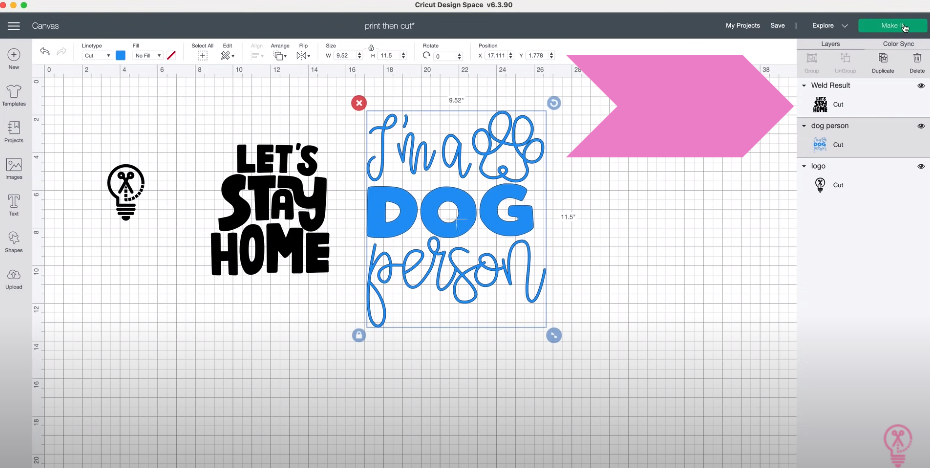 With that design selected, go to the bottom of the Layers Panel and choose Weld. This will keep them all held together and ensure they cut out as one design instead of scattering those individual letters everywhere. You'll see it change in the Layers Panel from all those layers into layer for the design.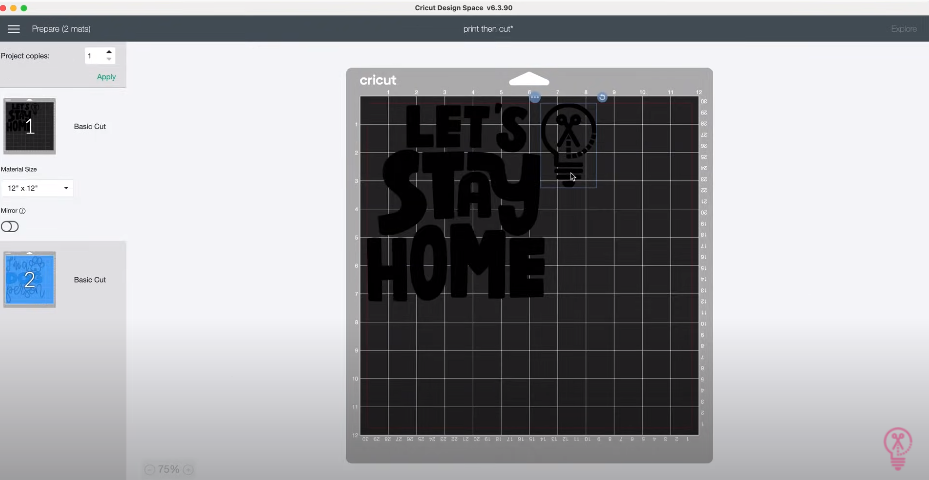 Cutting your designs:
Once you are happy with your design, click Make It. Design Space will sort your designs onto the mats.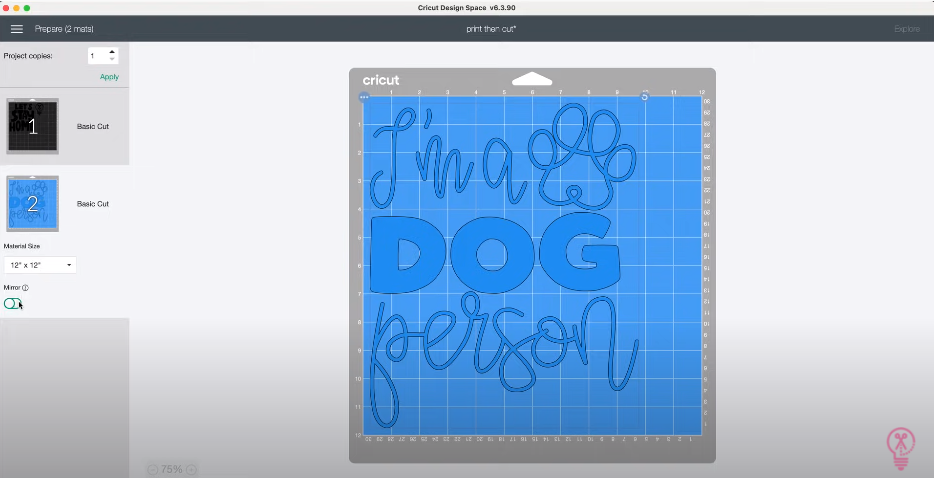 For the mat with the I'm a Dog Person design on it – which we are cutting out of heat transfer vinyl – you will need to turn on Mirror. Your design needs to be cut out backwards since it's going to be ironed on.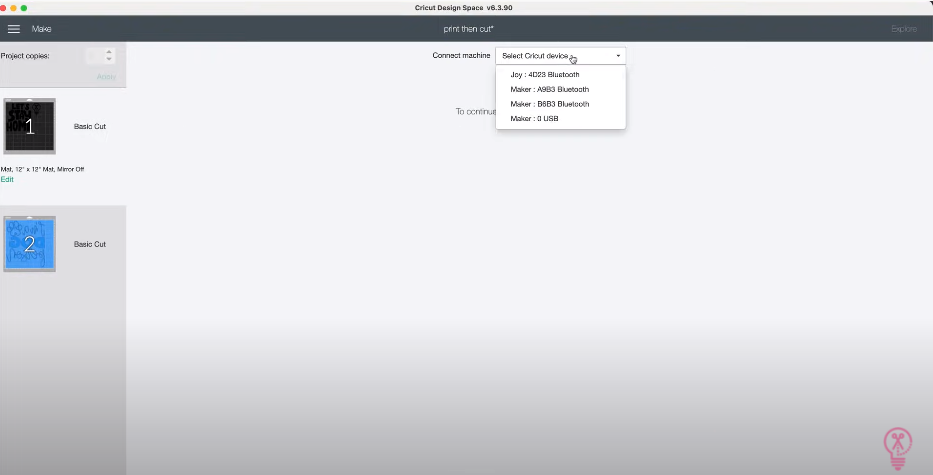 Press Continue, select your machine, and select your materials. Press the flashing Cricut button on your machine to cut out your designs.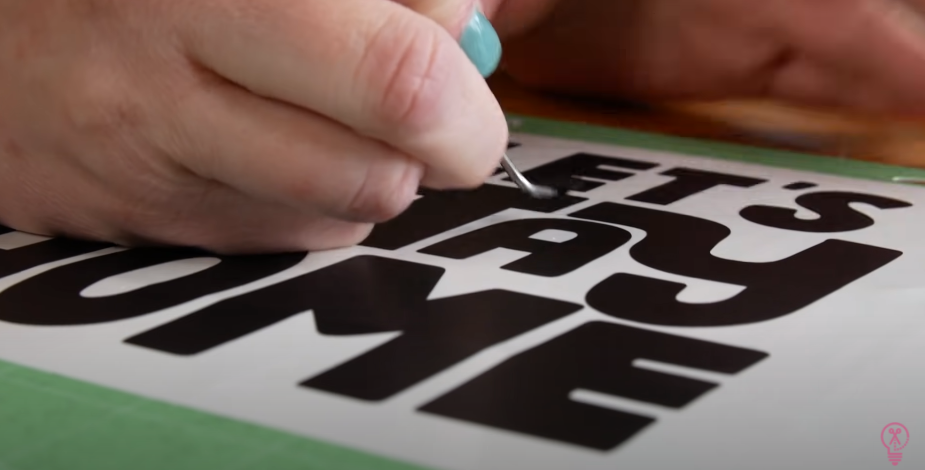 Weeding your design:
Once your design has been cut out, weed and apply transfer tape to it. Remember that HTV has built-in transfer tape. Now you're ready to apply your designs to your materials.
For more information about weeding: Weeding Vinyl Hacks You Should Know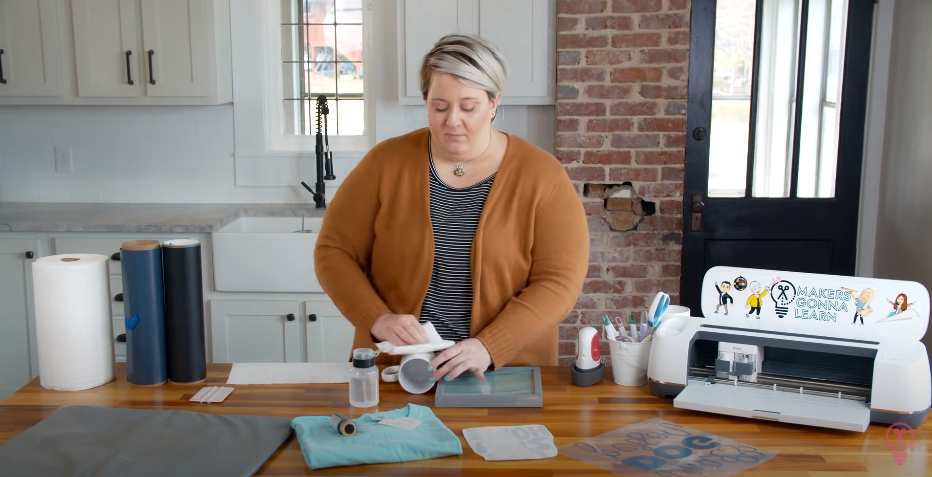 Prepping your materials:
For the non-porous surfaces (the mug and the sign), clean them with a paper towel and some rubbing alcohol. This helps remove any dust, debris, and fingerprints from the items and makes for a better application of your vinyl.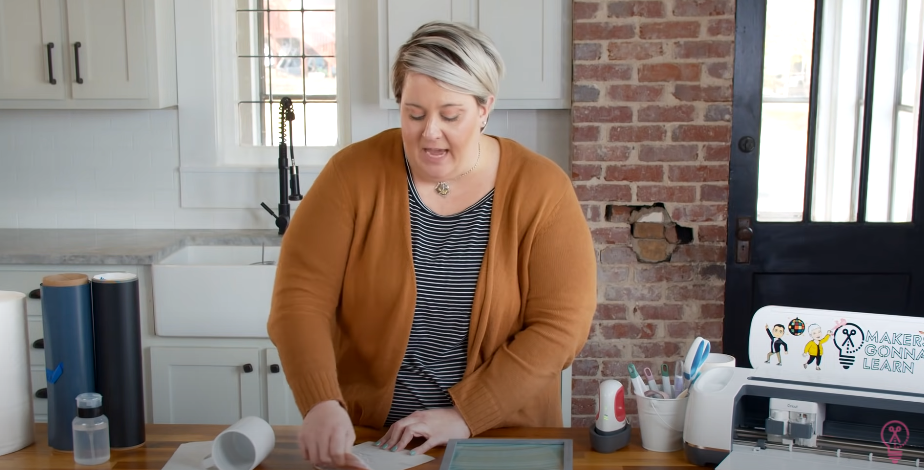 Once they are clean, let them dry. We're starting with the sign. Make sure to burnish it really well from the back before applying it to your surface. This is important for getting good adherence of your vinyl onto your surface.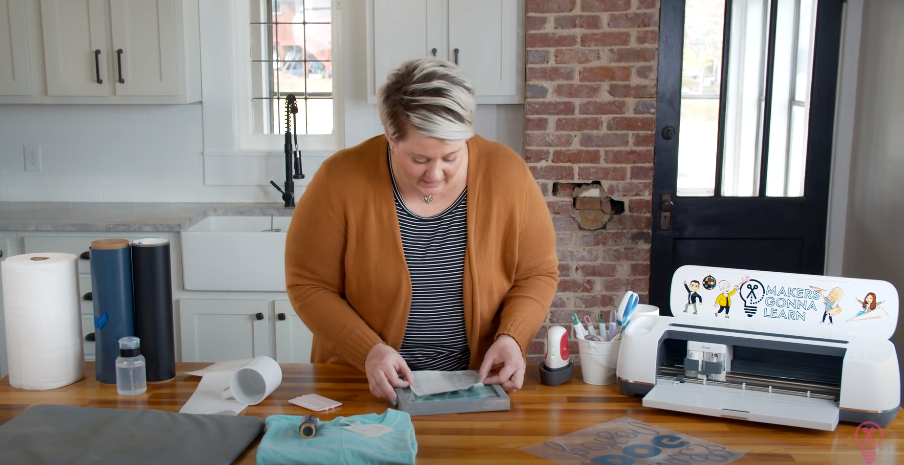 Applying your designs to the surfaces:
Peel off the backing. Place your design down onto the frame. Once you lay down this regular vinyl, you won't be able to move it around so take your time in placing it. Once happy with the placement, burnish again.
Pro tip: Use a marker that will wipe off to mark your surface to make lining up your design easier.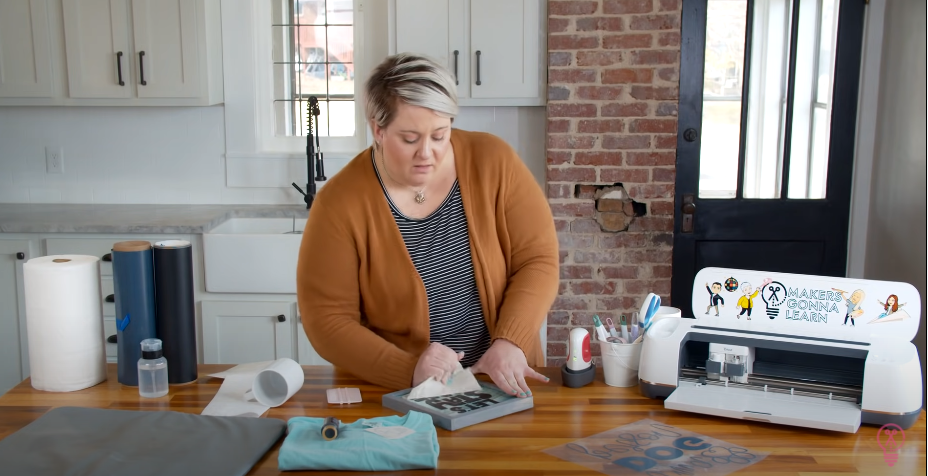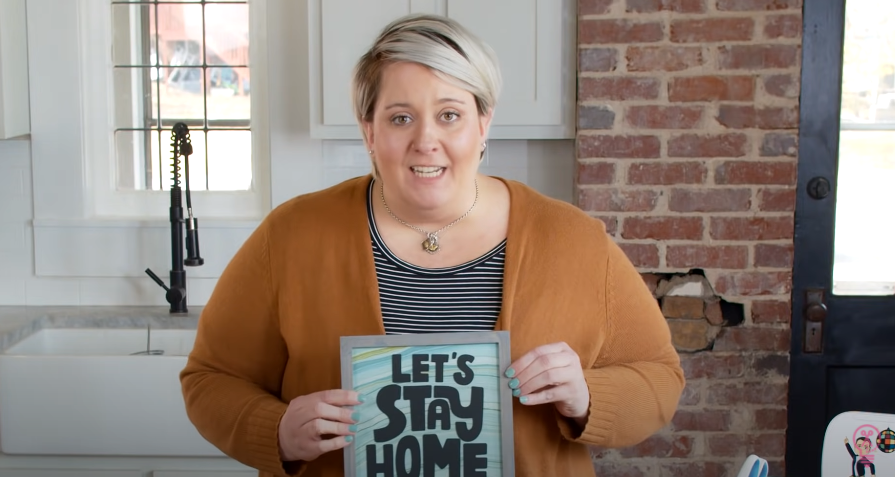 Peel up the transfer tape. Your design is complete! (Note: we added some pretty paper inside the frame to serve as a background).
For the mug, it's important to think about a few things – are you (or the person you're making it for) lefthanded or righthanded? Do you want the design to show to someone sitting across from you or do you want it showing to yourself as you drink? Be sure you have cleaned your mug in the appropriate spot.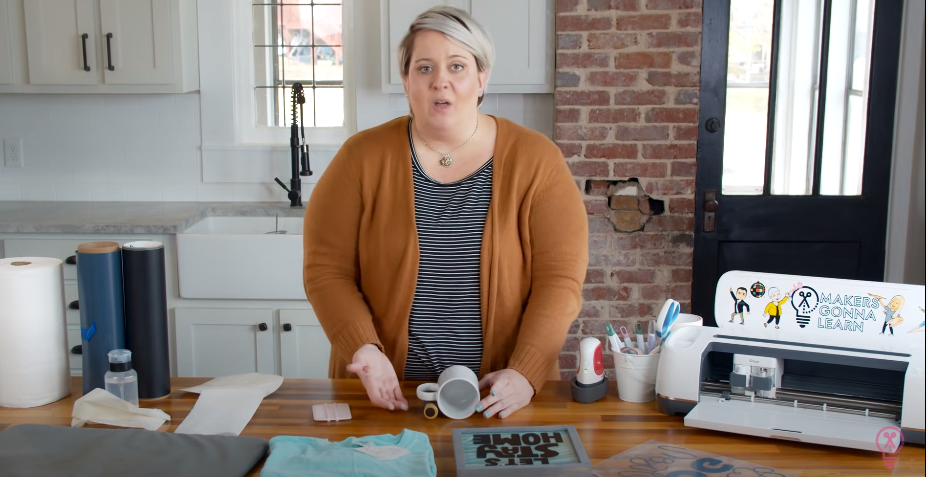 Pro tip: We used a small bottle of craft paint under the handle of the mug to keep it from rolling.
Just as you did with the sign, burnish the design for your mug from the back. Peel off the backing. To apply it to the mug, you might want to try the taco method.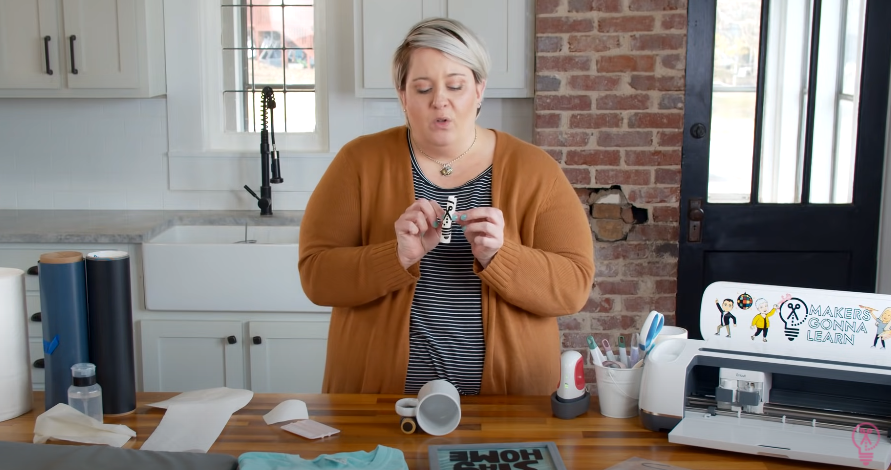 Gently roll it so that you are laying down the middle of the design first. This can help with lining it up. Then, you simply lay the vinyl down from the middle out.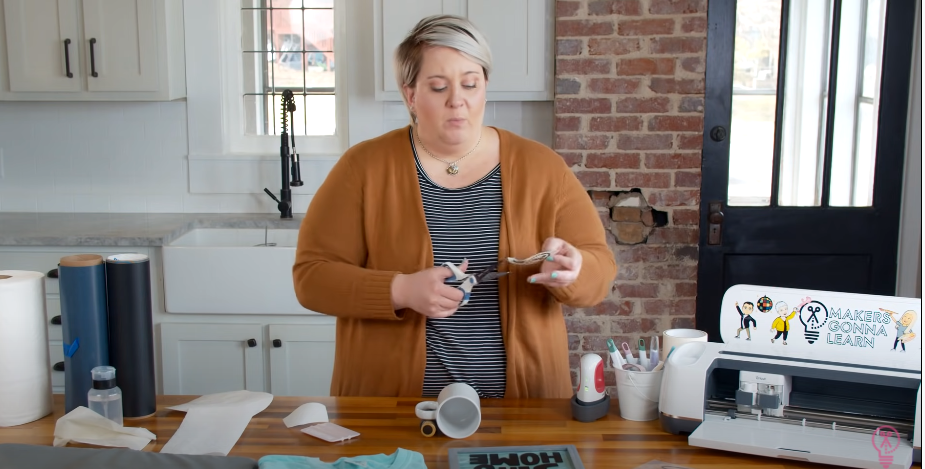 Another important hack that's especially important if you're using a bigger design on something rounded like a mug: use a pair of scissors to make little snips around the design. As you apply it to the mug, this will help it form to the mug a little more easily. It helps really well with preventing bubbles and wrinkles.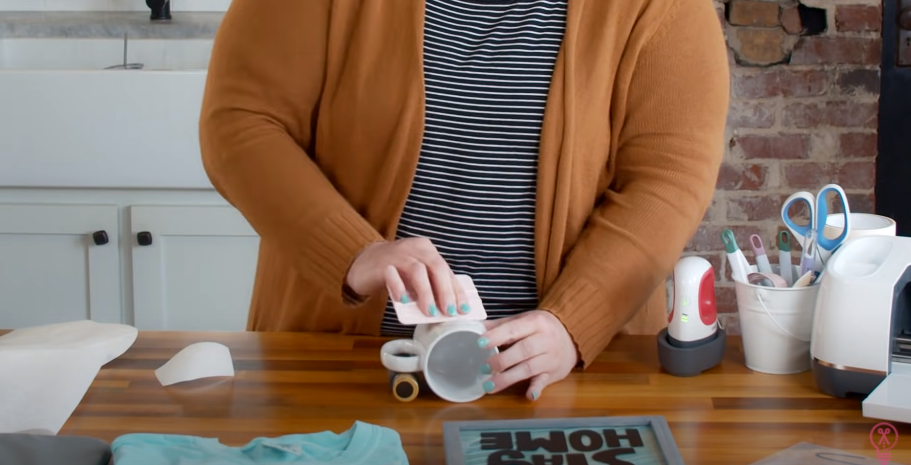 After laying down your design, burnish. Peel up the transfer tape.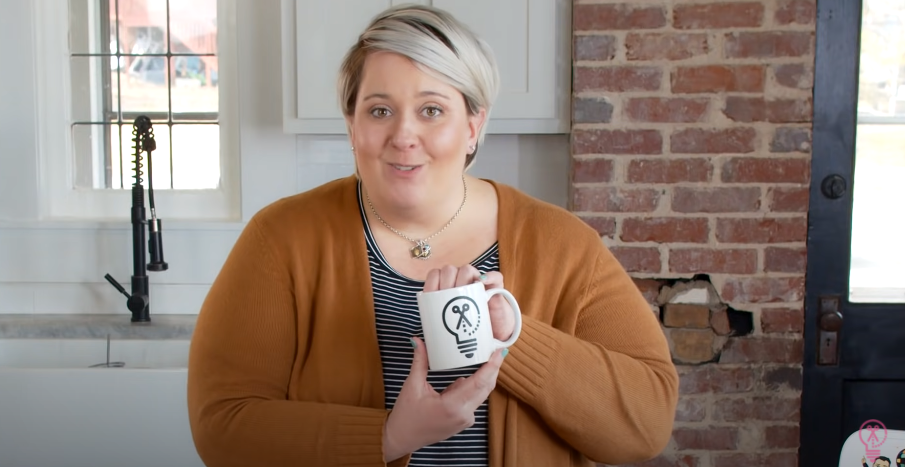 If you want to make the mug dishwasher safe, you can use Dishwasher Safe Mod Podge over it. We have a great tutorial all about that here >>> Make Vinyl Mugs Dishwasher Safe Note: if you are making the mug dishwasher safe, it will need to cure for 28 days.
Using HTV with your Cricut EasyPress:
Before we get started applying the HTV to the t-shirt, it's important to put down an EasyPress mat or something else to protect your work surface. Lay out your shirt over it.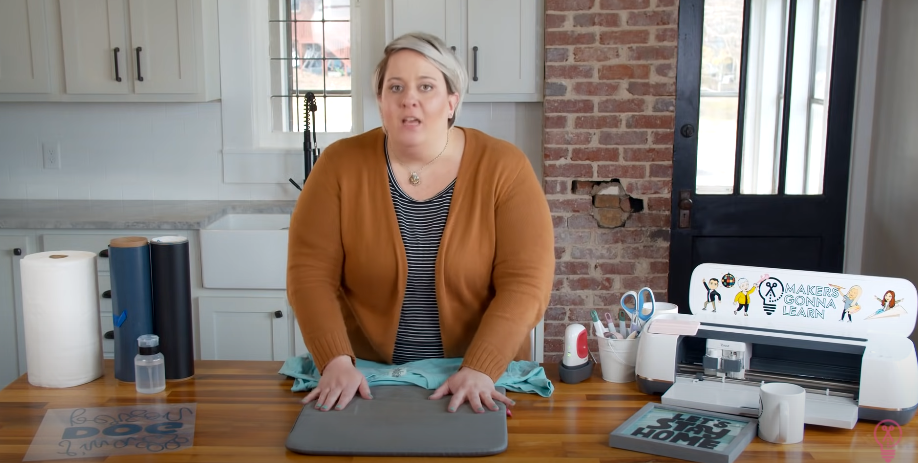 Check your heat transfer vinyl instructions to find out what temperature to use on your EasyPress. We're setting the Mini EasyPress to 350 degrees.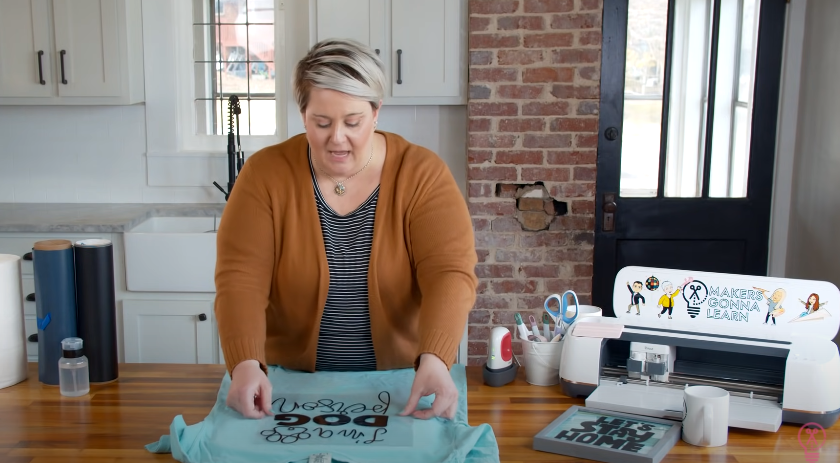 Place your design cut out of iron-on vinyl onto the shirt and position as desired. If you have trouble placing your designs on the shirt, here's one hack we love. Fold the shirt in half. Iron a crease in it to mark the halfway mark. This will help you line things up!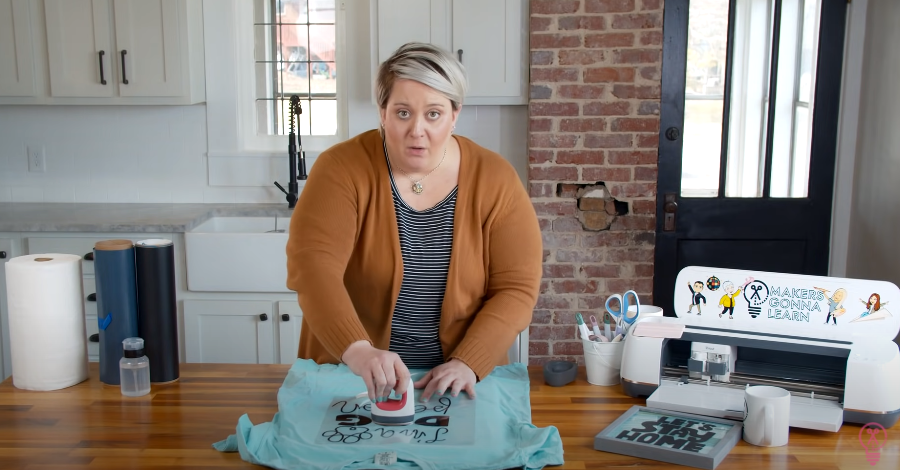 One good thing about HTV – if you don't like where you've positioned it, you can lift it back up and lay it down again! Once you like where it is, start in the center with your EasyPress Mini and move out from there to heat your design. We like to start in the middle and then push out. This helps eliminate bubbles and wrinkles.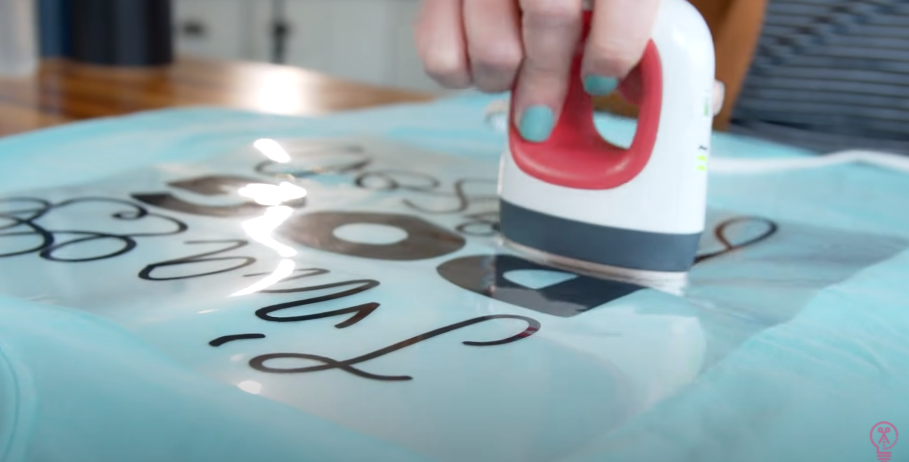 The Mini EasyPress doesn't have a timer on it. So, how do you know when you've heated your HTV enough? You're looking for little bubbles. The bubbles indicate that the transfer sheet has separated from the vinyl and your design is heated and has adhered to the shirt.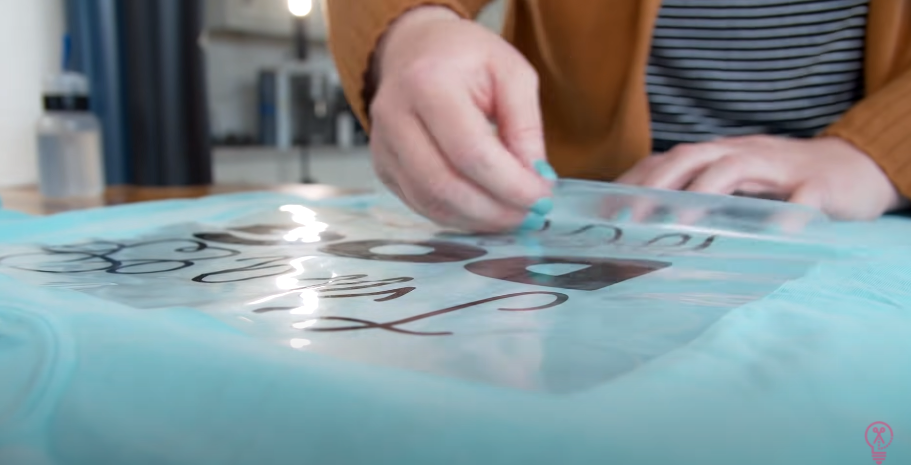 Once it's ready, you can peel up the transfer sheet from your iron-on vinyl. Be sure you have checked the instructions on your vinyl – it will tell you whether to do a warm- or cool-peel.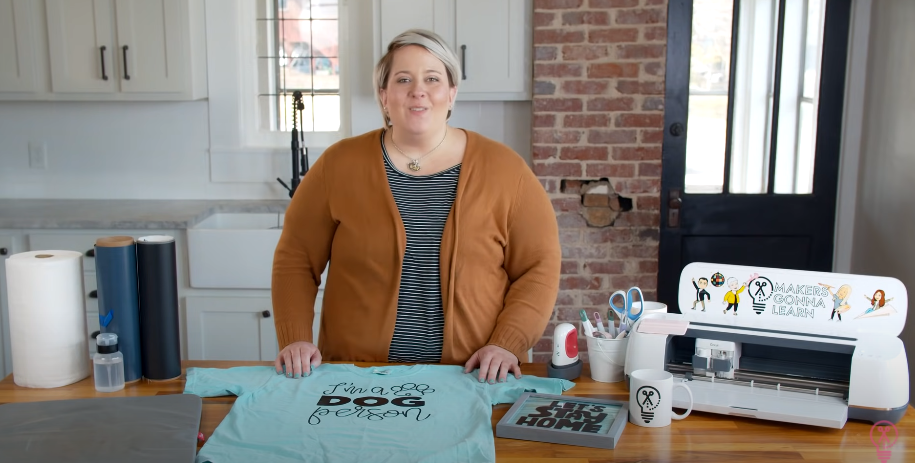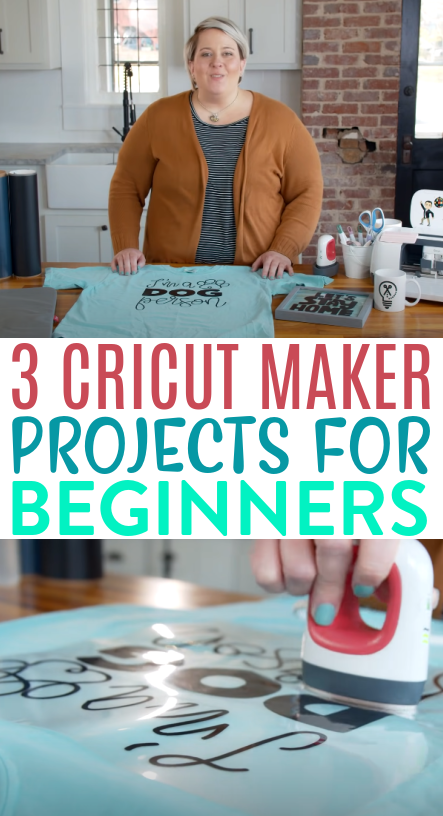 Tanner, Courtney, and the rest of the Makers Gonna Learn Team are all here because we love die-cutting and especially love sharing fun projects and tutorials with fellow makers. We are all great friends and are always having a blast when we are together- you will see this on camera, especially during live streams! We are here to inspire and support you in your crafting journey!