Beginner Tips for Silhouette Cameo
Did you just get a brand new Silhouette machine? Congratulations! You've joined a really fun club – the die cutting enthusiasts! These Beginner Tips for Silhouette Cameo are going to be a big help!
You're probably pretty excited, and maybe feeling just a little bit overwhelmed too. You did take it out of the box, right? If you didn't, go ahead and do that now. Don't worry!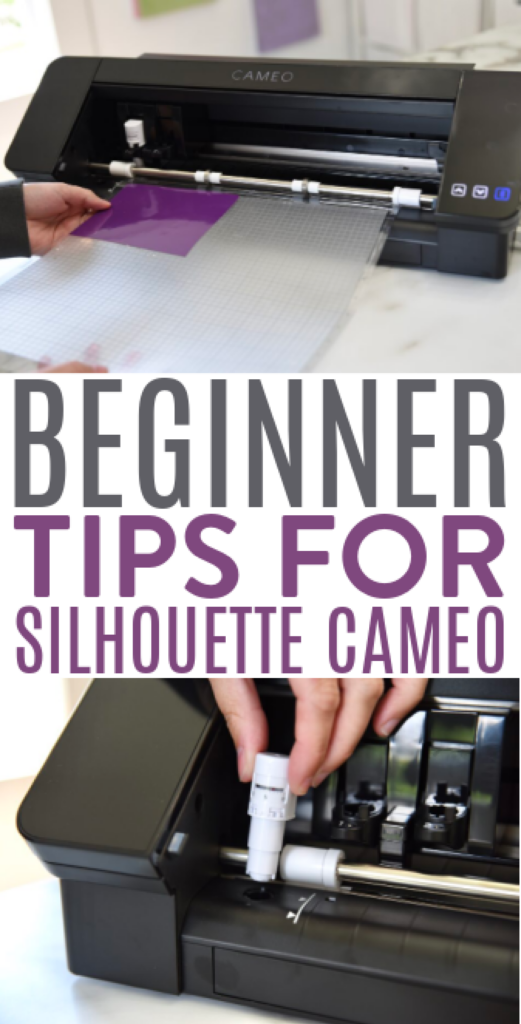 Beginner Tips for Silhouette Cameo
We've got you covered with these simple basic tips for Silhouette beginners. Be sure to check out all of our Silhouette tutorials here! We'll break it all down for you into simple steps! You'll be creating some amazing craft projects in no time.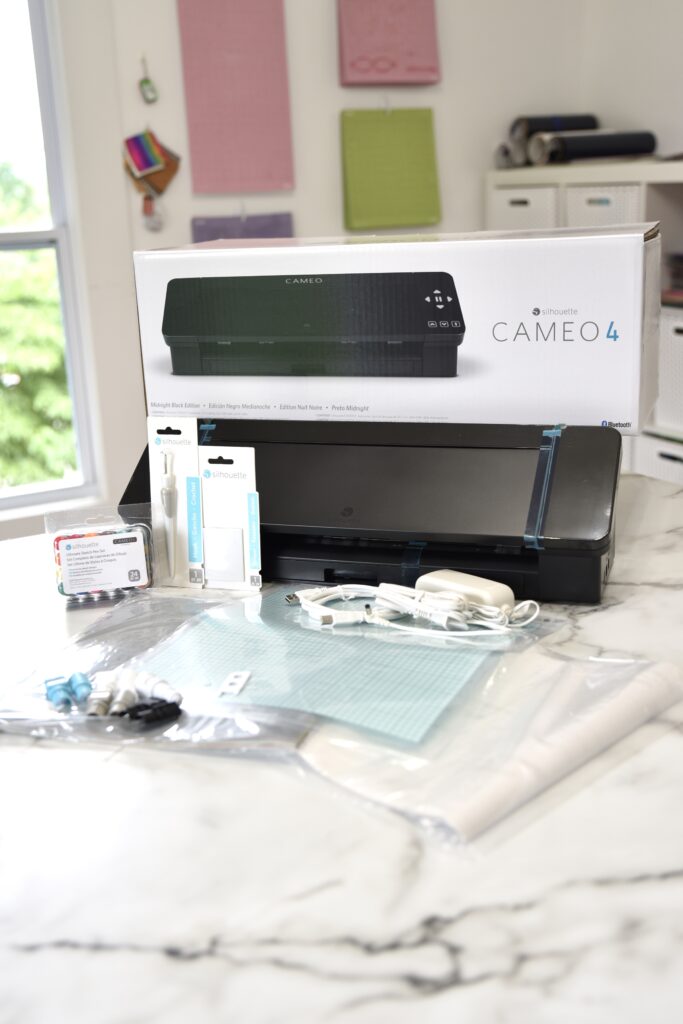 Register Your Machine
Before getting started on any projects, it's a really good idea to register your Silhouette machine. First, and most importantly, this is how you activate your warranty. Once you register, you'll also have access to some free Silhouette designs.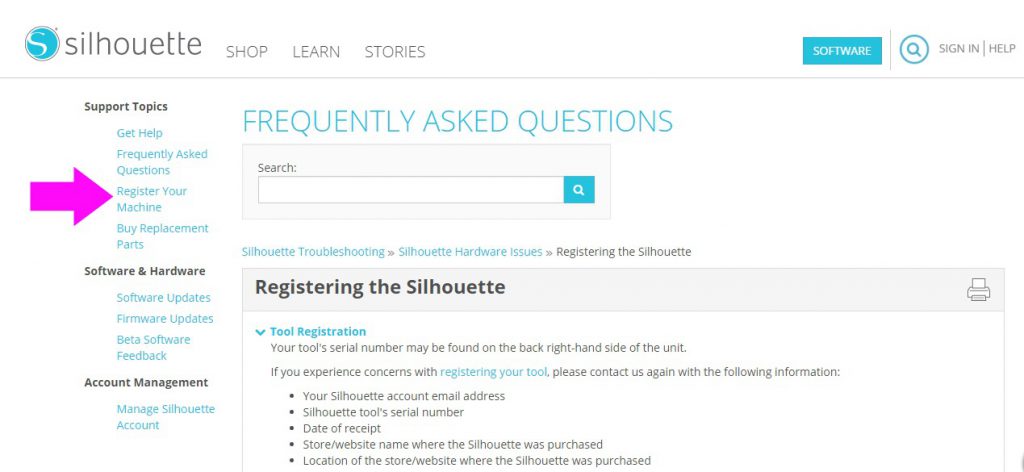 While you're there, sign up for a Silhouette account. This gives you the ability to purchase more designs from the Silhouette Design Store.
You'll be able to access the Silhouette cloud too and this is where you'll find your free designs and any that you buy from the design store. Finally, you'll be able to submit help tickets in case you ever have any issues or questions about your machine (that we can't answer for you!).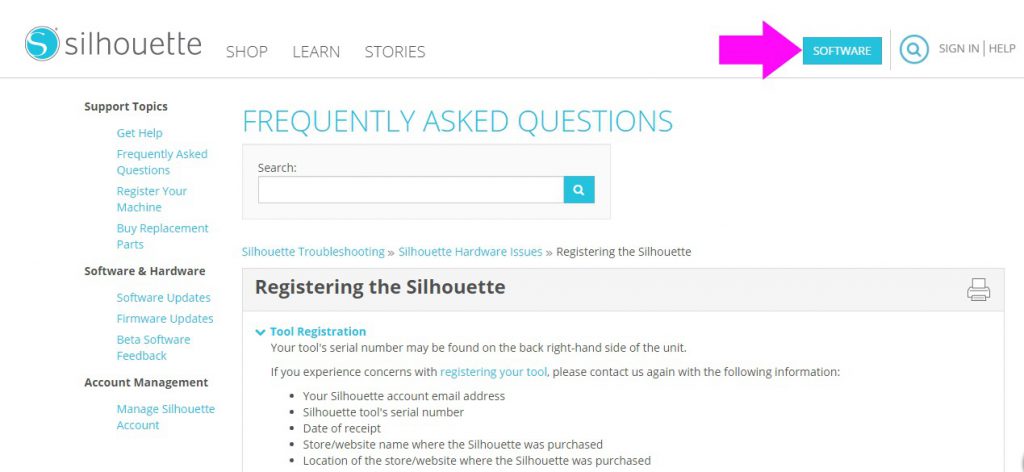 Download Silhouette Studio
Next, we suggest that you download Silhouette Studio directly from the Silhouette website. This is the software you'll be using with your machine.
Some of the older models still include a CD but it can save you time by going directly to the website where you'll find the most up to date version.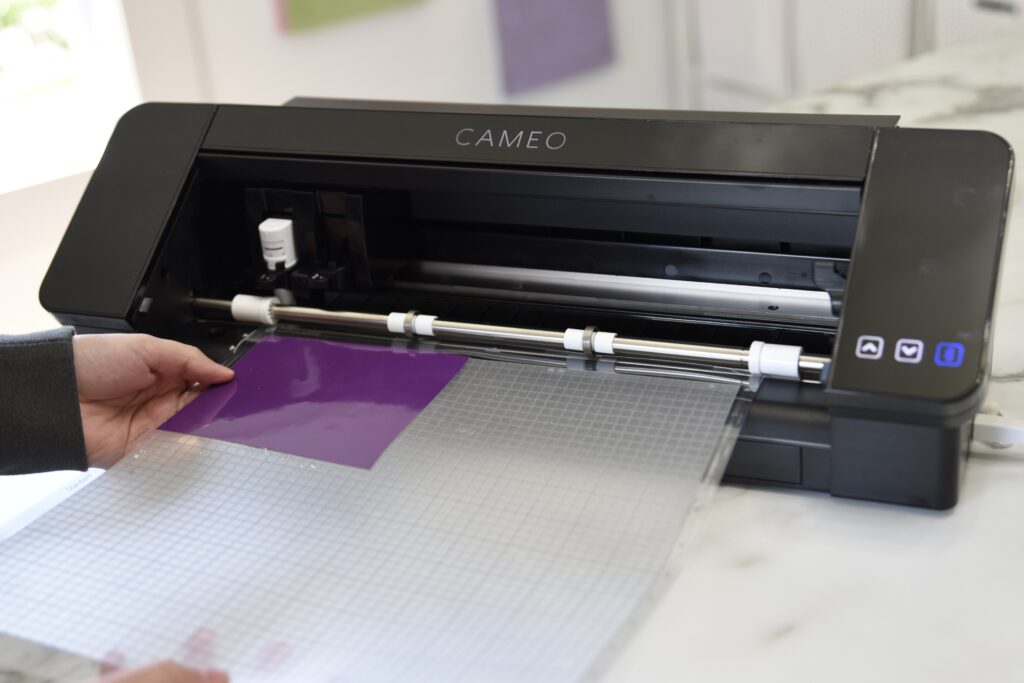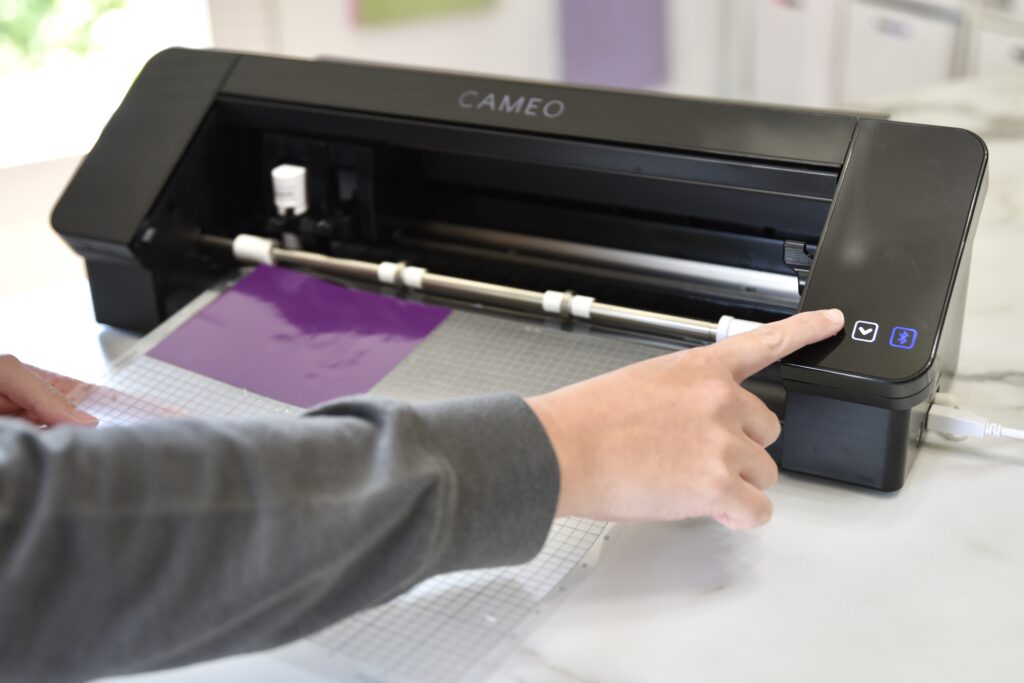 Loading Your Mat
Now, when you are loading your machine to get ready for cutting, you need to remember to choose the correct setting.
If you are using a cutting mat for your project, you need to choose "load mat". If you are cutting without a mat, you need to be sure to choose "load media" instead.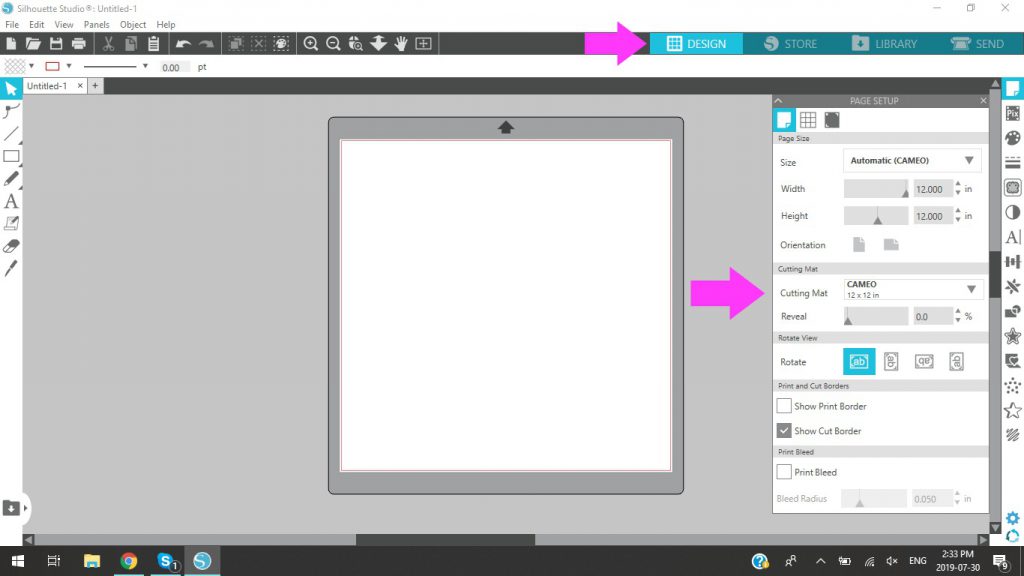 Design Page Setup
Besides choosing how your material will be loaded into your Silhouette machine, you also need to set the software accordingly for cutting with a mat or without one. This is found in the "Design Page Setup". You can choose "Cameo", "Portrait", or "None".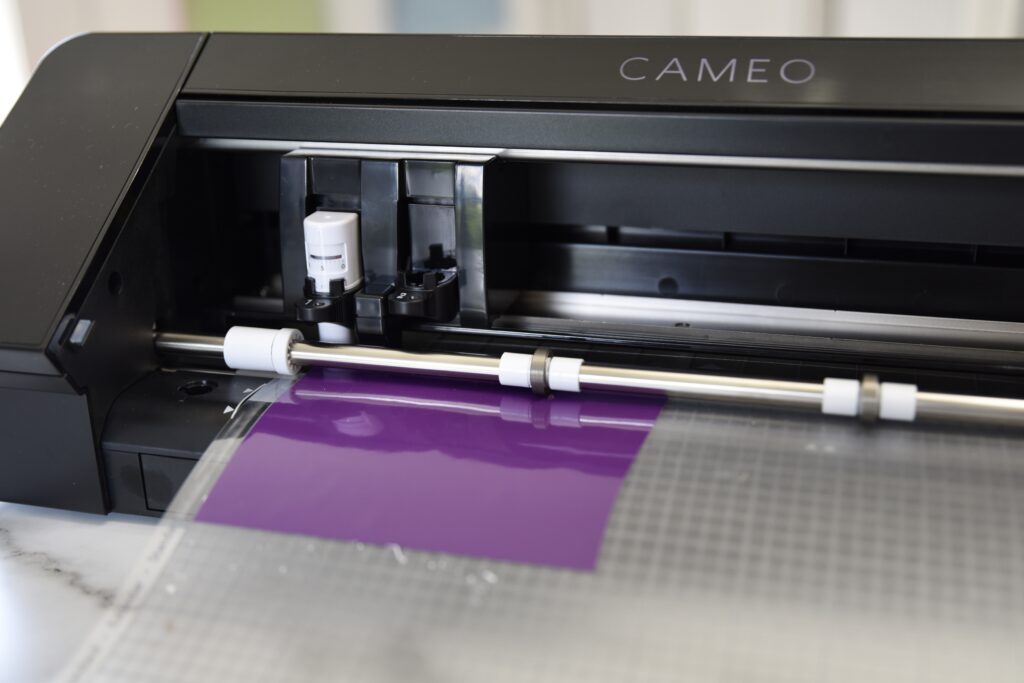 Lining Up Your Media
Make sure to line up your media correctly. Use the line on the left side of your Silhouette machine as a guide to ensure that your cutting is done in the right place.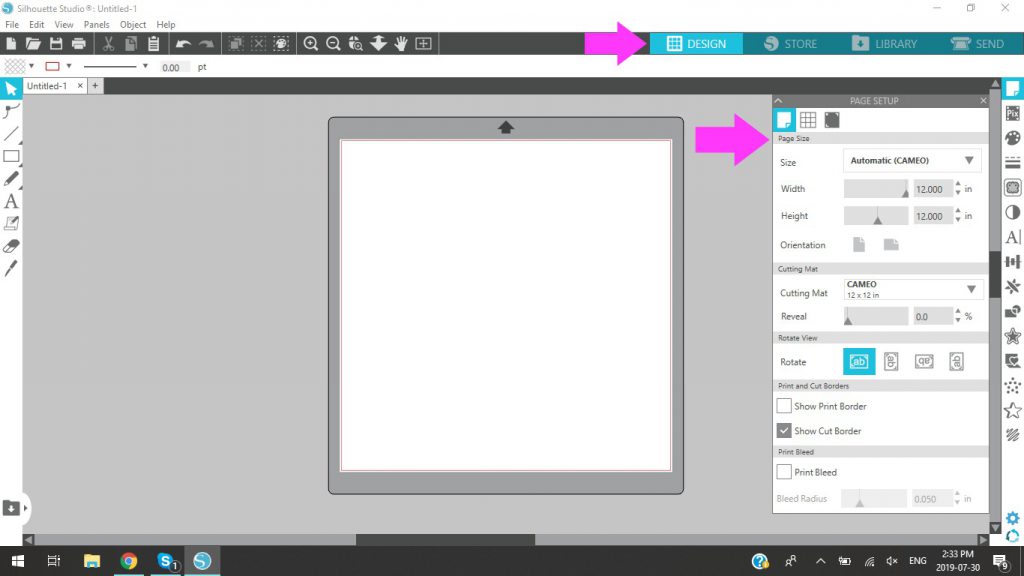 No matter whether you are using a cutting mat or not, you must make sure to set the correct page size for the material you are using. Set the height and width needed in the "Design Page Settings" window.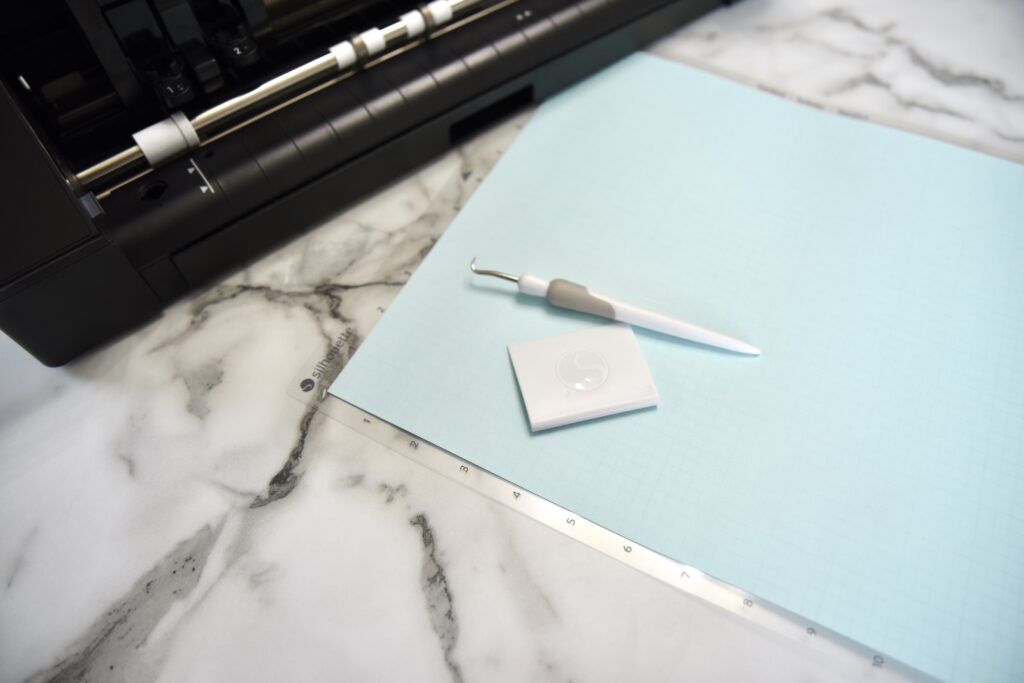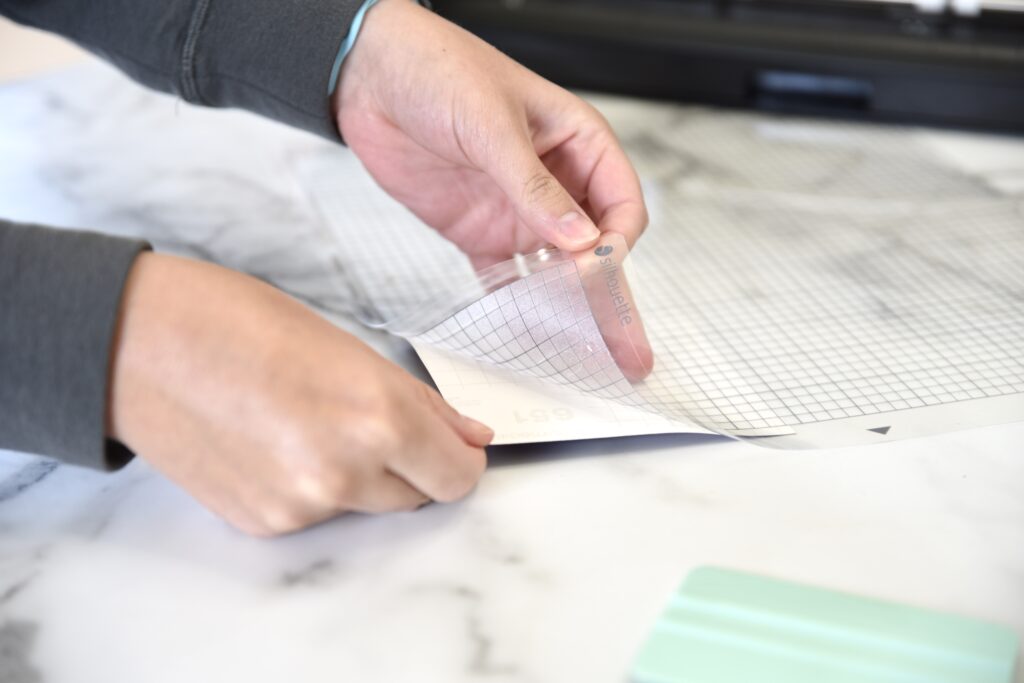 Your Cutting Mat
Speaking of the cutting mat, it comes covered with a protective blue sheet. Once that's removed, the cutting mat has quite a sticky surface! The stickiness helps hold the items you're cutting in place.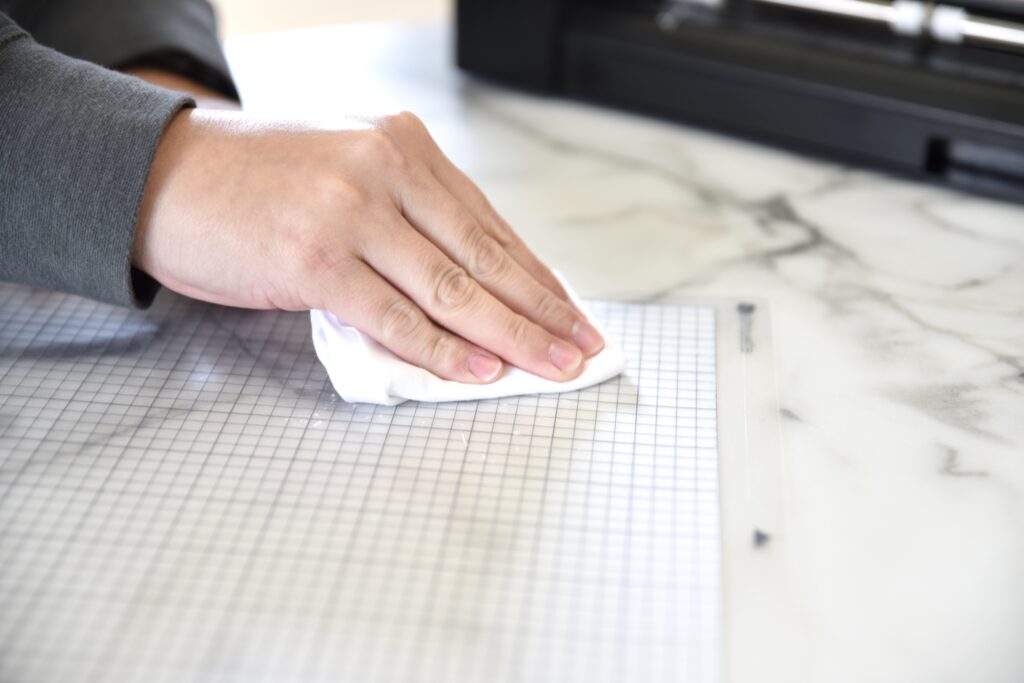 Sometimes though, they're a little too sticky at first and may rip the items you're cutting when you try to remove them from the mat. To overcome this problem, you can use a clean cotton rag or t-shirt to dab all over the mat. This helps cut down on some of the stickiness before your first use.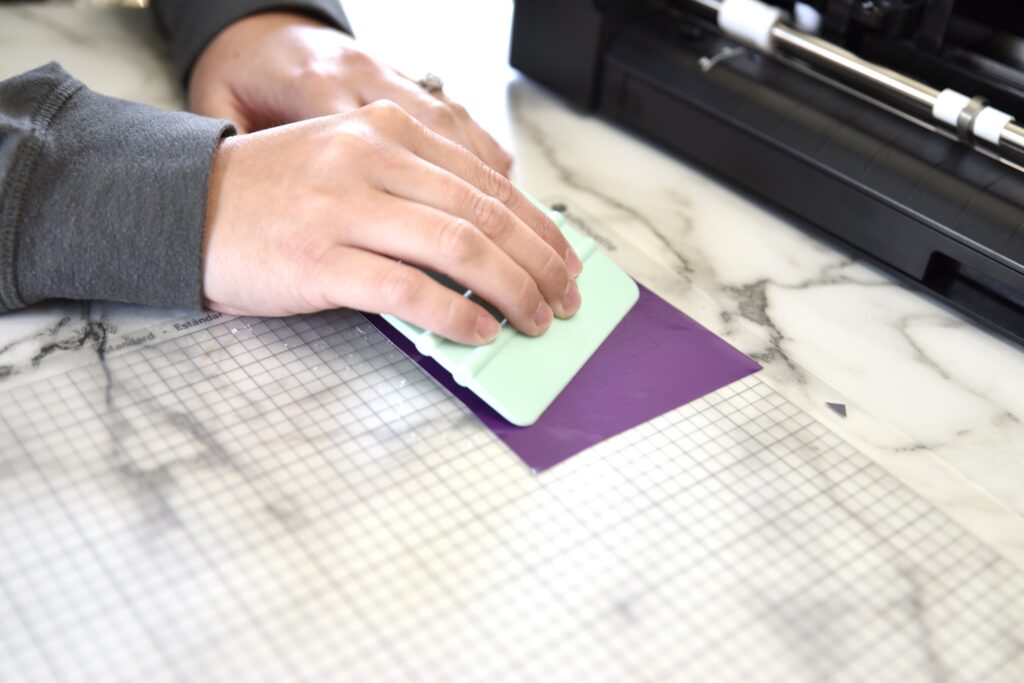 Burnish Your Material Onto the Mat
When you place your material on the mat, make sure that it is flat with no wrinkles or bubbles. Check that your media is securely and evenly adhered to the mat.
As we said, your brand-new mat is likely quite sticky and this won't be as much of a problem but once the mat is older, you just want to take an extra moment or two to press your material down firmly. You can use your hand or the Silhouette scraper tool.
Check out this post for more great Silhouette tips and hacks!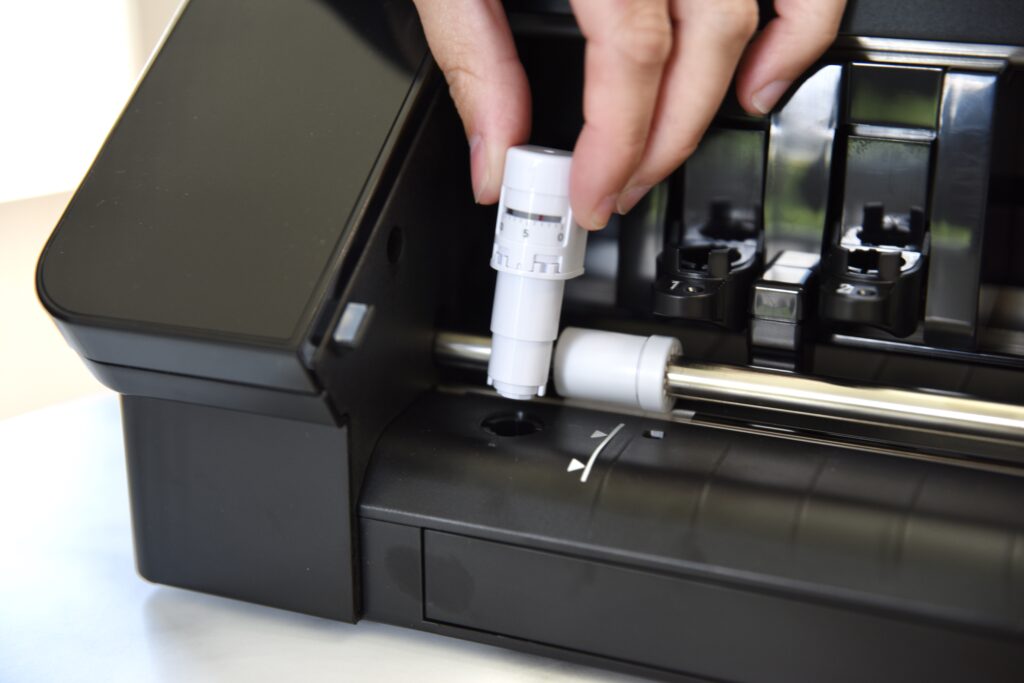 Changing the Blade Settings
To change your blade setting, you will use your blade ratchet. In most of the more recent Silhouette machines, there is a built-in blade ratchet, so don't worry if you lose the little ones they send along with the blades.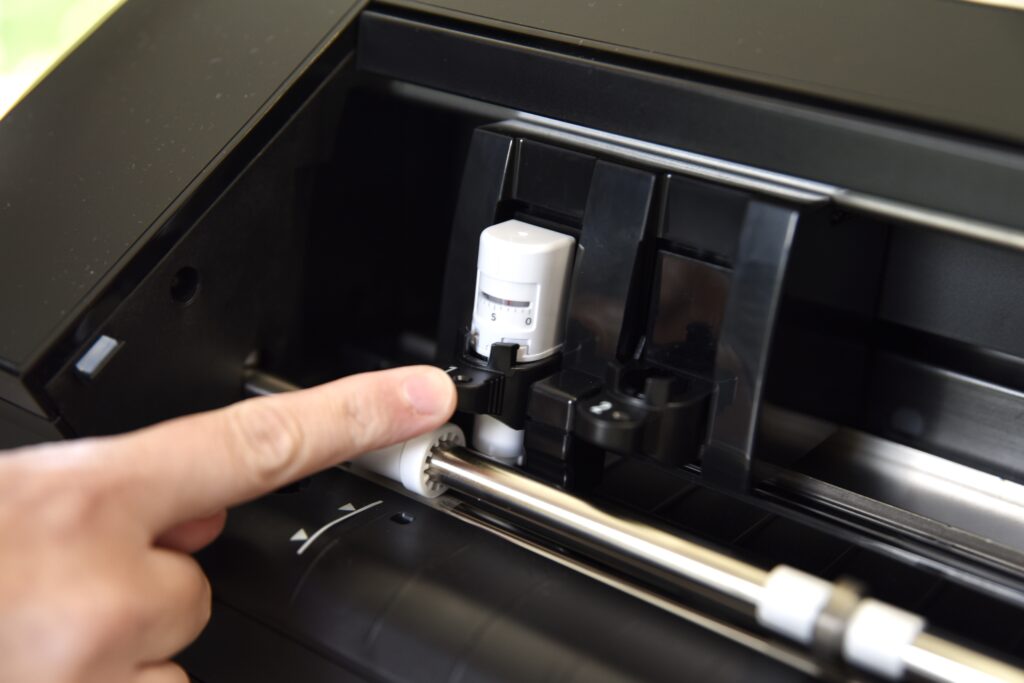 With a Cameo 3 or Portrait 2 model, the machine comes with an automatic self-adjusting blade – no ratchet required. You just need to set your machine and software to the required settings.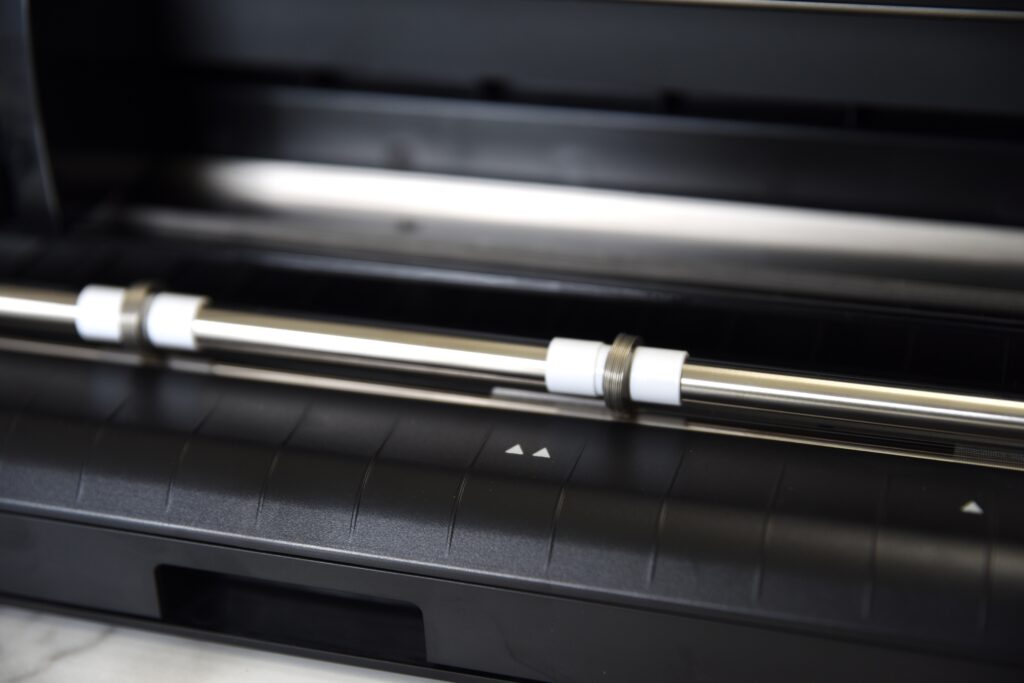 Machine Rollers
Before feeding your material into the machine, you need to make sure that the rollers are in the proper place. The left roller remains stationary but the right one can move to adjust the width of the cutting area.
The material you are cutting must be held in place by both rollers or it will slip around and won't feed through the machine properly.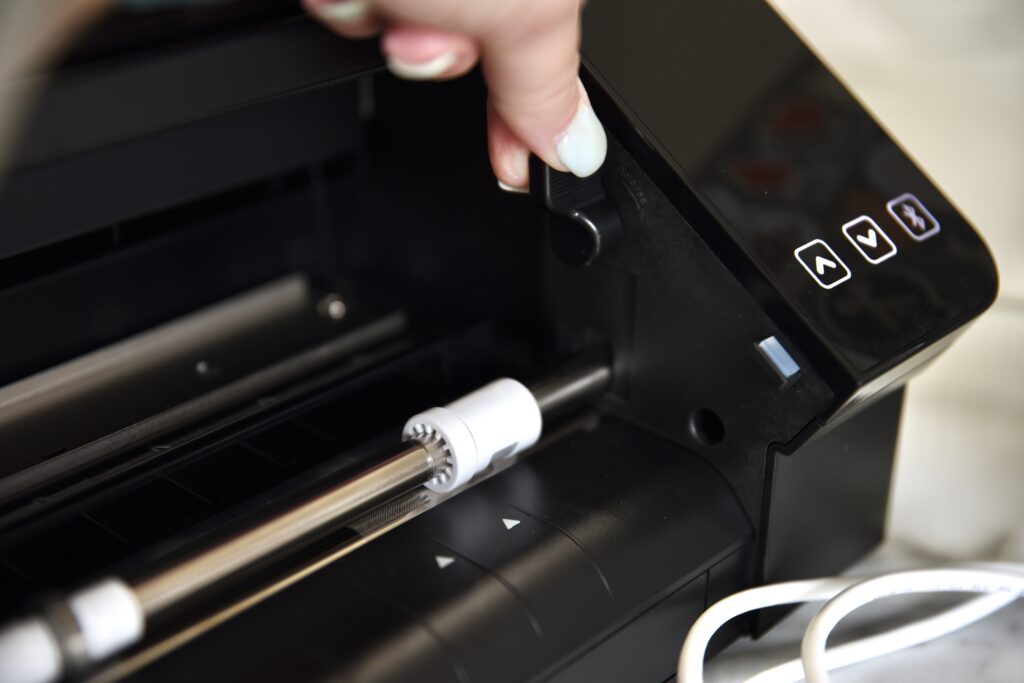 To change the roller placement (or sometimes to clean out any stuck material), you will need to raise the bar that the rollers are on. Always make sure it is lowered and locked in place before trying to cut with your Silhouette.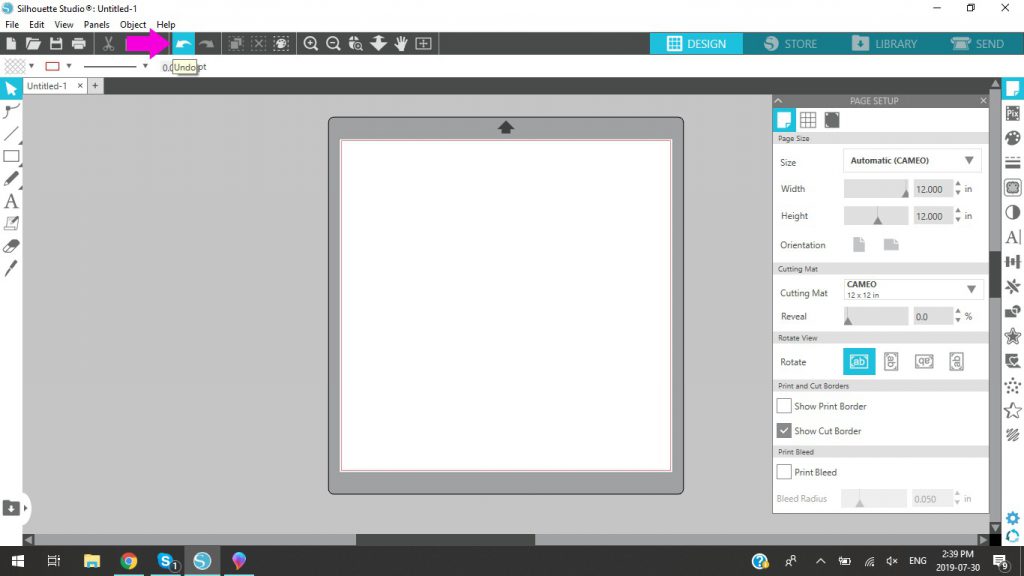 Use Undo When Needed.
Don't forget about the undo function. Make a mistake with your edits? Just press the undo tool along the top tool bar. Make a bunch of mistakes with your edits? Keep pressing to undo a whole bunch of edits!
Make a Test Cut.
When you think you're ready for that first cut, take a deep breath and make a test cut. This can save you so much frustration!! Just use a small piece of your material and run a test cut. When you do this, your Silhouette will cut a small square with a triangle inside.
This is your way of ensuring that you've set your machine and your software properly for your media and project. Is your blade cutting deep enough? Too deep? Check over your test cut and make any adjustments needed before going on to your actual project.
With these Beginner Tips for Silhouette Cameo, you should be all set to tackle your first project now! What will you make?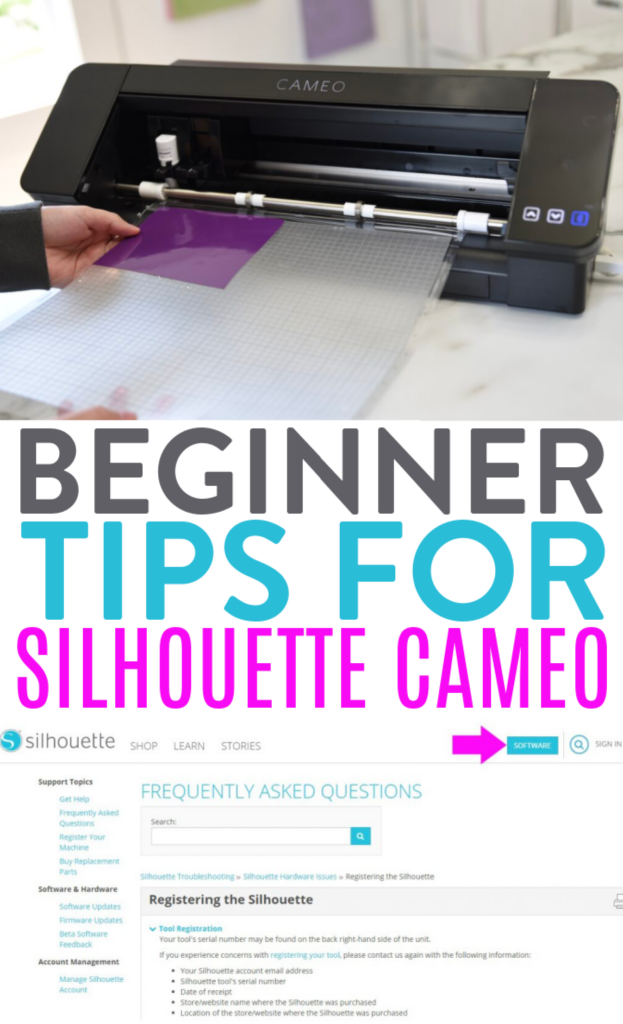 Tanner, Courtney, and the rest of the Makers Gonna Learn Team are all here because we love die-cutting and especially love sharing fun projects and tutorials with fellow makers. We are all great friends and are always having a blast when we are together- you will see this on camera, especially during live streams! We are here to inspire and support you in your crafting journey!