Easy Leather Bracelets With Cricut
We're so excited to show you how to make these Easy Leather Bracelets With Cricut. We're going to be using the Faux Leather from Cricut. This is a super thin leather and can be used with your fine point blade so you do not have to have a Maker to make this project.
This bracelet would make a great gift. You could even make a set of them to wear at the same time – one for each child's name. Or maybe make one for yourself and one for your best friend or significant other with each other's names on them. If you're thinking ahead, these would be simple and inexpensive stocking stuffers or Easter basket fillers too.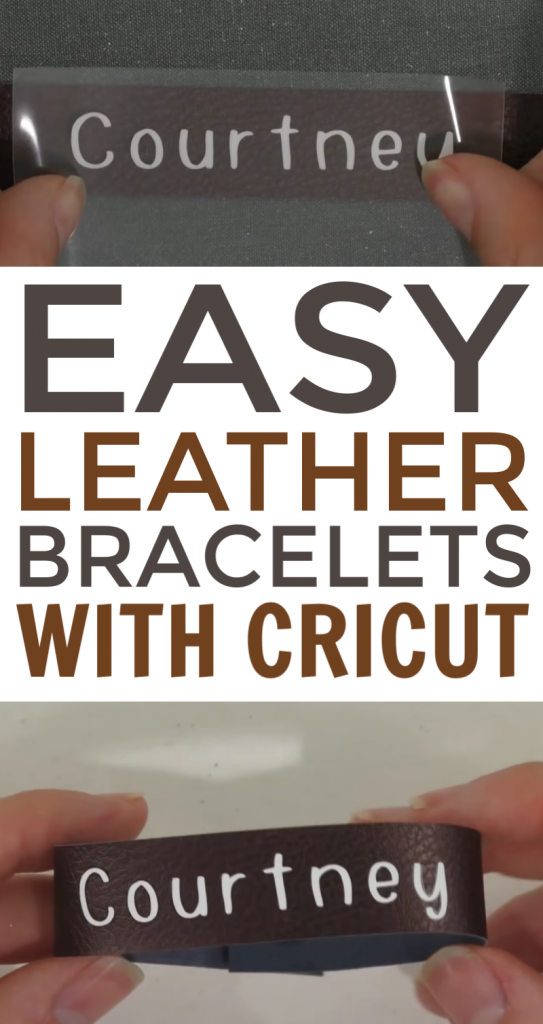 Easy Leather Bracelets With Cricut
We are using the Cricut faux leather along with some rivets. You can also pick up really simple pre-made leather bracelets on your local craft store if you feel a bit intimidated about making one.
Go to Cricut Design Space and measure your wrist and see how big it is. Once done, we're gonna manipulate some shapes and make it exactly how we want it.
So we're going to get a square, unlock it and edit. We're going to have a bracelet that is a width of 8 inches and a height of 0.75 inches. You can make this really wide or narrow depending on your own preferences.
Once you have a rectangular shape, we're going to lock this into place and go over to actions and duplicate. You can duplicate this as many times as you want and do these in various sizes.
Once you have them all sized the way you want to, go ahead and click "Make it". Hit continue and set the material. Choose the faux leather paper thin.
We're going to give that more pressure. Make sure mirror is turned on since we're using HTV for this and place your faux leather shiny side down on your mat. Load this into the machine and press that flashing Cricut button.
After it's done cutting, we can now unload this from the mat and peel it right up from the mat.

Double check that wrist measurement and once you know where you want it, you're going to take a hole punch and punch it right where you want your rivet to be. Do that on both ends because you will need holes on both of them.
Choose some rivets that are an appropriate size for your project. For these bracelets, we're using large ones. Rivets come in two parts. One looks like a metal washer and the other has a post on it, looking more like a bolt.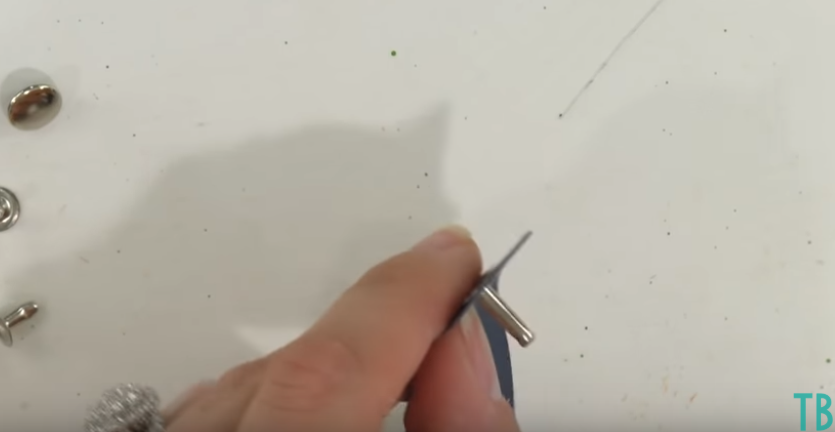 You want to place the part with the post on your surface, put one of the holes in your bracelet over it, and then put the part that kind of looks like a metal washer on top of that. You should hear a little click when you place it on top of the bottom piece.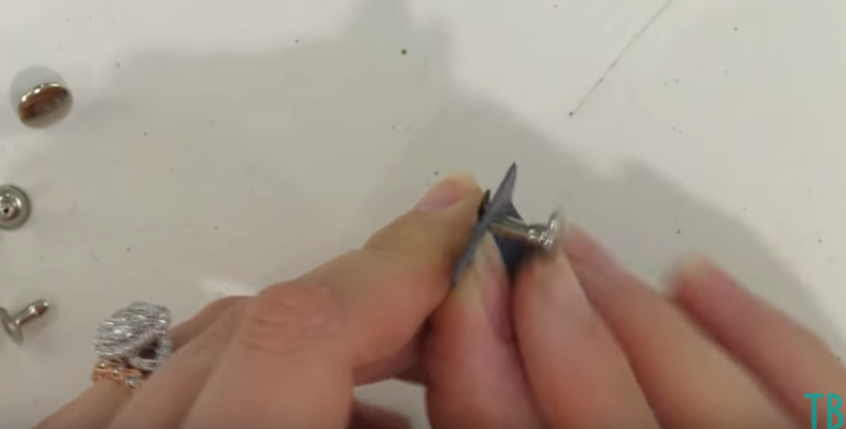 Lay it down right on top of that metal base piece and then place the metal setter piece on top. You'll see that on the setter, there's a flat end and a curved end. You want to put the curved end on top of the rivet and use a small hammer or mallet to hit it until the whole thing is completely compressed down.
Repeat that on all of your sides. You're going to want to work on the ground or floor – a steadier surface than a table. Use very small light hits and check it every now and again to make sure you're not bending the metal too much.
Now all we have to do is to go into Design Space and create the name that we're going to put on our bracelets. We're going to use one of our almost 300 fonts from our membership files here on Makers Gonna Learn . We've chosen Little Miss Susie.
We're going to write Courtney and size of our bracelet to 0.75, so we're going to go to edit and lock that and we are going to do a height of 0.5 and it gives us a width of 2.6.

Now we can click "Make it" and replace what was on the mat. Since we're going to be using iron-on, we need to select Mirror. Select iron-on and default pressure. Load in your mat and press that flashing Cricut button.
While that is cutting, we're going to set our EasyPress to warm up to 280.
Once the cut is complete, we're going to come in with our true control knife, cut and remove the excess vinyl.
Now we're going to start in a corner, start weeding and peel this right up off of the mat.
We're going to get our EasyPress mat and lay out our bracelet. Take the "Courtney" text and lay it right in the middle the way you want it.
Now, grab your EasyPress and go ahead and lay it down over your design. Heat that for 30 seconds. You want to give pretty firm pressure and not move around too much as it heats.
We're going to let it cool down and once it cools a little bit, we're going to peel off that layer. Once it is completely cool, we're going to take the transfer paper off.
Now you have a gorgeous little personalized leather bracelet. I absolutely love the way that it looks! You can make these in all different colors, shapes, sizes and using a variety of fonts.
Tanner, Courtney, and the rest of the Makers Gonna Learn Team are all here because we love die-cutting and especially love sharing fun projects and tutorials with fellow makers. We are all great friends and are always having a blast when we are together- you will see this on camera, especially during live streams! We are here to inspire and support you in your crafting journey!