How To Make a Stencil With Your Cricut
Today on the blog we're going to teach you How To Make a Stencil With Your Cricut. If you haven't tried stencil making yet or you've been wanting to learn how to do that, you're in luck!
Making stencils with your Cricut is another fun way to craft with your die cutting machine. This really adds to the versatility of your Cricut machine. Forget having to search through the stores for an appropriate stencil. Now you can simply make the one that is just right for your project. How about creating your own custom stencil, personalized with your name?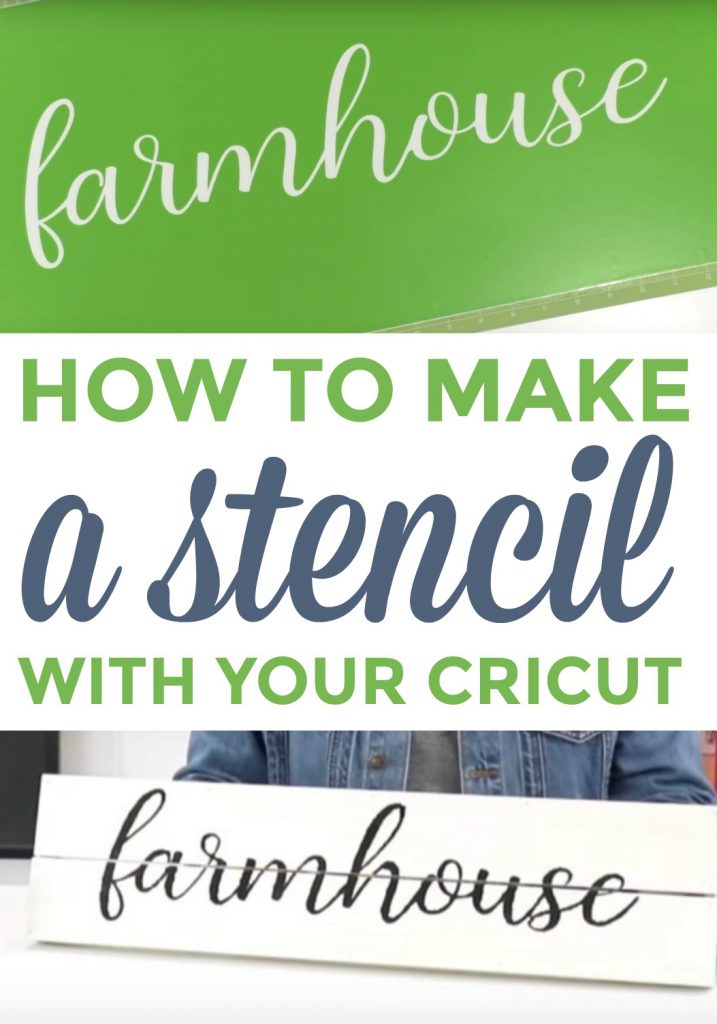 How To Make a Stencil With Your Cricut
In this tutorial, we will be using our Cricut Maker and our iPad, but you could certainly use a computer with your Cricut as well. We're making a farmhouse sign today. I'm using acrylic paint and this awesome wood sign that we have already stained with white paint as well as a large piece of vinyl.
We're making a pretty large sign here. It's going to be 20 by 5 inches, so we're super excited! Cricut actually has stencil vinyl but we find that we get the same great results simply by using a piece of regular adhesive vinyl.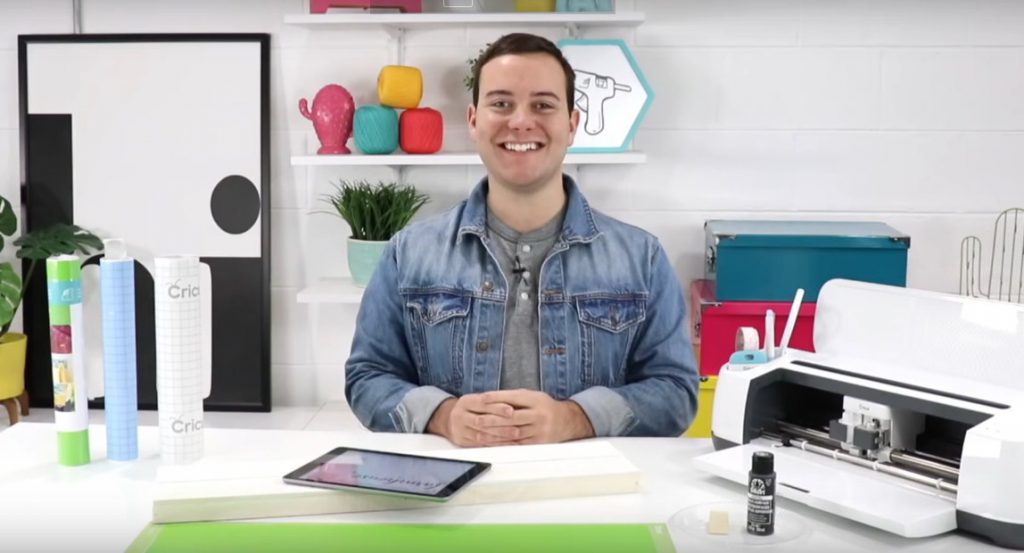 Working in Design Space
First, we go to Cricut Design Space on our iPad. Now you can see we already have a farmhouse design – we just grabbed this font from our Makers Gonna Learn membership. If you're an MGL member, you can scroll through the font dashboard and find the font "Community".
This is the font that we're working with today and we've already downloaded it onto our iPad. What we're going to do now is select "text". Then, we are selecting System Fonts and typing "Community" into the search bar.

We're going to type out the word farmhouse here. Now remember, a lot of farmhouse items for whatever reason are using the lowercase F so we're going to do that today too.
Remember that each time you're designing with fonts you want to go ahead and ungroup them. You're going to select "actions" and you're going to ungroup now.
Before you go any further, if you think there's a chance that you might want to change the text later, I would duplicate this file. Simply select layers and then the duplicate button.
That will give you a second file that you can use later if needed. I highly recommend this step so that you don't have to start from scratch again if you need to make changes.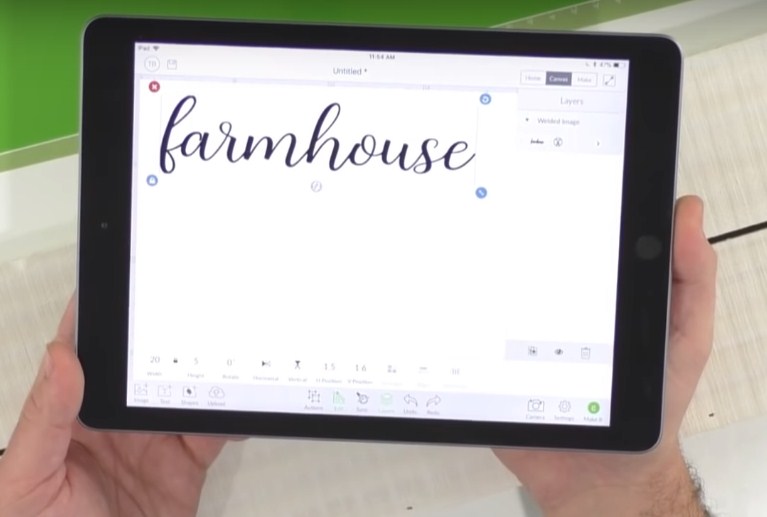 You can see in layers that once we click ungroup, each of these letters are now its own layer. So now what we can do is to start kerning these. Kerning means to change the spacing between the letters. So, we can just move this F closer to the A.
Then we can take that FA and position it better with the R. Then, we can select the FAR and move it over with the M and so on.
This is one of the reasons I love using the iPad because it's really easy to kern your letters. You can easily do the same process on your desktop.
Note: with its most recent update, Cricut Design Space automatically kerns most cursive fonts. You may still want to tweak the spacing a bit manually.
Once you're done kerning your letters, you would select your text and then select weld. If you select attach, each of these letters will still come up as individual letters so to make this all one image to cut it properly you want to select weld.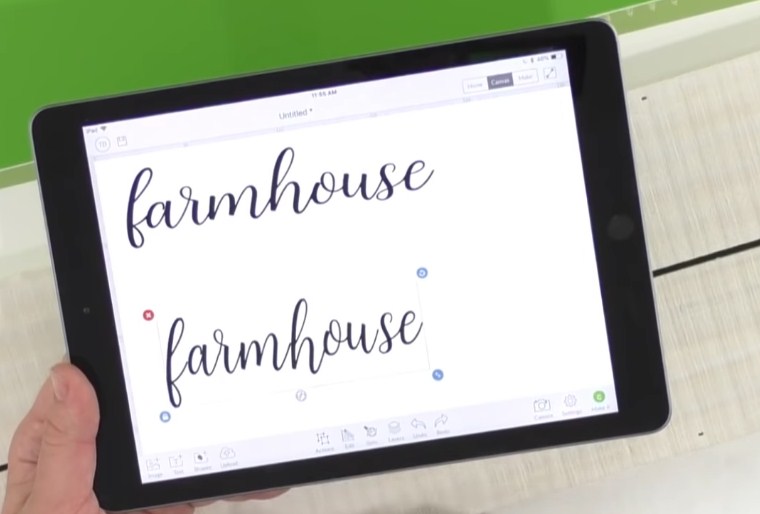 Sizing your design
Next, you want to grab a ruler or measuring tape. This one is from the Cricut sewing kit. It's perfect for rounded images or projects but also signs like this one.
We are working with an image that we have sized to be 20 inches wide by 5 inches tall. I believe that our sign itself is about 6 inches tall by 25 inches wide.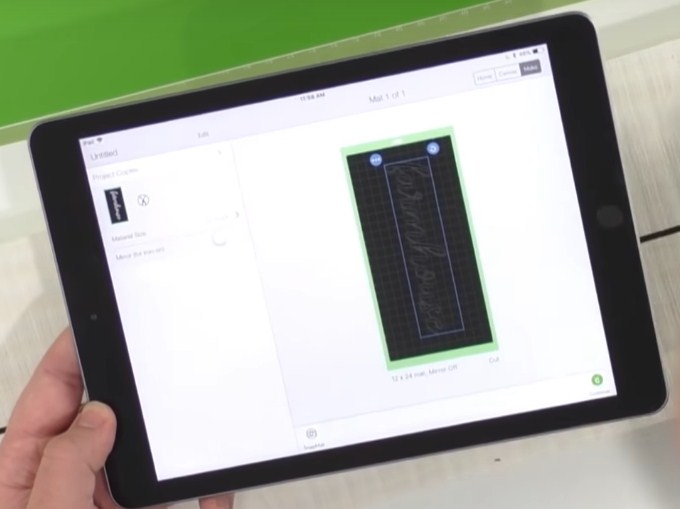 Getting ready for cutting
Now, we're ready to cut the vinyl, so let's click "Make it".
I like to move this right to the middle. If you're using a stencil you want to move it to the middle of your vinyl to give yourself a little extra space around the stenciling area. That way when you apply it to your surface, you're not going to have to worry about the paint getting onto the surface other than where the letters are. Otherwise, you might have to cover parts of your sign with painters' tape to keep it clean of paint.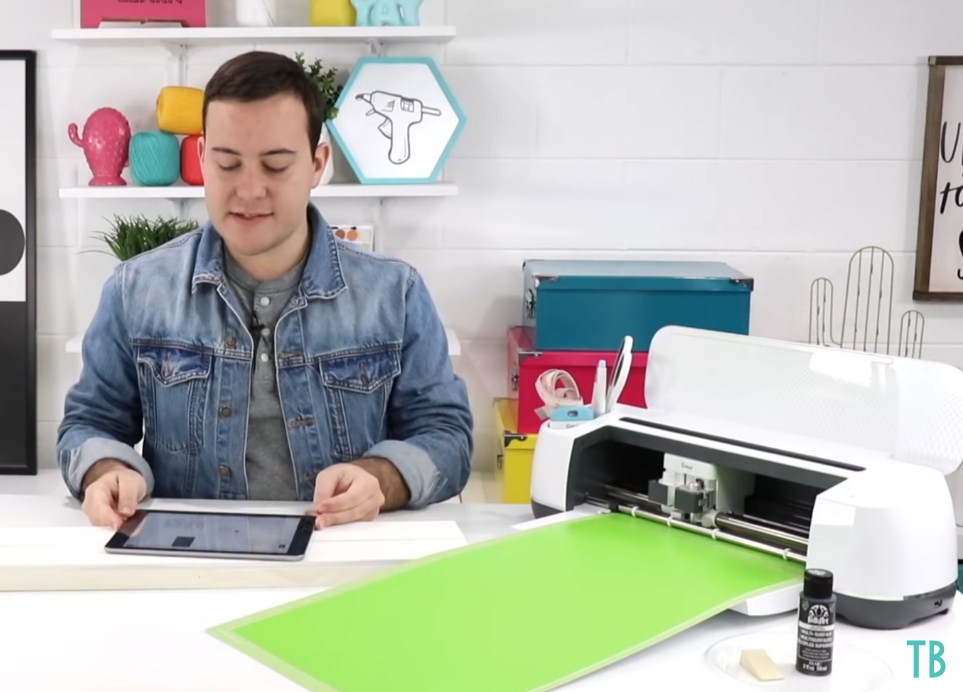 Since we're not using iron-on, we do not have to mirror our text, so we just press Continue. For the material setting, we're going to select vinyl and then, because our blade has been used quite a bit, we're going to choose more pressure.
Next, we're loading our vinyl onto the 12 by 24 inch StandardGrip cutting mat and loading it into the machine.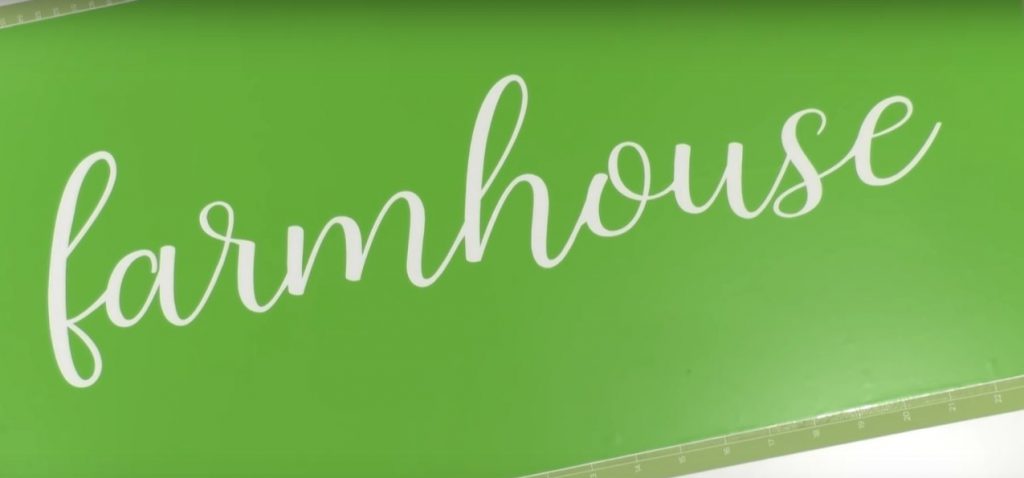 Cutting and weeding the design
Once it's loaded into the machine, we can press the flashing Cricut button. When it has been cut out, we're just going to unload that from our machine. You can see here we have "farmhouse" cut very nicely on our mat.
Since this is a stencil, we need to weed the opposite of what we normally would. Usually, we weed away the negative vinyl around the design. Here, instead of weeding out all the excess vinyl, we're actually going to weed out "farmhouse".
Pro tip: Be careful when you're weeding that you're not messing with any of the crisp lines that you'll need to create that stencil image.
Now that it is all weeded, we're going to do is to use transfer tape to actually peel up this image and apply it onto our wooden sign. This is going to use up quite a bit of transfer tape, but it makes the application process so much easier.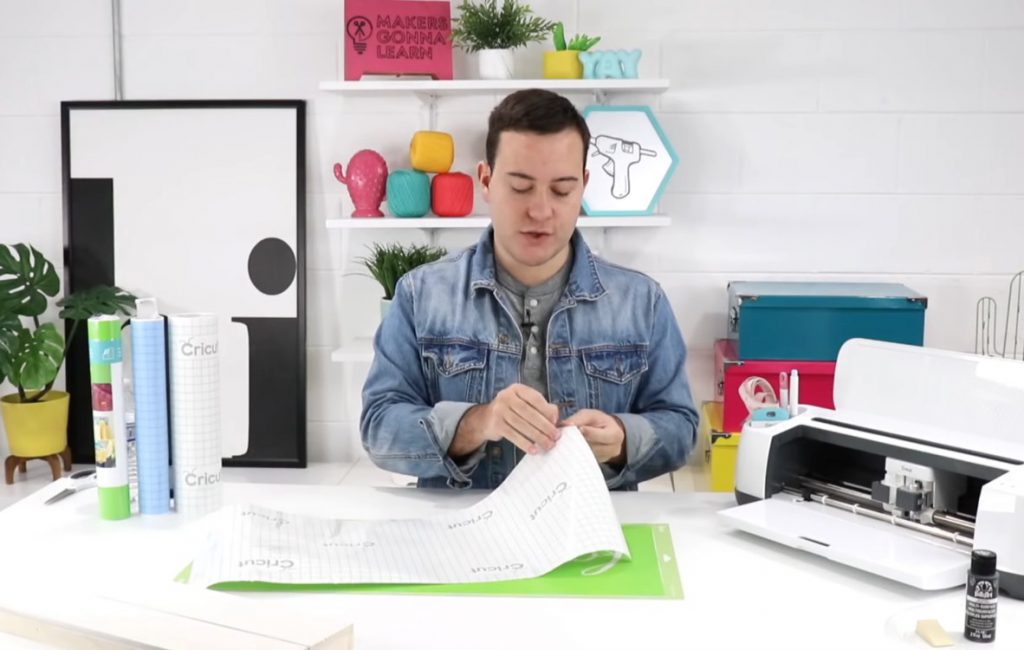 Once that's done, we need to burnish the transfer tape onto the design. You want to really focus in on the letters so that you get a clean stencil painting.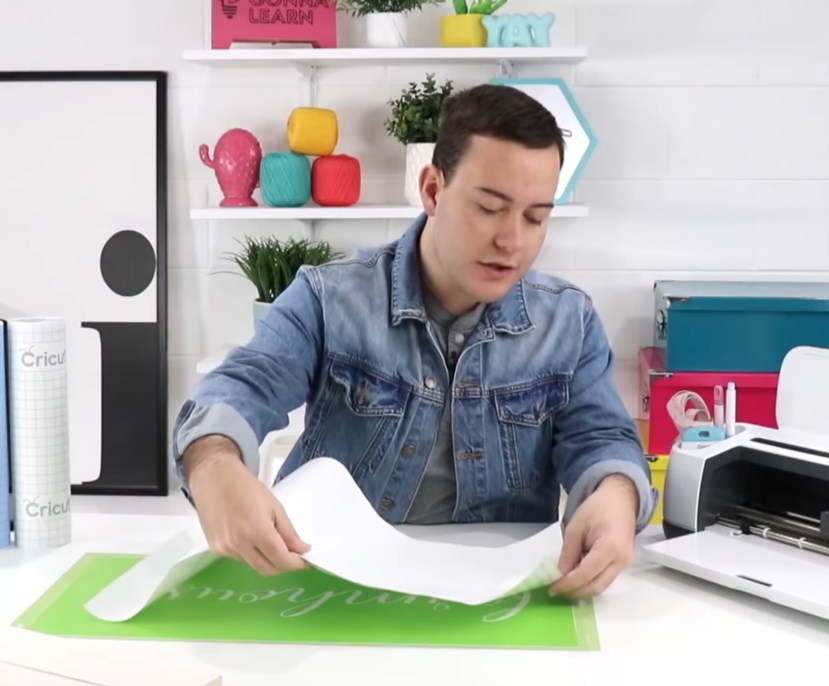 Then we're going to flip it over and we're going to remove the mat. Burnish the design again from the back.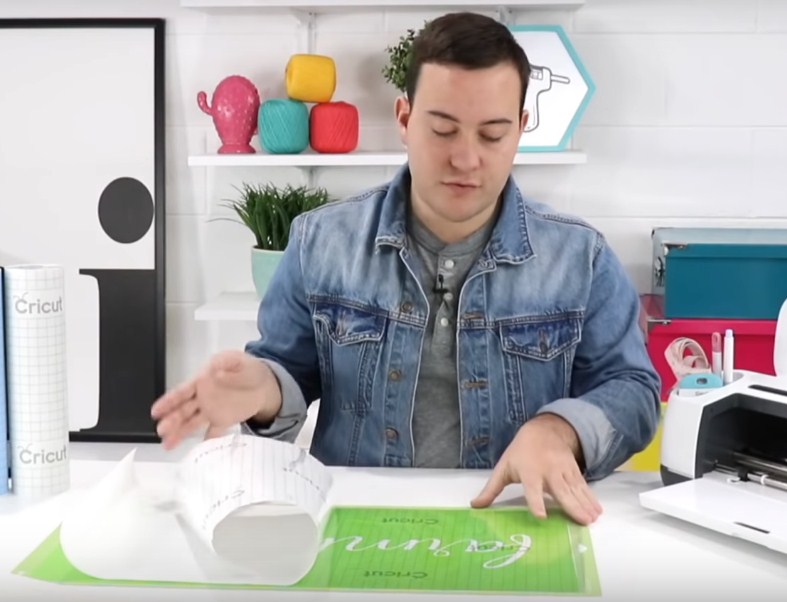 Next, we're going to take the little backing off of our vinyl. If you burnish it properly you will not have to worry about that too much. But, if you find that you're having a problem with any sections of it, just go back in and burnish it a bit more.
This is perfect to use with a chalk paint to make it a homier look. I'm sure if you all have been using your Cricut a ton you may have noticed that sometimes when applying vinyl on wood, it won't stick as well and it will want to come up. So. if you use the stencil method and paint, it's going to last for a lot longer.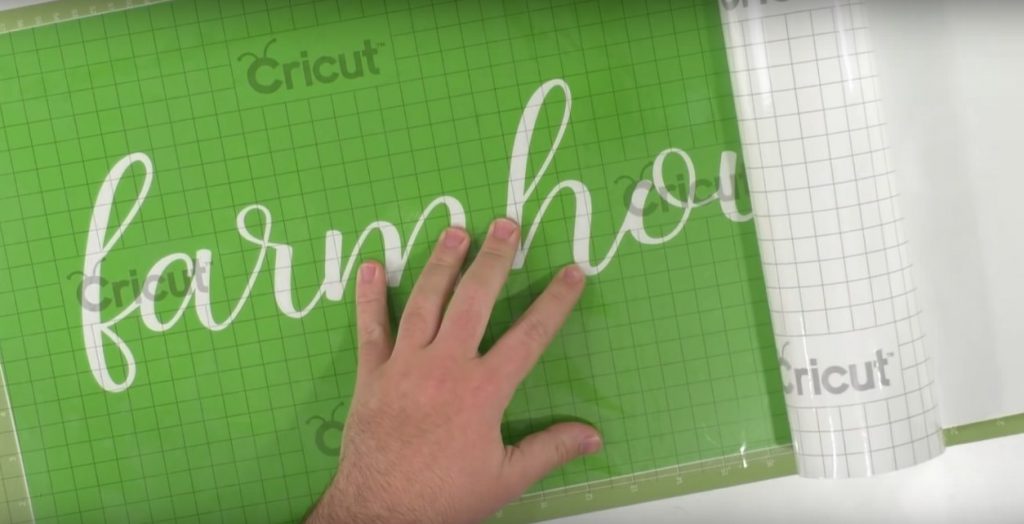 Now you can apply the vinyl to the sign. It's a bit tricky with this project knowing exactly where the middle of the frame is. It can help to stand up and get right up over the project to be able to position your design well.
Once we've found our positioning that we think will work really well, use your burnishing tool to burnish the stencil really well onto the sign. You really want to do a good job of burnishing it down, so that when you pull up this transfer tape it's going to be ready for you to stencil. Be sure to go over each of your letters really carefully. You don't want any of them lifting up as you apply the paint.
Begin peeling up the transfer tape. Once we're almost halfway through, just cut off the excess transfer paper so it's a little bit easier to manage.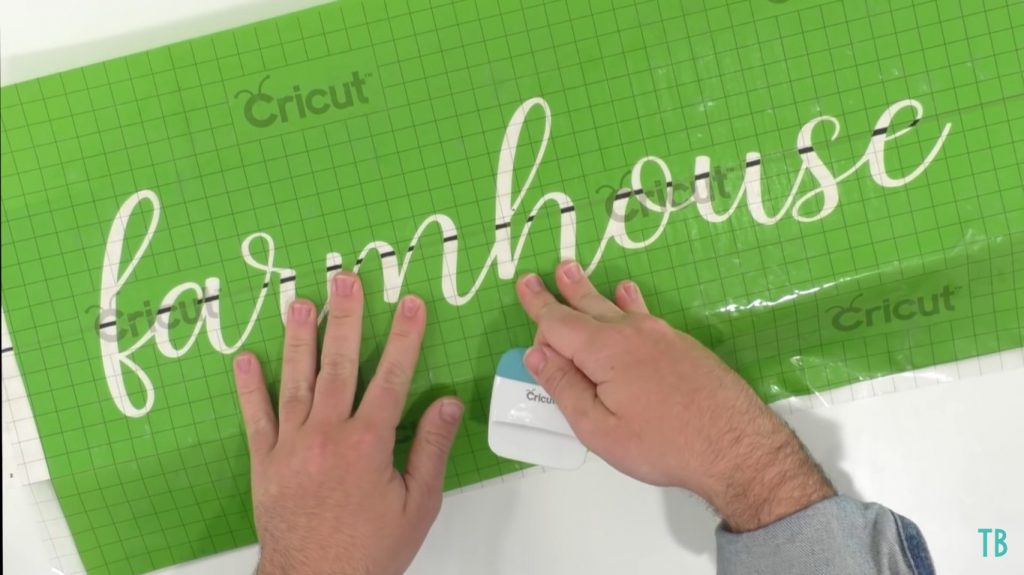 Now that we've pulled up that transfer tape, you want to go over everything with your scraper tool again. You want to make sure that each piece is nice and adhered to your wood.
Once that is ready to go, we're just gonna grab our black multi-surface paint. Take the makeup sponge, dab it into the paint and then you just want to take off some of that excess until it's evenly covered. Now you can just start applying paint onto the stencil.
Please remember to do an up-and-down motion just like you see in the video. You want to make sure it's covered so I like to just pounce for a little while. That's gonna give you really great even coverage and could help prevent having to apply two coats.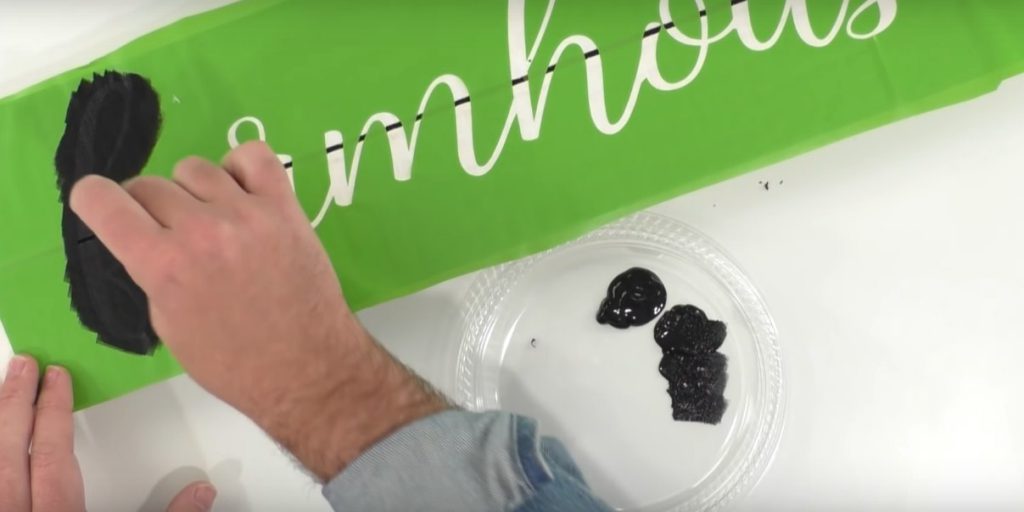 Once you have stenciled the entire word, peel up the vinyl. Again, you can work in sections and cut away the excess as you remove it to get it out of your way.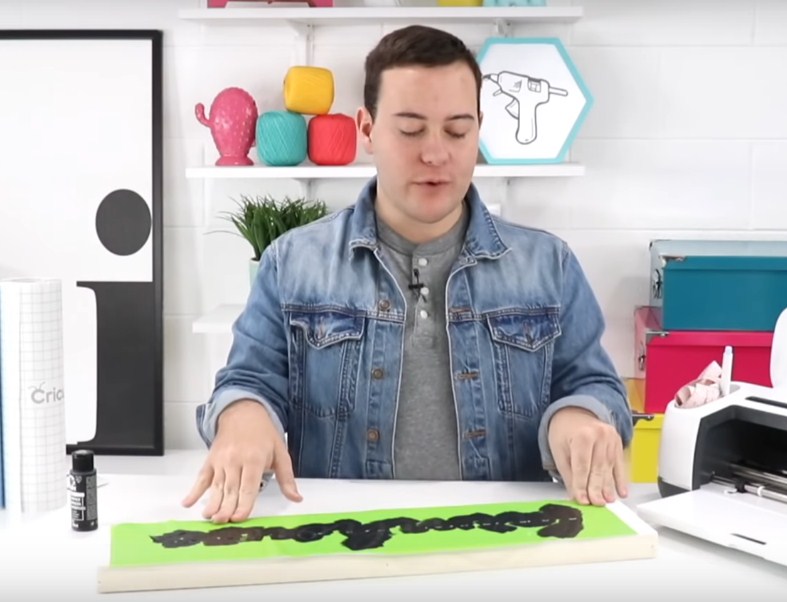 We love this for stenciling and especially when you're looking for that farmhouse look! Remember that the smoother the wood, the smoother the results.
This is a really textured wood so the results are a little more rustic. Just keep that in mind when choosing the wood for your project.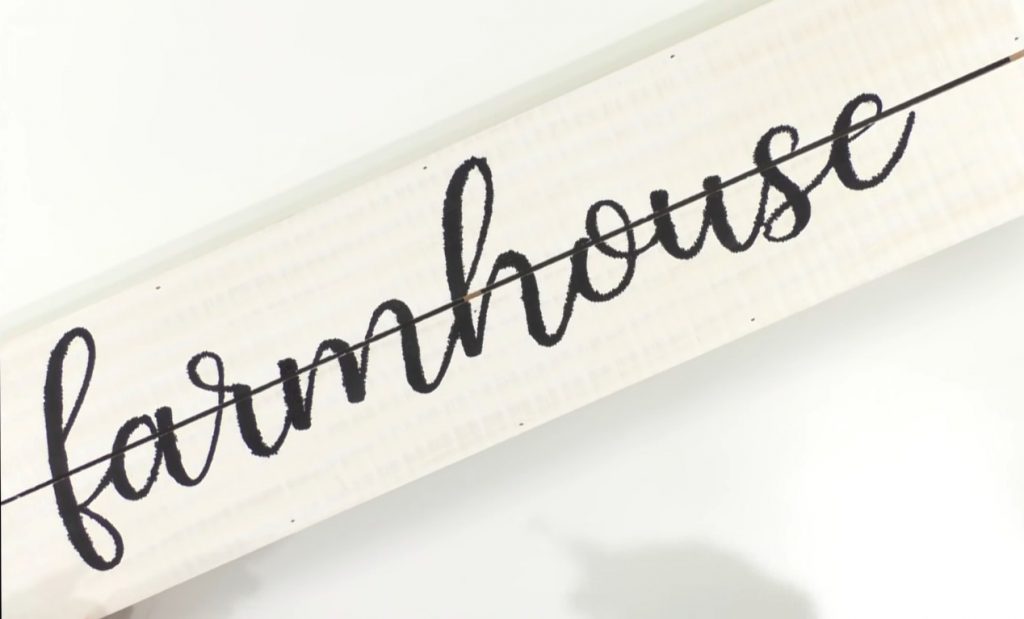 I had so much fun teaching you How To Make a Stencil With Your Cricut. I hope you guys enjoyed this farmhouse home decor we made using your Cricut. You could put it in your kitchen, your dining room, really, anywhere in your home and I think it will look really great!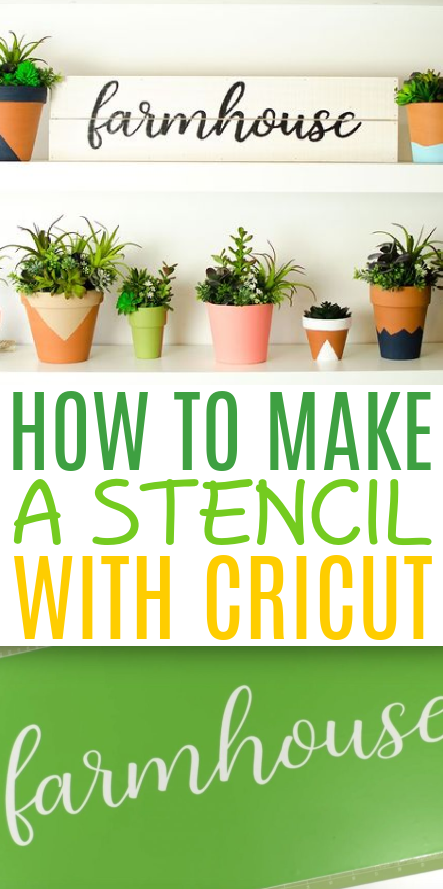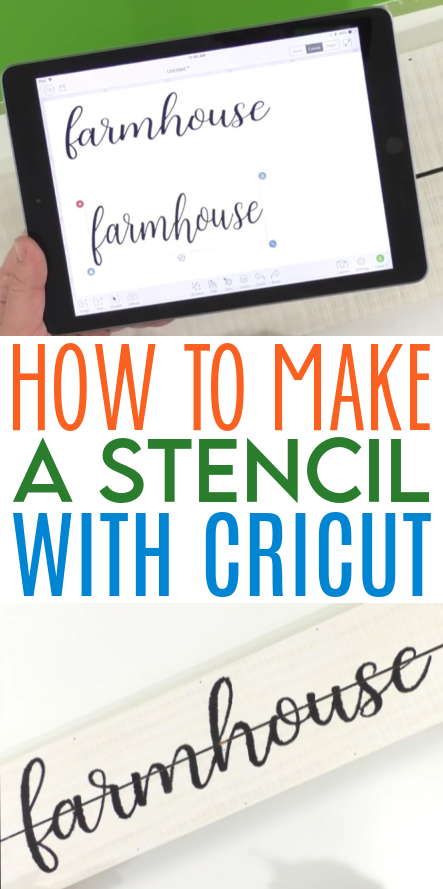 Tanner, Courtney, and the rest of the Makers Gonna Learn Team are all here because we love die-cutting and especially love sharing fun projects and tutorials with fellow makers. We are all great friends and are always having a blast when we are together- you will see this on camera, especially during live streams! We are here to inspire and support you in your crafting journey!