How To Use HTV With a Household Iron
If you like creating die cutting craft projects with heat transfer vinyl, you're going to love seeing how to use HTV with a household iron. If you want to make t-shirts, sweatshirts, or other customized projects with iron on vinyl but haven't yet invested in a heat press, this is a must read!
It seems like nearly everyone has a Cricut EasyPress these days, but what if you don't? If you don't have an EasyPress or other kind of heat press, but you still want a successful iron-on vinyl project, check out this tutorial to see how to master using HTV with your iron. Yes you CAN have a successful iron-On project with your household iron.

How To Use HTV With a Household Iron
We're going to give you all the tips and tricks you need to be able to apply your HTV designs with a standard household iron. It IS important to note that there are differences between your iron and a Cricut EasyPress.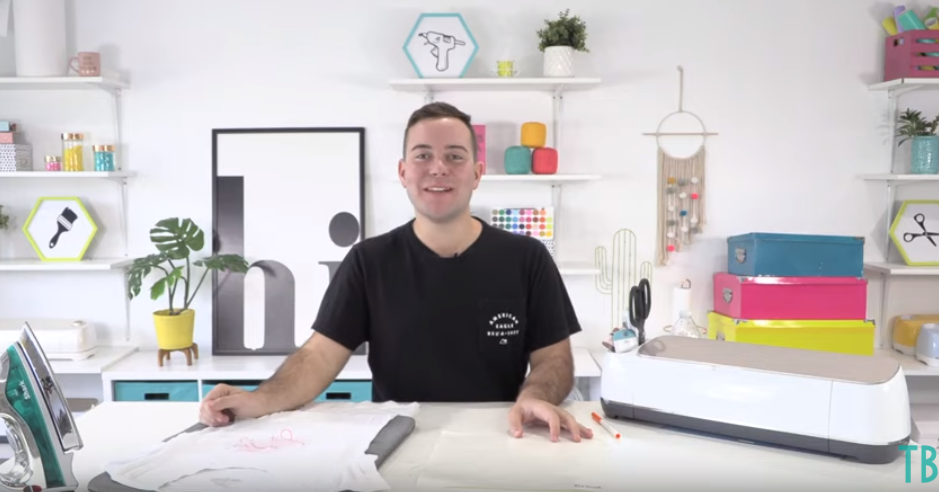 The EasyPress provides even heat. That means that the entire plate of the EasyPress is the same temperature. Even heat means that it's much easier (and faster!) to get flawless results with your iron on project.
We do believe that a Cricut EasyPress is a worthwhile investment. It will, in the long run, save you time and money by giving you more consistent results in less time. But we understand that it's not in the budget for some people and they will need time to save up for it.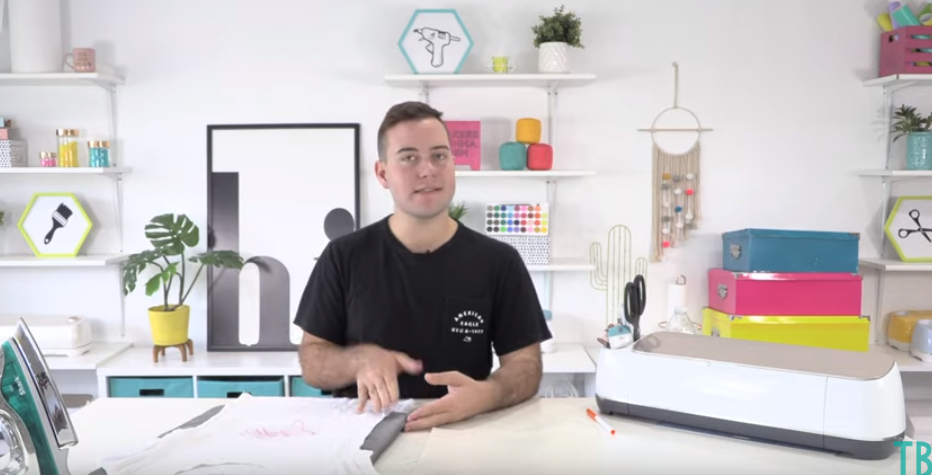 In the meantime, don't let that discourage you from making heat transfer vinyl craft projects if all you have is a household iron. It's going to require a little more time and patience, but it can be done.
We do suggest that while you're waiting to purchase an EasyPress, that you go ahead and get a Cricut EasyPress mat. These mats work so well and are really affordable. They can take your household iron to the next level and make your iron on projects much more successful.
An alternative to the EasyPress mat is a terrycloth towel folded 3 or 4 times. This will help provide a surface that is well suited for applying heat transfer vinyl. It's very important that you work on a sturdy table. Don't have one? Work on the floor! It's a great substitute.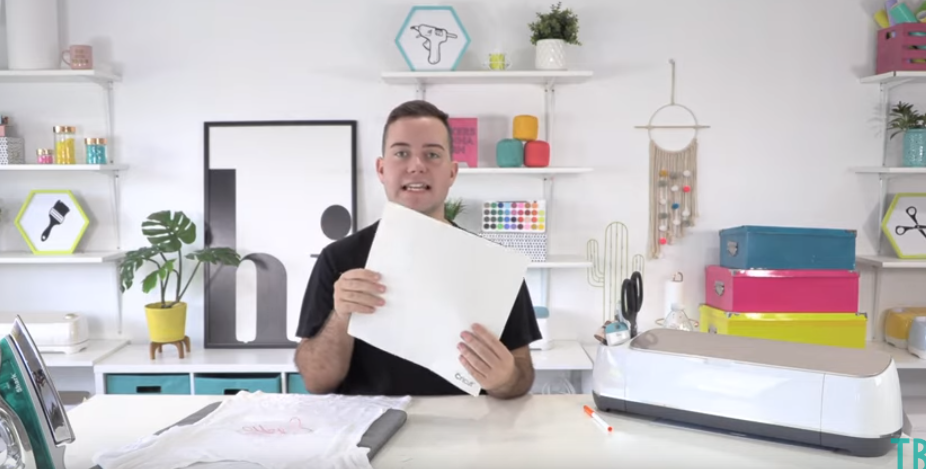 You can see that we have a Teflon sheet to use with our iron on craft projects as necessary. For simple one layer designs, we find that we don't need them that much, but they can really come in handy for more elaborate designs.
Want to learn how to layer iron on? Check out our tutorial!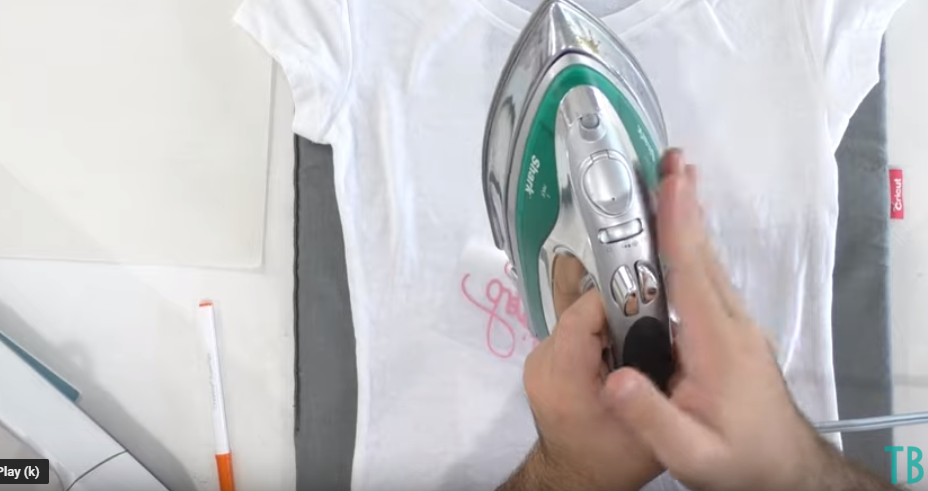 We're turning the iron to its highest heat setting. Make sure that steam is turned off!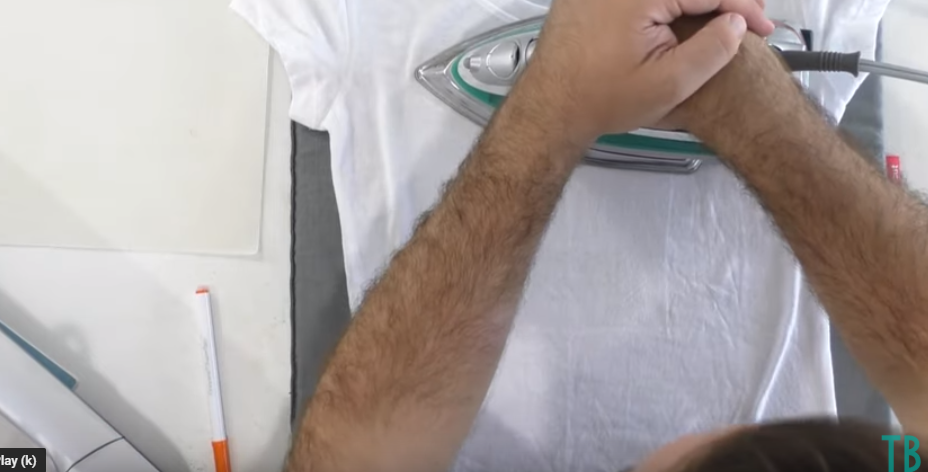 Before applying the design, I always like to preheat the surface – in this case, the t-shirt. The bonus to preheating it is that it also helps remove the wrinkles. A warm, flat surface makes for better adhesion of the HTV.
You don't want to use the iron in the traditional manner, moving it back and forth. Instead, you want to think of it more like a heat press. Press it onto the fabric, then lift, and press down onto another section.
Just remember not to apply too much pressure or you might end up with those little indentations from the steam holes showing up on your shirt.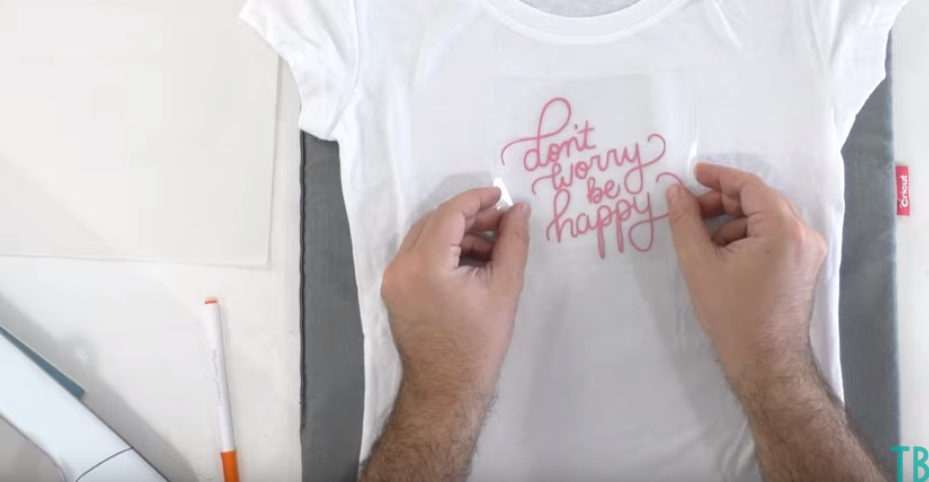 Apply your cut design to the preheated shirt. The Cricut EasyPress has a built in timer but obviously, your household iron doesn't. I like using the stopwatch on my phone for the best results.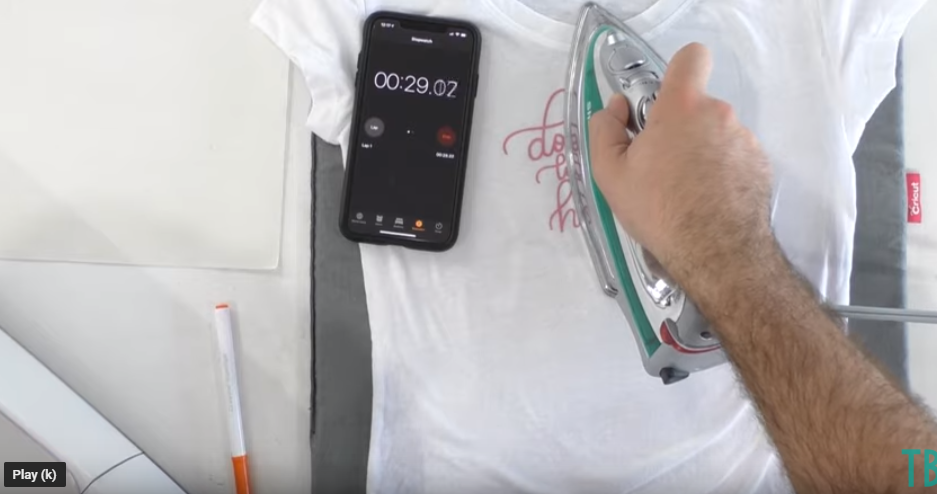 I place the iron on my cut design and give a little bit of pressure. With my iron, I find it's the warmest right in the center so that's where I apply it to the HTV. After a bit of practice with your iron, you'll learn just where the most heat is on your iron too.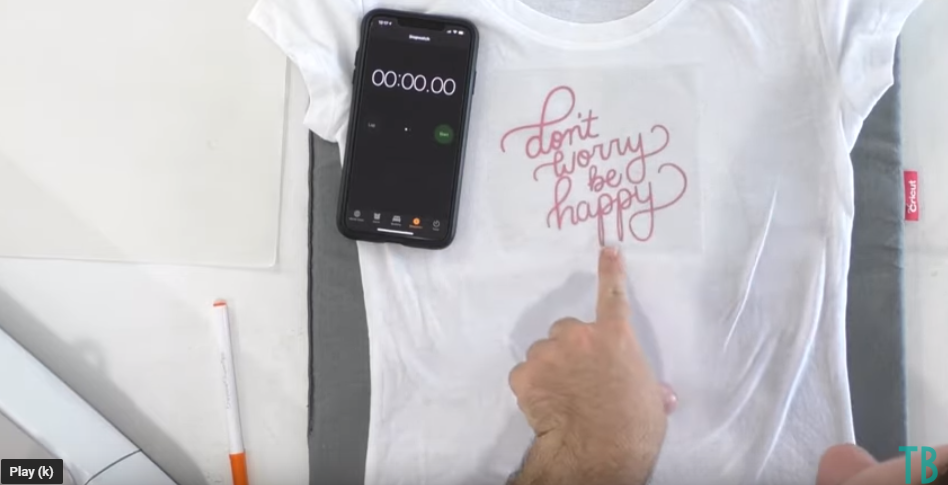 We're going to hold the iron down on our HTV for 30 seconds. Lift the iron and check your design. I can see on ours that there are some areas that are well adhered and some that still need more heat. You can tell you've applied enough heat when you see bubbles.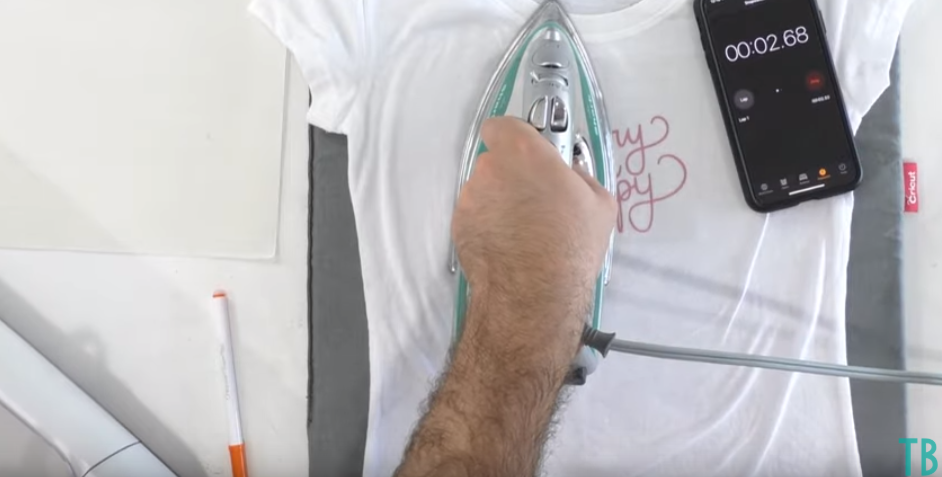 Place your iron down on the other side of the time and hold it there for 30 seconds again. Lift your iron and check your design again. If you still see an area without those bubbles to show that it has adhered well, you're going to apply your iron one more time to that section for another 30 seconds.
As you can see, with the EasyPress, this would have been completed in one application of 30 seconds, so this method takes a little extra work and a little extra time.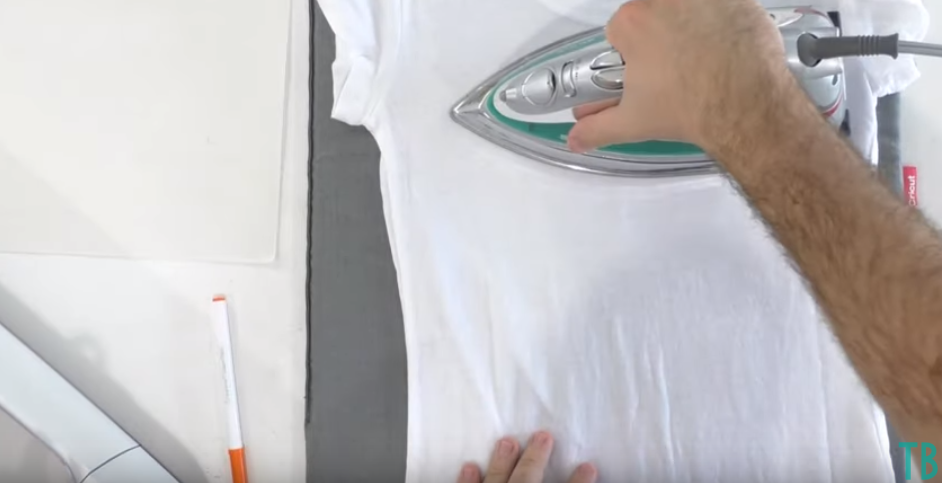 Now, flip the shirt over and use the iron to apply some heat to the back of your project too. Once again, it's best to place the iron down, then lift it up before moving it to another section.
Heating the back just gives your craft project a little bit of extra security. If there are any little spots that haven't quite had enough heat, this will help ensure that it gets properly adhered.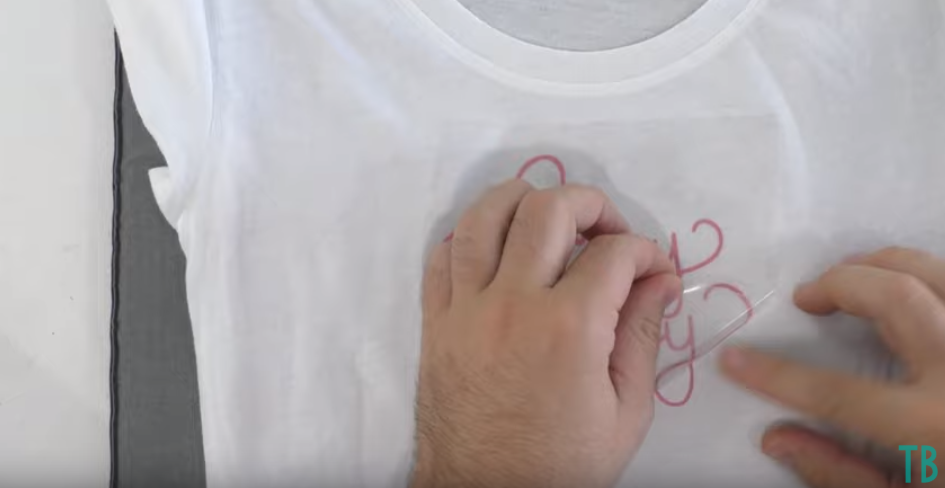 After letting your project cool, gently peel up the cover sheet from your design.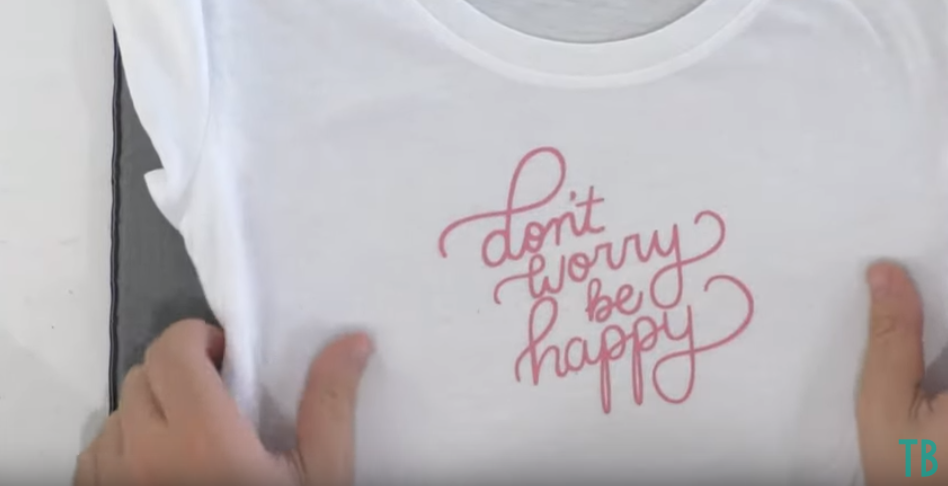 That's it! With a little extra time and care, we can easily make a die cutting craft project using heat transfer vinyl and a household iron.
Ready to buy an EasyPress? Check out our Cricut EasyPress Hacks You Should Know!
We loves sharing our tips and tricks for using HTV with a household iron, to help you create amazing craft projects on a budget. Let us know if you have any questions in the comments below. Happy creating!
Tanner, Courtney, and the rest of the Makers Gonna Learn Team are all here because we love die-cutting and especially love sharing fun projects and tutorials with fellow makers. We are all great friends and are always having a blast when we are together- you will see this on camera, especially during live streams! We are here to inspire and support you in your crafting journey!