Never Use an Iron with HTV
When asked about using HTV (otherwise known as heat transfer vinyl or iron-on vinyl) with a household iron, our answer is "don't do it!". Let us explain why you should never use an iron with HTV.
Now, you will find a video on our Youtube channel showing you how to iron on vinyl with an iron. This was filmed several years ago. At that time, there was only one EasyPress available and it was over $150. This was not in the budget for many die-cutting crafters and we wanted to provide an alternative for you.
However, now there are multiple options when it comes to Cricut EasyPresses at a variety of price points. Our favorite is the EasyPress Mini. It's very affordable and far superior to using a household iron when working with iron-on vinyl. So, we simply don't recommend irons anymore.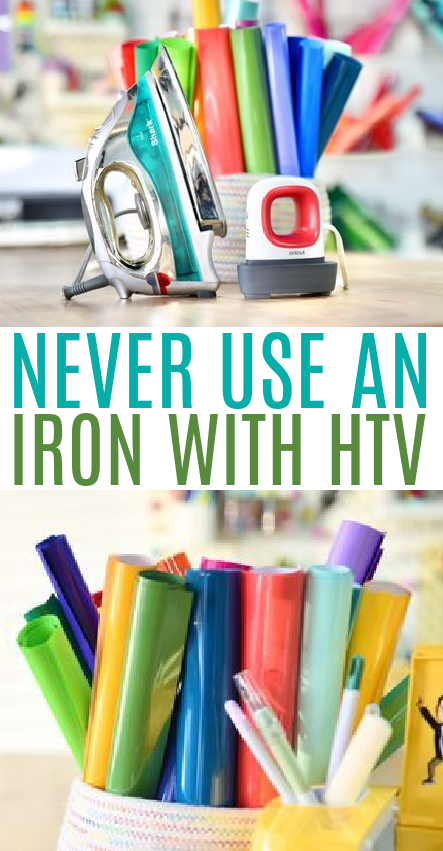 Never Use an Iron with HTV
We are going to outline 4 main problems when it comes to using a household iron with HTV.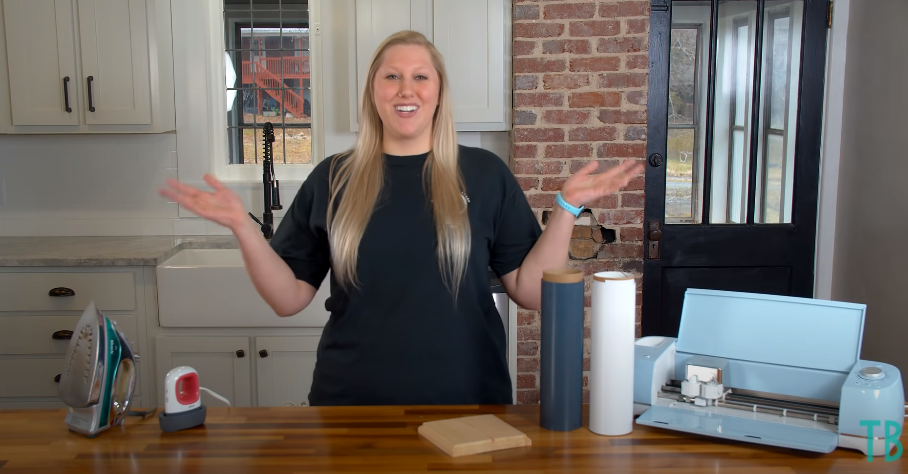 Our favorite materials when making iron-on craft projects: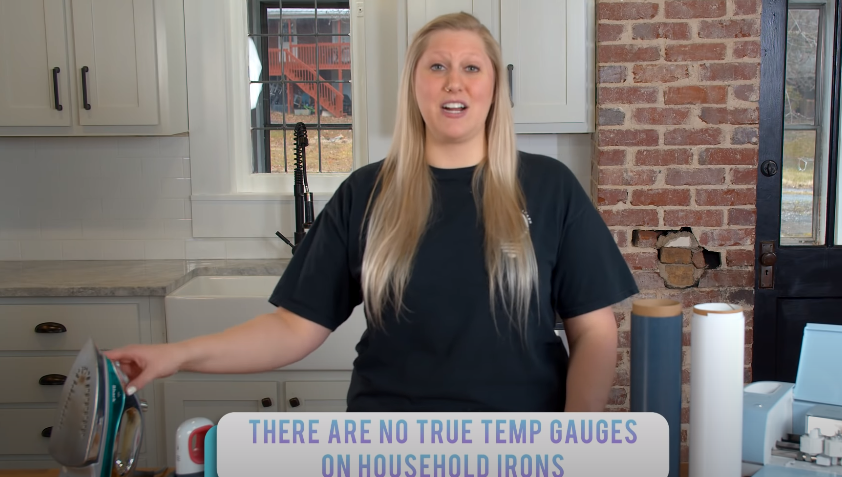 1 – There are no true temperature gauges on a household iron.
They aren't meant for crafting so there are no temperature gauges on them to tell you precisely how hot a particular setting is. This means it can be quite hit or miss when it comes to making your HTV craft projects with your iron.
It's much too easy to burn your vinyl and the transfer sheet as you're trying to work with it! Or, we hear complaints from other crafters that they can't get the vinyl to stick at all with their irons.
There are some good quality irons that people, including us, have had success with. However, they are trickier to work with and for just a few dollars more, you can grab a Cricut EasyPress Mini and be using a tool that is designed specifically for die-cutting craft projects.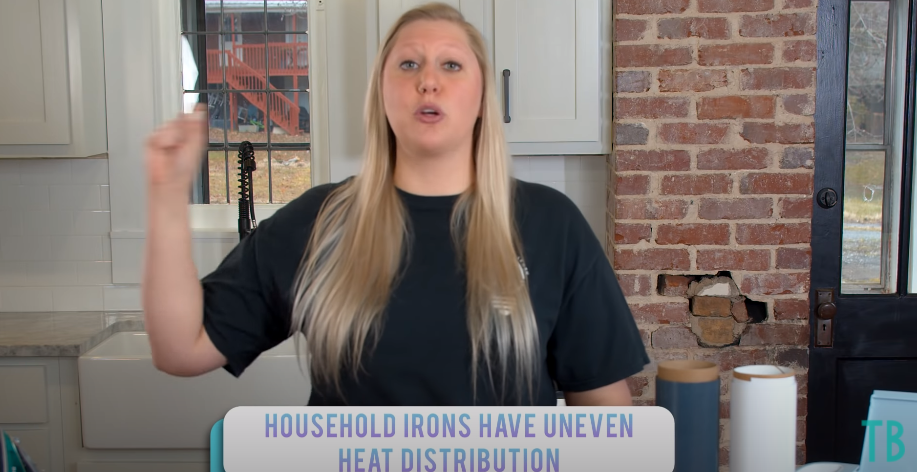 2 – Household irons have uneasy heat distribution.
This is probably the most important reason why irons are unsuitable for use with iron-on vinyl. EasyPresses are made to have distribute the heat evenly over the whole surface so you know that the entire area covered by the EasyPress is being heated to the same extent.
With the uneven heat distribution of an iron, some areas may not be receiving enough heat while others are burning!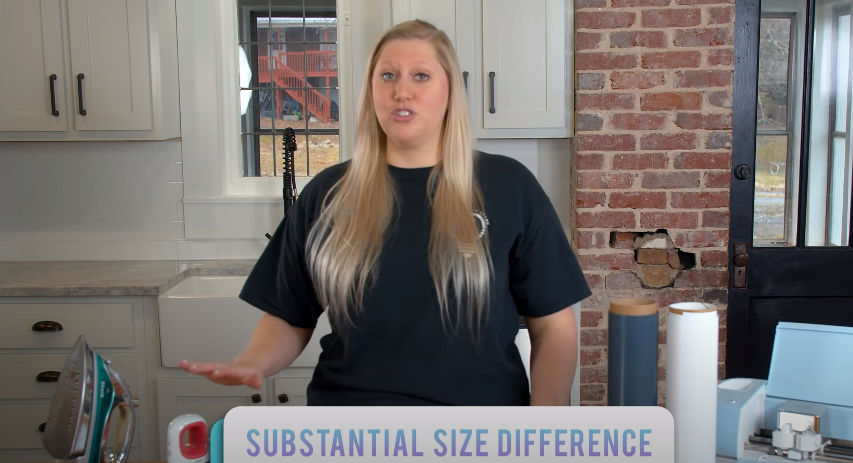 3 – There is a substantial size difference between a household iron and a Mini Cricut EasyPress.
As you can see, the Mini EasyPress is quite small in comparison to an iron. This small size allows for more precision when applying your design.
This is especially true with uneven surfaces like a piece of wood. The heat plate of the iron simply won't touch all the parts of the wood because of the dips and grooves. The EasyPress Mini is so small that it can better handle that type of surface.
Not only that, but because of its small size, you can better see just what you're doing as you work with it. It doesn't cover up and hide your design from you! This makes it so much easier to control the outcome of your project.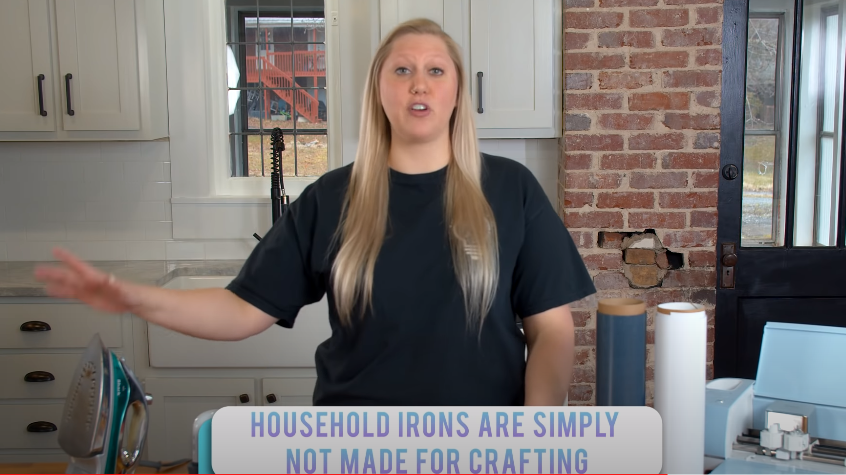 4 – Household irons simply aren't made for crafting.
We mentioned this before, but it bears repeating. Because irons weren't made for crafting, they are more difficult to use and get good results with your projects. Can you do it? Yes, but there are so many factors that can affect your results and you'll have to work much harder to end up with a beautiful project.
We highly recommend the Cricut EasyPress Mini. It is what we use 95% of the time (and the rest of the time we use one of the bigger EasyPresses). We use it on wood, mugs, onesies, t-shirts, canvases, and so much more.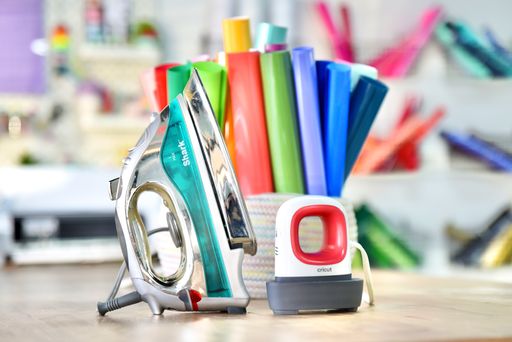 Because it has constant regulated heat distribution, you can set the temperature to exactly what you need, and it comes in a small size that allows you to control your results so much better, this is the best tool we've found for adhering HTV to pretty much any surface.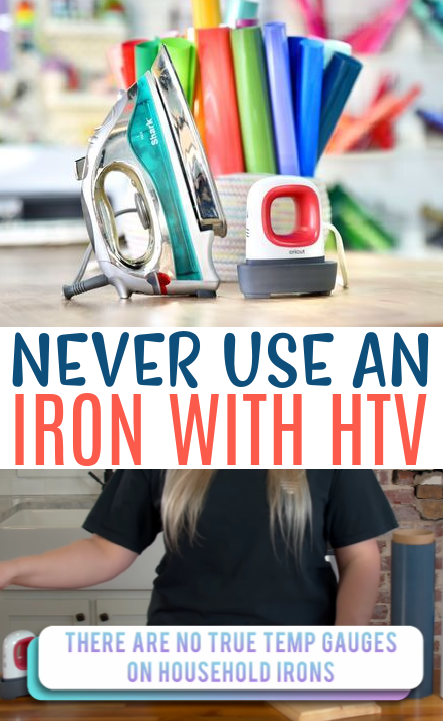 Tanner, Courtney, and the rest of the Makers Gonna Learn Team are all here because we love die-cutting and especially love sharing fun projects and tutorials with fellow makers. We are all great friends and are always having a blast when we are together- you will see this on camera, especially during live streams! We are here to inspire and support you in your crafting journey!