Tips For Removing Vinyl
If you're looking on some tips for removing vinyl, this post is for you! These simple tips and tricks can help you remove your vinyl seamlessly. If you know someone who also wants to learn how to remove their vinyl, you must share this post with them. They'll thank you for it!

Tips For Removing Vinyl
Let's start! First, you need to lay down whatever surface it is that you're trying to remove vinyl from. In this case, it's this little glass bottle. In this project, we used the normal everyday vinyl. This is not the permanent kind – this is definitely a tutorial for regular vinyl.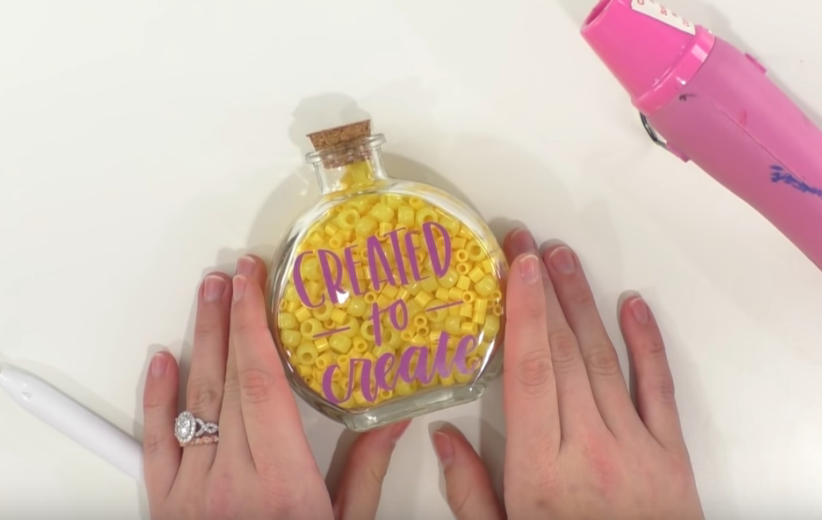 All we're going to need is this heat gun and one of our little Cricut weeding tools. What we're going to do is heat this, letter-by-letter just a little bit. We don't want to start melting it down or anything. We just want to heat it a little bit for a few seconds.
So we're just going to heat letter-by-letter and peel it up with our Cricut tool. It should peel up fairly easily especially with it being warm, If you're finding it difficult, go back in with your heat gun and heat it up a little bit more. If you're working with a project that has a lot of vinyl in it, go in the middle and reheat the last part of your word as it may have started to cool off by the time you get to it. Just continue working and peeling the vinyl off as you heat. You might have a little bit of residue left over but I'll show you how to deal with that later.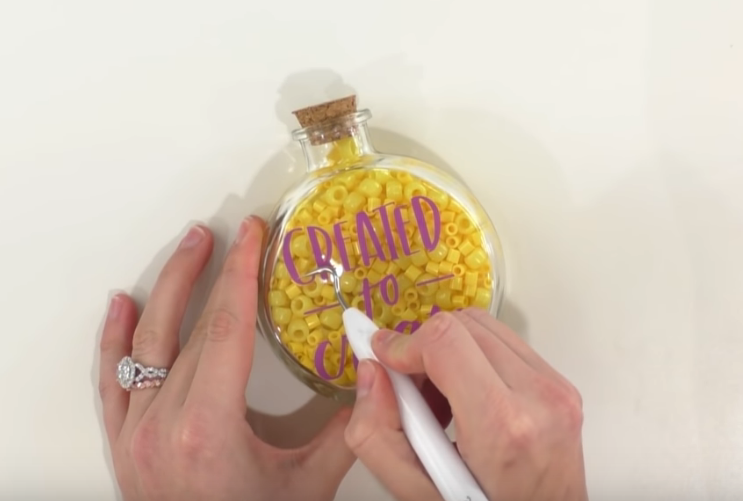 Unfortunately, this tutorial does not allow you to keep your vinyl as it does stretch it and you're going to have to trash it. This is mostly for projects like where you think, "I want to keep this bottle to add a different saying or a different word on it for a different reason" or for a different holiday The goal isn't really to save the vinyl, but to save the object you're using.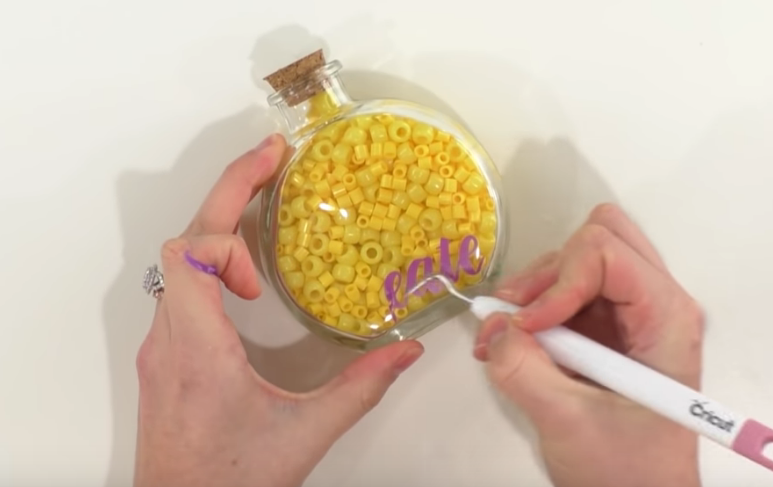 If you don't have a heat gun, you can use a hairdryer. It will do the same thing.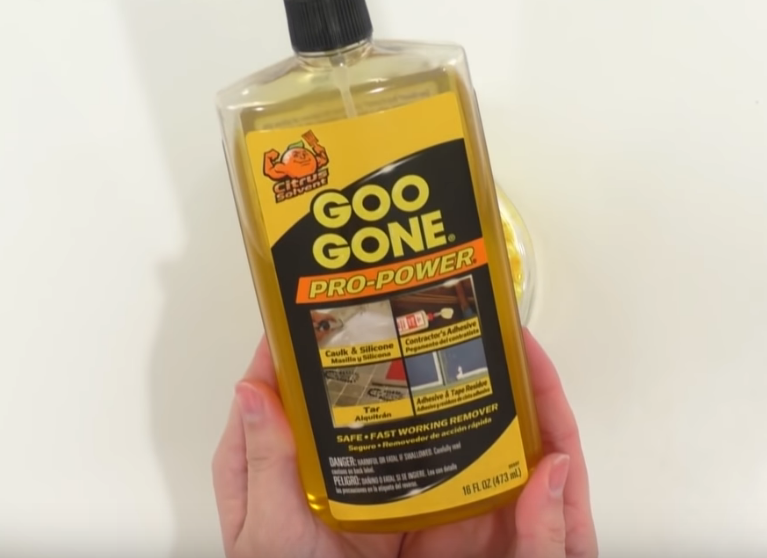 Sometimes you might see there's a little bit of residue from the adhesive under the vinyl. A great hack for that is to use GooGone. It's great to use for all kinds of stuff around your home! All you're going to want to do is squirt some on your project and let it sit for a few seconds. Then, take a paper towel and walk away. It shouldn't damage your project if you have things like glass bottles or mason jars and things like that.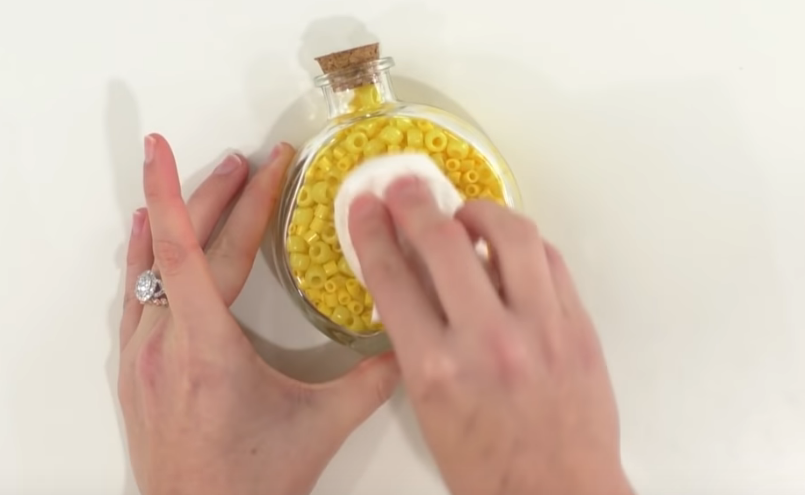 Now, you are ready to craft again!
What did you all think? Isn't it so easy to remove the vinyl from your favorite surfaces? I hope that you enjoyed this video! With these tips and tricks, you won't have any fears when removing the vinyl from your craft projects yourself! If you're wondering where we got the cute little cut file we removed from this jar, please check out our membership site Makers Gonna Learn.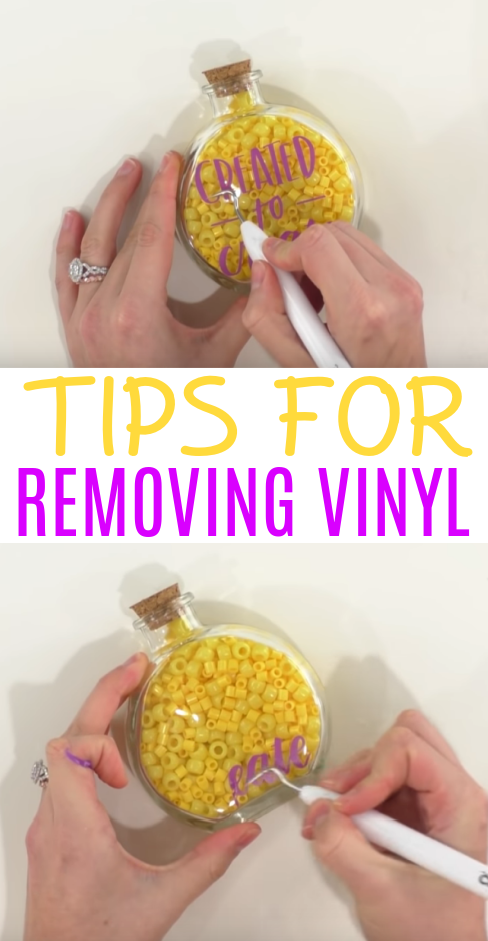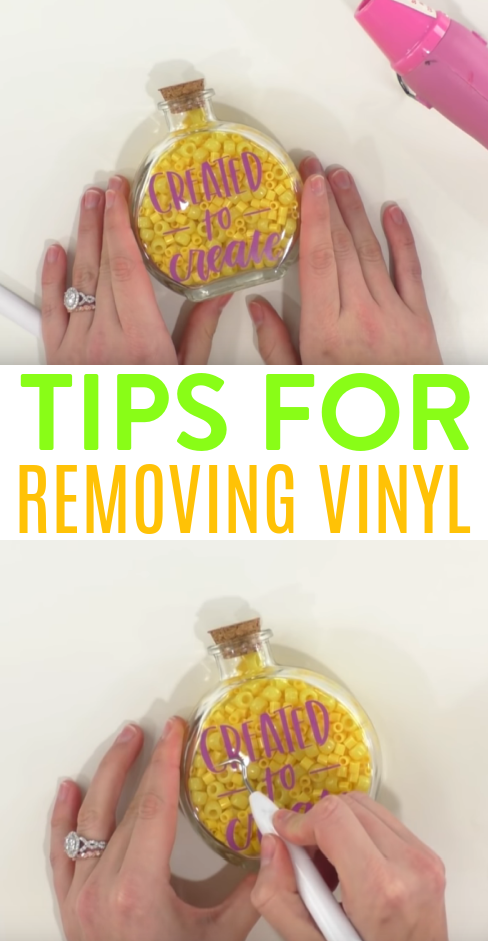 Tanner, Courtney, and the rest of the Makers Gonna Learn Team are all here because we love die-cutting and especially love sharing fun projects and tutorials with fellow makers. We are all great friends and are always having a blast when we are together- you will see this on camera, especially during live streams! We are here to inspire and support you in your crafting journey!