Turn a Drawing into an SVG in Cricut Design Space
Have you ever had a drawing – maybe one that your kids made or maybe something you sketched out yourself – and thought, wow, I'd really like to use this with my Cricut die cutting machine? We're going to show you how easy it is to turn a drawing into an SVG in Cricut Design Space.
This also works really well with recipes or handwritten notes too. Just think of all the possibilities for preserving precious memories and making amazing gifts! And, if you're running your own craft business, you could easily customize items for your customers using their family's drawings or handwriting too. Let's jump in and show you how to do this!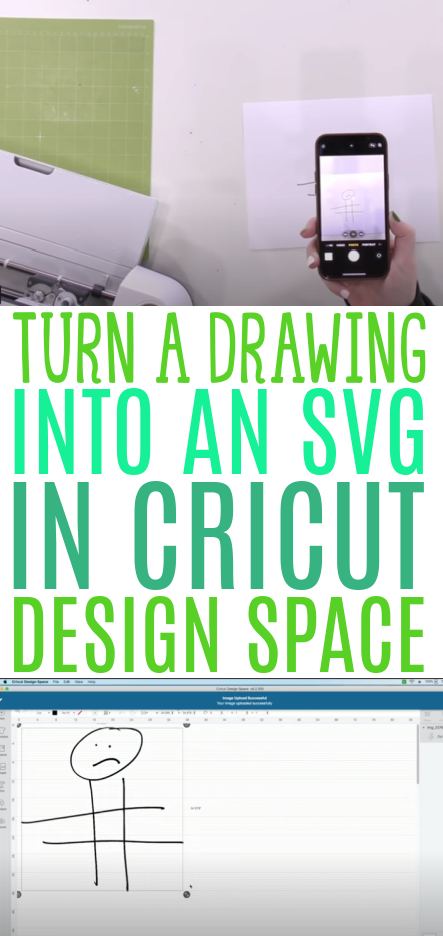 Turn a Drawing into an SVG in Cricut Design Space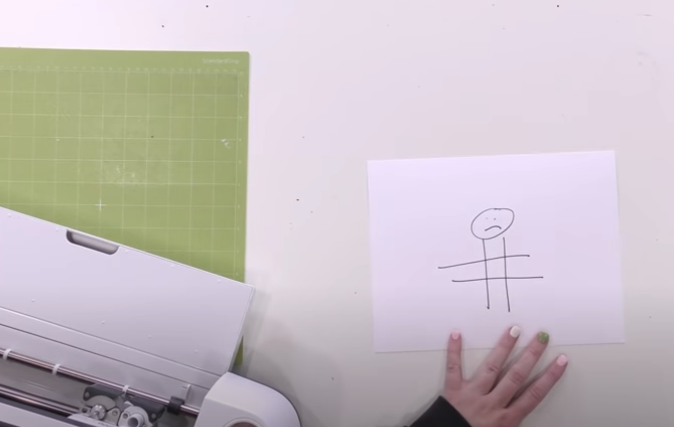 Materials Needed:
The picture you want to turn into an SVG
Your phone
Step by Step Tutorial to Turn a Drawing into an SVG:
You can follow along with the video or written steps below:
Photographing the drawing: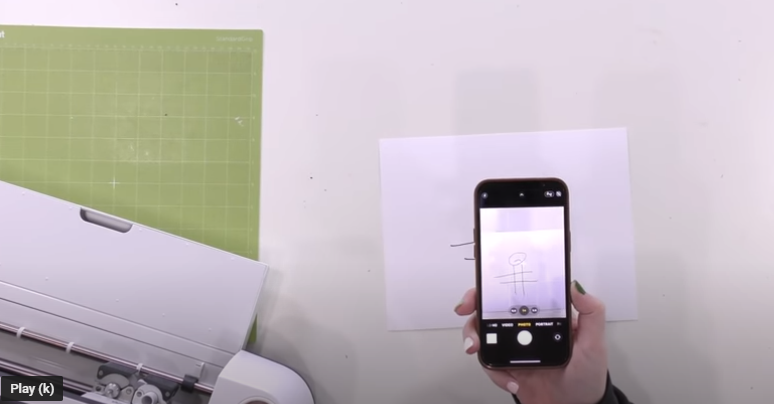 1 – Take a photo of your drawing using your cell phone camera. It's important to take the photo in the best lighting possible. Shadows make it more difficult to remove the background when turning your drawing into an SVG so watch out for those.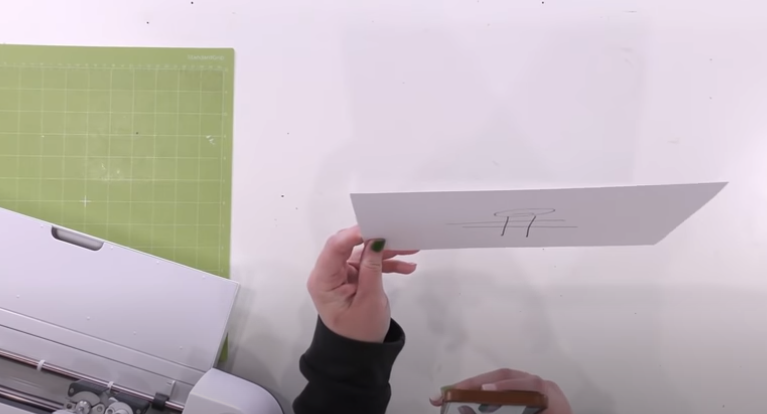 It might be best to hold the drawing up and take the picture that way rather than from laying it on a table and taking it from overhead.
2 – You will probably now want to edit your photo a little bit. We generally like to increase the exposure to brighten it up a touch, and to increase the black point as well if the Sharpie or pen that was used to create the drawing isn't dark and bold enough. You want a good contrast so that when you pull it into Design Space, you have strong differentiation between the two colors so you can easily remove the background.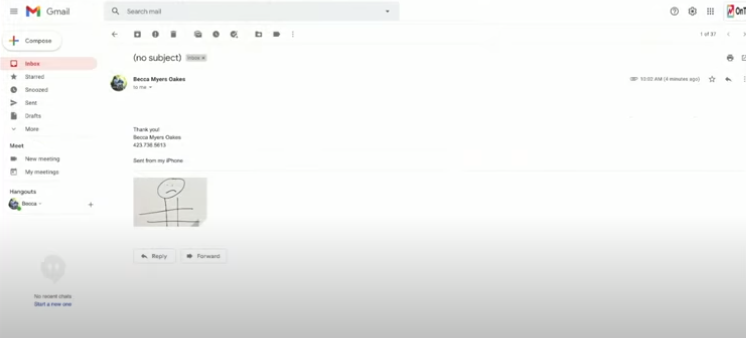 Interested in learning more about designing and selling your own unique craft products? You need to check out our Design, Make, Sell Course. We walk you through the things you need to do to get your crafting business going and even show you how to make your own cut files and fonts!
Adding your image to Cricut Design Space:
3 – If you're using Design Space on your phone, you're all set for the next step. If not, you will need to email the image to yourself.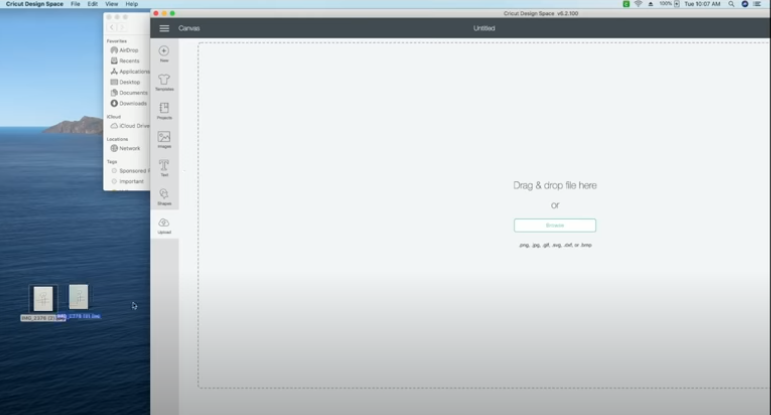 4 – Save the design to your desktop and then import it into Cricut Design Space.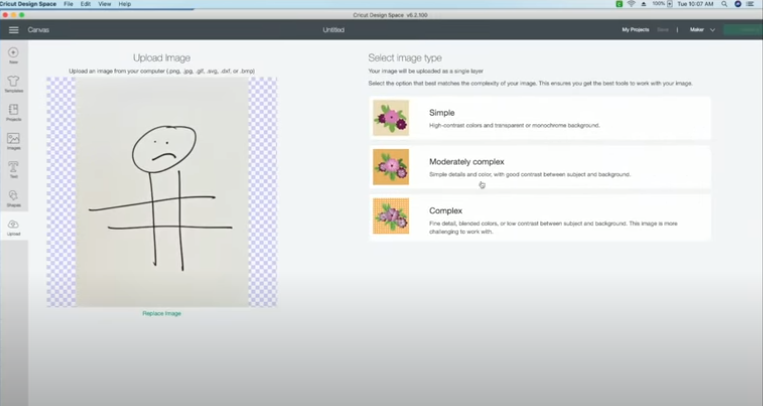 5 – Design Space will prompt you to choose the image type – Simple, Moderately Complex, or Complex. We always choose Complex and then press Continue.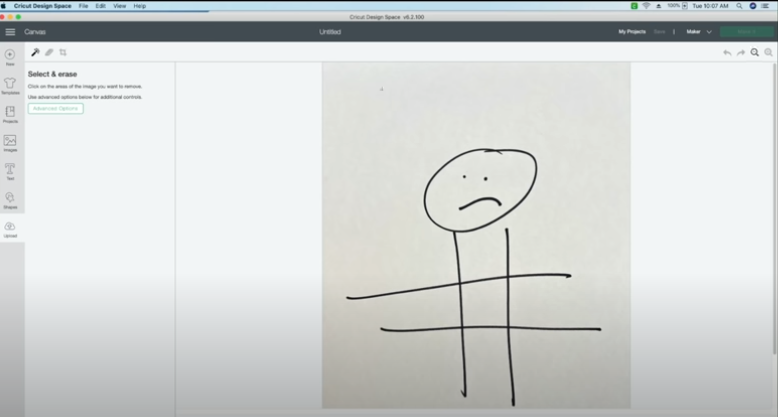 Removing the background and cleaning up the image:
6 – Next we want to remove the background. To do this, you're going to want to click on this little icon shown in the image below.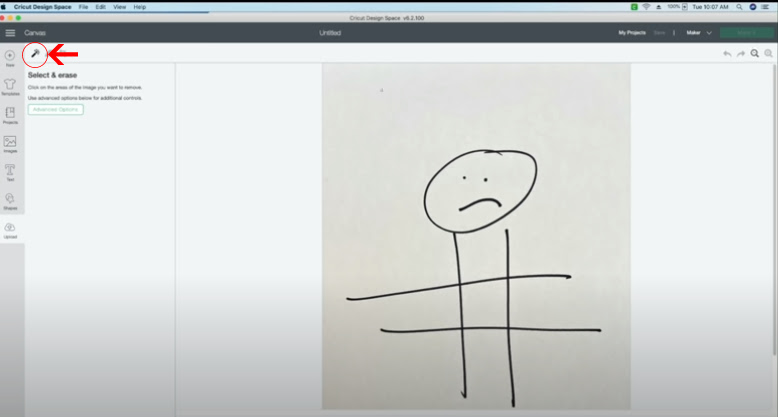 7 – Click on the background of your image to erase it. Don't forget to select the background areas of any enclosed spaces such as the oval for the head and the square for the stomach (we think that's a stomach?).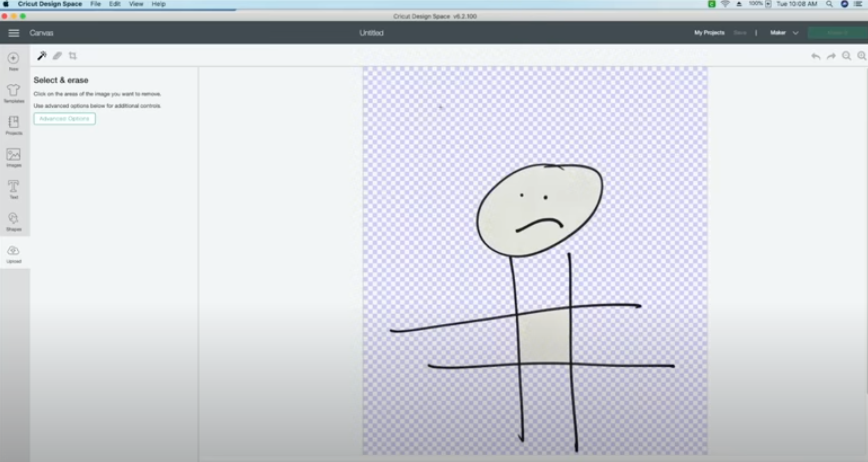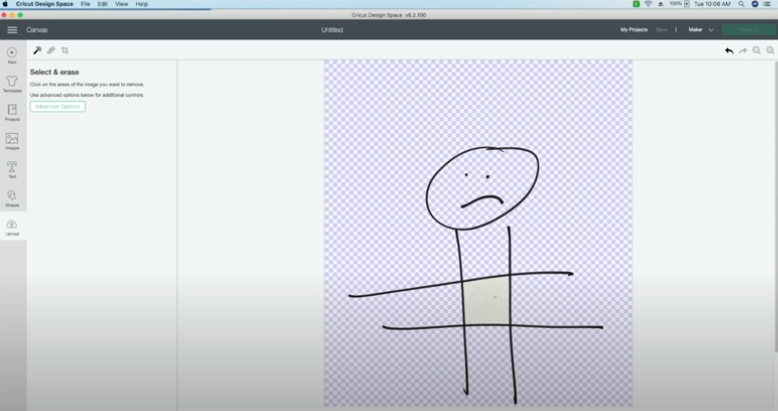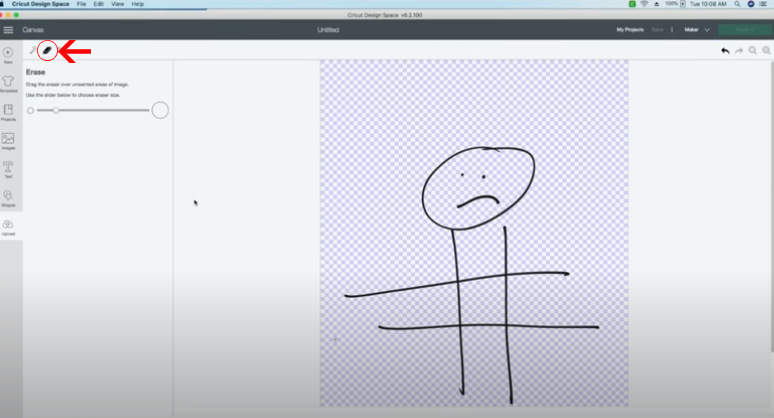 8 – Once you've finished removing all of the background, click Continue. If at this point, you see any shadows, you can click back and correct those by using the Erase function.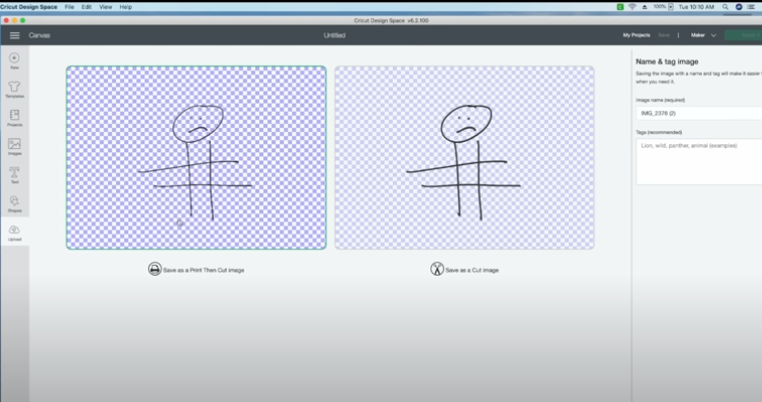 9 – Once it's all cleaned up, you can choose to save your image as a Print then Cut or Cut image. To use this as an SVG, you want to choose Save as a Cut Image.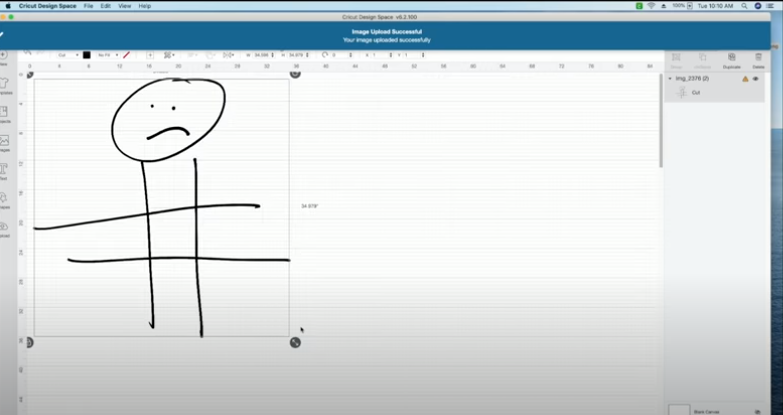 10 – Now you can pull your design into your Cricut Design Space canvas and work with it as per usual.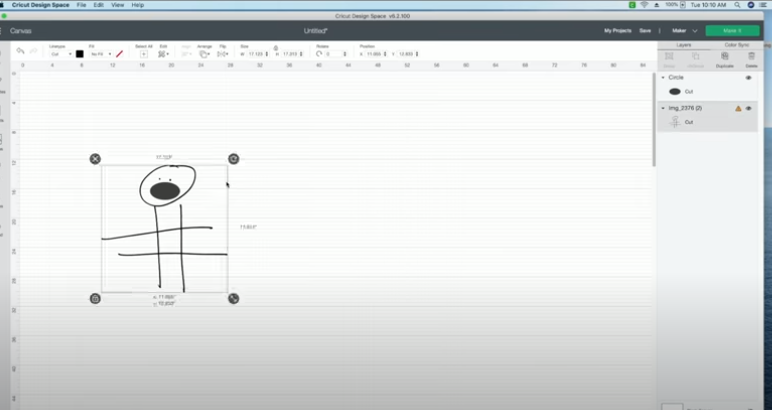 11 – At this point, if you want to change the colors of any parts of the design, you can slice that out. We're going to do that with the mouth. Begin by grabbing a shape and cover over the piece you want to slice. Select both layers and press Slice. Delete the sliced parts you don't need anymore.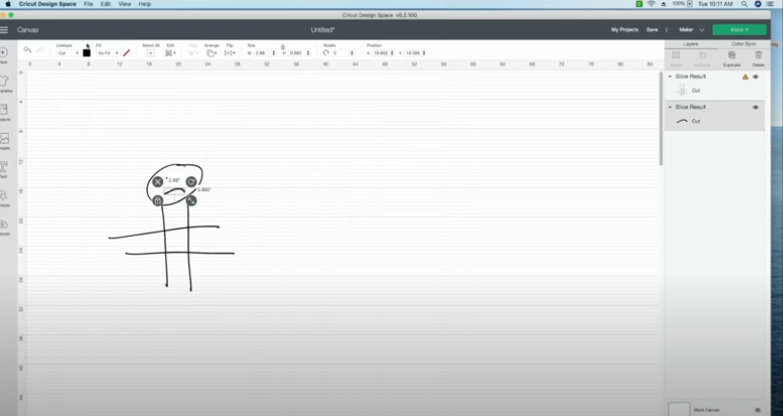 12 – Now you have two different layers and can change the color of the mouth layer. Once you're happy with your SVG, you are all ready to cut it out with your Cricut Maker or Explore Air 2.
See how easy that is? It's so much fun and opens you up for so many different amazing craft possibilities – especially for all those custom projects you can make for friends and family or to sell in your very own craft business!
Want to learn more about starting your own craft business? Check out these articles:
Why you should sell your crafts
How to make money with your Cricut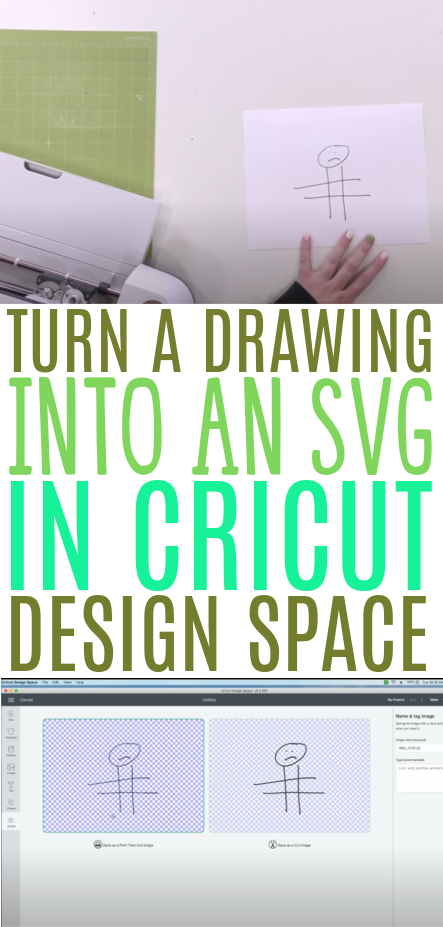 Tanner, Courtney, and the rest of the Makers Gonna Learn Team are all here because we love die-cutting and especially love sharing fun projects and tutorials with fellow makers. We are all great friends and are always having a blast when we are together- you will see this on camera, especially during live streams! We are here to inspire and support you in your crafting journey!