20 CRICUT FALL AND HALLOWEEN PROJECTS TO MAKE TODAY!
You are going to LOVE these 20 Cricut Fall and Halloween Projects we have for you to make today! We just released a new cut file collection and it is amazing. You're going to be so excited to see all of the options available for your die cutting projects.
We have fall, Halloween, Thanksgiving, and even Black Friday cut files perfect for making shirts, signs, and so much more. Today, we're going to show you 20 possibilities of wonderful crafts you can make with your Cricut. Decorate your home, give a great gift, or make something special for yourself this autumn season.
You are going to love these simple projects. They're perfect for crafting beginners and die cutting pros alike. From signs to wearables to luminaries and more, there's something here for everyone!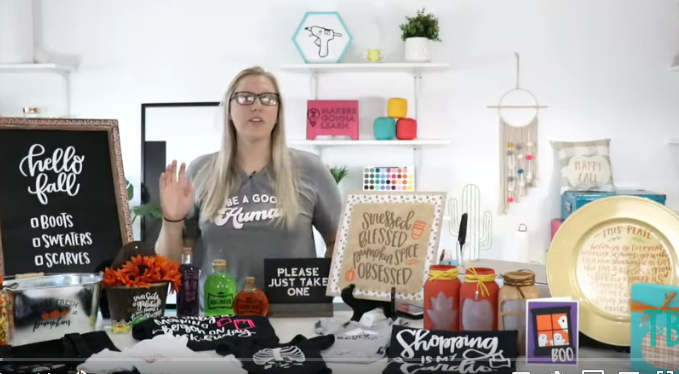 If you have a die cutting machine that works with SVG and PNG cut files, you are going to love our die cutting community membership. Members get access to our full cut file collection of over 1,100+ Digital Cut Files, 160+ Fonts (with the yearly membership level), Printable Guides to help you learn about your die cutting machine, and more!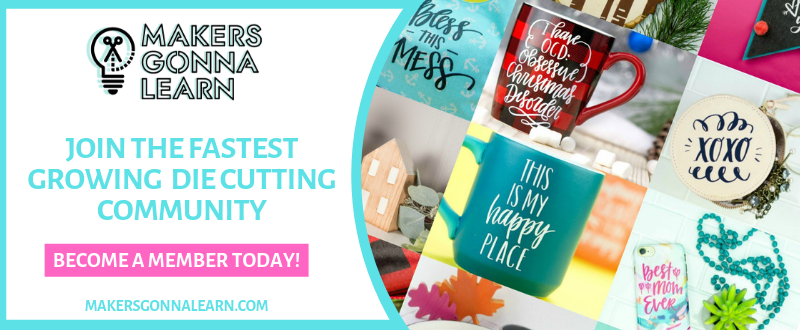 If you purchase a yearly membership, you will even be able to use our FREE commercial license for the life of your membership. What does that mean? It means that not only can you use our files for your own personal use, but you can create craft projects with them that you can sell! Sign up for our Makers Gonna Learn membership here.
20 CRICUT FALL AND HALLOWEEN PROJECTS TO MAKE TODAY!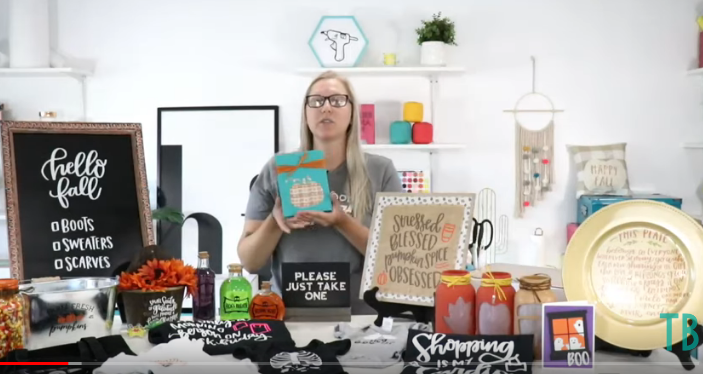 This is such an easy project to make and yet, it's a great decor item to add to your fall decorating. Buy a length of wood from your local home improvement store and cut it down to size. Paint it whatever color you want using a multi-purpose paint, acrylic paint, or chalk paint.
Add your die cut design and tie some raffia around the wood for that final touch. Check out that super cute patterned vinyl used for the die cut pumpkin! It's exclusive to our Maker Materials Box. If you ordered it, you can create this exact same craft project! How awesome is that?

Each month we curate a brand new box to deliver high-quality exclusive products straight to your door. Everything in the box will coordinate perfectly with your Makers Gonna Learn cut files so that you can stay creative every day!
With a Maker Materials Box membership, you get $100 worth of supplies each and every month for $50 or less. With 4 different membership tiers, there's something for every budget.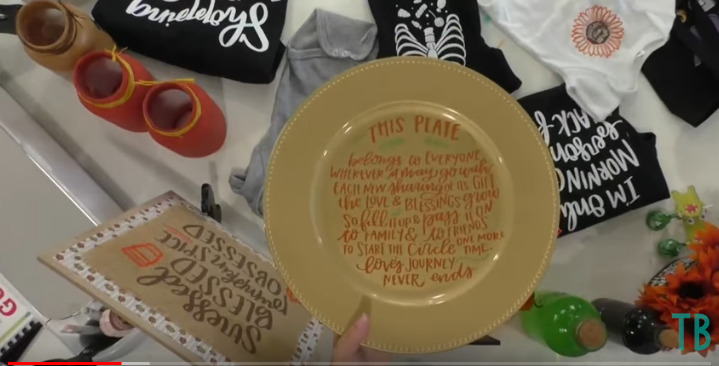 This sharing plate cut file is so cute! Seal it so that it's food safe and then fill it with cookies or muffins or something similar and give it to someone as a gift. Once they enjoy the goodies, they can fill it up again and pass it along to someone else!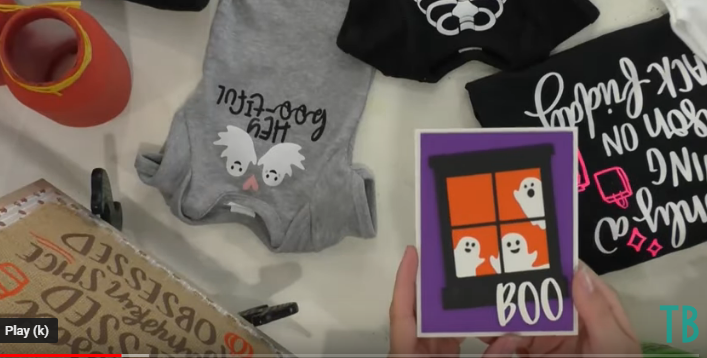 Halloween Card
This is a really simple but oh so adorable Halloween card with window, ghosts, and BOO!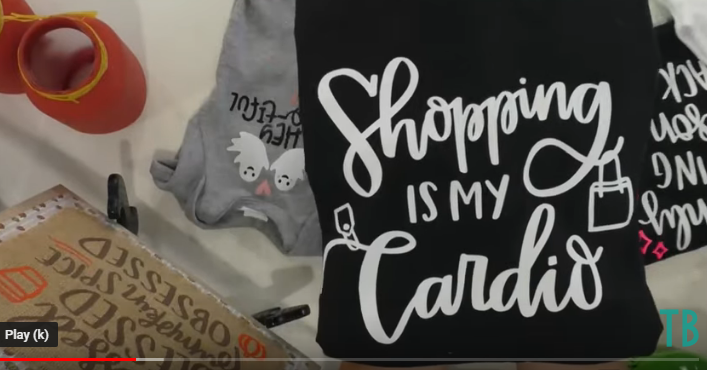 Wouldn't this be Shopping is my Cardio shirt be fun to wear on Black Friday while you're out there finding all those great sale items?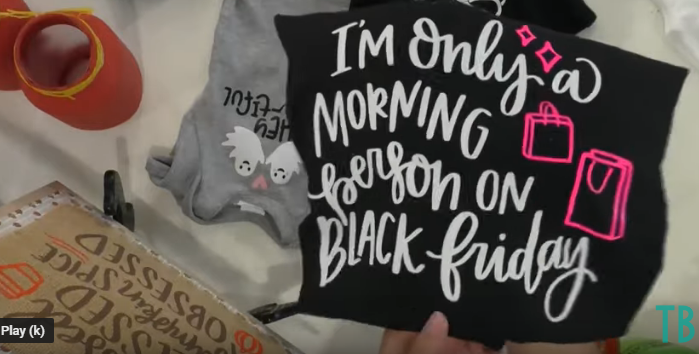 Or maybe you'd prefer this I'm Only a Morning Person on Black Friday shirt instead!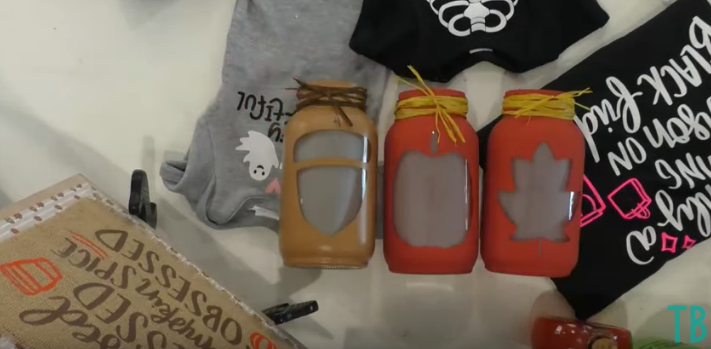 We used the Morning Pumpkin, Always Thankful, and Nuts about Fall cut files for these luminaries. We manipulated and contoured the files so that we were using only the outline shapes and not the words. We placed the vinyl shapes onto the jars and painted the jars with chalk paint.
Remove the vinyl and you've got these great clear glass parts for the light to shine through. To hide and diffuse the light a bit, we placed some vellum inside each jar. A little raffia around the tops of the jars and you're all done! They're so stinkin' cute!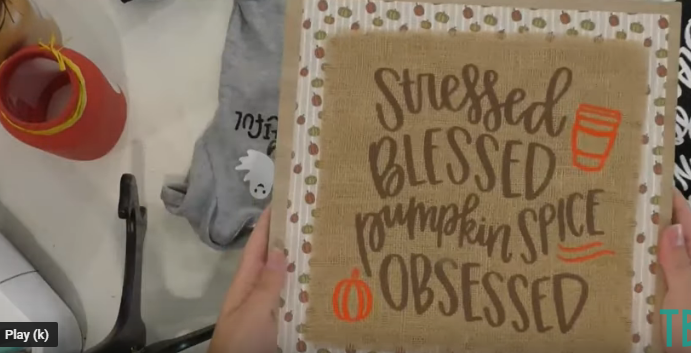 We just cut a piece of wood to size and then applied one of our exclusive to Makers Gonna Learn patterned iron-on designs. Then, we took a piece we cut from a burlap place mat we picked up at Walmart for only $1 and ironed on our Stressed, Blessed, Pumpkin Spice Obsessed cut file.
Finally, we used hot glue to place the burlap on top of the patterned vinyl to complete our sign. We just love the way this turned out!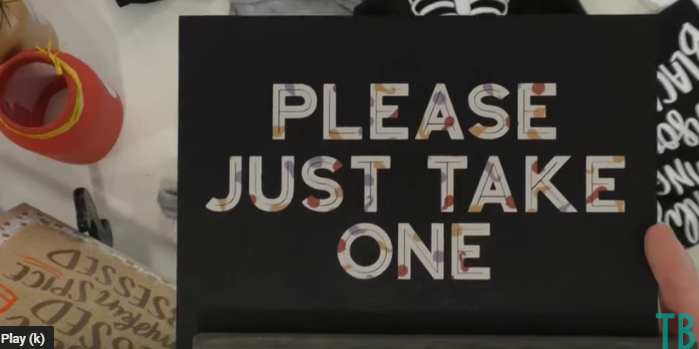 This little sign comes from Chalk Couture. If you know anything about their products, you know that vinyl loves to stick to them. We typed out these words with our Westly font to make a fun sign perfect for Halloween night.
Put this out with your bowl of candy and you can still head out trick or treating with your family.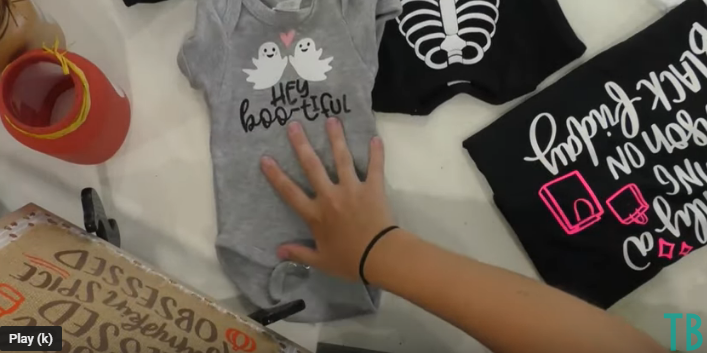 We've got some adorable onesie ideas for your favorite baby! A few of our favorites are the Hey Bootiful, Skeleton Lungs, and You are my Sunshine cut files.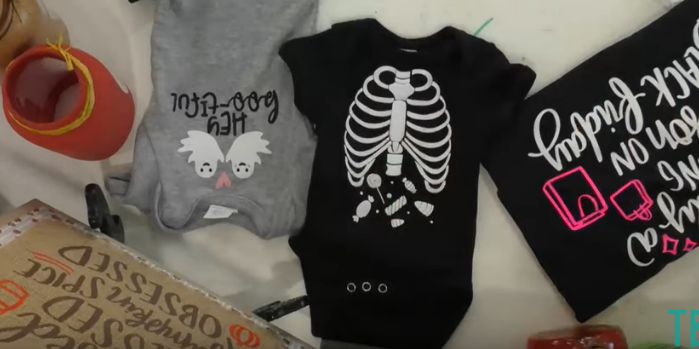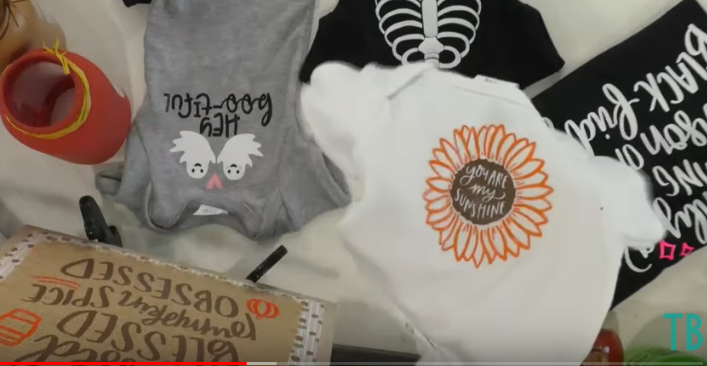 Any of these onesies would make a great gift!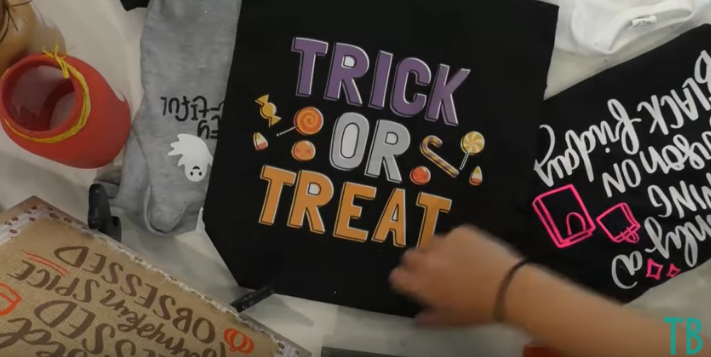 What little one wouldn't love their own special trick or treat bag that you made just for them? This trick or treat cut file is oh so cute! Iron on the design onto a canvas tote bag and you are all set.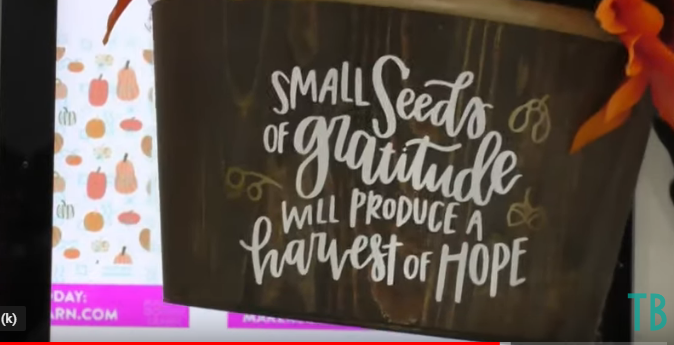 We used our Small Seeds of Gratitude cut file for this wooden flower bucket.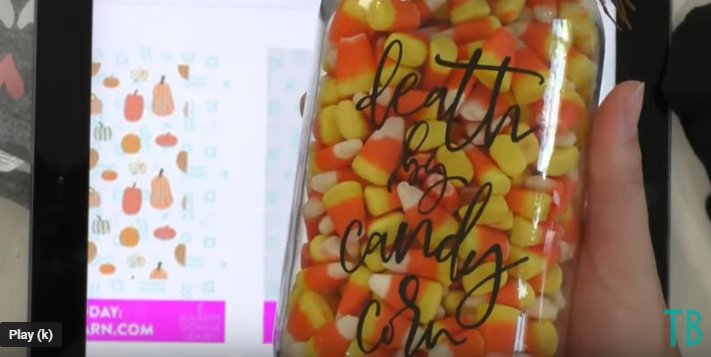 We used the Death by Candy Corn cut file and edited it a little to create a fun candy corn jar. Paint the lid of the jar and add a final touch of raffia around it. Perfect!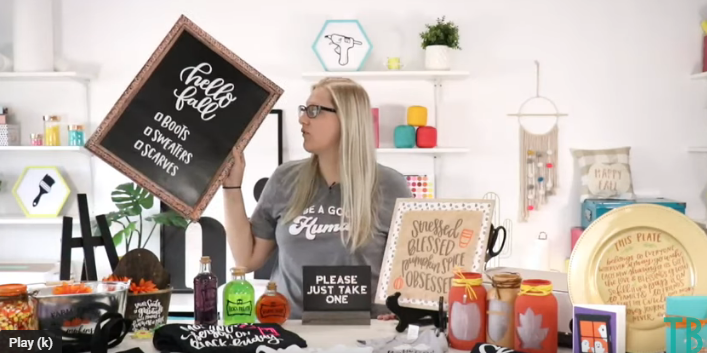 DIY Fall Chalkboard Sign
This DIY Hello Fall sign is SUCH a fun project. Perfect to hang on your wall or sit on a mantel, this is the ideal touch for your fall decorating.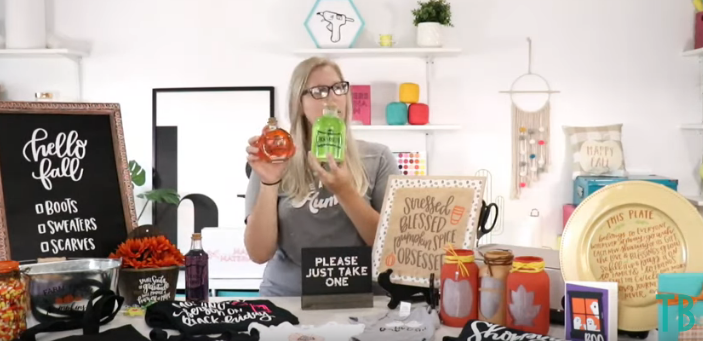 Halloween potion bottles add such a fun touch to your holiday decor! We've got three great cut files for you to use: Deadly Night Shade, Worms Wart, and Frogs Breath. We used Koolaid to color the water in these!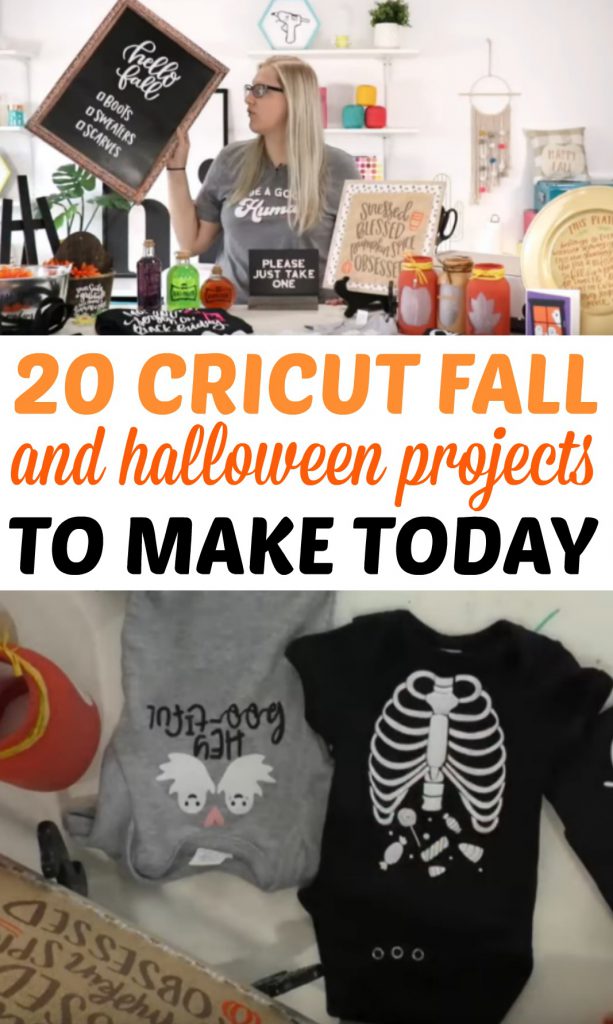 Whew! There are SO many great craft projects here. This is just the tip of the iceberg though when it comes to our amazing new cut files. What will you be making for fall?
Meet the Makers Gonna Learn team! Tanner, Rachel, and Courtney are all here because we love diecutting and especially love sharing fun projects and tutorials with fellow makers. We are all great friends and are always having a blast when we are together- you will see this on camera especially during live streams! We are here to inspire and support you in your crafting journey!