20 CRICUT TIPS AND TRICKS
Whether you are a Cricut newbie or an old pro, you are sure to find something helpful in our list of 20 Cricut Tips and Tricks. These tips are going to make your crafting so much easier and help you get better results too.
These tips and tricks are so cool – from Cricut pen alternatives to how to clean your cutting mats and so much more – they are perfect for expanding your Cricut crafting knowledge.

20 CRICUT TIPS AND TRICKS
Keep Your Cutting Mat Covers
Don't throw away your Cricut Cutting Mat covers! You know which ones we mean – those protective sheets that come with every new mat. Put them someplace safe and then reuse them. They are perfect to keep your mats clean and dust free between crafting.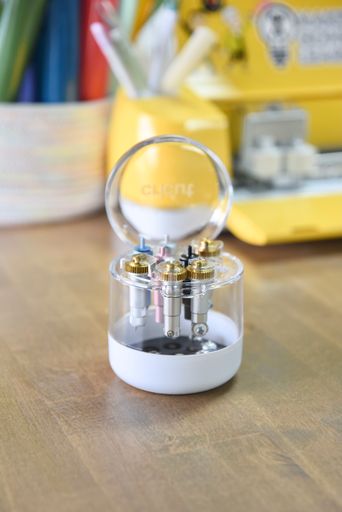 Have Extra Blades handy
Blades are an absolute must for your Cricut. After all, it is a cutting machine! You can't Cricut properly with a dull blade. Be sure to keep a few extra blades on hand so you never have to wait to get crafting!
Learn How To Clean Your Cricut Mats
Much like the pens, we love our cutting mats but they don't grow on trees. You can buy new ones when yours get too dirty or nonsticky, or you could use this $1 cleaner to make them like new.
Learn more here: How to Clean your Cricut Mats 3 Ways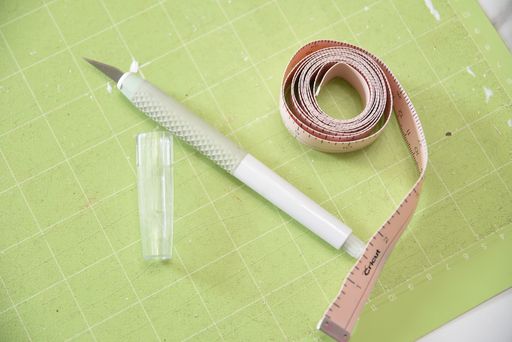 Always Have Good Tools
Not only do you need all of the weeding tools, but things like self-healing mats and paper trimmers are handy to keep close by as well. One Cricut tool that you have to have is the TrueControl Knife! It will change your crafting game.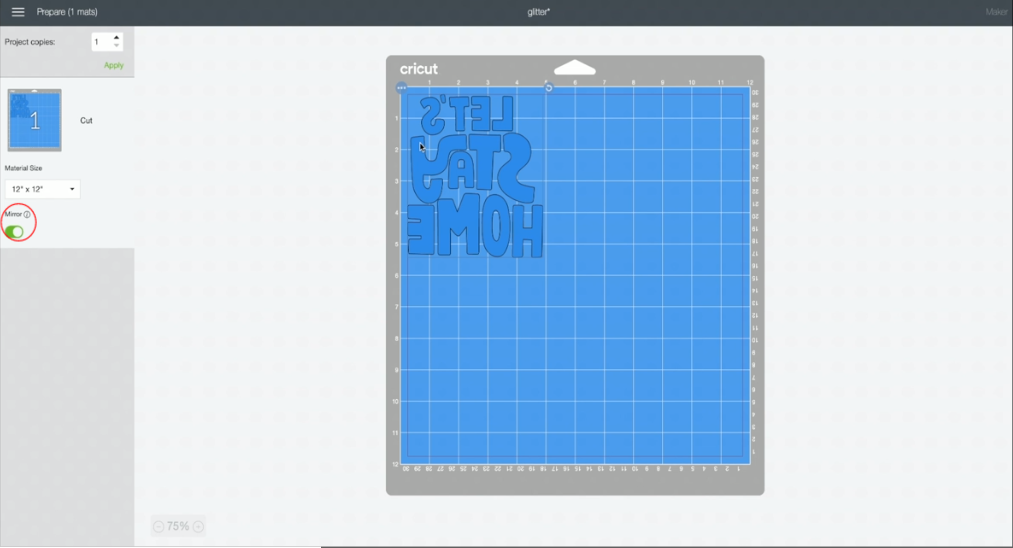 Always Mirror Iron-On Images
If you're new to Cricut you may not know this, but you must always turn mirror on for any Iron-On material you're working with. Iron-On has built-in transfer paper, which is why you also need to put the material transfer paper side down (or shiny side down) onto your mat.
Buy This Iron-On Removing Product
We found this product on Amazon that removes Iron-On from any fabric with no discoloration or residue. It's called AlbaChem VLR Letter Removing Solvent. It looks like a scary industrial product, but it's so cool to work with!
Fast Mode Is a Hidden Gem
If you want to craft a little faster, Fast Mode is a must. Tanner loves to use fast mode for many of the projects he makes! It's not that the Cricut goes at turtle speed, but Fast Mode just speeds up the process.
Save Money By Using Sharpie Pens or Crayola Markers
We love all of our Cricut projects, but if you're using Cricut Pens like it's going out of style maybe try a less expensive approach. I know the Sharpie pens work well in the Cricut.
>>>>>>>>>>>>>>>>>>>>Comparison of Cricut Pens and Crayola Markers<<<<<<<<<<<<<<<<<<<<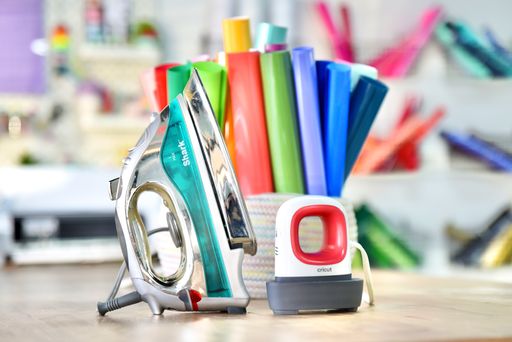 Stop Using Irons For HTV Projects
If you make a lot of Iron-On projects then you need to stop using your iron to adhere your HTV. There is newer and better technology nowadays that heats things way better and way more evenly than your household iron.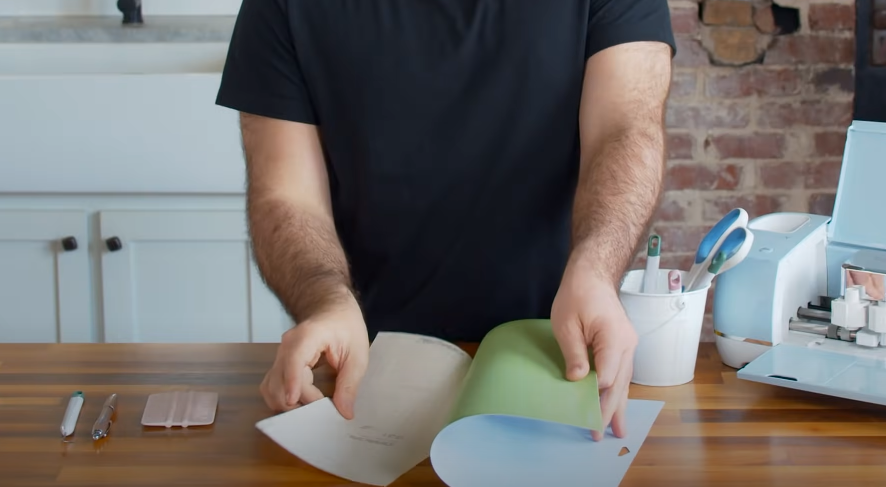 Peel Off Your Mat With Gravity
If you've ever made paper crafts and they've curled once you pulled your project off your cutting mat, then you need this hack! Flip your mat upside down and "go with gravity" peeling your mat up off of your project. You'll see your paper is perfectly straight.
Gift Cards Replace Scrapers
We have a bunch of Cricut scraper tools all over the studio and sometimes we lose them all. When that happens I just reach in my pocket and use a credit card to smooth out my vinyl. You could also keep some old gift cards laying around. They come in handy!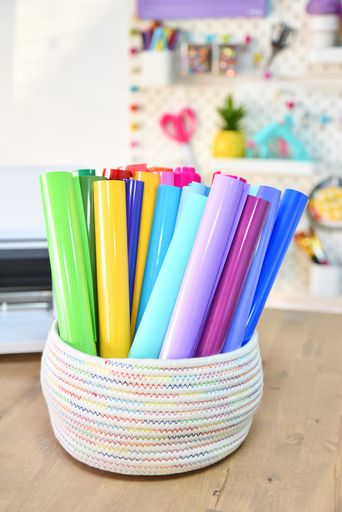 Always Keep Your Vinyl Scraps
Vinyl doesn't grow on trees, and it's so important to keep the scrap pieces of vinyl from your projects. You would be surprised to see how many projects you can make using scraps. We keep all of ours in bins in the studio.
What to do with those scraps? Projects to make using vinyl scraps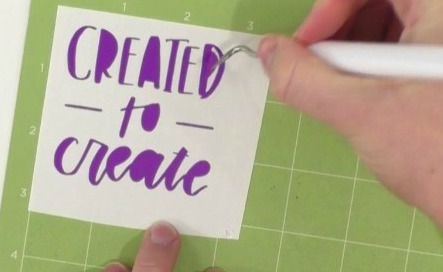 Weed Your Design On The Mat
Another fun tip while weeding is to do it on the mat. It keeps your design secure and allows you to weed easily. We never weed off the mat anymore.
Restick Your Cricut Mats With Spray Adhesive
Spray adhesive is so handy to keep in any craft room. All we did to restick our Cricut mats was tape off the edges and lightly spray the mat. Once dry it should be good as new.
Use More Pressure With Almost Every Material
Much like Fast Mode, more pressure is almost always super helpful. It makes weeding so much easier, especially for things like Glitter Iron-On. The only projects you shouldn't use it with are things like light cardstock or Vellum. Any super intricate designs you're wanting to cut should stay on standard pressure.
Keep Weeded Pieces In a Tissue Box
I love this hack! Once you've emptied a tissue box, as you weed your projects simply drop your weeded pieces in the tissue box. It will keep your workspace clean and keep those vinyl pieces from sticking to you and everything else.
Become a Member of The Ultimate Die Cutting Community
If you already invested in a die cutting machine like a Silhouette or a Cricut then you need to pour into that and get so much value from your machine. With Makers Gonna Learn, you get access to thousands of digital cut files for every occasion. New files are added every month and you get access to a Facebook group, live streams, workshops, teaching videos, and so much more. You even get a FREE commercial license so you can sell everything you make with your yearly membership! Join the amazing community and get inspired to create amazing things every day.
Always Use The Cricut EasyPress Interactive Quick Reference Guide
This new temperature guide on the Cricut site is so cool! It's constantly changing so you'll get the perfect adhesion every time. You simply enter in your Iron-On material and your base material and it gives you all the information to make your project successful.
Get an EasyPress
Oh boy, you need an EasyPress. It doesn't matter which one. They're all amazing, although our favorite is the EasyPress Mini. It will change your Iron-On game. Plus, the EasyPress mat compliments the EasyPress so much and really sets you up for a successful project every time.
Be sure to check out our Cricut EasyPress Hacks post too!
Label Your Vinyl Scraps
After you keep a scrap piece of vinyl, grab a sharpie and label it before you store it. You might know what that vinyl was when you stored it but a few months later there's no telling if you'll remember what it was. Let's get real, a lot of different types of Iron-On look the same.
Tanner, Courtney, and the rest of the Makers Gonna Learn Team are all here because we love die-cutting and especially love sharing fun projects and tutorials with fellow makers. We are all great friends and are always having a blast when we are together- you will see this on camera, especially during live streams! We are here to inspire and support you in your crafting journey!