Cricut Pens vs. Crayola Markers In The Maker
I know that some of you really love to write and draw with your Cricut Maker. If you do, you probably already have a lot of Cricut pens lying around. The only problem is that they aren't the most affordable thing in the world. So, I decided to test Crayola markers in my Cricut machine and see how they compare to the Cricut pens.
These markers don't have super fine tips like some pens and that's one of the things we will be testing today. We did also try to use an Ultra Fine Sharpie. They're the closest to the Cricut pens but unfortunately, they wouldn't even fit well into clamp A.
See how to write inside a card with your Cricut here.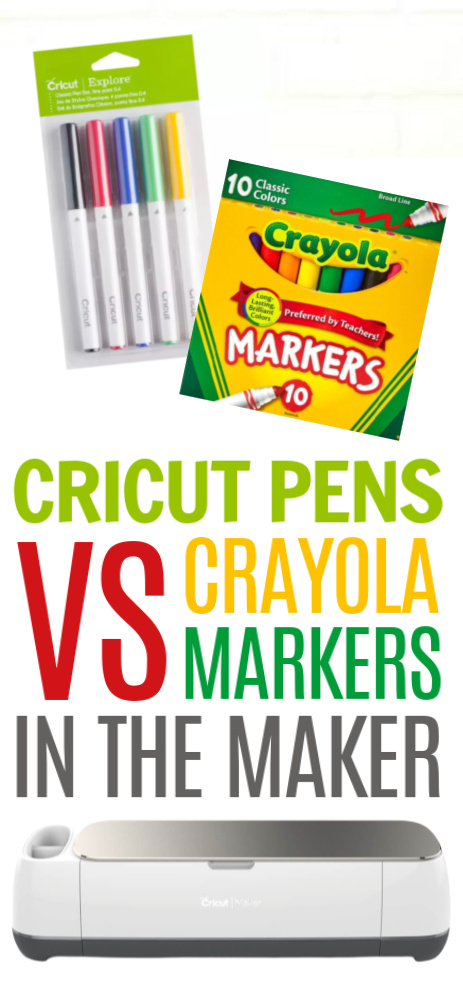 Cricut Pens vs. Crayola Markers In The Maker
Important Note: if your Cricut Maker is under a year old, it is still under warranty. I would not recommend using a Crayola, cleaning your cutting mats, or using a Foil Quill because any of those will void the warranty. Remember to only use Cricut brand products and follow their instructions to avoid voiding your warranty.
Accessing Makers Gonna Learn Cut Files
Let's head over to Cricut Design Space and start designing our project. We're going to use one of the thousands of cut files we have on our membership site here at Makers Gonna Learn. These files work with any kind of die-cutting machine that works with SVG and PNG cut files: Cricut Explore Air or Maker, Brother Scan N Cut, Silhouette Cameo, and so on!
If you love using your die-cutting machine, you are going to love our membership. You get access to all those cut files (new ones added monthly!), special member pricing on our online Summits, a members only Facebook group, exclusive project tutorials, a printable guidebook, and more!

Drawing with the Cricut Pen
We're going to size our cut file 6 inches wide by 4.5 inches tall. Once we have it sized, you're going to want to tell the Cricut not to cut it. To do this, go to the layers panel. For our design, it's the only layer you can see. You'll see that it say "Cut" right now with the little scissors emblem. We're going to hit the arrow button and then click "Write".
Now, we're going to select the 0.4 black tip Cricut pen and hit "Make it". We'll now place our Cricut cardstock on our standard grip cutting mat and hit continue. Select medium cardstock and it will tell us to load our pen into clamp A. So, put the pen in, load the mat, and hit the flashing Cricut button.
It only takes a few minutes to draw, even in such a detailed file like this. I love watching the Cricut draw! It's one of my favorite things because it does a much better job than I could ever do.
Once the drawing is complete, we're going to unload our mat and see how it did. It looks phenomenal! It is way better than what I could do on my own.
Drawing with the Crayola Marker
Now, we're going to go back into Design Space and we're going to click "Continue". Set our material again to medium card stock and it's going to let us know to load our pen in to clamp A and load our mat right back into our Cricut. You need to look at your Cricut pen in the machine and measure the distance from where it clamps to the tip of the pen.
Remove the Cricut pen. Put the Crayola marker in clamp A and use that measurement to figure out approximately where we need to clamp it in. Then it's time to press that flashing Cricut button.
The Comparison: Cricut Pens vs. Crayola Markers
Now that it's complete, I'm already pretty impressed! You can really see the detail in the design. It's just a little bit thicker but not as thick as I thought it would be. Detail wise, it still looks gorgeous and it's still super detailed and neat.
Of course, the Cricut pen does a great job but I think I might just like the thicker lines that the Crayola markers make! I haven't been able to find any thicker Cricut pens so this might be my solution. This looks really good and when you think about the savings that you'll get, these are worth considering.
I really like the colors of the Crayola markers but of course, they don't always have quite as many colors as the Cricut pens. Cricut also has gel pens, glitter pens, and other options like that, so that's something to consider too. I do think for what you get from them, the Crayola markers give you the most bang for your buck.
The Cricut Maker didn't think there was some kind of foreign pen in it and we had it on the same setting for the Crayola marker as we used for the fine tip pen from Cricut. So, it worked seamlessly with the Maker system.
I still love my Cricut pens but now you can see that there are some different pen options that you have to go in the Maker. What do you think? And if you try out the Crayola markers, we'd love to see your results! Tag us on social media using hashtag #MakersGonnaLearn.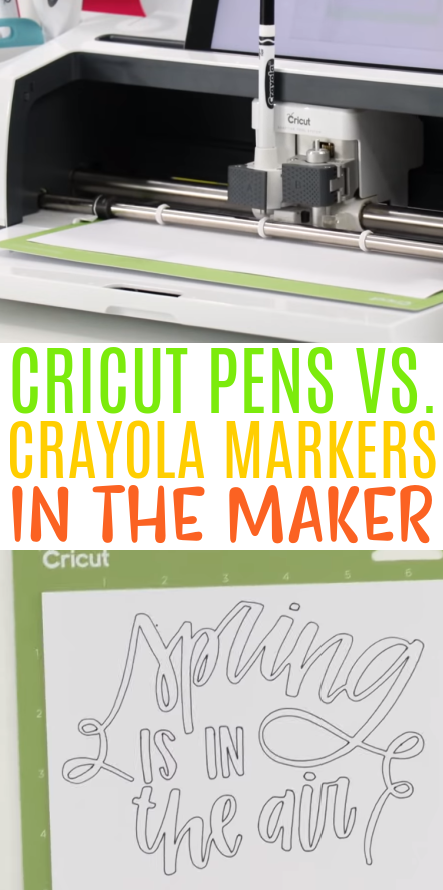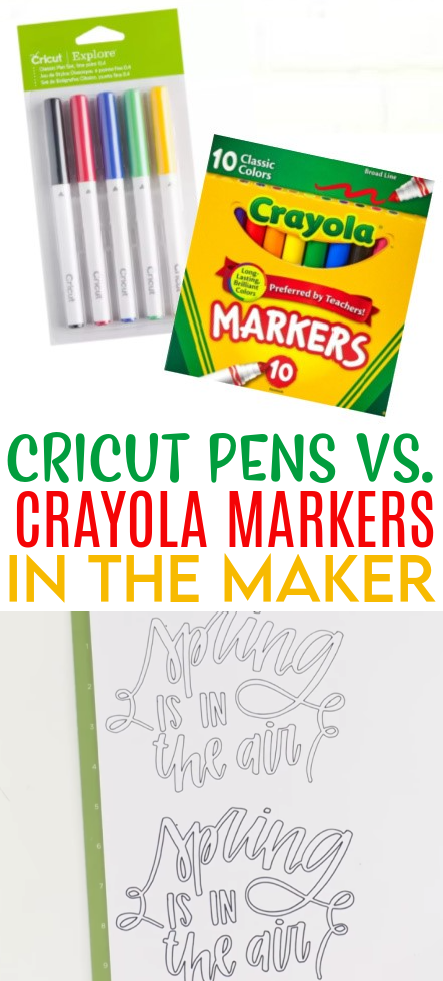 Tanner, Courtney, and the rest of the Makers Gonna Learn Team are all here because we love die-cutting and especially love sharing fun projects and tutorials with fellow makers. We are all great friends and are always having a blast when we are together- you will see this on camera, especially during live streams! We are here to inspire and support you in your crafting journey!