Silhouette Cameo 4 Everything You Need To Know
Hey Silhouette fans, I've got some really exciting news to share with you. I'm here in Hawaii right now at the Silhouette America Annual private Summit meeting, getting the inside scoop on all things Silhouette, including the release of the Silhouette CAMEO 4.
The Silhouette CAMEO 4 rumors have been floating around for a bit now and we can confirm that this machine is going to blow you away! And the good news is that you won't have to wait much longer to get your hands on one.
Be sure to check this out too: 30 Silhouette Hacks You Should Know
Since this die cutting machine first came out, two new Cricut machines have been released too: the Cricut Maker 3 and the Cricut Explore 3. Be sure to check them out too before making your purchase!

Silhouette Cameo 4 Everything You Need To Know
So, what's so great about the Silhouette CAMEO 4 die cutting machine? Well, hold onto your hats because this machine is going to be a game-changer.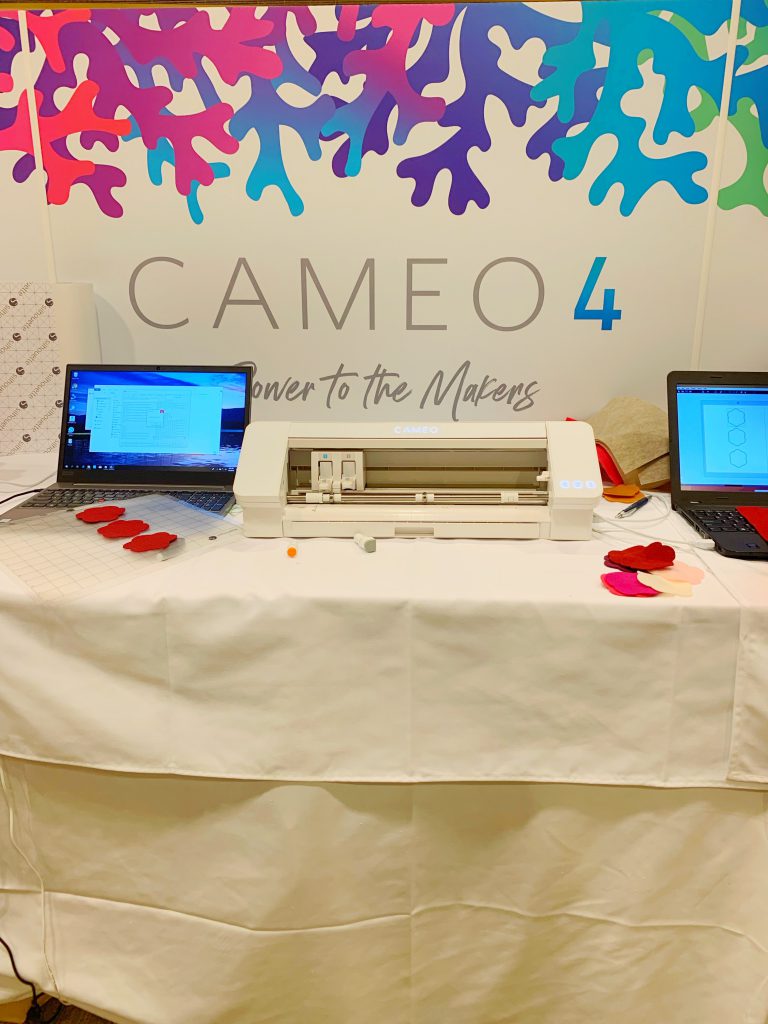 Cutting Force and Speed
First of all, this Silhouette boasts a cutting force of 5 kg. This is a huge change from the CAMEO 3 which has a force of 210 grams and is even better than that of the Cricut Maker which comes in at 4 kg. This is going to open up so many options when it comes to cutting thicker and denser materials such as balsa wood, matboard, leather, and so much more.
Along with an increased cutting force, the CAMEO 4 comes with greatly increased cutting speed and acceleration. In fact, the cutting speed is about 3 times faster than the CAMEO 3.
Cutting speed is defined as how fast the machine cuts a straight line. Acceleration speed of the CAMEO 4 is about twice that of the CAMEO 3. Acceleration speed is defined as how fast the machine can cut when changing directions or turning corners. For any of you who create a lot of die cutting projects, you know that this is a big deal! You'll be able to make more and make it faster.

Silhouette Cameo 4 Tools and Blades
If you're a Cricut Maker fan, you know that one of the most loved features of it are the tools that can be used with it. The Silhouette CAMEO 4 has taken its cue from Cricut and comes with a gear driven tool carriage with the ability to use a rotary blade (perfect for cutting felt and fabric!), Kraft blade, and single tap AutoBlade.
It even comes with a tool adapter that will allow you to use tools from older Silhouette models as well. The auto tool detection feature means that the CAMEO 4 and its software can detect what type of tool is in the carriage – auto blade, sketch pen, and so on. It detects it quite quickly too! Currently, the Cricut Maker offers more tool options but it's likely that in the future, the Silhouette line will be expanded to include more.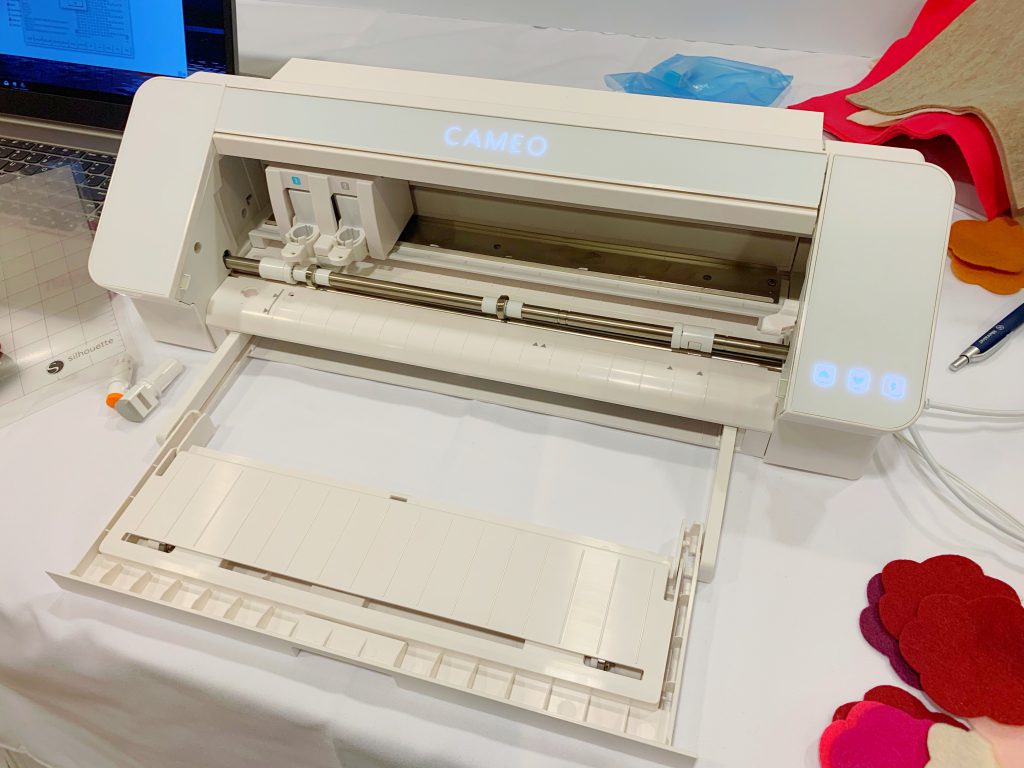 Basic Design
The basic design of the Silhouette CAMEO 4 has been upgraded as well. Older machines have a hinged style lid and the new machine has a retractable lid instead. The CAMEO 4 uses a back lit touch panel in place of the touchscreen found in the CAMEO 2 and 3. Improvements have been made to the rollers, allowing for one-handed use, and a built-in, pull-out roll feeder has been added.
With the roll feeder, you can die cut straight from a roll of vinyl with no mat needed. The cross cutter in the back of the machine will then cut your vinyl making this a really handy feature! You can also do matless cutting without using the roll feeder.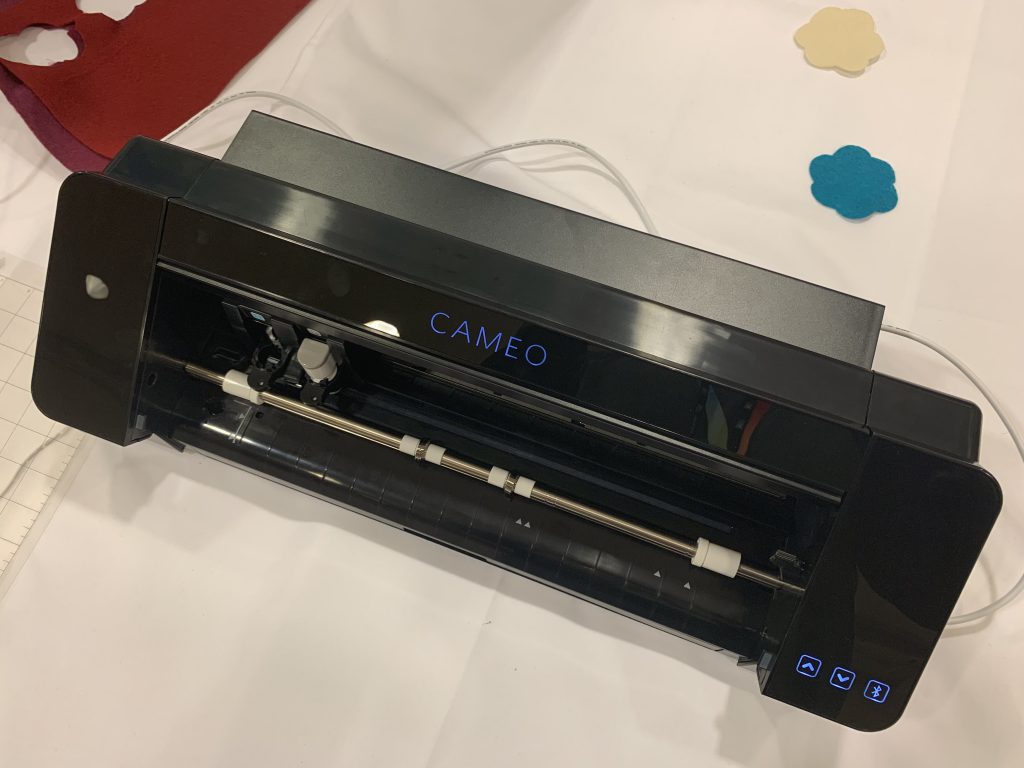 Cutting Size and Other Features
The Silhouette Cameo 4 comes with a 12 by 12 inch cutting mat but can cut projects up to 10 feet long. The Cricut Maker's maximum cutting length is only 24 inches making the Silhouette the machine you want when making larger projects such as banners.
Other features include a built in vinyl trimmer, weeding tool (which actually adds marks to the negative space to indicate where to weed your vinyl), Bluetooth connectivity, and ratchet adjustment tool. It's even seems to be a quieter cutting machine than previous models.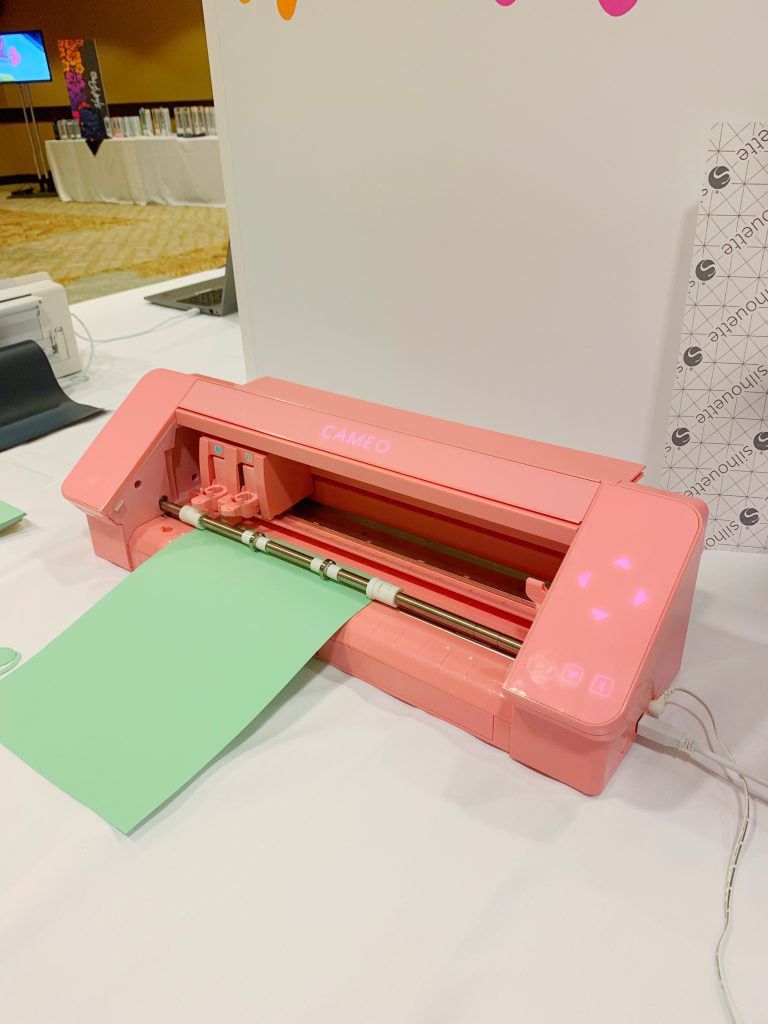 Price Point
Sounds pretty amazing, doesn't it? I bet at this point you're probably wondering about the price point of the new Silhouette CAMEO 4. The retail base price for a Silhouette CAMEO 4 will be $299, with bundles priced slightly higher. Compare this to a base price of $199 for the CAMEO 3 and $399 for a Cricut Maker. The Silhouette CAMEO 4 comes with a one year warranty. It comes in 3 colors – pink, white, or black.
Reminder: Prices change all the time. Please look them up and check around for the best deal available.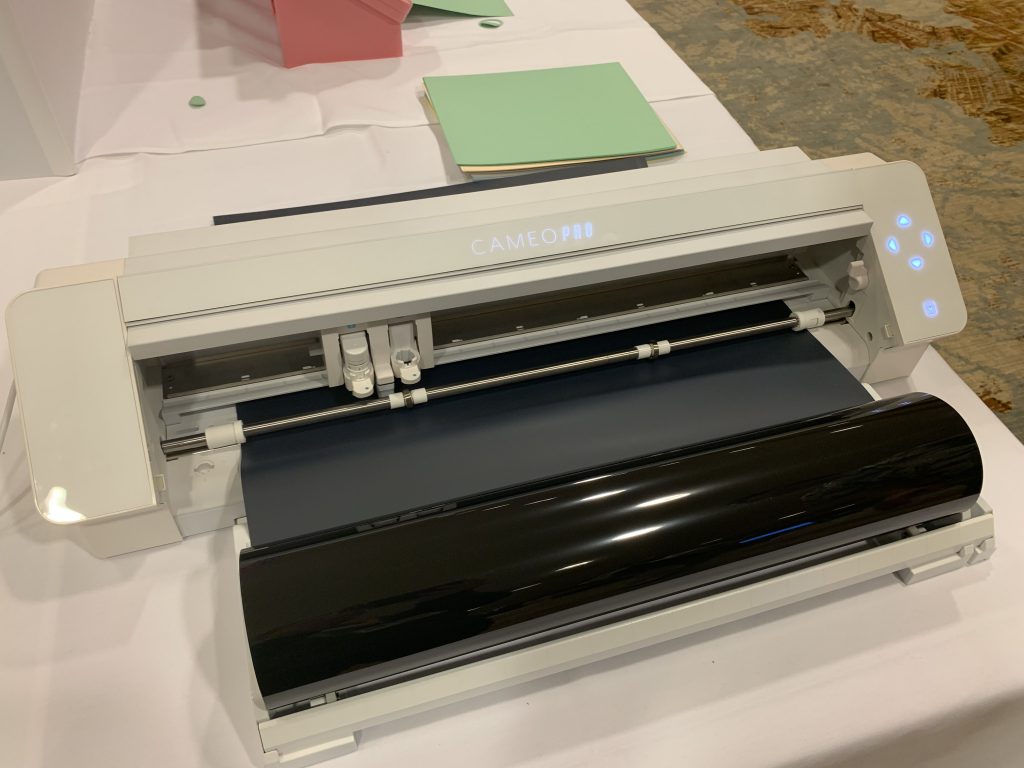 Other new Silhouette machines
The new Silhouette CAMEO 4 isn't the only big news to come out of Silhouette summit 2019. In addition to this new machine, Silhouette will also be releasing the CAMEO Plus and the CAMEO Pro.
Each of these machines will come with all of the same features of the CAMEO 4 except that the CAMEO Plus is 15 inches wide (with a cutting area of 15 inches by 10 feet) and the CAMEO Pro is 20 inches wide (with a cutting area of 20 inches by 10 feet).
The Silhouette CAMEO Plus and the Silhouette CAMEO Pro are expected to be released early in 2020 with anticipated retail pricing of $399 and $499 respectively. Further details aren't yet available and no pre-orders are being taken at this time. We'll be sure to keep you in the loop and update you just as soon as we get any more information about these amazing new die cutting machines.

What do you think about this amazing news? These Silhouette machines are sure to be a fantastic addition to any craft rooms. Just think of all the creative DIY projects you can make with them!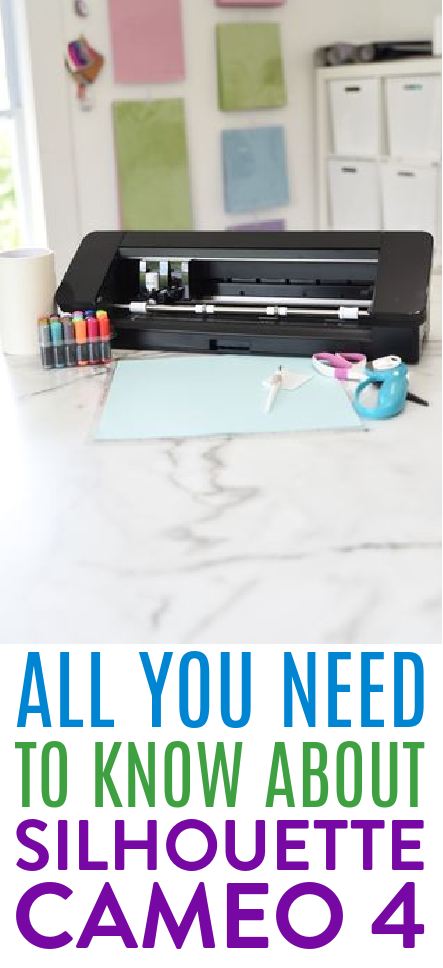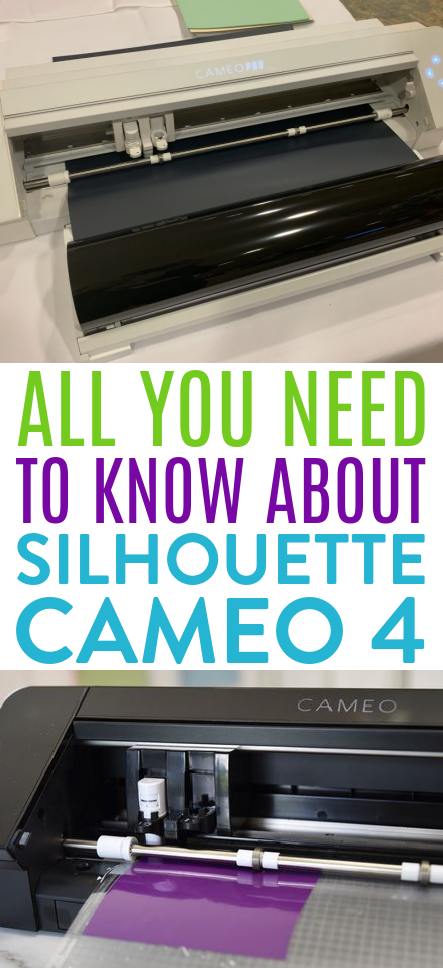 Tanner, Courtney, and the rest of the Makers Gonna Learn Team are all here because we love die-cutting and especially love sharing fun projects and tutorials with fellow makers. We are all great friends and are always having a blast when we are together- you will see this on camera, especially during live streams! We are here to inspire and support you in your crafting journey!