30 Amazing Silhouette Hacks
If you've got a Silhouette machine, you're probably always on the lookout for some amazing Silhouette hacks. We have learned some amazing Silhouette tips over the years and we're sharing 30 of our favorites with you today.
Whether you are a Silhouette beginner or a seasoned pro, you might just pick up some new die cutting tips and tricks to use with your Silhouette cutting machine today. From weeding to applying vinyl to making your projects last longer, we've got some ideas here you'll want to check out.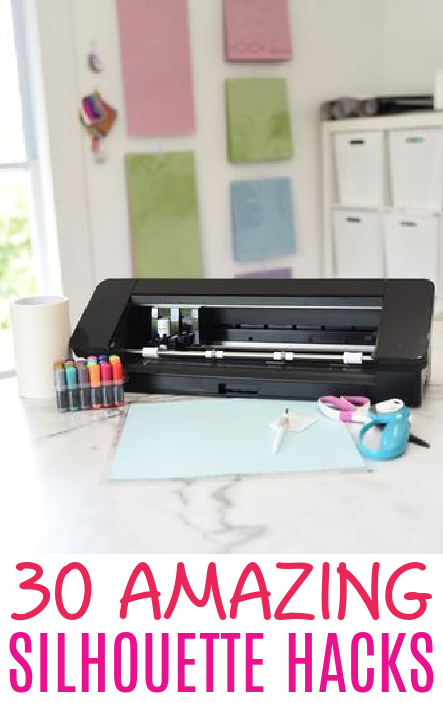 30 Amazing Silhouette Hacks
Be sure to check out these amazing Silhouette hacks and let us know which one is your favorite. Tag us on social media using hashtag #MakersGonnaLearn and be sure to pin this post on Pinterest so you can refer back to it again and again.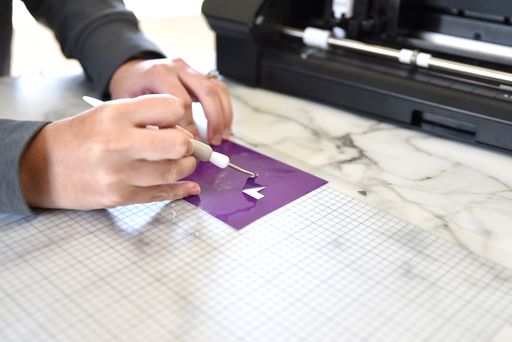 1 – Weeding on the Mat
Weeding on the cutting mat is like having a third hand to help you hold down the vinyl as you weed. It allows you to focus on the weeding without struggling to also hold down the vinyl and keep it from lifting up.
You want to be able to lift up and remove the excess pieces without disturbing the parts of your design. Weeding on the mat is the best way we have found for doing that flawlessly.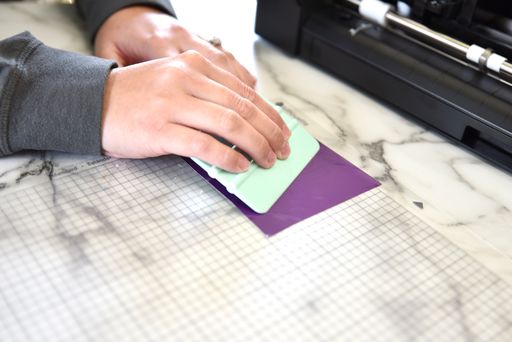 2 – Burnish your Vinyl
One of the other things that can really help keep your excess vinyl in place while you weed is by burnishing. Use your burnishing tool to ensure that the vinyl is well-adhered to the mat before you begin weeding.
We also like to burnish from both the front and back after applying the transfer tape. We find this helps us the transfer tape stick well to the vinyl and really aids in the vinyl placement process. Finally, we burnish our vinyl down onto the surface we're applying it before peeling up the transfer tape. This helps it get the best possible adhesion to the surface and makes for a much longer-lasting project.
3 – Use a Gift Card in place of a Burnishing Tool
Some materials just need a little temporary help being held in place securely on the mat. Start by pressing your surface firmly onto the mat.
Then, using your burnishing tool, burnish the material down to the mat. If you don't have a scraper tool on hand (or can't find yours!), grab an old gift card. It will work in a pinch.
4 – Use masking, Washi, or painter's tape to secure items to the mat.
If you need a little help keeping materials securely on your mat, you can add some tape to the corners or around the edges. This is a great tip when using an older mat that has lost a lot of its stickiness or for when working with those heavier materials like balsawood, basswood, and chipboard.
5 – Reverse Weeding
If you are not already familiar with reverse weeding, be sure to check out our video that shows you everything you need to know about it. We highly recommend reverse weeding for any complicated project.
With reverse weeding, you apply transfer tape to your project before weeding. Then you flip it over and weed from the back. This helps hold those intricate little pieces more securely as you weed away the excess.
6 – Make Reusable Stencils
Did you know that you can make reusable stencils with your Silhouette? You can use Silhouette stencil sheets or we have found that craft plastic or laminator sheets from the office supply store work really well too. This will give you a great reusable stencil that you can use again and again for your craft projects.
Once it's cut, you can use some type of spray adhesive to hold it in place if needed. You can use a repositionable spray adhesive but we found that regular spray adhesive gives a great stick and does not leave the residue.
This is an economical way to make the stencils you need and you can even customize them with your own designs! This video will show you all the details on how to use craft plastic to create a stencil when you're ready to get started. We're using a Cricut machine in the video but you can easily use the same technique with a Silhouette.
7 – Easily Center Your Crafting Materials
Our next hack will help you to center t-shirts, tote bags, and other similar surface materials you might be using with your Silhouette die cutting machine. It's super simple! All you need to do is to take your t-shirt and fold it in half lengthwise.
Line up the shoulder seams and the neck seams to ensure that the shirt is perfectly centered. When you have a nice straight line, take your EasyPress or iron and heat it right in the middle. This way, it's going to create a little crease so that you can see the exact middle of the t-shirt without having to pull out a measuring tape over and over again to get that perfect alignment.
After that, you can also measure down about 3-3 1/2 inches from the neck and iron in another crease of that horizontal line if you want. This will help better visualize just how far down you'd like to place your design.
8 – Working with Slick Surfaces
This hack is a great one for when you're working with vinyl with any slick surface like ornaments, mugs, glass, ceramic, or other non-porous materials. You should always have rubbing alcohol in your craft room because you can use it to clean those surfaces. This will get all the dirt, debris, and oil residue off your project so you're gonna have flawless results applying the vinyl down.
Once you start doing this, you're going to see a huge change in how the vinyl adheres. It's going to transfer better and you'll be able to remove that transfer tape ten times better as well. Best of all, it will keep your design on your surface much longer, giving you amazing results!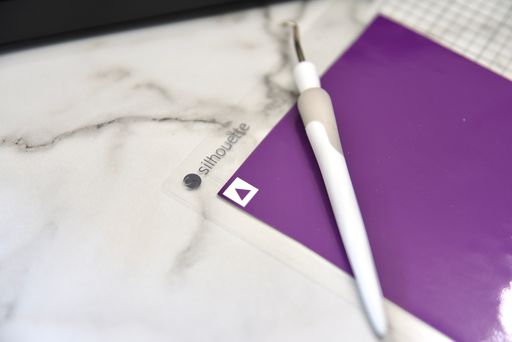 9 – Make a test cut!
Making a test cut is very important. This will save you frustration and money by helping to keep you from ruining your project and materials.
Once you have used a material several times, you probably don't need to keep doing a test cut on it, but we highly recommend this for any new materials. First time cutting glitter vinyl? Do a test cut!
Anytime that you think things like, hmmm, I have an older blade – should I adjust my blade settings? – you might want to do a test cut!
10 – Protect your machine with a dust cover.
You might use yours so often and are cleaning it off regularly that this tip isn't for you. But, if you're an occasional crafter or you're going to be away for a while, it is a great idea to cover your machine in between uses. This will help keep it clean and protected.
11 – Deal with a mat that is too sticky.
Your mat will come covered with a protective sheet. Once removed, the cutting mat has quite a sticky surface! Sometimes those brand new mats are too sticky and you could ruin the materials you're trying to cut.
To solve this issue, use a clean cotton rag or t-shirt to dab all over the mat. This helps cut down on some of the stickiness before your first use.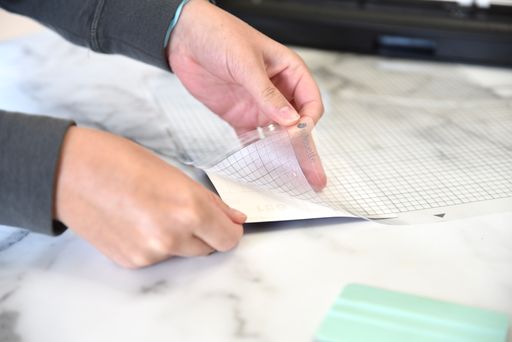 12 – Speaking of the protective cover on the cutting mat, be sure to keep it!
Be sure to save the protective sheet that comes on your Silhouette cutting mat. Remove it and put it somewhere safe. Place it back over your cutting mat after each use to help protect it and make it last longer.
Did you lose or damage the protective sheet? Buy a shower curtain liner and cut it into pieces sized to fit over your cutting mat. They make a great substitute for the original protective sheet. They'll keep your mats clean and protect them from damage.
13 – Clean your blades.
Not getting the best cuts from your blades? Obviously, after a while, you need to buy a replacement blade, but often, the blade has simply collected bits of paper, vinyl, glitter, and other materials in it.
Remove the blade from the carriage. Use a cotton swab or lint-free cloth and clean away any debris stuck there. This can help you get additional use from your blade.
Another great way to clean your blades: wad up a ball of aluminum foil. Stab the blade into it several times. This helps remove those last bits of dirt that you can't get with a cloth and helps your blade perform better.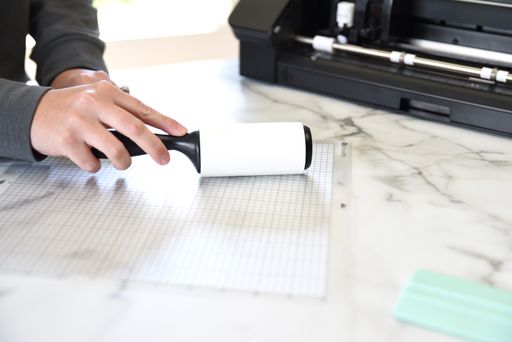 13 – Clean your mats.
For a quick mat cleanup in between full cutting mat cleaning, you can dab at it with a piece of duct tape or a lint roller to remove bits of glitter, paper bits, and so on. A quick swipe with a baby wipe will remove some of the surface dirt and grime.
Don't miss this: Full mat cleaning tutorial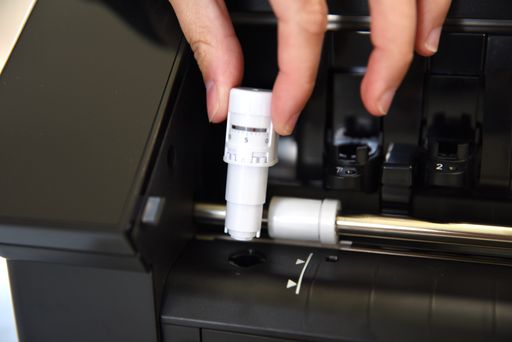 14 – Be sure to check and double check your blade setting before you begin cutting.
If you cut too deeply, you may just cut right through the mat! If that does happen, you can sometimes temporarily repair the mat by using a really strong duct tape on the back.
15 – Keep your cut pieces from curling up.
Turn the cutting mat upside down on a flat surface so that you can peel the cutting mat away from the cut pieces instead of vice versa. This helps keep your vinyl, paper, cardstock, and other materials flat and prevents curling really well!
16 – Mirror when using HTV.
Heat transfer vinyl needs to be placed on the cutting mat glossy side down and matte side up. Because of this, it's important that you remember to mirror your image and text in your designs before cutting with HTV.
This is such an easy step to forget as you're working on your project. To make it easier to remember, some people like to place a sticker on their Silhouette machine saying something like "MIRROR IMAGE" in bright colors that will catch their attention and remind them.
DID YOU KNOW: Heat transfer vinyl, HTV, and iron-on vinyl are all just different terms for the same kind of vinyl!
17 – Use non-Silhouette pens in your machine.
Want to use other pens in your Silhouette machine? You can remove the insides from a marker and use that remaining shell as a pen holder in your machine. Pen too thin? Wrap tape around it to thicken it up as needed to fit!
18 -Save and reuse your transfer tape.
We've been able to get up to 7 reuses out of one piece of transfer tape. Simply place it back onto its backing sheet and use again.
If you've run out of transfer tape, in a pinch, some clear contact paper or some of that sealing cling wrap can help. It's not a perfect fix but it can help in a crafting emergency.
PRO TIP: Our favorite transfer tape for most vinyl projects is the masking paper transfer tape. It's really inexpensive and easy to use. You can simply tear a piece of it off the roll! It's not as sticky as traditional transfer tape so we have fewer craft fails with it on basic vinyl, HTV, and lightweight materials like paper and cardstock. You'll still need a stickier tape for glitter vinyl and some other materials.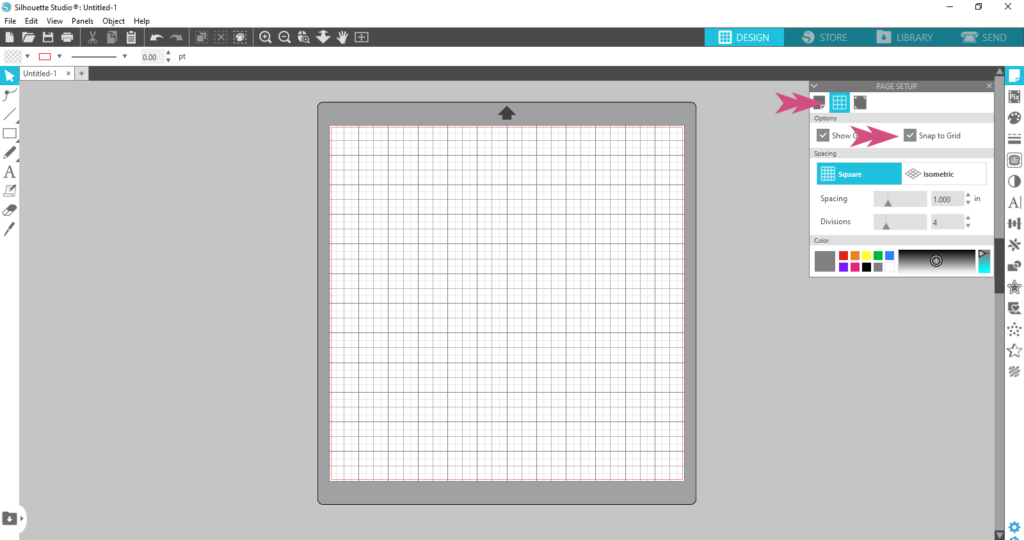 19 – Problems moving your design on the virtual mat? Try this.
If you have "Snap to Grid" turned on (and sometimes it seems to turn itself on!), Silhouette Studio is going to try to place the elements of your design where it thinks they should go. It will "anticipate" the spacing it thinks you want. Sometimes this is really convenient. Sometimes it means you're trying to move part of your design and it don't line up exactly where you want it.
Instead, it will "jump" a certain preset spacing. You may be trying to move it over 1/8″ but with each movement you make, Silhouette Studio is actually moving it 1/4″. This can be very frustrating, but it's easy to fix.
In Page Setup, you want to click on the middle tab – it looks like a grid. There you'll see the setting "Snap to Grid". Uncheck the box to turn this off and you should be able to freely move your design elements to precisely where you want them!
20 – Use a safety pin to weed and lift tiny pieces of vinyl.
We love, love, love our Pin Pen tool, but in a pinch, a safety pin works for weeding out those tiny, intricate pieces of vinyl from your design. You can even put a magnet on the side of your Silhouette to hold the pin and keep it at your fingertips!
21 – Having trouble seeing the cut lines to weed your design?
Some people find it really helpful to use a lightbox. Cricut even makes a "BrightBox" to help with this. If you don't have a lightbox on hand, try placing your design on a well-lit window.
Pro tip: Wear a headlamp if you're having trouble seeing your designs. It's hands-free and will help you see so much better!
22 – Use baby powder to weed dark designs.
Lightly sprinkle this over your cut vinyl and then brush off the excess. The powder will get down into all of the crevices and make dark colored vinyl designs show up so much better.
This makes weeding dark vinyl ten times simpler for you! It's not going to damage your project at all but it will help you see what you're weeding.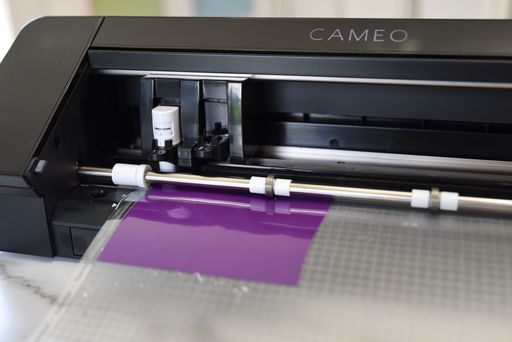 23 – No Teflon sheet? Use butcher paper or Kraft paper over your iron-on design.
Bonus: it don't make the HTV really shiny as the Teflon sheets sometimes do.
24 – Add measurements right on your craft table.
You can glue down a measuring tape or make measurement marks with a permanent marker. This way, you'll always be able to double-check your project measurements even if you misplace your measuring tape.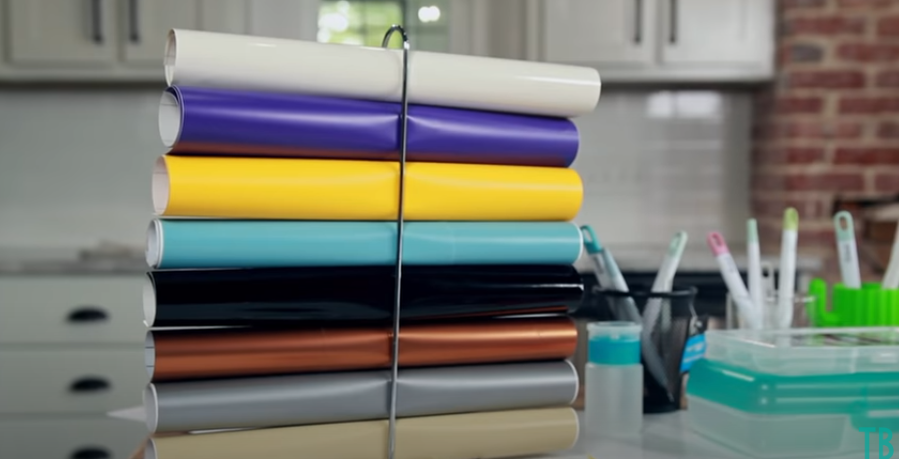 25 – Organize your vinyl.
There are several different ways you can organize and keep track of your vinyl.
Cut open toilet paper rolls lengthwise and place them around rolls of vinyl. It helps keep them closed AND you can write on them – date purchased, type of vinyl, etc.
With scrap pieces, you can put them into those plastic page protectors and put them in a binder to hold them all in one place. An accordion file also works well.
Close rolls of vinyl with colored rubber bands. You can color code according to type – purple is HTV, pink is regular vinyl, etc.
Use a paper towel holder to hold your rolls of vinyl and keep them handy.
26 – The best trick for applying vinyl to curved surfaces.
First, when applying Cricut vinyl onto curved surfaces such as a mug, you will see that the transfer tape doesn't want to lie flat and adhere well. This is one of our favorite tips! Simply cut slits into the Cricut transfer tape all around your design so you can more easily apply it to a rounded surface.
If there are ever any bubbles, you can work those out a lot easier with the slits in place too. You're going to love using this handy hint with mugs, tumblers, or Christmas ornaments. It may take a little longer but you're going to get great results with your vinyl die cutting project.
27 – Keep weeded pieces in an empty tissue box or wipes container.

I love this hack! As you weed your projects simply drop your weeded pieces into an empty tissue box or wipes container. It will keep your workspace clean and keep those vinyl pieces from sticking to you and everything else.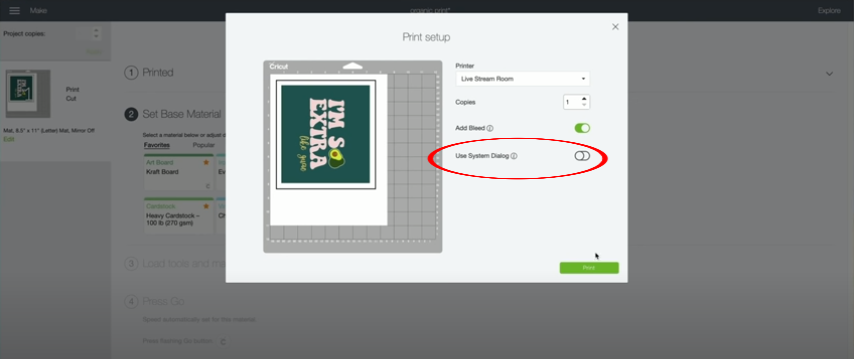 28 – Use system dialog when creating Print then Cut projects.
When getting ready to print your Print then Cut projects, use System Dialog to increase the quality of your printing to "Best". This makes a big difference in the results you'll get from your Print and Cut crafts.
29 – Remove vinyl and heat transfer vinyl from surfaces.
If you aren't satisfied with the results of your craft project, you can often remove the vinyl or HTV from the surface and make it again. With regular adhesive vinyl, often all you need to do is to use a heat embossing tool or blow dryer to heat up the design and loosen the adhesive enough that you can then use a scraper tool to remove it.
With iron-on vinyl, we found a product on Amazon that removes Iron-On from any fabric with no discoloration or residue. It's called AlbaChem VLR Letter Removing Solvent. It is really easy to work with!
30 – Use this instead of a Cricut EasyPress mat.
We love the results we get with an EasyPress mat. It helps send the heat back up into the material we're heating and this allows for more even heating. If you're not ready to purchase one or just need a temporary alternative in a pinch, we recommend a terry cloth towel.
Fold it three or four times to provide enough even pressure under your project. Make sure to place it on a very sturdy table or countertop. You need that solid surface underneath the towel to adhere your iron-on vinyl well.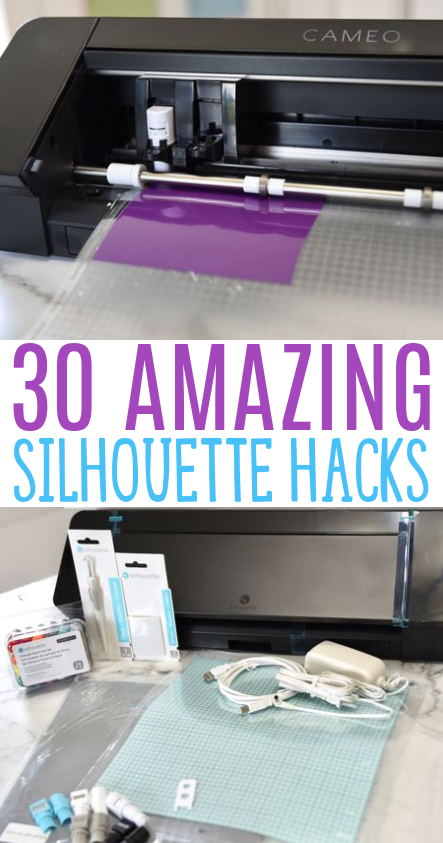 Tanner, Courtney, and the rest of the Makers Gonna Learn Team are all here because we love die-cutting and especially love sharing fun projects and tutorials with fellow makers. We are all great friends and are always having a blast when we are together- you will see this on camera, especially during live streams! We are here to inspire and support you in your crafting journey!