Silhouette Hacks You Should Know
We've got some Super Cool Silhouette Hacks You'll Want to Know to make these projects faster, easier, and with amazing results! If you've got a Silhouette die cutting machine, you'll want to check these out.
From die-cutting to embossing to sketching and more, you'll find tons of craft ideas. You can use your Silhouette cutting machine to customize so many items for yourself or to give as an extra special gift.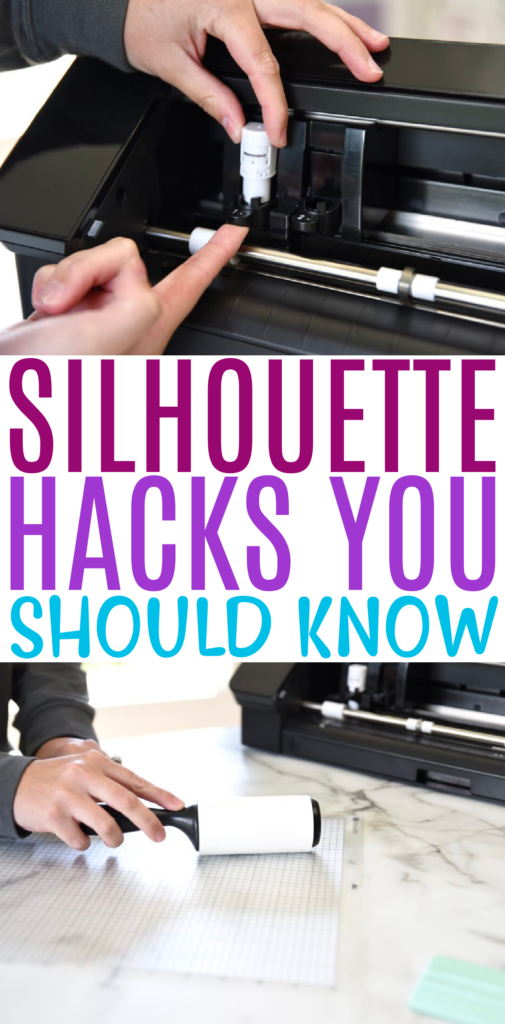 Super Cool Silhouette Hacks You Should Know
If you have a Silhouette machine, you already know that it's one of the most useful tools you could possibly have in your craft room. With its versatility for making so many different types of craft projects, it will give you an endless list of ideas to try.
Check out these amazing Silhouette hacks and let's start crafting!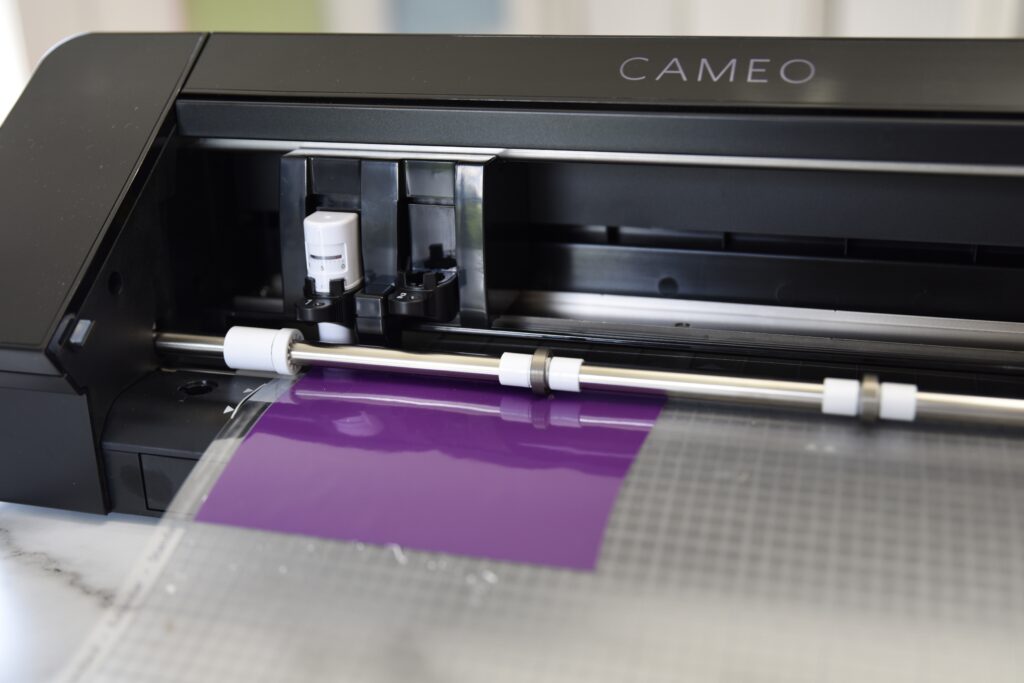 MAKE A TEST CUT
The first thing we always recommend is to make test cuts. This is a great idea when you're first getting started with your machine as a way of getting a feel for it.
It's also highly recommended whenever you're working with a new material. Your machine and your blade will react a bit differently to different types of materials.
This is a great way to avoid wasting an entire sheet of material if something goes wrong.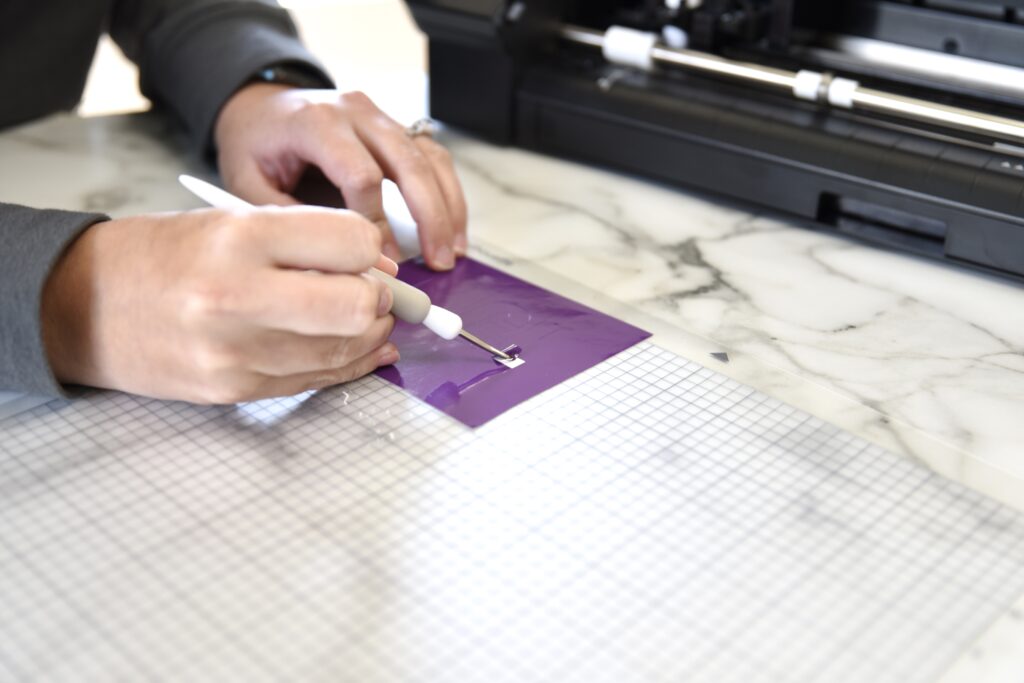 WEED ON THE MAT
When it comes to weeding, we absolutely love weeding directly on your cutting mat. This gives your project a little more stability as you weed and keeps you from having to try to hold the vinyl down with one hand while you weed with the other.
If you're having problems weeding a really intricate project with tiny pieces, try using a safety pin or straight pin to get into those smaller spaces. Stick a pincushion or a magnet near your workspace to keep those pins handy and prevent them from getting lost.
PRO TIP: You could also use a Pin Pen tool. It's one of our favorite tools! It's like having a straight pin inside a ballpoint pen so it's easier to hold and safer to use.
Pins can also come in handy if you need to pick some tiny bits of paper or other material out of your cutting blade.
FLIP THE MAT OVER
Have you ever noticed that with some materials (lightweight paper or cardstock for example), as you pull your project up from the mat, it curls up? The best way to prevent this is by flipping your mat over.
Instead of pulling the project from the mat, slowly peel the cutting mat away from the project. This helps to keep it nice and flat.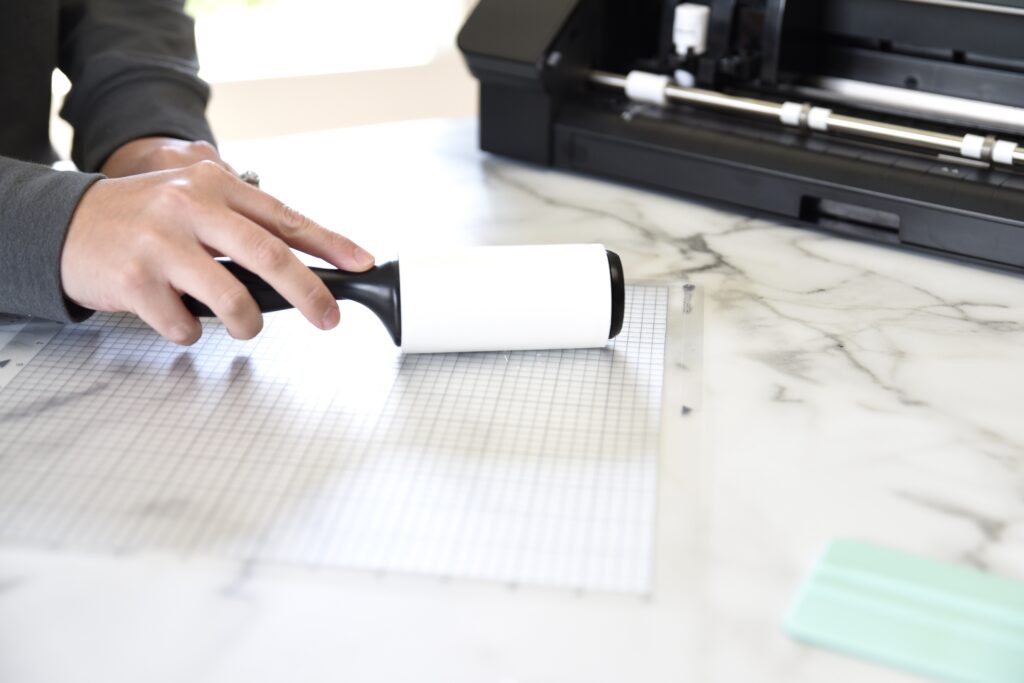 CLEANING YOUR CUTTING MATS
Speaking of your cutting mat, have some baby wipes on hand to give your mat a quick wipe in between projects. This will help get rid of any residue and keep the mat from losing its stickiness too.
If you've got some bits of paper or fibers left behind on your mat, simply run a lint roller over it to remove the excess debris. It's important to clean your mats on a regular basis to keep them sticky and performing well.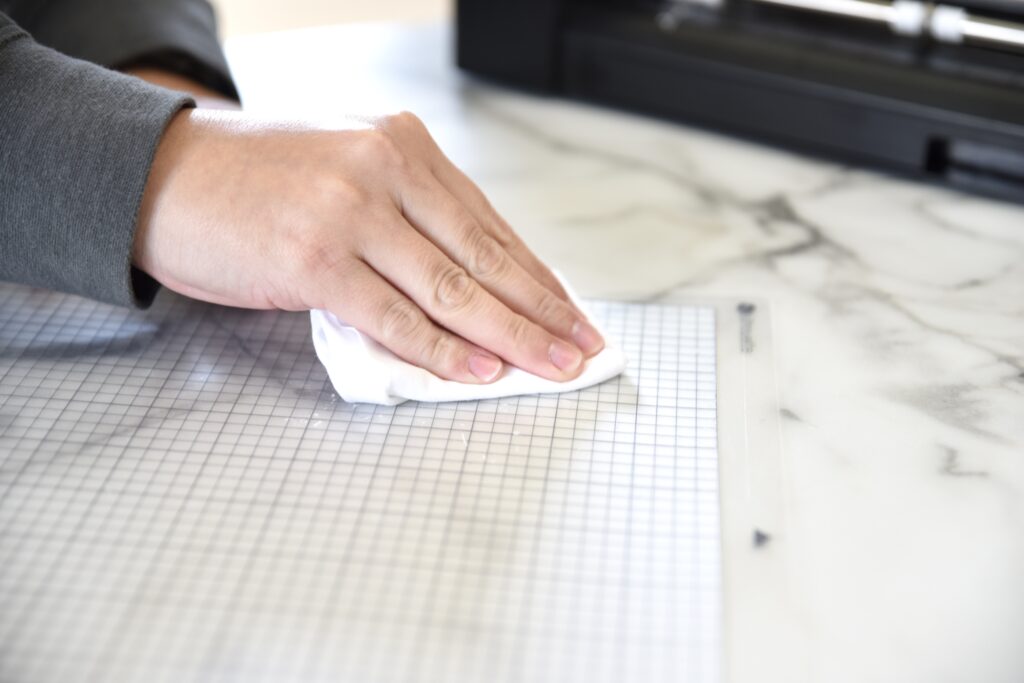 MAT TOO STICKY? NOT STICKY ENOUGH?
If you find that your Silhouette cutting mat is too sticky, dab all over the surface of it with a clean piece of cotton (rag, t-shirt, etc) to reduce the tackiness and make it easier to use.
Mat isn't sticky enough? Wash it with warm soapy water. Let dry for a full 24 hours before using again and the stickiness should be restored.
If it's still not sticky enough, tape off the edges with painter's tape and spray a light coat of spray adhesive. Let it dry overnight and it's ready for use once again.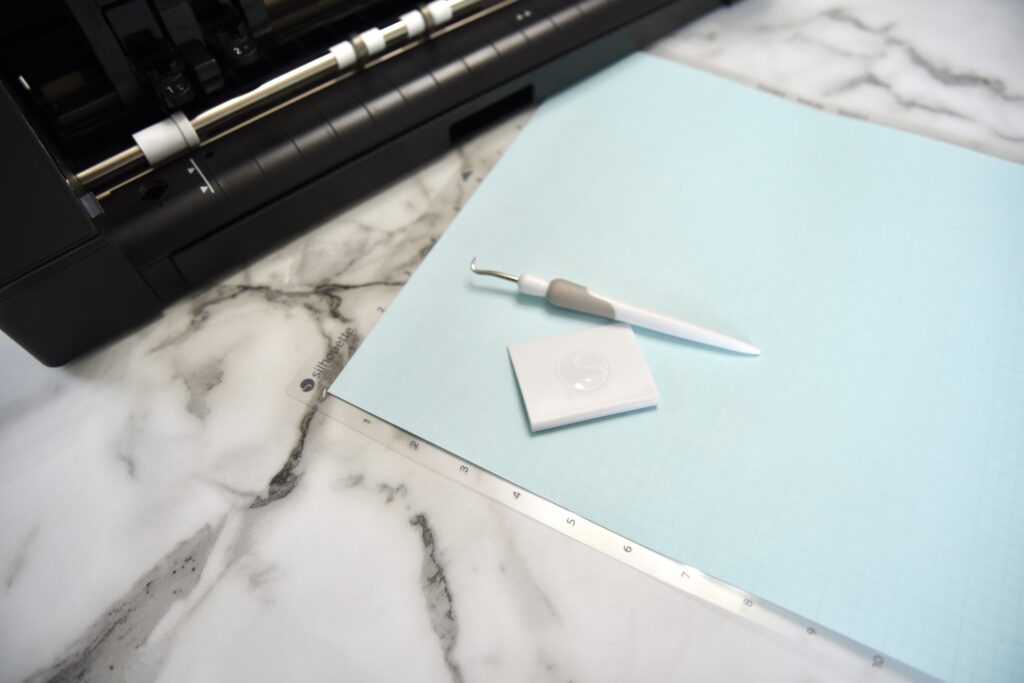 SAVE THE PROTECTIVE SHEET ON THE MAT
Be sure to save the protective sheet that comes on your Silhouette cutting mat. Remove it and put it somewhere safe. Place it back over your cutting mat after each use to help protect it and make it last longer.
Did you lose or damage the protective sheet? Buy a shower curtain liner and cut it into pieces sized to fit over your cutting mat. They make a great substitute for the original protective sheet. They'll keep your mats clean and protect them from damage.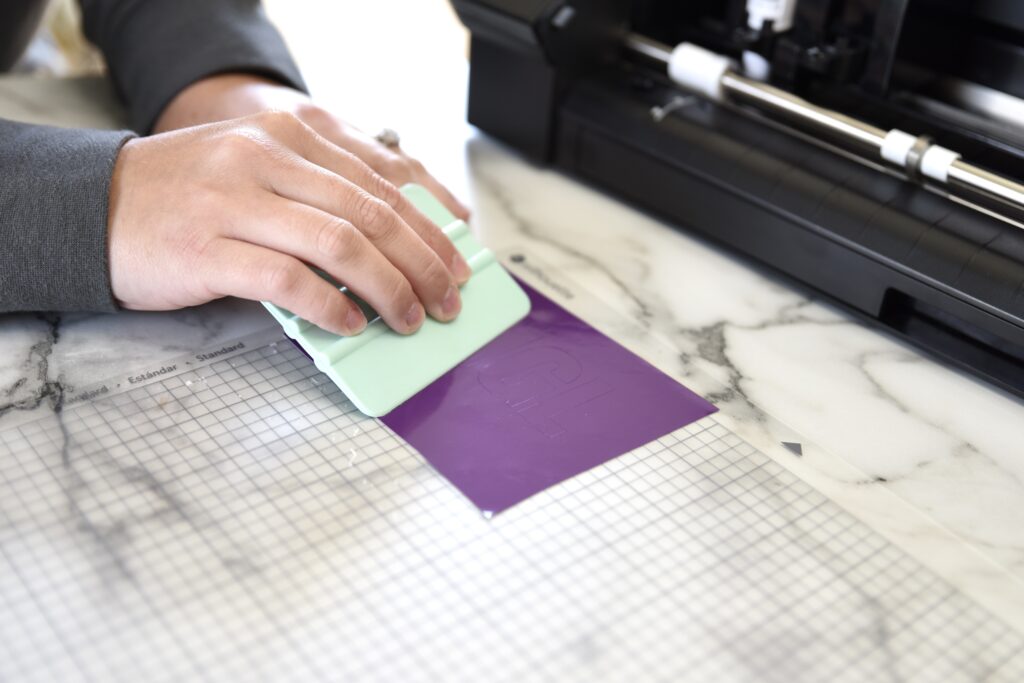 BURNISH, BURNISH, BURNISH!
Some materials just need a little temporary help being held in place securely on the mat. Start by pressing your surface firmly onto the mat.
Then, using your burnishing tool, burnish the material down to the mat. If you don't have a scraper tool on hand (or can't find yours!), grab an old gift card. It will work in a pinch.
Finally, if you still need a little extra assistance keeping it in place, you can use some masking, Washi, or painter's tape on the corners or right around the edges. This is one of those lesser-known die-cutting hacks that can really come in handy!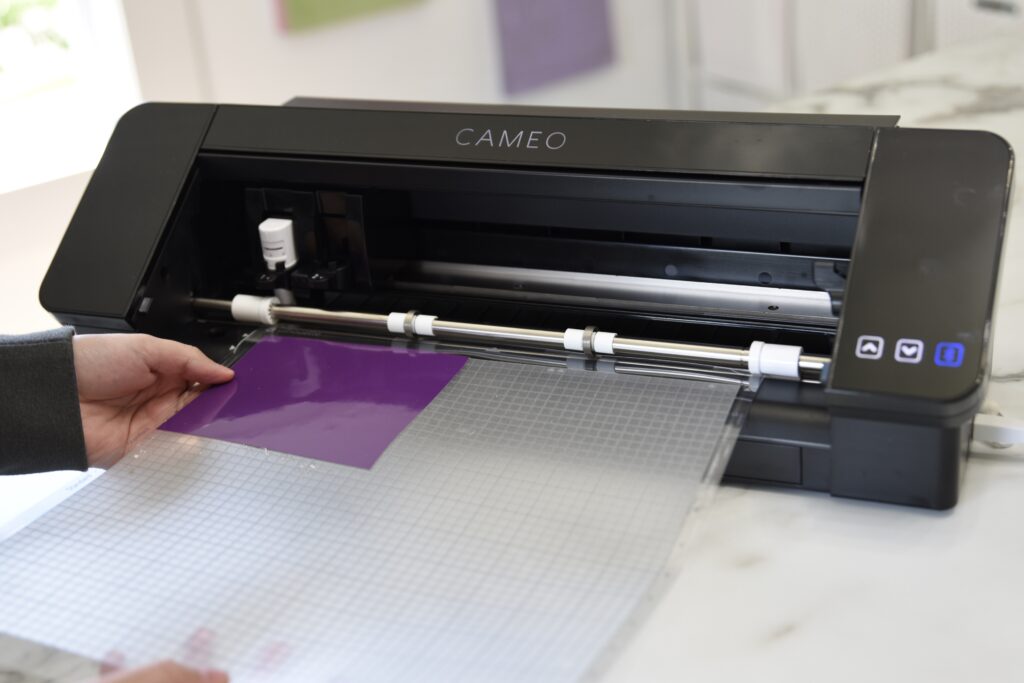 LINE UP YOUR CUTTING MAT PROPERLY
It's really important to make sure that your cutting mat is lined up properly. The edge of the cutting mat should be lined up with the blue guideline over on the left side.
Be sure to feed it into the machine straight. If you're having problems with that, you can place some heavy objects on either side of the mat to help keep it in place. Once you have some practice though, you should be able to load your mats with ease.
MIRROR WHEN USING HTV
Heat transfer vinyl needs to be placed on the cutting mat glossy side down and matte side up. Because of this, it's important that you remember to mirror your image and text in your designs before cutting with HTV.
This is such an easy step to forget as you're working on your project. To make it easier to remember, some people like to place a sticker on their Silhouette machine saying something like "MIRROR IMAGE" in bright colors that will catch their attention and remind them.
DID YOU KNOW: Heat transfer vinyl, HTV, and iron-on vinyl are all just different terms for the same kind of vinyl!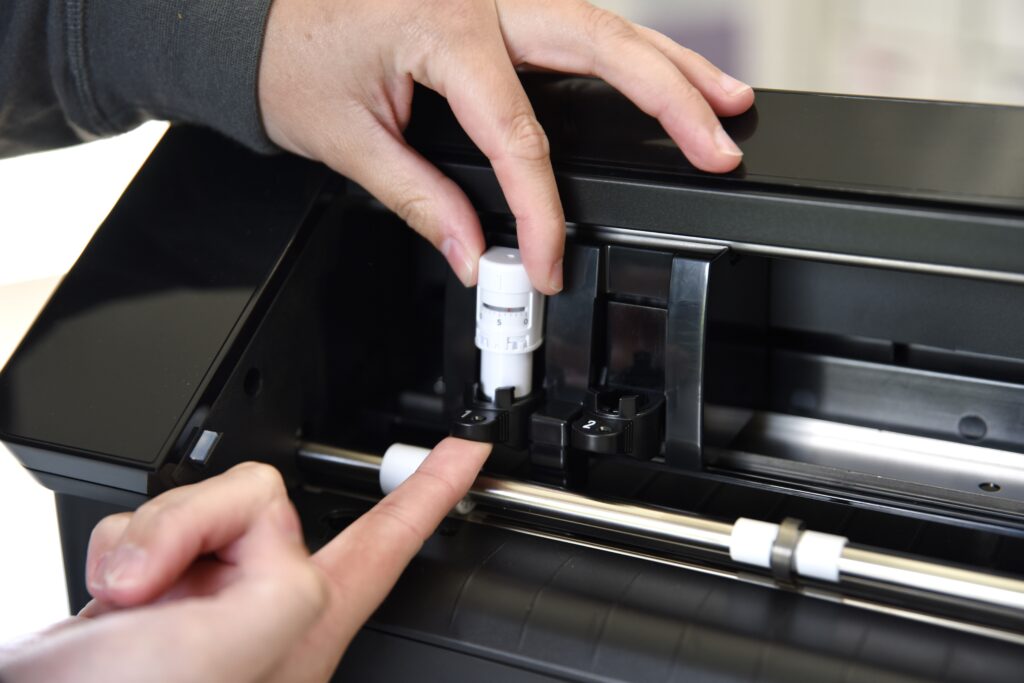 BLADE INSERTION
If your machine isn't cutting properly, before calling Silhouette support, double-check that your blade has been put into the machine the correct way.
This is a common cause of cutting issues. The blade should be pushed in all the way and you should be able to hear it click in place if installed correctly.
Get more life out of your Silhouette blades by cutting some aluminum foil once a month (more if you're using your Silhouette machine frequently). Place a sheet of aluminum foil on your cutting mat and cut a design into it.
Another great way to do this – wad up a small ball of aluminum foil. Stab your blade into it several times to help clean off any debris that has built up.
Either of these methods will help clean them and make sure that you are getting flawless cuts for a longer time in between blade changes.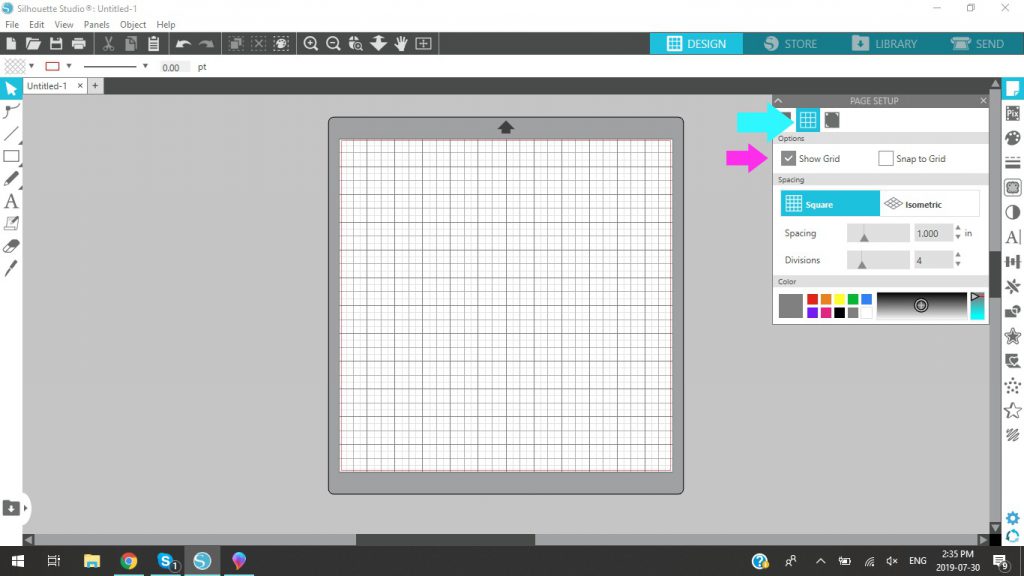 USE REVEAL GRID SETTINGS
Use the reveal grid lines function on the page settings window. This will show gridlines on your Silhouette Studio virtual mat that correspond to the grid lines on your cutting mat. This can really help you get the perfect placement for your design.
KEEP RUBBING ALCOHOL ON HAND
Keep some rubbing alcohol on hand in your crafting space. This is fantastic for cleaning surfaces like glass, ceramics, or other slick surfaces.
It will get off all the dirt, grime, and greasy fingerprints leaving a super clean surface for the vinyl to adhere to properly.
PRO TIP: We like to keep our rubbing alcohol in a little pump bottle. A couple of pumps gives us just the right amount on a paper towel for cleaning our surface material.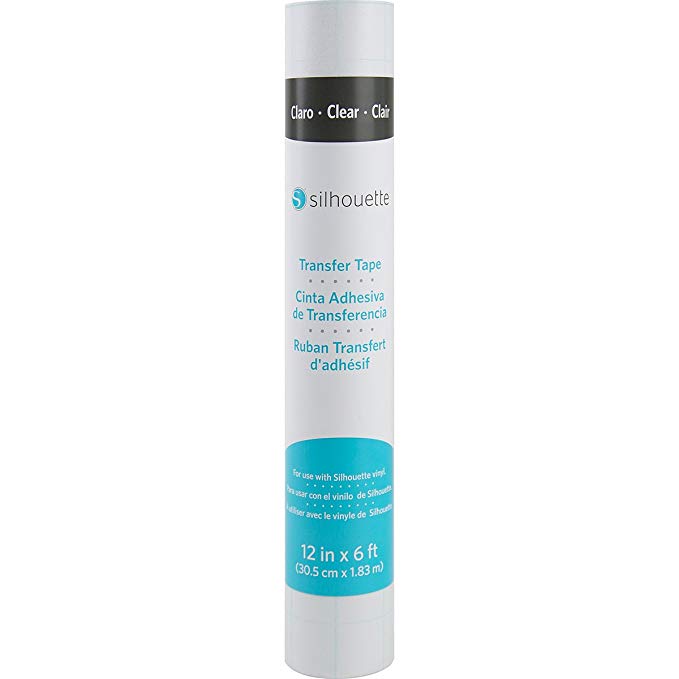 SAVE AND REUSE YOUR TRANSFER TAPE
Save and reuse your transfer tape. We've been able to get up to 7 reuses out of one piece of it. Simply place it back onto its backing sheet and use again.
If you've run out of transfer tape, in a pinch, some clear contact paper or some of that sealing cling wrap can help. It's not a perfect fix but it can help in a crafting emergency.
PRO TIP: Our favorite transfer tape for most vinyl projects is the masking paper transfer tape. It's really inexpensive and easy to use. You can simply tear a piece of it off the roll! It's not as sticky as traditional transfer tape so we have fewer craft fails with it on basic vinyl, HTV, and lightweight materials like paper and cardstock. You'll still need a stickier tape for glitter vinyl and some other materials.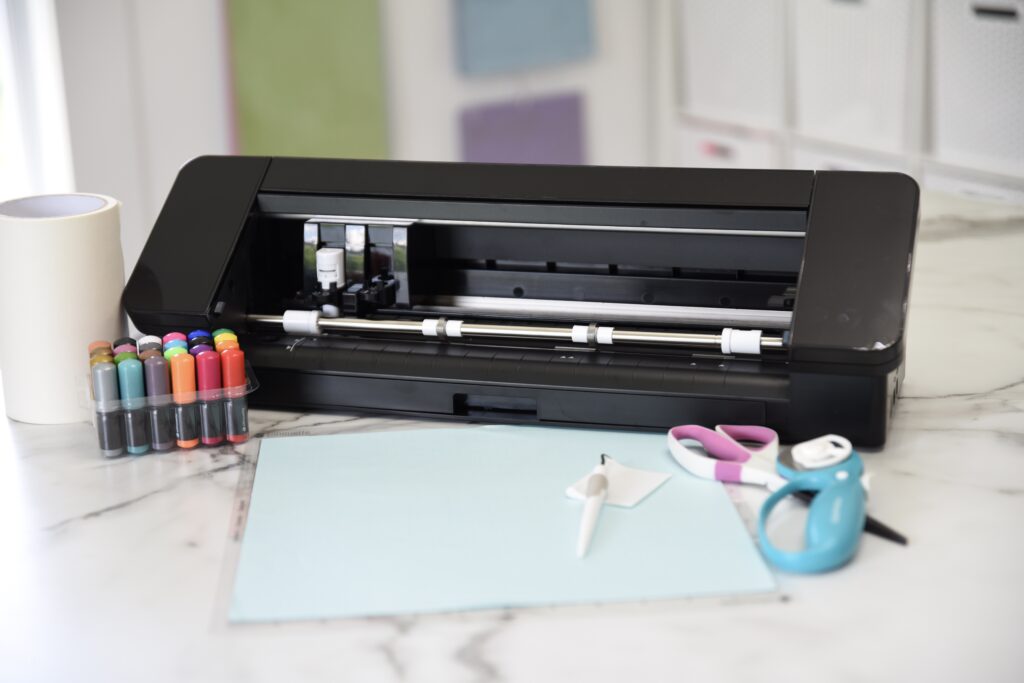 KEEP YOUR MACHINE COVERED
Keep your machine covered when not in use. The cleaner you can keep your machine, the less maintenance it will require!
Of course, we use ours so often, it rarely has the chance to gather dust. Still, in between uses, even something as simple as a sheet can help prevent problems.
Looking for more amazing Silhouette tips and tricks? Check out these posts:
15 things you need to know before you use your Silhouette machine
Beginner tips for designing in Silhouette Studio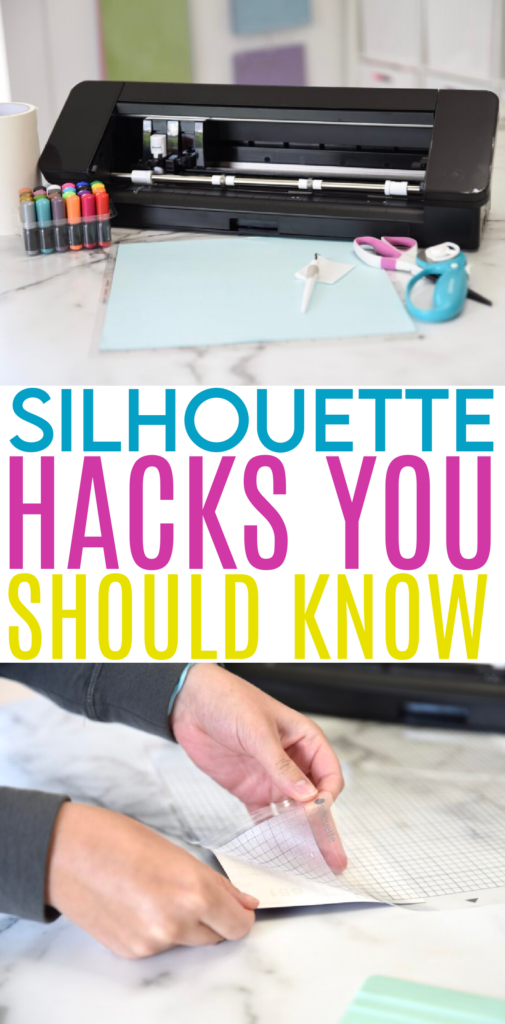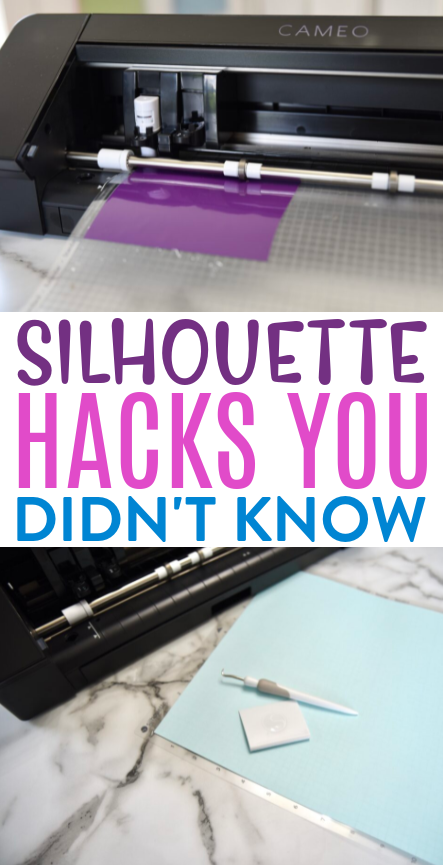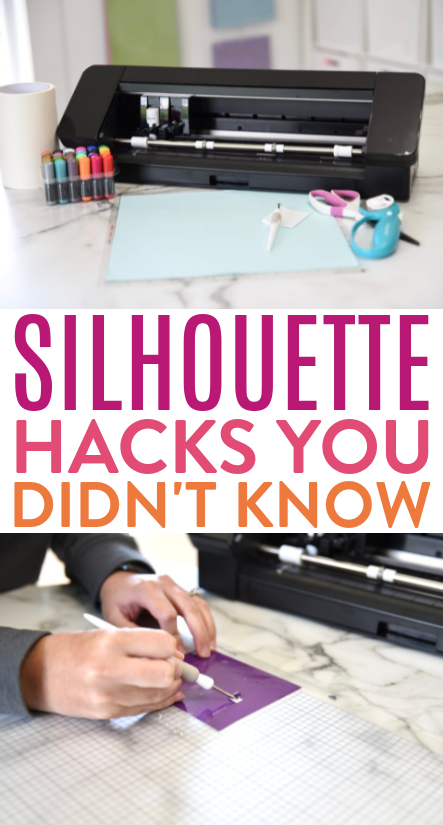 Tanner, Courtney, and the rest of the Makers Gonna Learn Team are all here because we love die-cutting and especially love sharing fun projects and tutorials with fellow makers. We are all great friends and are always having a blast when we are together- you will see this on camera, especially during live streams! We are here to inspire and support you in your crafting journey!