How to Set Up Your Silhouette Cameo
You finally got your new Silhouette Cameo. Congratulations! If you're like many people though, you might now be feeling a little bit intimidated. Don't worry. We're going to walk you through getting started and show you how to set up your Silhouette Cameo step by step.
These Silhouette tips are going to be really helpful for you and you'll be crafting with your new Silhouette machine in no time.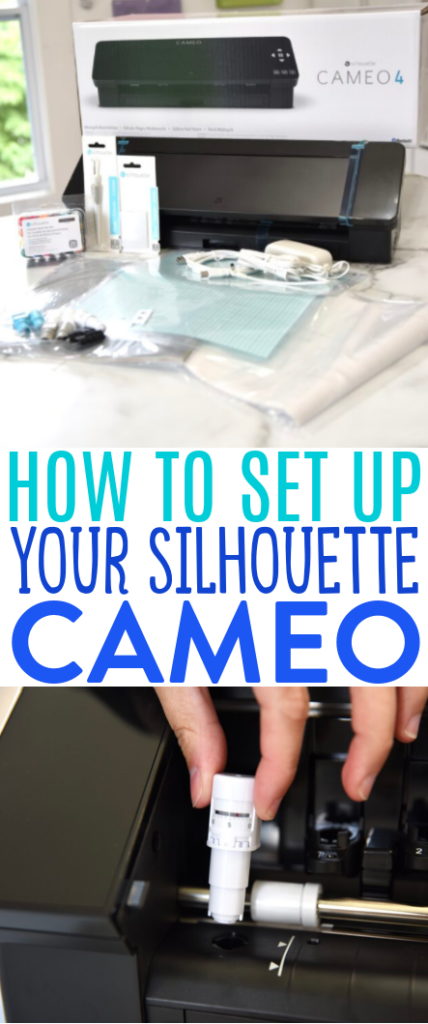 How to Set Up Your Silhouette Cameo
The first step is a really easy one. Actually all of the steps are really easy! Open the box and take out the machine. We're not kidding!
We keep hearing about people who received their Cameo and then just let it sit there in the box for ages. You've invested in it. Let's take it out of the box and get going!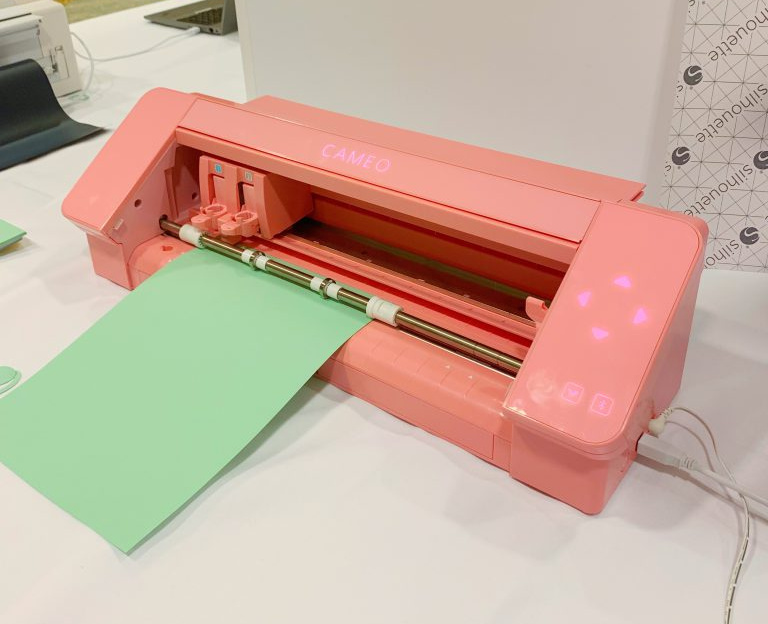 What you find in the box will vary according to which Silhouette Cameo you have purchased. For a Cameo 4, you will find:
Silhouette Cameo®4 cutting machine
AutoBlade for Cameo 4
12-inch cutting mat
4 tool adapters
A/C adapter and power cable
USB cable
Handheld blade adjuster
Be sure to check for all the pieces of foam, cardboard, and tape that holds the Cameo in the box securely. You'll also find three tabs which hold clear plastic covers onto the front of the machine. You will need to remove those as well.
There is a piece of tape holding the crosscutter in place on the back of the machine that is often overlooked. Double check for that and remove it.
Also, remember that you need to remove the blue protective sheet from the cutting mat before using it! However, we strongly advise that you keep it and use it to protect your mat when not in use.
You can see Tanner unboxing our Silhouette Cameo 3 in the video below: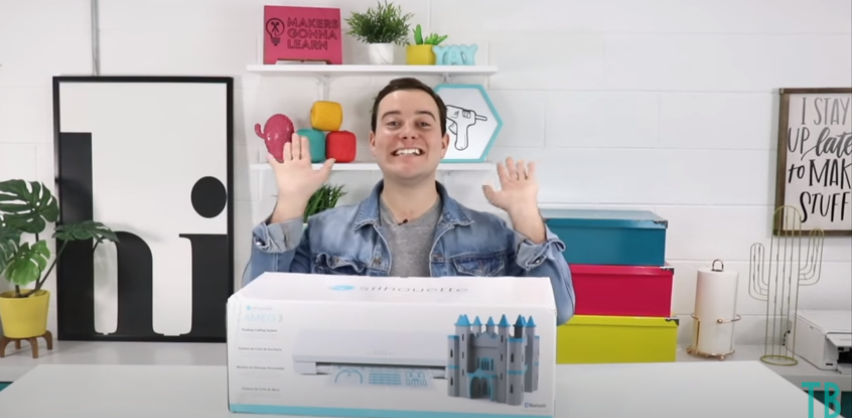 This is what was in our box. Remember that some of these tools might not come standard with the machine but may be offered in special bundle packages.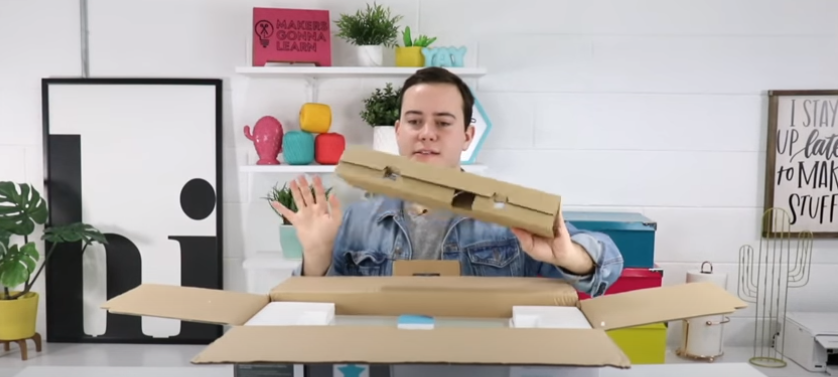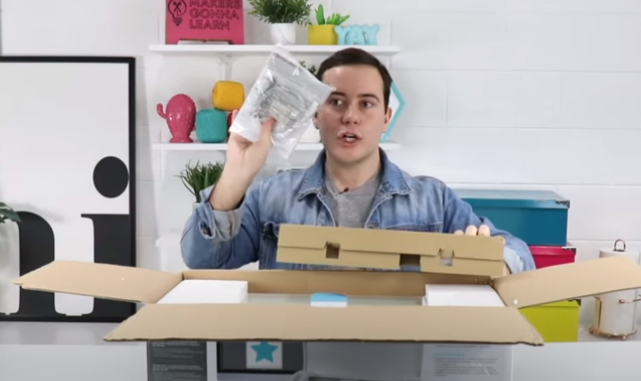 Cords – these were in a smaller box within the large Silhouette box.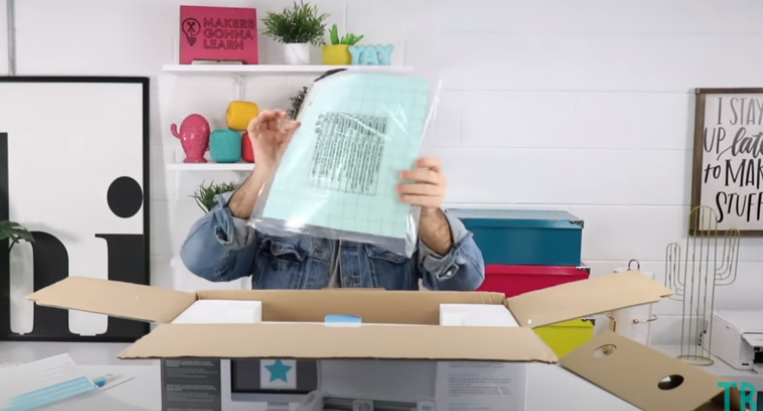 2 mats – standard cutting mat and light hold cutting mat
Pick me up tool
Scraper, hook, and spatula tools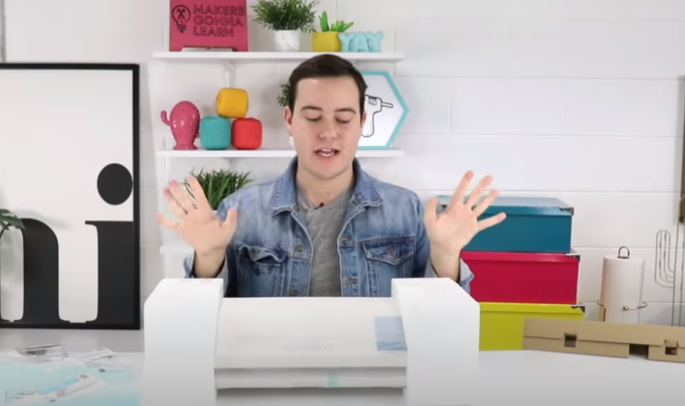 Lift the machine out of the box. Remove the pieces of Styrofoam and the material wrapped around the machine.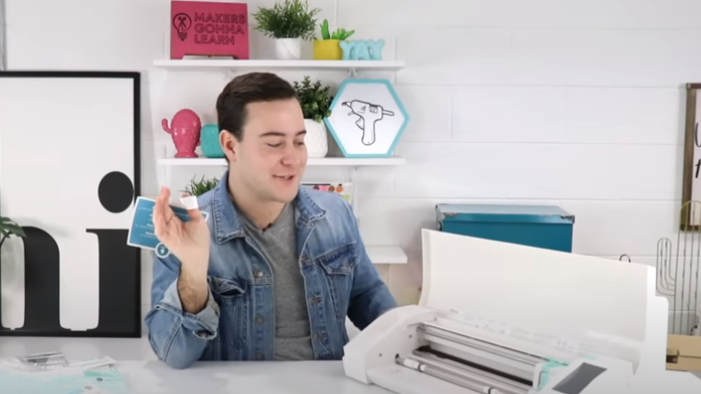 Open up the machine and carefully remove the pieces of tape that were there for shipping purposes. Once you have done this (and finished admiring your machine like Tanner), you're all set to start using your new Cameo.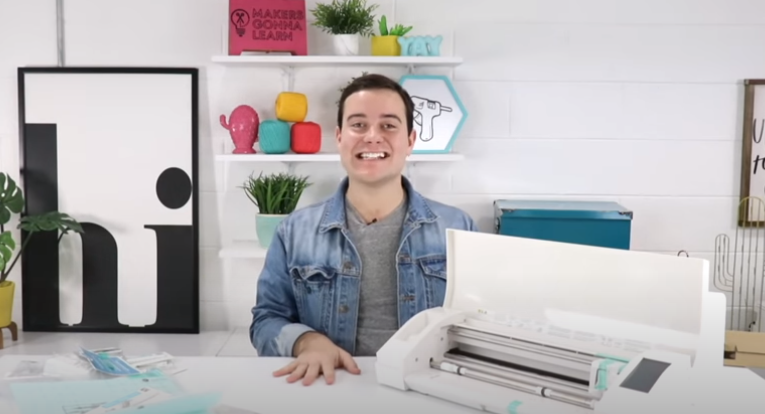 Once you have unboxed it, you're all ready to set up your Silhouette Cameo:
LET'S GET IT PLUGGED IN
Next up, we're going to plug in the cords. There are three different cords that you'll need to use with your Cameo.
The power cord comes in two parts – this is what connects your machine to the power outlet. Then there is a data cord. This is how you connect your Cameo to your computer.
Here comes the big moment! It's time to turn on your machine. The power button is right beside the spot where you plugged all the cords in.
FOLLOW THE MENU STEPS
You'll see a menu and it will walk you through setting up your machine. Choose your language. You will then be asked if you want to enable the help icons.
You can always turn these off later if you want but they can be really helpful at first. Finally, you'll be offered the opportunity to take a brief tutorial where it will show you a few of the basic functions and features.
That's it! Really easy, right? So what are you waiting for? There's no need to be intimidated. Get that Cameo out of the box and start creating!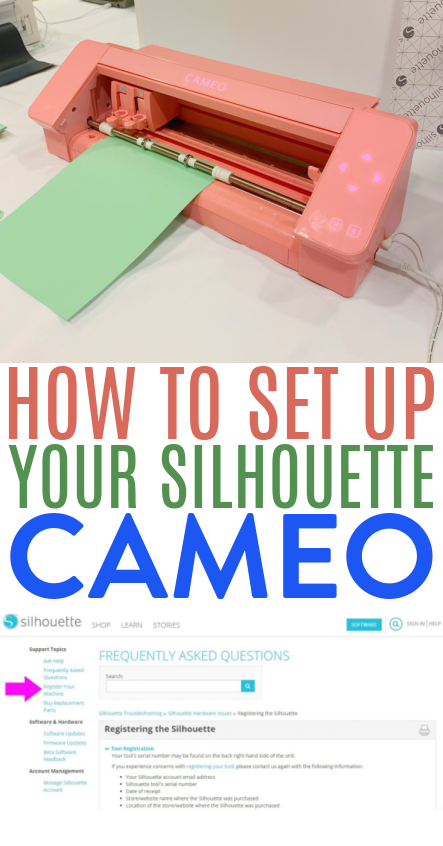 Tanner, Courtney, and the rest of the Makers Gonna Learn Team are all here because we love die-cutting and especially love sharing fun projects and tutorials with fellow makers. We are all great friends and are always having a blast when we are together- you will see this on camera, especially during live streams! We are here to inspire and support you in your crafting journey!