A Beginner's Guide to Cricut Infusible Ink
This information has been much requested! Cricut Infusible Ink is one of the new products recently released by Cricut and it has created quite a buzz. Cricut Infusible Ink is an amazing new type of heat transfer for your die cutting projects.
It creates such a beautiful effect that reminds many people of sublimation printing. However, this is so much easier to use! This Beginner's Guide to Cricut Infusible Ink will break down the basics for you and show you just how amazing this new product is! Get ready for some amazing Infusible Ink information and tips!
Did you know you DON'T have to use Cricut blanks with Infusible Ink? We did a head-to-head comparison of off-brand blanks and Cricut blanks.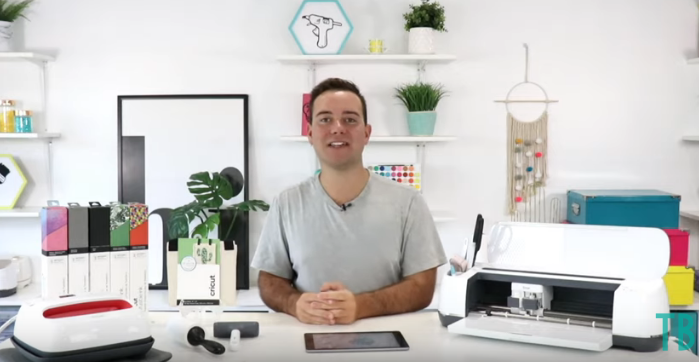 A Beginner's Guide to Cricut Infusible Ink
Let's start by talking about the products you'll need to make some amazing Cricut Infusible Ink craft projects. First thing to note is that this is currently exclusive to Michaels and Michaels.com. It will be expanding to other stores as well as to the Cricut website in October.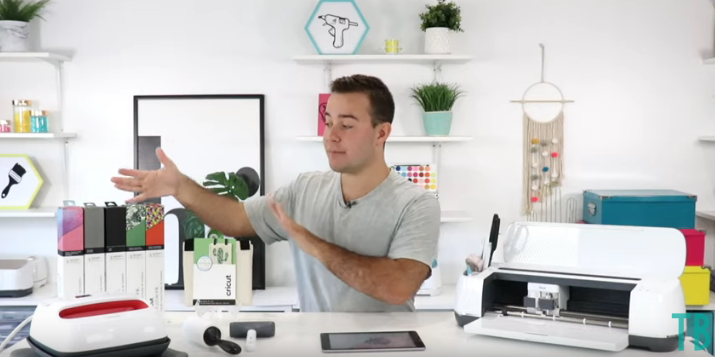 Materials Needed:
In each pack of Cricut Infusible Heat Transfer Sheets you get two 12 by 12 sheets. They come in a variety of colors and patterns. In the plain color packages, you get 2 of the same sheets. In the patterned heat transfer sheet packages, you get 1 patterned sheet and 1 with a coordinating plain color.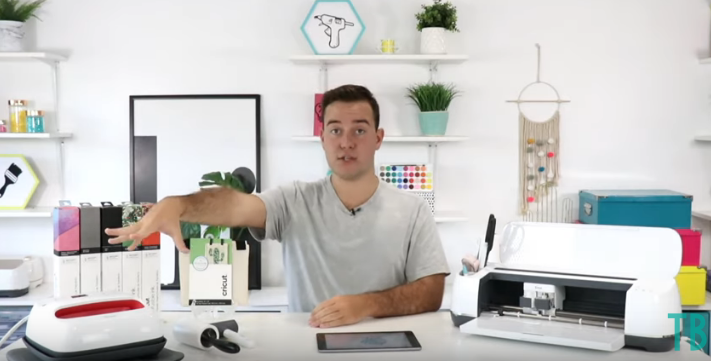 Along with the heat transfer sheets, you will obviously need a surface to transfer your design onto. We're working with a tote bag from Cricut today. It's important to note that Cricut Infusible Ink works well with material that is 95-100% polyester. It won't work with cotton materials.
The other important thing to keep in mind is that this product works best with white materials. It really won't work well with black or other really dark materials. This is different than your typical heat transfer vinyl which is like a decal that sits on top of the fabric. Instead, the color transfers right into the fabric – it's actually infuses into it! If you want to create a design on a dark colored fabric, you're going to want to stick to regular iron on.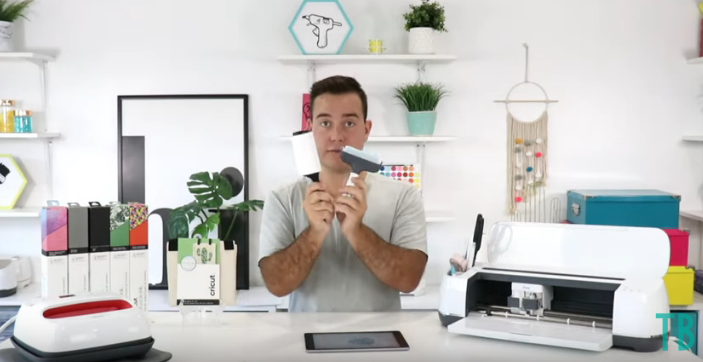 Some other tools you will want to have for these projects include: a brayer and a lint roller. You will also need your Cricut EasyPress and a Cricut EasyPress mat. It's also important to know that you must use white butcher paper with these Cricut Infusible projects.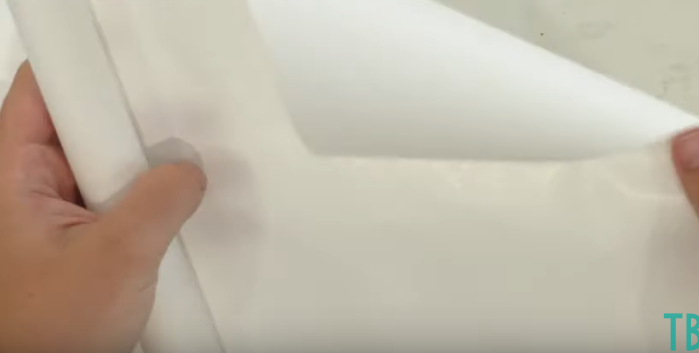 Each package of Cricut Infusible Heat Transfer Sheets comes with some white butcher paper. You get two sheets of it that are about 12 by 12 or maybe just a bit bigger in size but if you're planning to make multiple projects, you might need to have some extra on hand. Remember that it must be plain white butcher paper.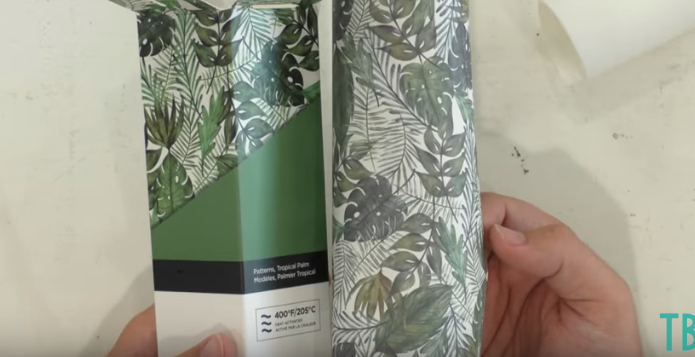 When you remove the heat transfer sheets from the packaging, the first thing you might notice is that they won't look nearly as vibrant as they were presented on the package. That's absolutely okay because once heated, that's when the magic happens. You will see that vibrancy come out in your craft project.
Making a Cricut Infusible Ink Craft Project:
To create our Cricut Infusible ink project today, we're also going to be using our split leaf philodendron cut file from our Makers Gonna Learn membership.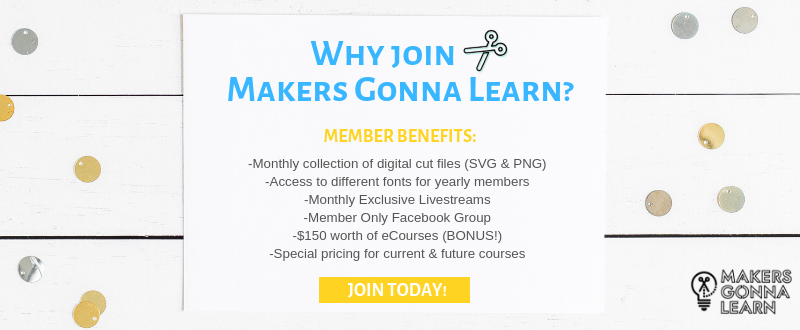 If you're not already a member, you should know that with your membership, you will be able to access hundreds of cut files and (as a yearly member) hundreds of fonts with more added regularly. Add to that a private Facebook group, free tutorials and workshops, and more! This is such a great membership – check us out here.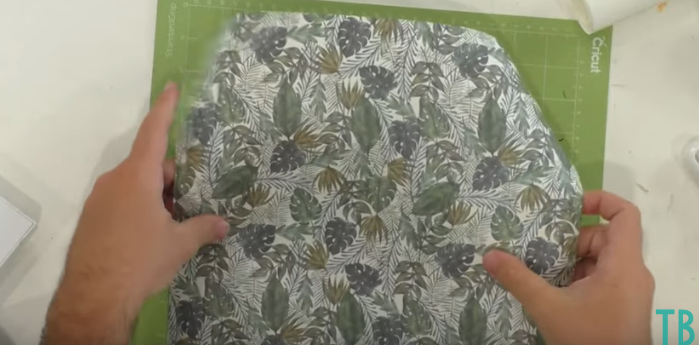 We'll begin by placing our heat transfer sheet down, patterned side up, on our cutting mat. The first thing we noticed when doing this was that it's quite a bit stiffer than our typical iron-on or vinyl.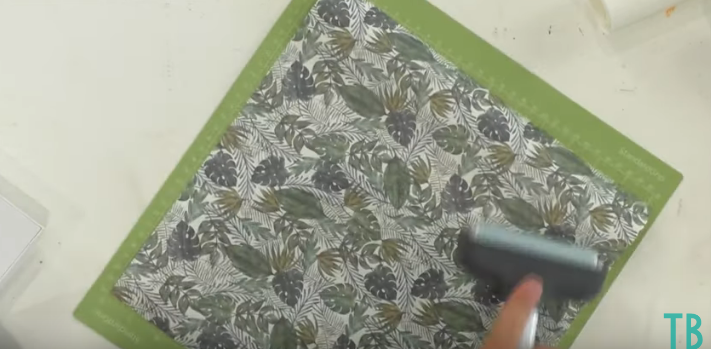 It's important to remember that you want to touch and handle this as little as possible. So, we're positioning it as needed and then switching over to using the brayer to really get it adhered to the mat completely.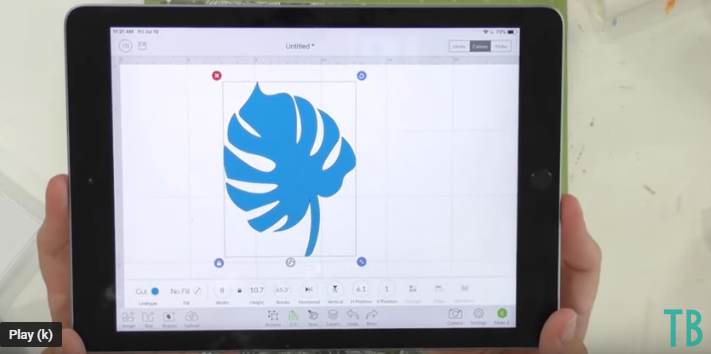 Let's head on over to Cricut Design Space to get our cut file ready for cutting. We've sized this appropriately for our tote bag. Once your design is ready to go, don't forget that you need to mirror your design. We don't have any text with our design today so it doesn't really matter which way our leaf cuts, but it's a good habit to form when working with the Cricut Infusible Ink.
Cutting and Weeding Our Project
Next, we need to choose our material. Under "Iron On", we can select "Infusible Transfer Sheet". It's going to remind us to make sure that we have our material on the mat right side up and to use our fine point blade. Now we can load our mat into our Cricut machine and start cutting. It's time to press that flashing Cricut button!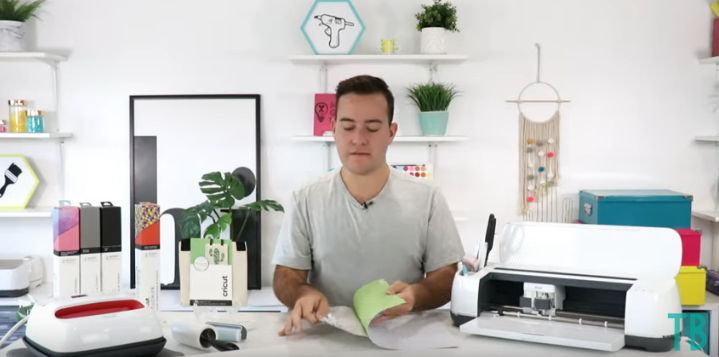 Once cut, it's time for weeding. We usually like to weed on the mat but Cricut doesn't advise it for this. So, we're going to flip it over and gently peel the mat away from the transfer sheet.
Remember two important things: 1) Do this slowly and gently because your cutting mat will snap if you bend it too much. 2) The ink is now going to be face down on your work surface. So, your surface needs to be really clean. You don't want any dirt or oils or anything to get on the ink.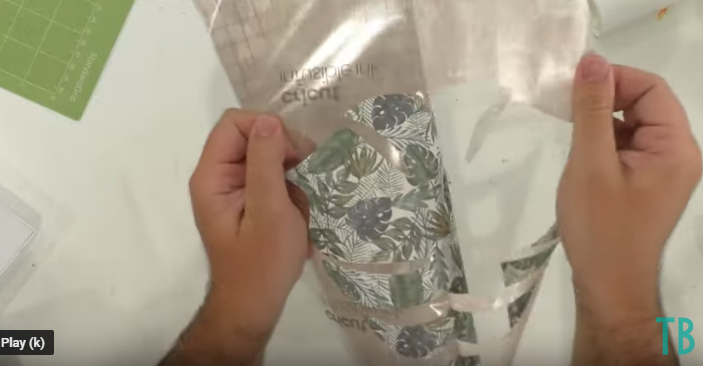 Now, start at one corner and gently begin peeling away the excess transfer sheet from your design. It's a little bit different to work with than your typical vinyl because it's thicker so just take your time until you get used to it. It really weeds quite easily once you get started!
Preparing Our Fabric Surface
I'm going to place my weeded design over to one side while I prepare the tote bag. You'll see that your design has a tendency to want to curl up so I'm going to use the cutting mat as a surface to hold it for me while I get our material ready. You want to place it somewhere safe because once again, we want to keep that ink clean.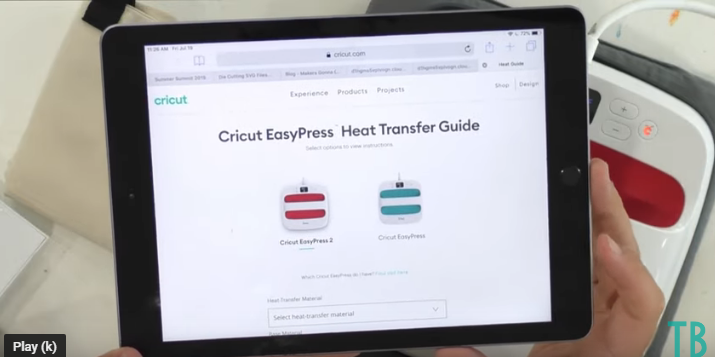 One great resource you're going to want to use is the Cricut EasyPress Heat Transfer Guide. Select which EasyPress you have, the Infusible Ink transfer sheet, and the material you're working with (in this case, our Cricut tote bag). This guide will give you all the details you need to know – what temperature to set your EasyPress at and how much time you need.
Not only that but it shows you a tutorial on exactly how to place your materials and how to use the EasyPress process. It's important to note one big difference with this and many other products that you might be using with your EasyPress. With the infusible ink, it says to use light pressure.
So, let's get our tote bag set up. The very first thing we need to do is to use the lint brush. Even though this is brand-new right out of the package, it's still very important to go all over it with the lint roller to remove any traces of loose fibers, lint, and so on.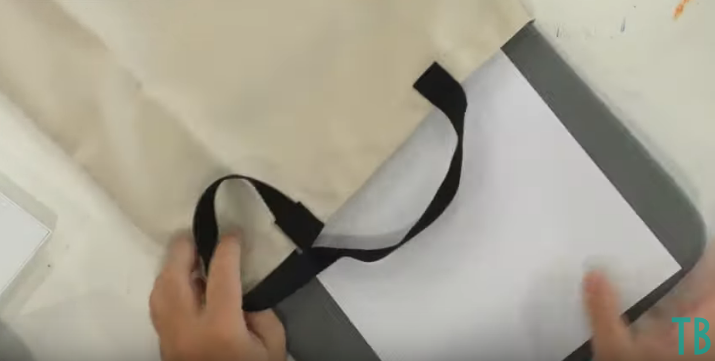 We need to place the EasyPress mat inside the tote bag, along with a sheet of white photocopying paper on top of the mat. Cricut recommends a sheet of cardstock on your mat or 4 layers of the white butcher paper in place of the photocopying paper but we've had good luck with this. The goal is to protect the EasyPress mat from any ink that might come through.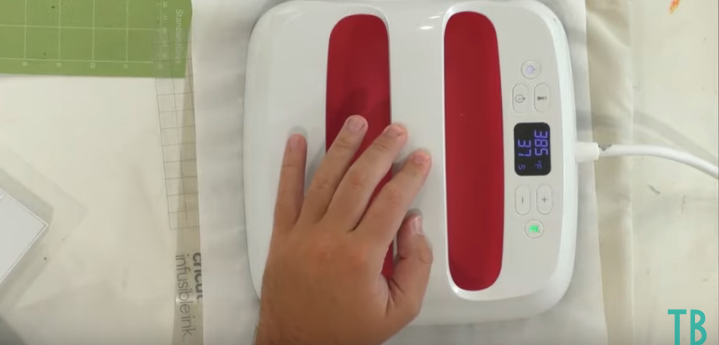 Once you have it set up and completely clean (it's not a bad idea to go over the bag with the lint roller one more time!), use your Cricut EasyPress to preheat the fabric for 15 seconds. This will help ensure that your surface is smooth and wrinkle-free. Let this cool completely before moving on to the next step.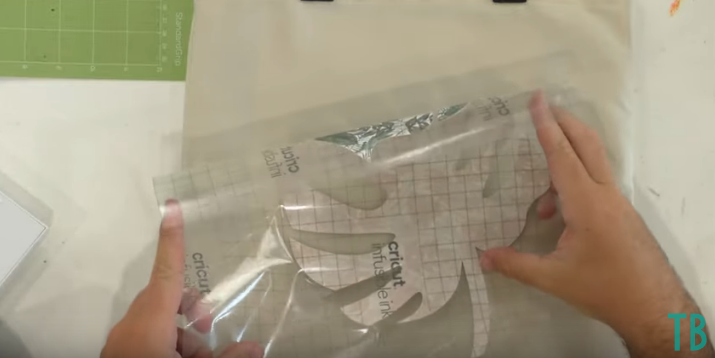 Next, the Cricut Infusible Ink design gets placed on the tote bag, face down (ink touching the bag), positioned where we'd like it to be. Place another piece of white butcher paper on top of that. Place your Cricut EasyPress on top of your design, ensuring that it has preheated to the required temperature. Remember to give it light pressure for the time given in the Cricut EasyPress Heat Transfer Guide.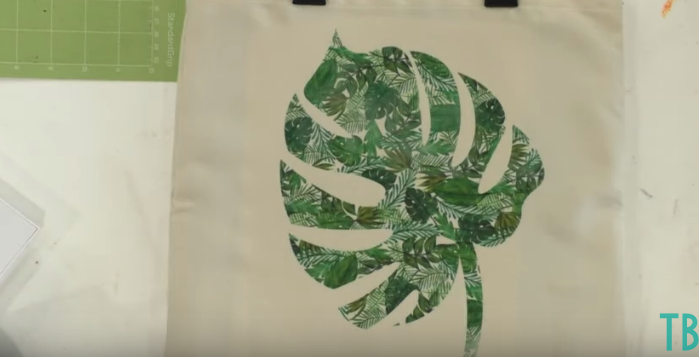 Carefully lift up the EasyPress and remove the butcher paper. Cricut recommends a warm peel so let it cool slightly and then slowly remove the transfer sheet. If it's adhering to your fabric, you can use a pair of tweezers to help lift it away.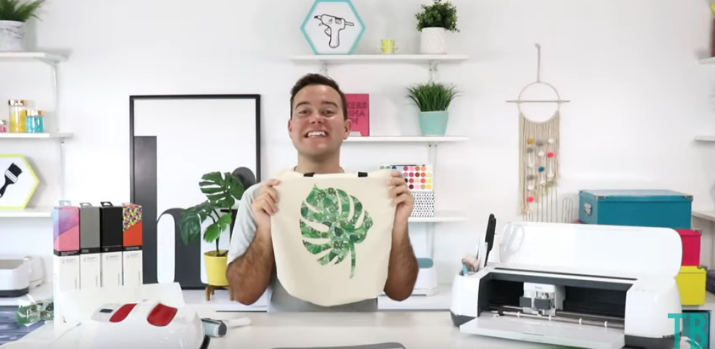 Look how crisp and vibrant this is! It's wrinkle-proof, peel-proof, crack-proof, and flake-proof! This is unlike any heat transfer product you've used before. What will you make with Cricut Infusible Ink?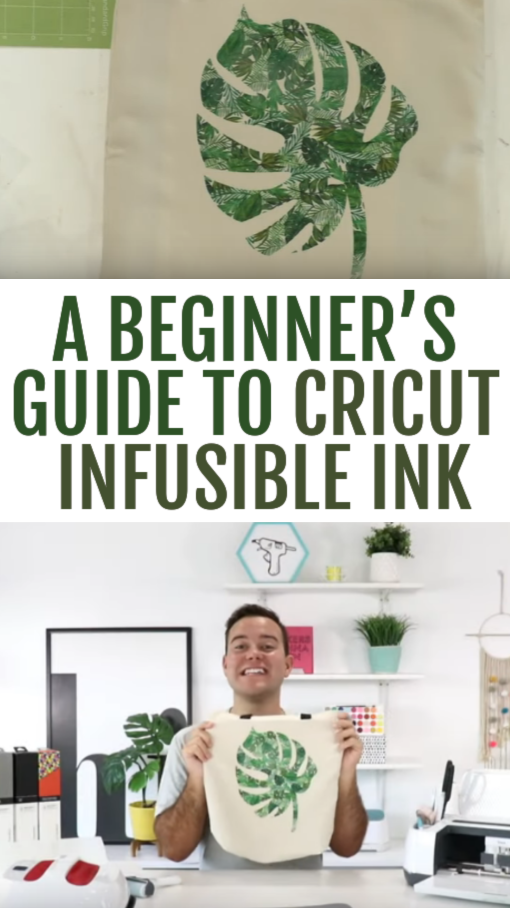 More posts you're going to love:
Tanner, Courtney, and the rest of the Makers Gonna Learn Team are all here because we love die-cutting and especially love sharing fun projects and tutorials with fellow makers. We are all great friends and are always having a blast when we are together- you will see this on camera, especially during live streams! We are here to inspire and support you in your crafting journey!