Air Fryer Sublimation
The title of this post might have you scratching your head – Air Fryer Sublimation? Yes! After hearing people talking about using their ovens and air fryers for sublimation, we wanted to try it for ourselves. Today, we are sharing our results with you!
We're going to give you all of our tips and tricks, recommendations, and pros and cons of using an air fryer or a Cricut Mug Press for your sublimation projects. We love using Cricut Infusible Ink and we were very excited to try this out!
For an in-depth look at exactly how to use the Cricut Mug Press, be sure to check out our post and video on that here. – All About Using the Cricut Mug Press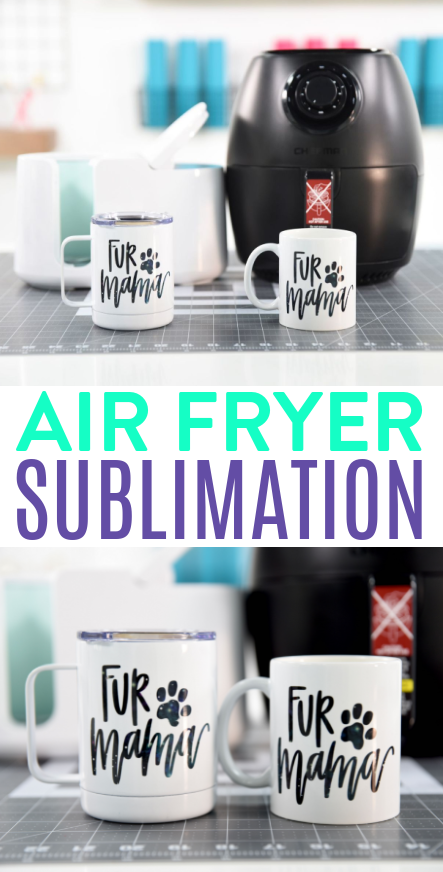 Air Fryer Sublimation
If you are wondering how to sublimate a mug in an air fryer and how it compares to using the Cricut Mug Press, this is the post for you.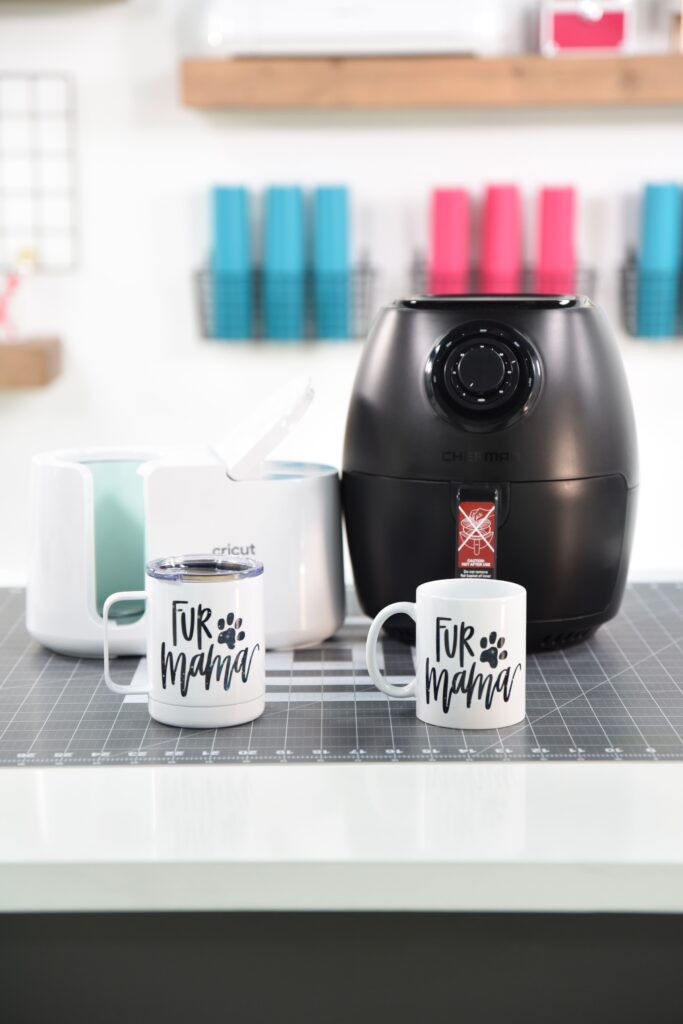 Supplies You Might Need:
Cricut Infusible Ink Mugs ***See more information about mugs below.
You can also use Cricut Joy Infusible Ink Transfers
Heat Resistant Tape– we highly recommend using this tape whether you are working with the Cricut Mug Press of the air fryer. You will need much more of the tape with the air fryer than for the mug press.
Heat-resistant gloves – these are essential if you are using the air fryer. You will during the sublimation process need to flip your mug, so you will need hand protection to do this as it will still be quite hot. We don't want anyone getting burned! With the mug press, since the handle is always sticking out of the press, it doesn't usually get that hot and you can easily remove the mug by holding the handle.
Let's talk first about choosing mugs for your project. If you are using a Cricut Mug Press, it has very specific restrictions on what size mugs you can use. Air fryers, on the other hand, come in a variety of shapes and sizes. So, it's a matter of trying various mugs to see what will and won't fit.
Dimensions for mugs to be used in the Cricut Mug Press:
11-16 ounces
Diameter of 3.2-3.4 inches
Maximum height of 4.72 inches
With the air fryer we used, all of these basic mugs that will fit into a mug press, also fit into our air fryer. Just like with the mug press, we could only fit one mug into the air fryer at a time.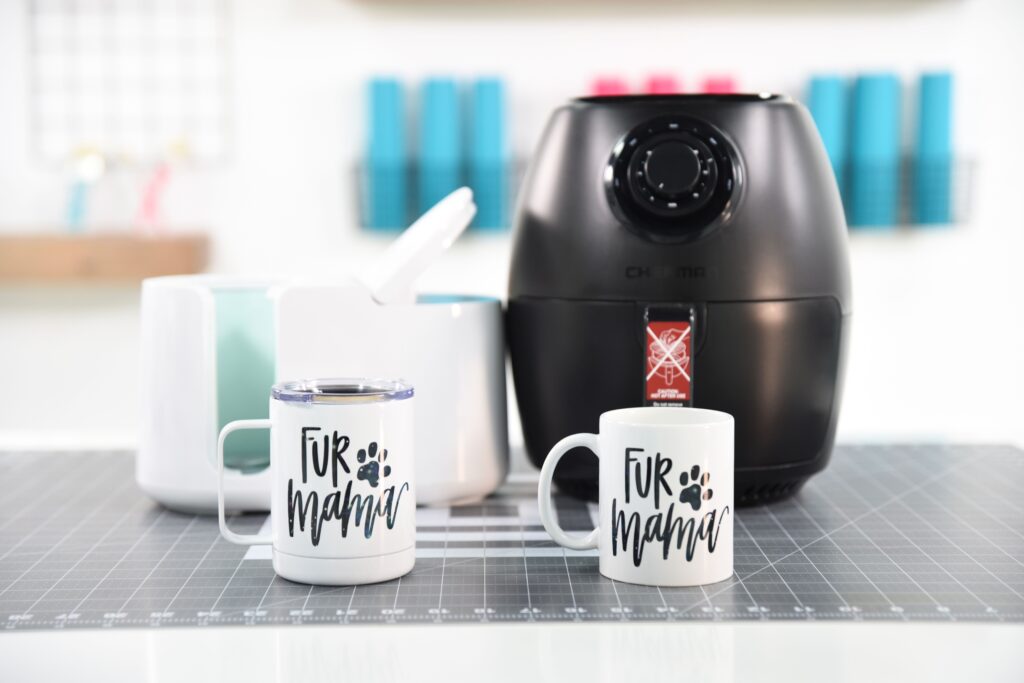 Prepping your mugs:
Whether for the Mug Press or the air fryer, it's so important to prep your mugs. We always place one of our hands down in the mug to hold it and then, using a paper towel and some rubbing alcohol, we clean it really well. This helps remove any bits of dirt and oils from your fingers (from handling it) and ensures a cleaner infusion of ink onto your surface.
A lint roller is also very helpful for clearing away any bits of debris that may be on your mug. Once cleaned, try not to touch the mug, other than by the handle.
Price Comparison between Air Fryer and Cricut Mug Press:
Remember that these are the current prices at the time we filmed our comparison. Prices may fluctuate without notice. We are only providing them for comparison purposes.
The air fryer that we are using is a Chefman TurboFry 3.6-Quart and it is currently listed on Amazon for $49.99. If you're looking for an air fryer for this, you need to be sure you get one that is large enough to hold mugs.
The Cricut Mug Press is currently listed on Amazon for a special price of $185 with a regular price of $199.99.
Using the Cricut Mug Press
Begin by preheating your Mug Press. Once you have created your Infusible Ink design, wrapped it around your mug, and applied the heat-resistant tape, you place it in the press with the handle sticking out.
The Mug Press has automatic settings on it. Close the lever and the Cricut Mug Press will sense what type of blank you are using, the room air temperature, and other conditions. Based on those it will heat your mug to the correct temperature and for the correct amount of time.
One thing about this – you won't know exactly how long it's going to take before your mug is ready. It could take 3 minutes or 8 minutes. The benefit of this, though, is that the machine takes all the guesswork out of it.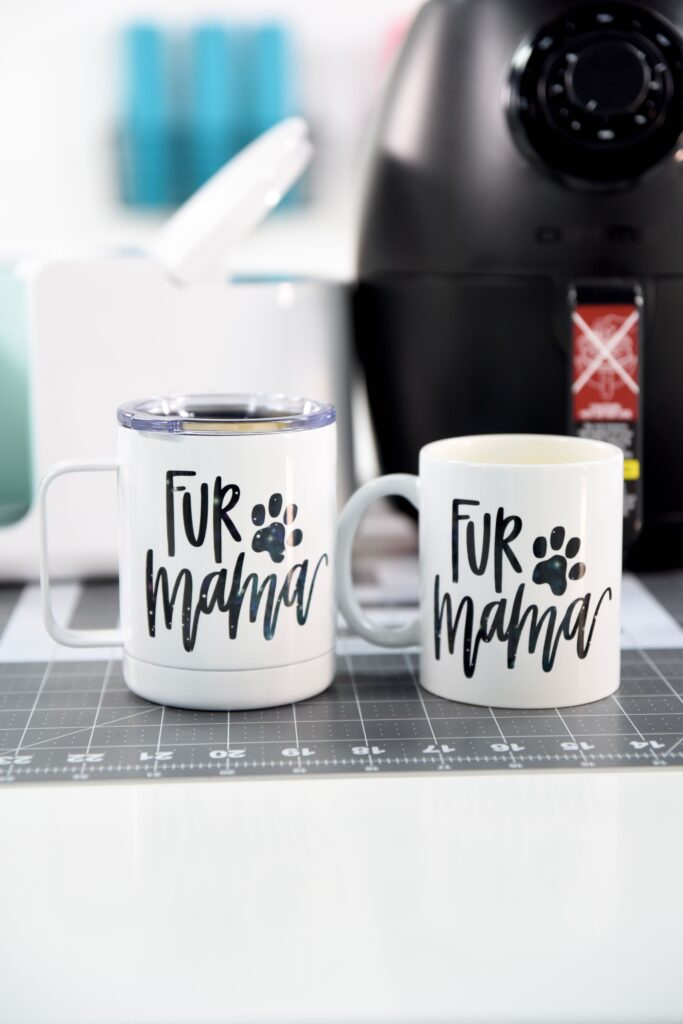 Using the Air Fryer
Prep your mug and add your design in the same way you did for the Mug Press. Heat your air fryer to 375 degrees. We turned the timer way up to 40 minutes. That is much more time than you need but you need to allow time for the machine to heat up.
Please be sure to read the instructions that come with the air fryer that you buy. For the one we're using, it requires 10-15 minutes to heat up before using. To be sure it is good and preheated, we wait until it gets to the 20 minute mark before using it.
Pull out the tray. Pop the mug into the tray and place it into the machine. Because there isn't enough space to stand the mug up, you have to lay it down on one side.
So, heat that side for 3 minutes, and then using your heat-resistant glove to protect your hand, pull out the tray again. Flip your mug over to the other side and put it back into the air fryer. Heat for another 3 minutes.
Whichever method you use for heating your mug, Cricut Mug Press or Air Fryer, when you take the mug out of the machine, you need to let it cool. We like to use our EasyPress mat for this. Place the mug on the mat and let it cool for 10-20 minutes. Occasionally, it will take even longer than that so be sure to handle it with care.
Once the mug has cooled down, remove the heat-resistant tape and peel away your design.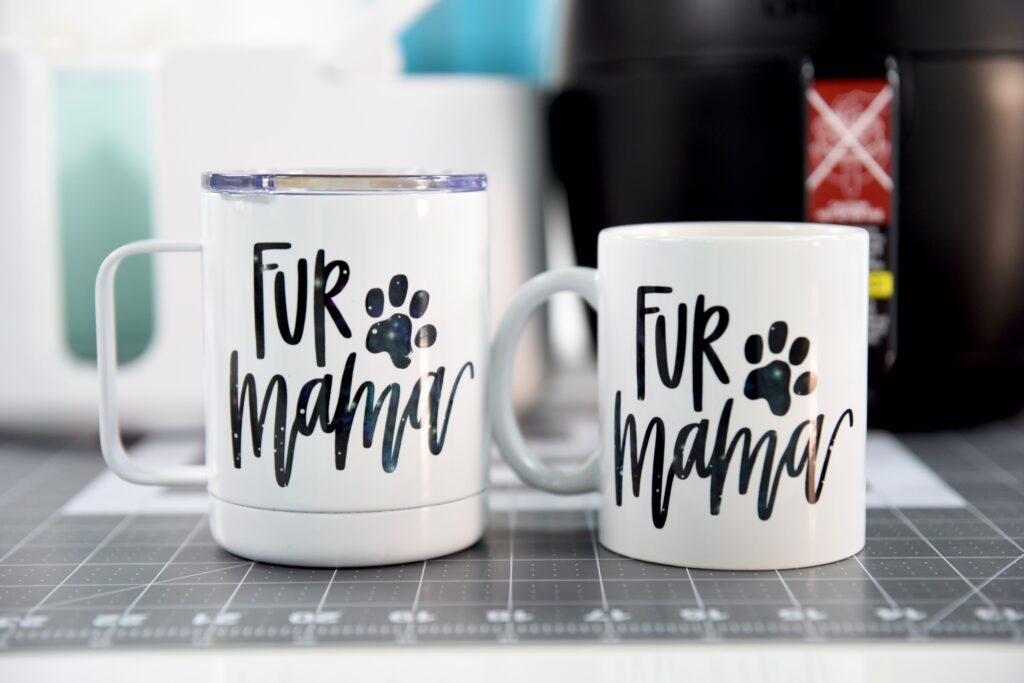 Comparing the Mugs
When making mugs using sublimation, you'll notice that there are two different styles of designs that people use. One is an all-over design that basically wraps the mug in color and adds a design within that color. The other style leaves the majority of the mug the same color it is to begin with, and then adds a design to that.
The Cricut Mug Press works beautifully for either type of design. However, we didn't have much luck with that all-over design in the air fryer. If you really love the type of design shown on the right, then we can highly recommend the air fryer method to you. It will take a little more tape and you will have to pay a little more attention to it, but it worked really well. At a savings of about $150 over the mug press, it would definitely be our choice.
If, however, you know that you want to be able to make the all-over designs or both kinds of designs, we suggest you go ahead and get the Cricut Mug Press for the best, most consistent results. This is the best choice if you don't want to be limited. If you want to see all of the mugs we made with the air fryer – brands and styles that we tried – be sure to watch the video below. Mug comparison begins around the 12:53 time mark.
Overall Pros and Cons
Of course, one of the most obvious pros and cons here is the price. The Cricut Mug Press is 4 times the price of the air fryer. However, the air fryer is more limited in the style of designs you can successfully use.
The mug press is safer to use because you can simply pick up the mug with the handle to remove it from the press. With the air fryer, you must wear heat-resistant gloves to remove the mugs (and remember, you have to do that twice for the air fryer).
The air fryer doesn't have the even heat distribution of the mug press. The mug press was specifically designed for this job, so of course, it has been tested and tested when it comes to making mugs. The air fryer was tested for making food. While we had good luck with the air fryer for certain kinds of mugs, it's important to note this.
With the mug press, it's sort of a set-it-and-forget-it-kind-of-process. You put it in and the mug press is designed to sense the air temperature of the room and so on, in order to heat the mug to just the right temperature and for just the right amount of time. With the air fryer, it can be a bit of a guessing game to get time and temperature right. And remember that different air fryers can perform differently). Even then, you have to time it yourself and be sure to turn it over at the halfway point.
Finally, depending on the design of the air fryer, you might be able to fit larger items into it than in the Cricut Mug Press. Bear in mind, that a larger air fryer may perform differently and you may not get the results you're looking for.
We Ditched The Cricut Mug Press For an Air Fryer – Here's What Happened

Tanner, Courtney, and the rest of the Makers Gonna Learn Team are all here because we love die-cutting and especially love sharing fun projects and tutorials with fellow makers. We are all great friends and are always having a blast when we are together- you will see this on camera, especially during live streams! We are here to inspire and support you in your crafting journey!