Creative Gift Ideas With Your Cricut
Hi everyone. Today on the blog, we are talking all about Creative Gift Ideas with Your Cricut. We are so excited to share some of our favorite DIY project ideas that you can use with your Cricut to make fantastic gifts for your friends and family. The number of different types of projects you can make with your Cricut machine are limitless.
Check out this gift idea too! You're going to love it! – DIY Wine Glasses with Vinyl Designs
That's one of the things we love about it! It's just so versatile! Don't forget – if you're feeling overwhelmed and need more training when it comes to using your Cricut and making fabulous projects like these, you simply must join our membership here at Makers Gonna Learn.


Creative Gift Ideas With Your Cricut
Want to create a gift to give to someone special? I bet one of these will be just perfect!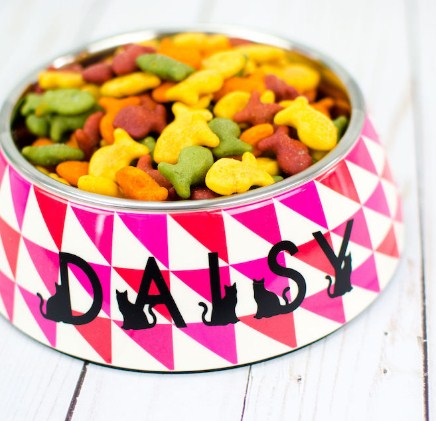 PET BOWL
I absolutely love this little bowl because it was made using our adorable little cat font! If you know someone who got a new kitten, you can make them this cute food bowl as a little gift. It's an inexpensive bowl but it's been customized and personalized with their cat's name.
We have a dog font available too so you can create gifts for dog lovers as well. You just know that any pet lover will love getting a super cute personalized gift like this! You can pick up these bowls pretty much anywhere and I just love being able to add adhesive vinyl to it.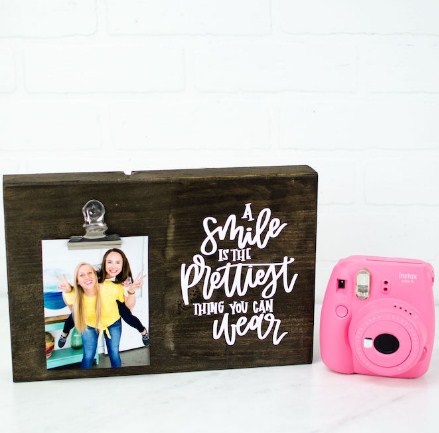 PHOTO FRAME
What I love about this gift idea is that it's super custom. It's a photo frame built from a very basic wooden plaque. We were able to take this simple little box and stain it. Next, you can actually use heat transfer vinyl on wood to add the fun pretty smile quote and this is a technique which I absolutely love!
Finally, we hot-glued that little clip onto it so that you're able to add a photo of you and your friend as a perfect gift idea. If you're looking for something inexpensive to make but want something that is so heartwarming and that they're going to want to keep for years, I highly recommend creating your own spin on this project for a gift that's really awesome.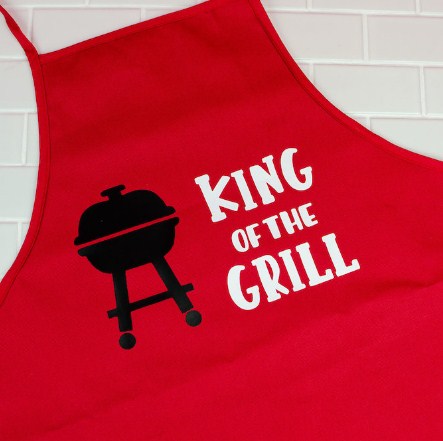 GRILLING APRON
Be sure to consider making your dad or grandfather this really fun apron with our King of the Grill cut file on it. You could even put some grill supplies in there too. You can add their name to it if you want and you're going to have,a really awesome Father's Day gift idea or a gift for any man in your life for any occasion.
It's really fun customizing aprons if you have someone in your life that loves cooking, grilling or baking things. This gift idea is just perfect for any of them! It's also super fun to be able to use heat transfer vinyl on something other than a t-shirt.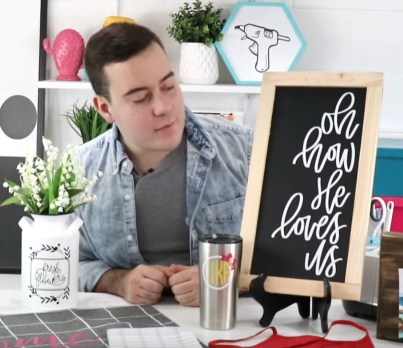 HAND LETTERED BOARD
If you're looking for an everyday gift idea, we highly recommend using some of our hand lettering pieces of art like this Oh How He Loves Us file on different types of boards. We picked up this chalkboard from Michaels and added the cut file.
The hand lettering looks really great! There are thousands of cut files to choose from on our membership site. Be sure to head on over there and check them out.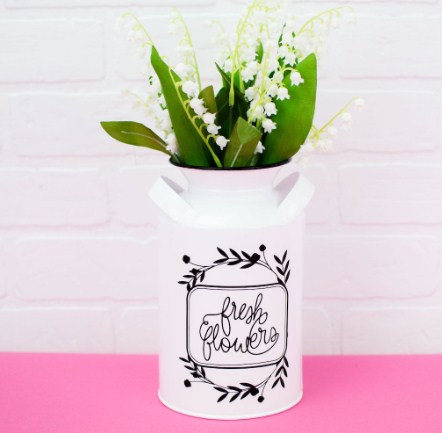 FLOWER VASE
It's really easy to add some vinyl designs to simple items like a tumbler, kitchen towels, or this fun container that we turned into a flower vase. We used our fresh flowers cut file which I love but we did it with a bit of a twist.
This is supposed to be a two or three layer project but to make it a look a little bit more farmhouse, we color-synched all of the colors to make the design just black. The flowers and the kitchen towels would go great put together as a gift, say for a housewarming or other similar occasion.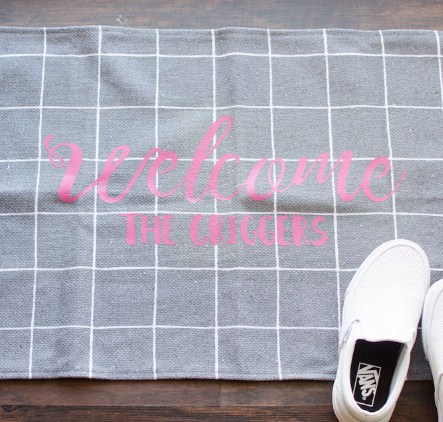 WEDDING GIFTS
Wedding gift ideas are super fun to make with your Cricut and there are so many different things you can do. We were able to make this doormat using our fonts! What I love about it, especially for the doormat, is that we were able to use two complementing fonts.
These make fantastic wedding gift ideas that you could use for your friends. I know that they would appreciate something custom from you and they will love it in their homes forever.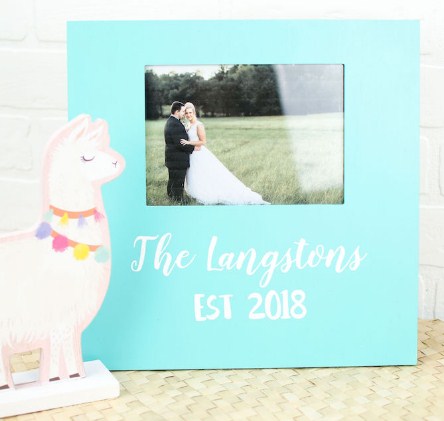 I love these different types of frames because there's space there – it's like they know that we wanted to add some vinyl down here and it's really fun! There are so many ideas and so many amazing things that you're able to make with your Cricut.
I hope you enjoyed these Creative Gift Ideas with Your Cricut. Which one was your favorite?
Tanner, Courtney, and the rest of the Makers Gonna Learn Team are all here because we love die-cutting and especially love sharing fun projects and tutorials with fellow makers. We are all great friends and are always having a blast when we are together- you will see this on camera, especially during live streams! We are here to inspire and support you in your crafting journey!