Creative Ways To Store Vinyl
When you a die-cutting crafter who crafts a lot, you know that storing your craft supplies and keeping your crafting space neat and tidy can be a bit tricky. This is especially true when it comes to vinyl, so today, we want to share some Creative Ways to Store Vinyl with you.
If you're like us, you want your vinyl rolls close enough to be able to go through the bin and quickly see which colors you have before you open a brand new roll. This way you can grab them and make a new vinyl craft project any time you want. Keep reading to see how we accomplish this!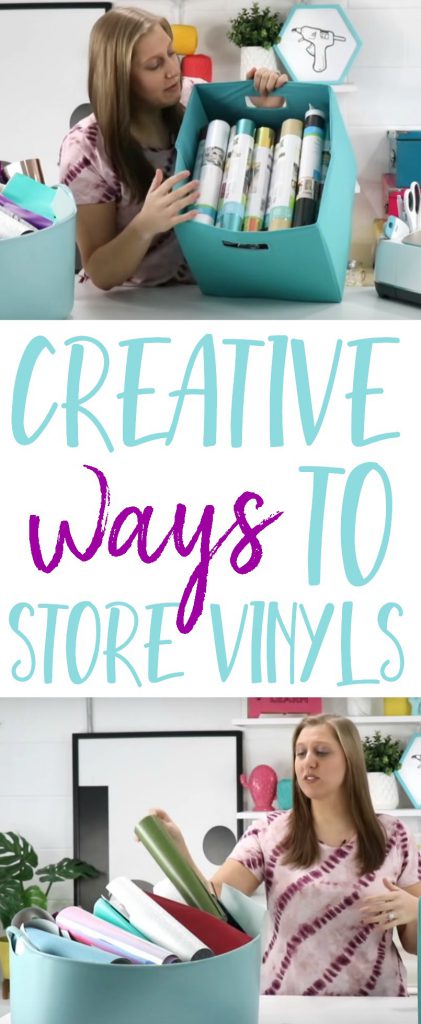 Creative Ways To Store Vinyl
If you have a die-cutting machine and you craft as much as we do, you may use up a lot of vinyl.  We have little bitty pieces of extra vinyl that we don't want to throw away yet and we have a ton of fresh rolls of vinyl that we need somewhere to store.
The question that I'm answering for you guys today is what are the products that you need to use to store your vinyl, where to find them, and where is the best place to store it – for both those tiny little scraps and those brand new rolls of vinyl waiting to be used!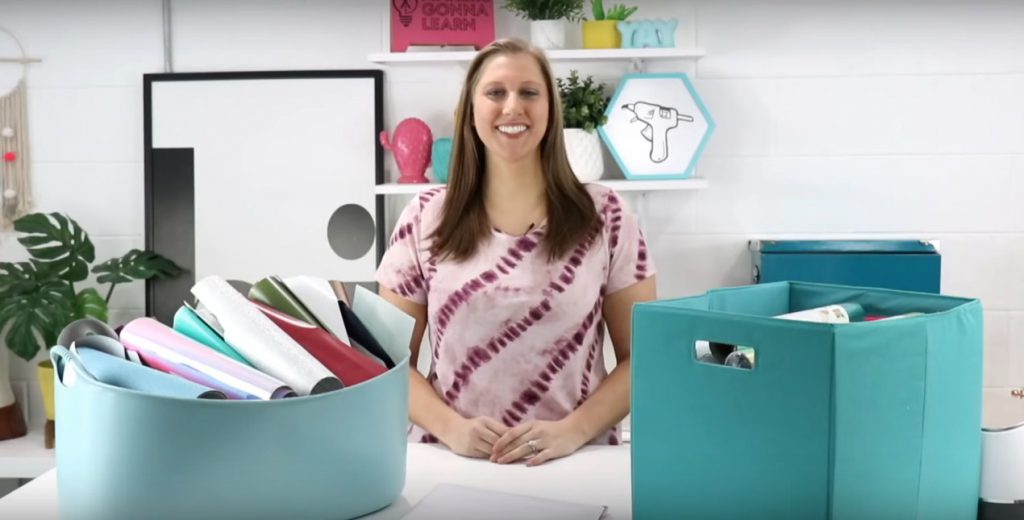 Storing Scraps of Vinyl
We have all of our scrap pieces labeled. For example, with a piece of HTV, we've used Sharpie on the back of it (on the transfer sheet) that says what it is. So, it will say Sports Flex or everyday iron on and things like that. This is a perfect way to make sure you know exactly what type of heat transfer vinyl you have because sometimes it gets a little confusing.
We like to keep our smaller scrap pieces in binders. I like these in binders because it's all organized for you. If you open it up, you'll see that we have those plastic page protectors inside the binders. The photo protectors work perfectly for those little mismatched scrap pieces of vinyl. Then we have bigger sheet protectors here for longer, larger sheets.
Looking for ways to use up those scraps? Check out these projects you can make with vinyl scraps!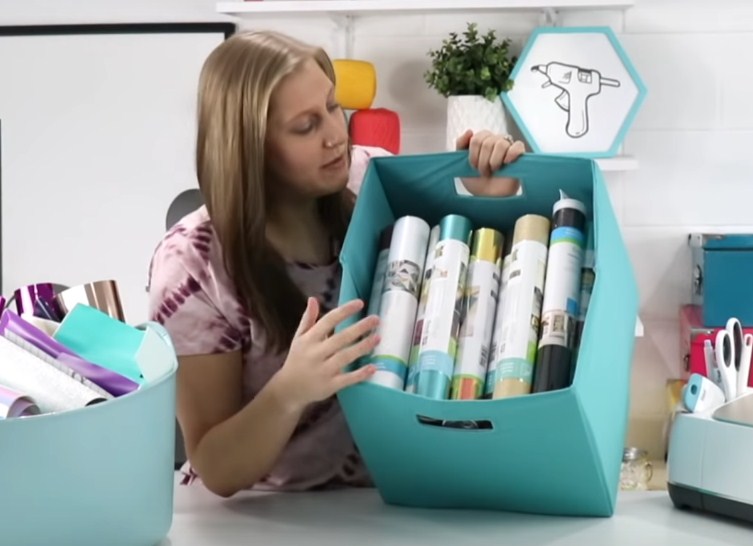 Storing Rolls of Vinyl and Transfer Tape
First up, I'll start over here with this large bin. We got these bins from Ikea. These are silicone plastic bins which are easy to carry, very light, and very durable. We have at least 50 rolls of vinyl here – so these bins really hold a lot.  
We have a clear box where we store all of our transfer tape. It's a completely separate area from the other bins because we want all of our transfer type in its own spot so that we can grab it easily.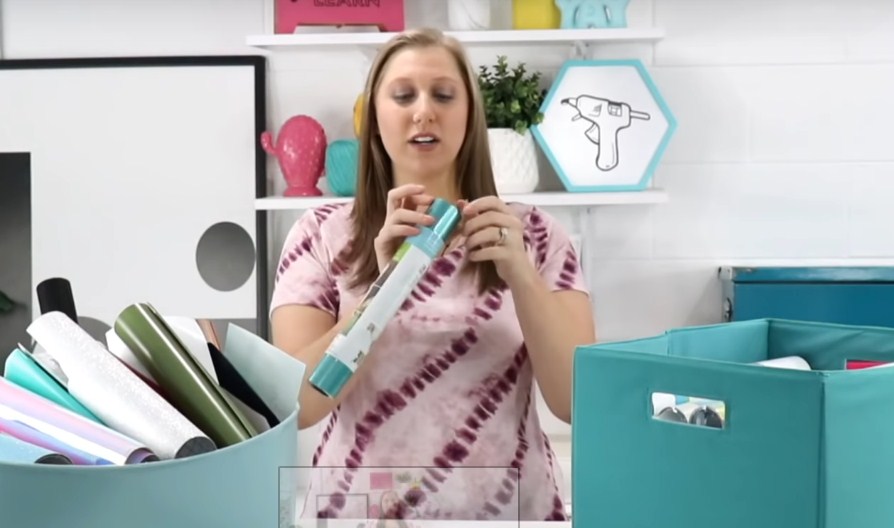 Using Cube Organizers
Then, we also have two big wooden organizers that hold all these awesome cubes. These hold eight cubes apiece and we just love them! These are absolutely the perfect size to store all of the brand spanking new rolls of vinyl. We have two drawers of iron-on and new rolls that we haven't even touched and we want these to be kept really safe, so we have them in an organizer like this.
You can buy these very cheaply at places like Walmart. They have the Mainstays brand of organizers that have three cubes in it. These cubes fit these rolls of vinyl like a glove! My favorite tip for you is if you're looking for vinyl, simply pull the drawer out and you can really see the colors a lot easier. Or you could even go as far as color coding these by putting little sheets of paper in as dividers and organizing the rolls by color.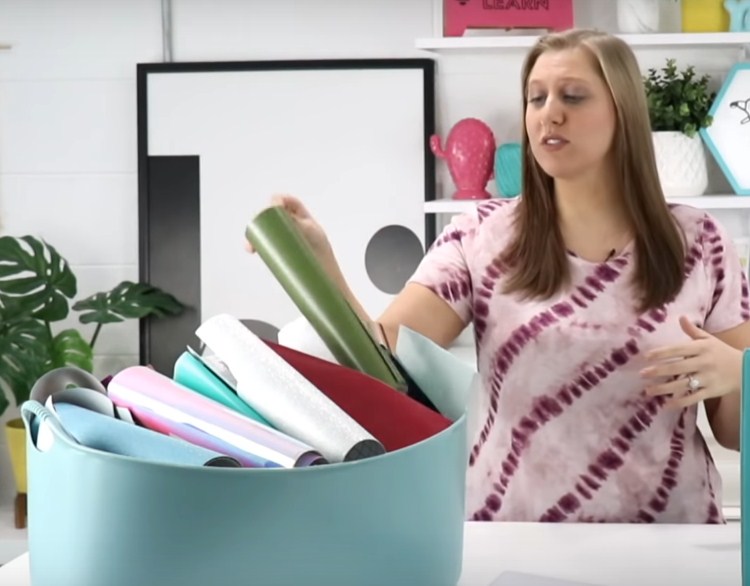 The more you organized, the better! You'll waste less time, and your project will probably even turn out better because you're not rushing around trying to find everything you need!
I love when everything is in its place and I hope you do too! Hope you enjoy this blog post and that you've learned some great ideas for how to be creative in storing vinyl.
Meet the Makers Gonna Learn team! Tanner, Rachel, and Courtney are all here because we love diecutting and especially love sharing fun projects and tutorials with fellow makers. We are all great friends and are always having a blast when we are together- you will see this on camera especially during live streams! We are here to inspire and support you in your crafting journey!