Cricut Mistakes You're Probably Making
If you're new to making die-cutting craft projects – or maybe even if you're a more seasoned crafter – there are some Cricut mistakes you just might be making.
We see these again and again. These are problems we see cropping up with Cricut beginners and preventing them from getting the best results from their crafting. That's why we wanted to go through these mistakes and show you how to fix them!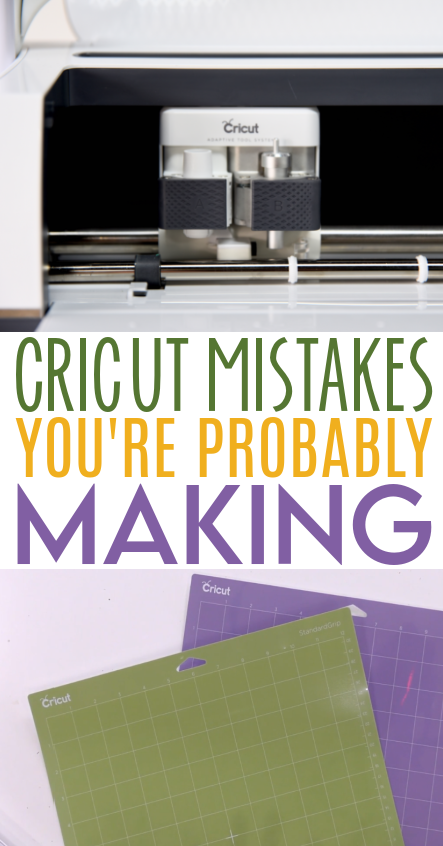 Cricut Mistakes You're Probably Making
Our tips and tricks will help you not only to get better results for your finished crafts, but they can save you time, frustration, and money!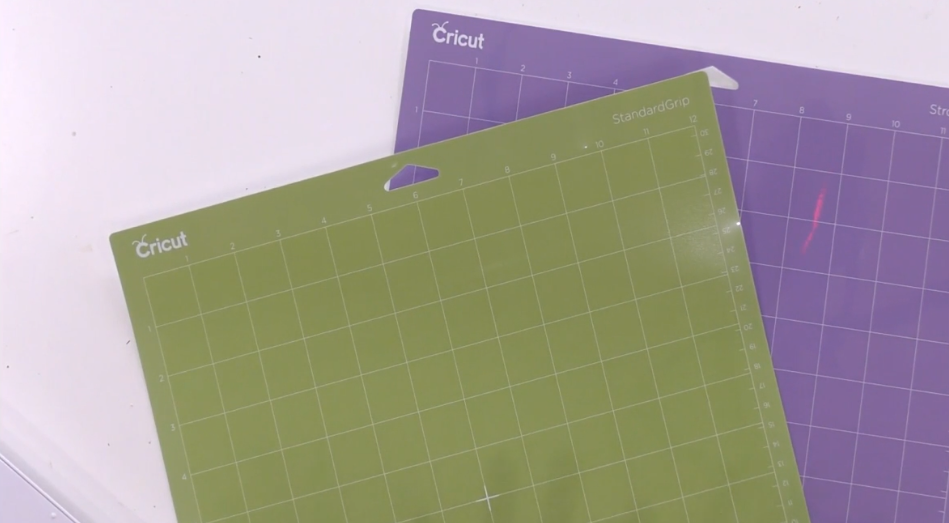 1 – Using the wrong mat.
If you use a mat that isn't sticky enough, your material could slide around and it won't cut properly. If you use a mat that is too sticky, you may have trouble weeding it and removing the material from the mat without damaging it. It's really important to learn which mat is the right one for the project you're making and the materials you are using.
The blue LightGrip Mat is the least sticky. This should be used for more delicate materials such as vellum orreally thin, lightweight cardstock.
The green StandardGrip Mat is stickier than the LightGrip one. It's your basic mat used to standard die-cutting projects like those using vinyl, HTV, or thicker cardstocks.
The purple StrongGrip Mat obviously is even stickier than the StandardGrip one. This is for glitter iron-on or chipboard, basswood, and balsa wood. It is very sticky! In general, it will be used in your Cricut Maker with the knife blade.
The pink FabricGrip Mat says what it's for right in its name. This is for fabric, felt, bonded fabric and so on. These are things you will be cutting in your Cricut Maker with a rotary blade or in the Cricut Explore Air 2 with the fine point blade to cut paper-thin felt, thin faux leather, and bonded fabric.
The two mats we use the mat at Makers Gonna Learn are the StandardGrip Mat and the StrongGrip Mat.
Cricut cutting mats – which one to use when?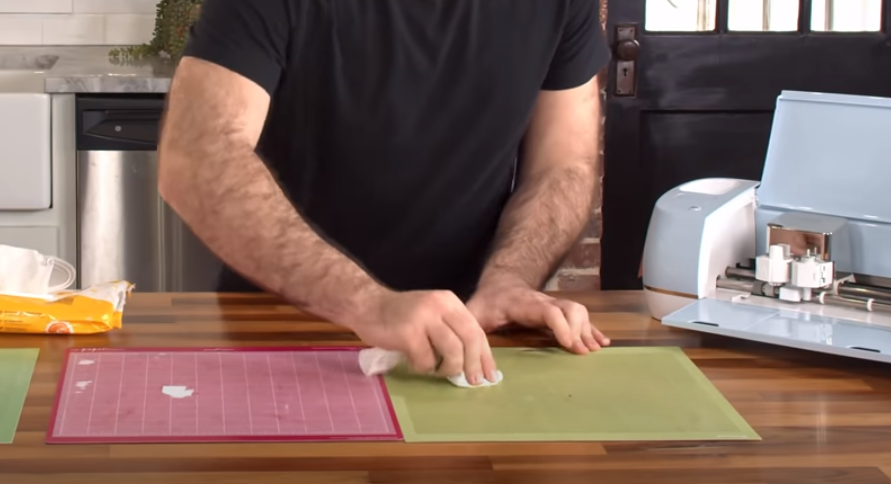 2 – Throwing away your mats when they still have life in them.
Before you throw away a mat, try cleaning it! We have found 3 different methods that work well for us. Our favorite is simply wiping them off with baby wipes. You'd be surprised at what great results you can get from that!
Obviously, if you have snapped the mat. it will have to be replaced. And eventually, the wear and tear is just too much to clean away and you'll need to replace your mats. But we find that many people replace them much too quickly. Get more life out of them and save money!
Three ways to clean your Cricut mats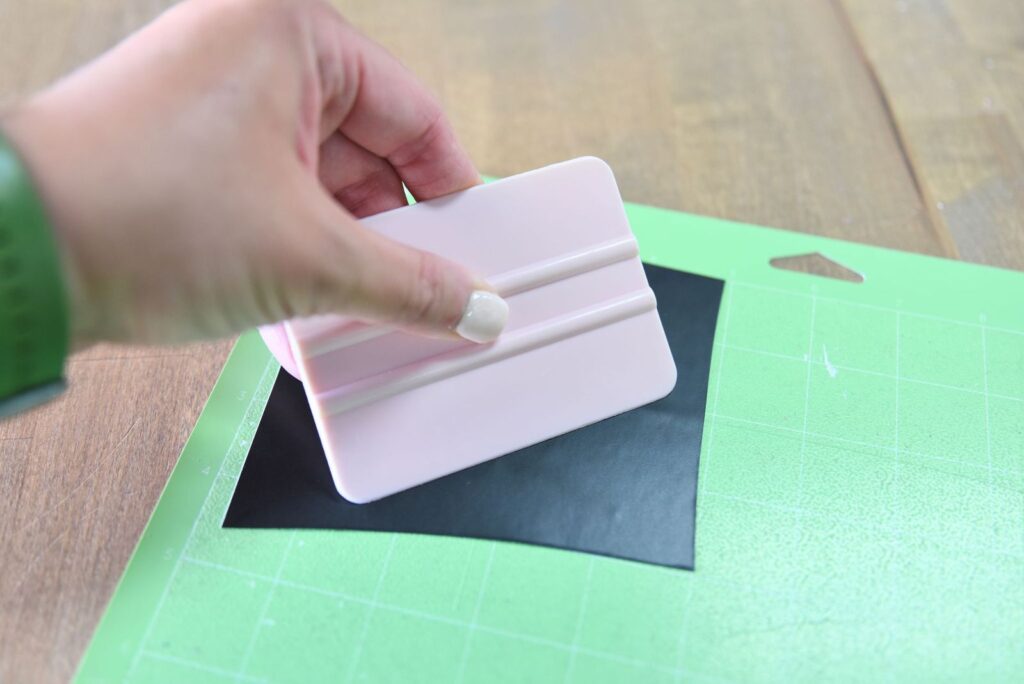 3 – Not burnishing your vinyl.
Using a scraper or squeegee tool, you want to burnish your vinyl to the mat to get the best adherence. We like to weed on the mat, so we burnish after cutting and before weeding to make the whole process much easier. Finally, we also like to burnish our transfer tape down over our design to ensure that it's going to stick really well.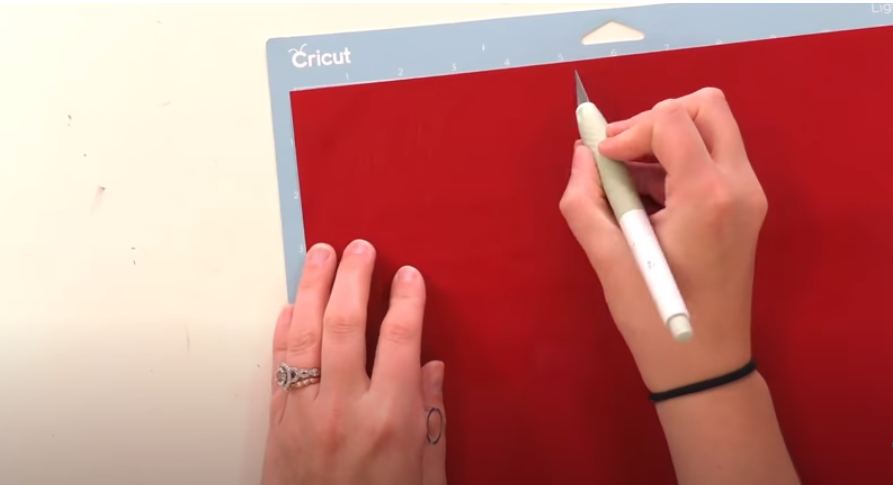 4 – Not trimming away the excess vinyl before weeding.
We like to use the Cricut TrueControl Knife to cut away the excess vinyl from around our design before we start weeding. This is a great way to save money because that excess vinyl can be saved as scraps for another project!
5 – Not weeding on the mat.
We mentioned this already, but it's worth saying again. We love to weed on the mat. It's like giving yourself an extra hand to help hold down your design and it makes the weeding process go much more smoothly.
If you're worried about ruining your mat by resting your arm on it, simply turn your mat around so that the design is much closer to you. Problem solved!
Weeding vinyl hacks you need to know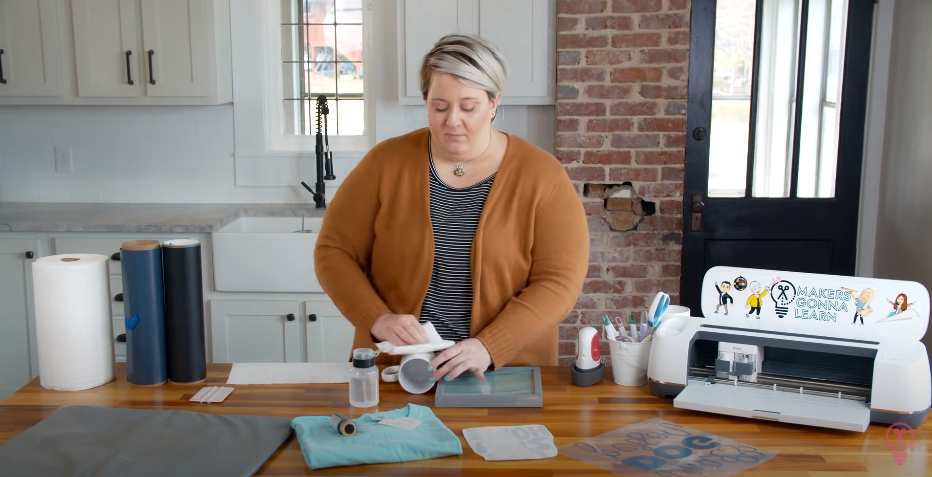 6 – Not cleaning your project blanks with alcohol.
When working with non-porous project blanks such as mugs, tumblers, and glass frames, be sure to clean them well with a paper towel and some rubbing alcohol. This will remove any traces of oils from your fingers touching them, as well as other dirt and debris.
When you start with a clean surface, your vinyl will bond to the surface much better and last much longer.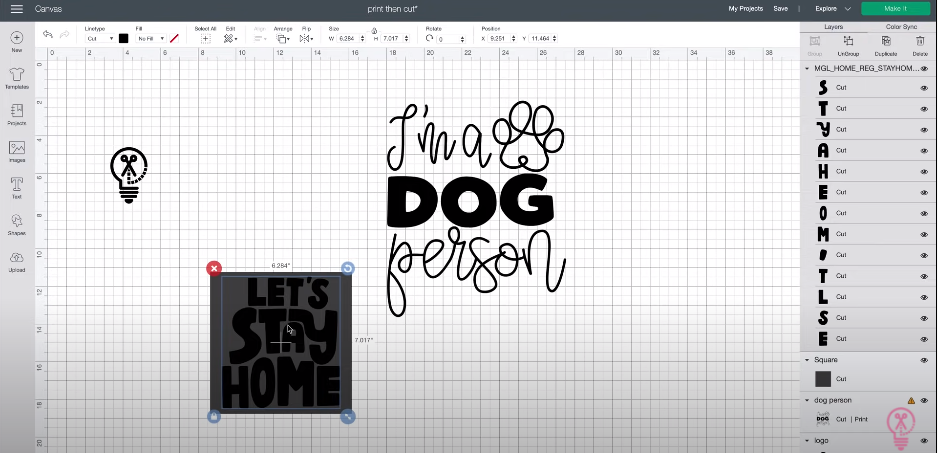 7 – Not using a shape to visualize your project for sizing.
Our best tip for properly sizing your vinyl designs is to add a basic shape to Design Space to represent the blank that you're using. Measure the working space you have to use for your design and add a shape with those dimensions to Cricut Design Space.
We even like to make it a color that at least roughly represents that color of our blank for even better visualization. Now, when you create your design, you can add it to the shape and really see what it will look like when completed. This will help you size it perfectly!
For more tips, check out our post on sizing and placing vinyl.
8 – Not saving your projects as you go in Design Space.
It is SO important to save your projects in Design Space as you work on them. Design Space is known to have glitches from time to time and you just don't want to lose all the work you've already done.
Save it every so often so that even if something does happen, you will have to start over from scratch.
9 – Not kerning your cursive fonts.
This is something that is often missed by beginners but it's so important to add that polished, professional look to your projects. When using a cursive/script font, you have to kern them. Kerning means to connect them together so they are joined up just like the they would be if you were writing in cursive by hand.
To kern your fonts, begin by selecting your text. Ungroup. Select all but the first letter of the word. Using the arrows on your computer keyboard, move those letters over to join them as desired. Now, select all but the first two letters of the word. Use the arrows again to move the letters over.
Repeat until the entire word is joined together. Once you have the text the way you want it, be sure to select it all and choose Weld to keep them together when it cuts.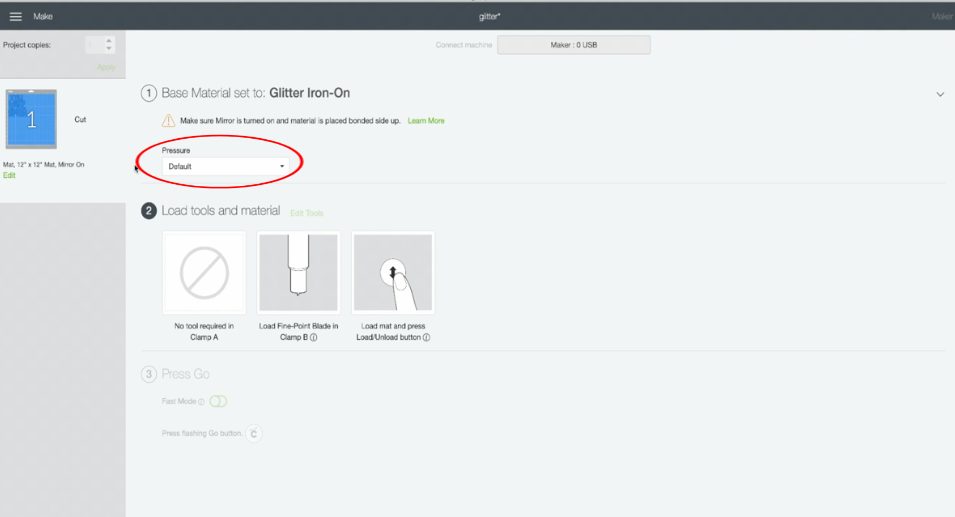 10 – Changing your blades too frequently.
When your blades stop making those perfect cuts, what is the first thing you do? If it's "change the blade", we have a money-saving tip for you.
Instead of changing the blade, go into your settings as shown above. After you click Make It, you'll see on the screen an option to change the Pressure. Change that to "more pressure" and you'll get more uses out of that dulling blade!
11 – Not inserting the blade into the clamp properly.
Sometimes we see people talking about an issue they're having with their machine not cutting properly and once we talk it through, we realize the problem. Their blade has not been inserted into the clamp properly.
When you put the blade into the clamp and push down, you want to feel a little click. As you can see from the photos above, when you look at the one on the left, you can see that there is some space between the lip of the blade housing and the clamp. You need to push that blade housing all the way down so there is no space there.
These mistakes are easy to make, but luckily, they are easy to fix too. Be sure to pin this post so you can refer back to all of our Cricut tips and tricks whenever you need to.

Tanner, Courtney, and the rest of the Makers Gonna Learn Team are all here because we love die-cutting and especially love sharing fun projects and tutorials with fellow makers. We are all great friends and are always having a blast when we are together- you will see this on camera, especially during live streams! We are here to inspire and support you in your crafting journey!