Cricut Peek-a-Boo Card With Ink Blending
If you're looking for a fun DIY card you can make with your Cricut, this is it. Today on the blog, we're breaking down how to make a Cricut peek-a-boo card with ink blending. This is a fun Cricut card tutorial that you can make today. If you're a Cricut beginner, paper crafts are a great place to start! This is a simple die cutting craft project that you can make in very little time, giving you a custom greeting card you can give to a loved one.
Cricut Peek-a-Boo Card With Ink Blending
Materials Needed to Make this Card:
Cricut die cutting machine
Cut file from the Makers Gonna Learn membership
White cardstock
Ranger Distress Oxide Ink Pads in the following colors: Antique Linen, Brushed Corduroy, Vintage Photo, Walnut Stain, Worn Lipstick
Makeup blending brushes
Cricut fine tipped pen in the color "Crystal"
Foam adhesive
Scissors for cutting the foam adhesive
Liquid adhesive
Crystals or other embellishments if desired
How to Make the Peek-a-Boo Card:
Let's get started by going over to the Makers Gonna Learn cut files. and downloading the cut file "Bear".
Upload the cut file into Cricut Design Space. If it ends up so big that you can't even see it, like it was for us, just resize it on your canvas to make it easier to work with.
To make our card creation easier we're going to bring in a square and create our card panel. Click on the unlock button on and change the size, making it four and a quarter by five and a half. This is a standard A4 size which is going to be perfect. You can get A4 sized envelopes in many craft or office supply stores like Michael's or Hobby Lobby. Once we have that done, we're going to lock it up.
You will see that the bear is still too big for our card panel, so we're going to make him a little bit smaller. Bring him forward and place him over the card shape so you can really see just how it will look together.
Now we're going create a window by grabbing a circle shape again and placing it right on the center. Check your sizing and change it as needed. We want to end up with the bear peeking out of that window. Once you have it sized and positioned the way you want it, select the two shapes (the card background and the circle) and select slice. This will remove the circle and when you go to cut this out, it will cut out that circle window for you.
Now we're going to click "Make it" and cut these out of white cardstock. Then, we'll be all set for coloring!
How to Color the Card:
We're going to set aside the card panel and start with the bear. Don't forget to protect your work surface when working with the inks!
The first color we're going to use is Antique Linen. This is going to be the overall color on our bear. Using the blender brush, we're going to add the Antique Linen color to the entire bear. This is going to form the base for our bear and we're going to build other colors on top of it.
Next, we'll be using the next darkest color which is the Brushed Corduroy. Use this color to shade around the edges of the interior shapes on the bear. The next color is the Vintage Photo and this one's much darker. We're going to brush this color on the edges of the bear. You want to work from the outside, brushing in.
TIP: If you don't have the makeup brushes, you can use some extra toothbrushes but you need to be sure to use a very light hand so you don't get any harsh strokes from it.
Finally, we're going to use the Walnut Stain – it's a really dark brown color. This gets brushed along the edges. Don't blend it in – apply gently as you don't want to lose the previous shadowing you've already done.
Now it's time to color the nose. We'll be using the Worn Lipstick color for this. We're only using one color here because the nose is small and we can easily create a gradient effect on it. Do this by adding some color at the corner and then bring that color out from there.
Finally, let's start coloring the card panel. We're going to be using the same worn lipstick, blending it from the circle out. I like to keep my cards clean and simple and this makes for an adorable effect!
Now, I'm going to use the Cricut pen "Crystal" and handwrite "miss you" on the card. If you don't care for your handwriting, you can always use a stamp instead.
Assembling the Card:
I have my card base ready and pre-scored. Flip the piece with the window in it over and apply some foam adhesive to the back of it.
Position the bear on your card base, using the card panel with the window as a guide to see exactly where to place it. Add a couple of drops of glue down and place the bear on the card.
Remove the backing strips from the foam adhesive and place the card panel onto the card base over the bear. Now, add another drop or two of glue and put the bear's nose in place. Embellish the card if you'd like. I'm going to add a couple of little crystals to this as finishing touches. It's that easy! Look how fun and pretty this Cricut Peek-a-Boo Card With Ink Blending is!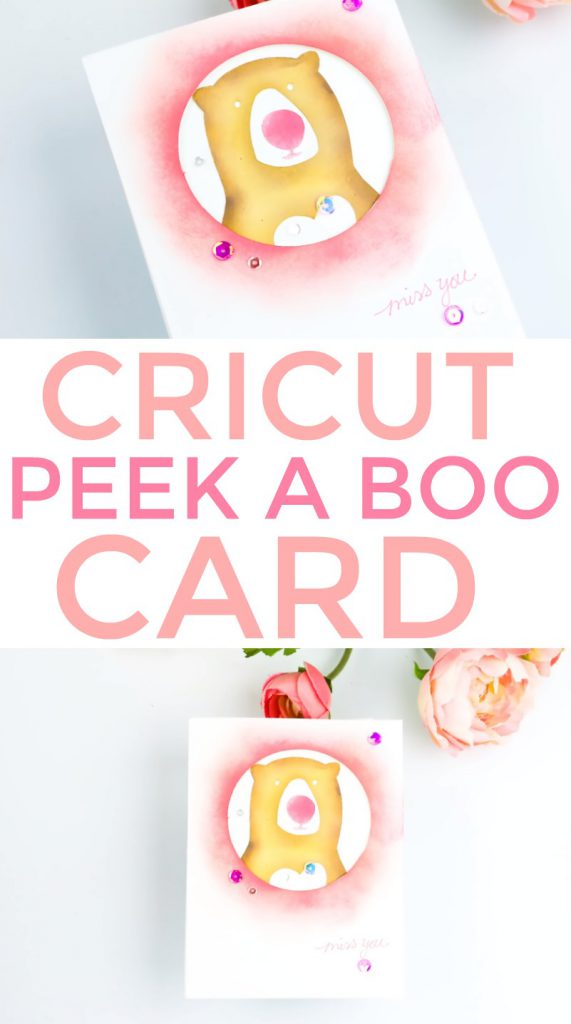 For more fun paper crafting with Cricut, check out these projects too:
Easy Watercolor Card with Cricut
How to Make a Shaker Card with Cricut
Tanner, Courtney, and the rest of the Makers Gonna Learn Team are all here because we love die-cutting and especially love sharing fun projects and tutorials with fellow makers. We are all great friends and are always having a blast when we are together- you will see this on camera, especially during live streams! We are here to inspire and support you in your crafting journey!