How To Layer Iron-On

I am so excited to share with you exactly to How To Layer Iron-On in your crafting projects. This is something that really opens up so many new project possibilities. I know many people are anxious to try it once they get their die-cutting machines and we will walk you through the entire process of layering iron on.
It can be very challenging to be able to work with a multi-layer project as a beginner beginner but we will go through it step by step so that you can learn exactly how to do it for yourself.
Working with regular adhesive vinyl? The one (easy) trick to master layering vinyl.
Just remember that this shouldn't be the very first project you attempt to make with your new Cricut or Silhouette machine. Learn some of the basics first and then come back to this. I know that this post will be very helpful for you when you're ready to tackle layering iron-on.
For today's project, the number one thing for you guys to do when you're cutting these layers out is to go ahead and start organizing them. You want to be able to see your full project kind of all together. You should lay it all out so that you can envision exactly where it's going on your project. Just sort of play around with it and make sure it's all good.
This cut file is from our Disney inspired collection at Makers Gonna Learn and this is one of my favorite cut files from the collection because it's so practical. We're putting this on a youth shirt today so it's going to be so much fun. We cut this at 8 inches wide and I was so impressed at how good it looked on a youth shirt.
So again, we have a couple of different layers of heat transfer vinyl here. We have a black layer, a red, yellow, blue and gold. Because of the way this project is spaced out, you could lay down all of the pieces and heat them at once but in general, with most Iron-On projects we just want to go ahead and work it one color at a time.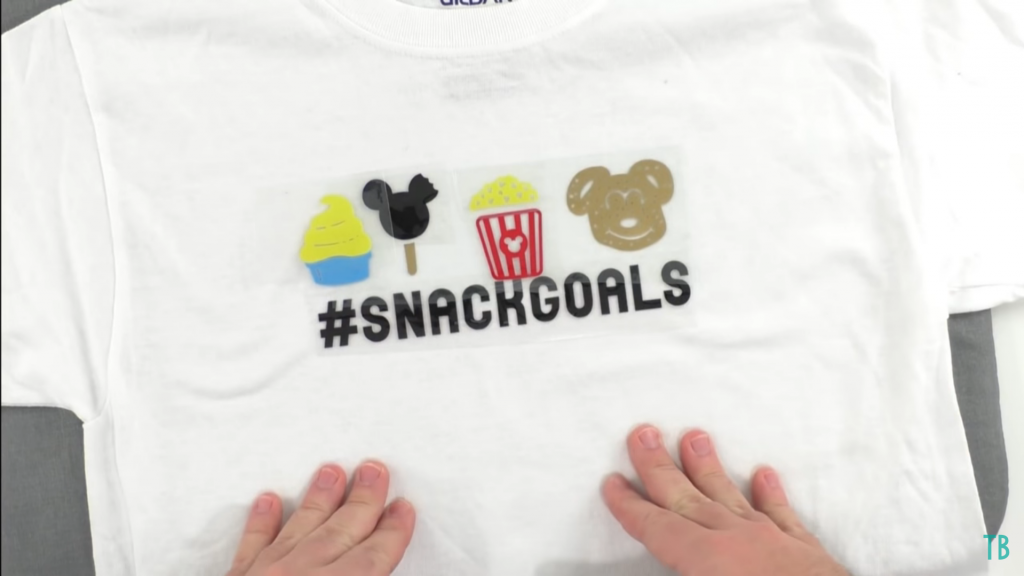 So, let's pull up our red, yellow, blue and gold. We're going to set them to the side. Then we have our black pieces left in place ready to heat. We're using our EasyPress 9×9 for this. It's a perfect size for you to work with. You can do this project with your iron or your EasyPress 2. We love using the EasyPress because you get that evenly distributed pressure which you.
We preheated our EasyPress to 315 and we have it set for 30 seconds since we're going to be hitting this with the heat multiple times, you are going to notice that we're not going to let that count down exactly 30 seconds. Especially for this first layer, you really want to focus on just getting it adhered down. So, I'm not going to apply as much pressure as I would if it was a one layer project. I'm probably going hit this for 15-20 seconds with some nice even pressure. If we were to use the full 30 seconds each time we add a layer, we might end up with problems from overheating as we move through the whole project.
We already see some amazing bubbles here. I love seeing bubbles when using the EasyPress or any Iron-On project because it lets us know that our transfer tape is not adhered anymore to the vinyl. That also means the vinyl is sticking to your project. So, you can just peel these up. I do save these in case we need to cover these back up with the same transfer sheet.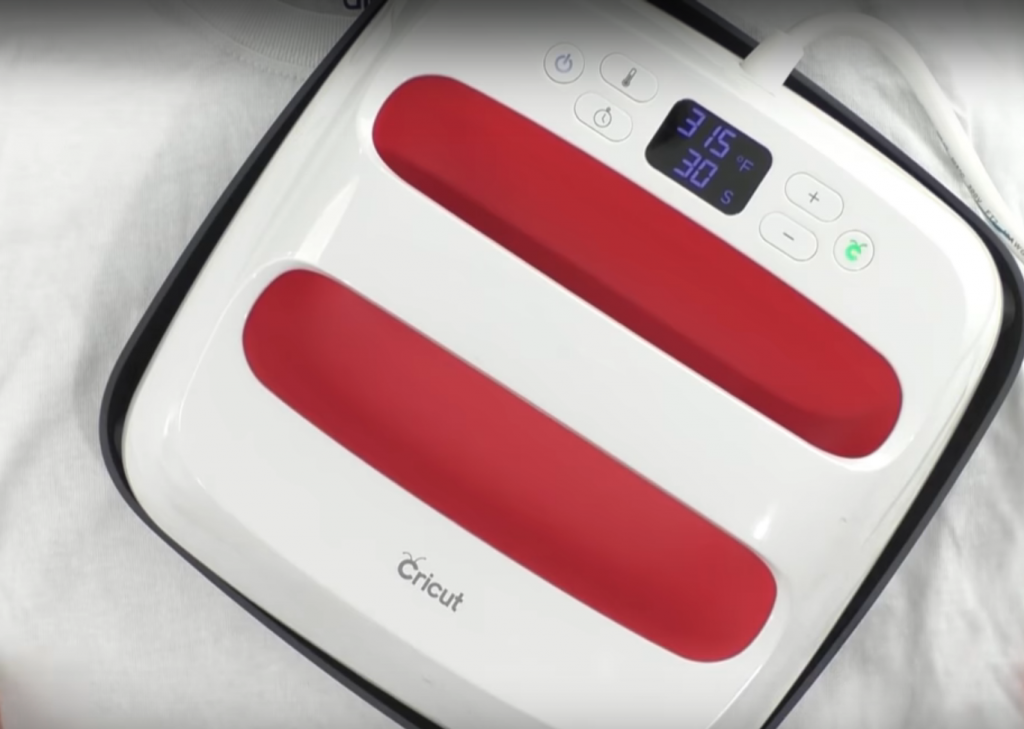 Next, we're going to move on to that gold layer. Now the EasyPress had been talking to us, It had timed out and then it just brought that temperature right back up so that's totally normal if it starts chirping at you.
So now we're placing our second layer down on the project. A lot of you may be thinking, okay, I laid it down, now let's grab this EasyPress and hit it. I want to stop you right here because you need to know that the exposed part would be getting direct contact to the EasyPress. So, what we need to do is grab that backing sheet we were just talking about and place it right back down here. Now none of our heat transfer vinyl is going to come into direct contact with the heat from the iron or your EasyPress. So again, apply some nice even pressure for another 15 seconds for our second layer.
Now with our metallic gold, we like to let this cool for a minute or so. Then you can just peel this up and you can see it's coming together really nicely. Next up, let's go ahead and we will do our little red layer. This is a perfect example of what I meant by usually being able to hit multiple layers at once. For example, if we wanted to go ahead and hit the blue and red layer at the same time that's totally okay. We just want to make sure that we're positioning these with the right spacing and and it's going to fit properly.
We wouldn't want to add our yellow at the same time though. It can get tricky to make sure that everything is in place and that none of the backing sheets are interfering with each other if you try to do too many layers at once. We like to work bit by bit to ensure that we get a really nice result.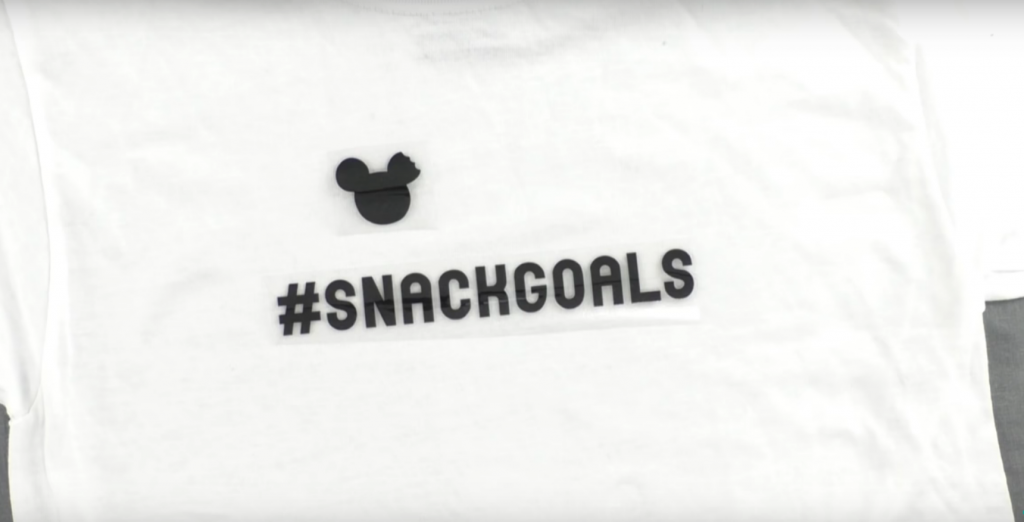 Remember that when you're doing a multi-layer project, you want to cover up all of your Iron-On so it has no direct contact to the iron. We're going to heat and time down for another 15 seconds. Let this cool for a few seconds before going on. We are using the EasyPress mat here which is really great when you're working with multi-layers. It helps you get that even pressure and sends it right back up to your project. It saves you from having to hit the back of your project as much when you use the EasyPress mat.
I only hit the back of those thicker projects but with a t-shirt and things like this, it's not necessary when you use the EasyPress mat. So, we're peeling up our last layer and now we're going to be able to do that same process with our yellow. We're going to do both of our yellow pieces at the same time just like we did with the red and the blue.
See? It's really easy to go through a multi-layer project but just notice all of these extra steps are truly necessary.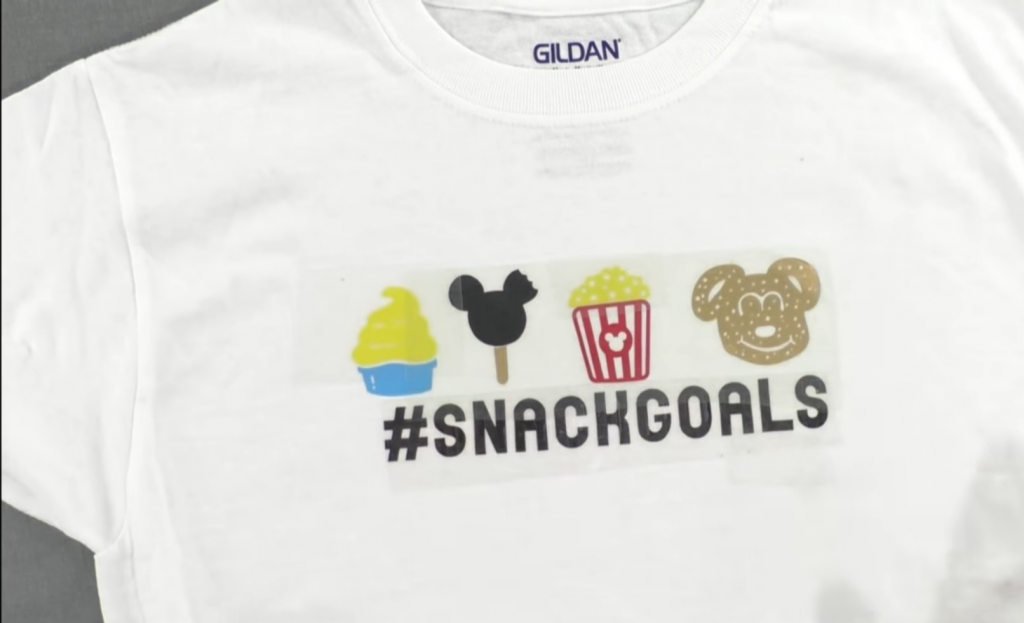 As soon as you've laid all of your different backer sheets down to protect all of your final pieces, I like to put my hand over it to make sure I don't feel any vinyl that I might have missed. If it's not protected by a backer sheet, it could ruin that piece of vinyl. This time we can do a whole 30 seconds just so that everything gets nice and hit again. If you do not have an EasyPress mat, be sure to use a cloth towel folded three or four times. They recommend using it on a granite countertop or a really sturdy table like we're using today. If you don't have the EasyPress mat, be sure to hit the back of your project as well.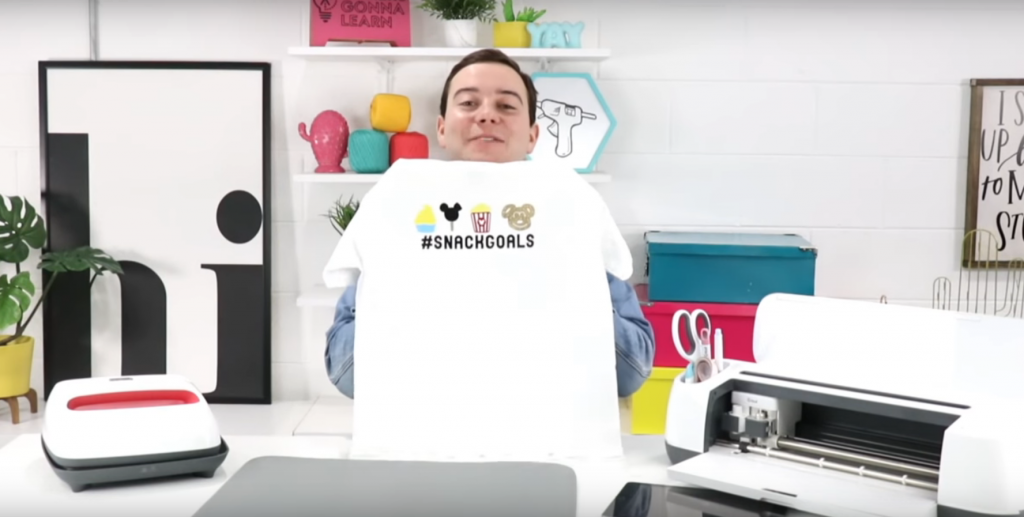 Look at how great this is! Remember that the metallic does need to cool down for quite a bit longer than everyday iron-on. If you have any iron-on light, it's the same as everyday iron-on.
We absolutely love this project and it turned out to be so awesome! It is really that easy to be able to master layering iron-on. It does take a few extra steps and a few extra minutes but I honestly think the results are outstanding. I hope you guys enjoyed this project. Happy crafting!

Tanner, Courtney, and the rest of the Makers Gonna Learn Team are all here because we love die-cutting and especially love sharing fun projects and tutorials with fellow makers. We are all great friends and are always having a blast when we are together- you will see this on camera, especially during live streams! We are here to inspire and support you in your crafting journey!