The One Trick to Master Layering Vinyl
Do you get intimidated when you see a die cutting vinyl project that involves several layers? You don't need to! We're going to show you the one trick to master layering vinyl and once you have this, you'll be all set!
Layering vinyl can seem difficult – it's definitely one of those Cricut craft techniques that people struggle with. There is a trick to it though that is easier than you might imagine. We're going to show you our simple Cricut hack that makes layering vinyl a breeze.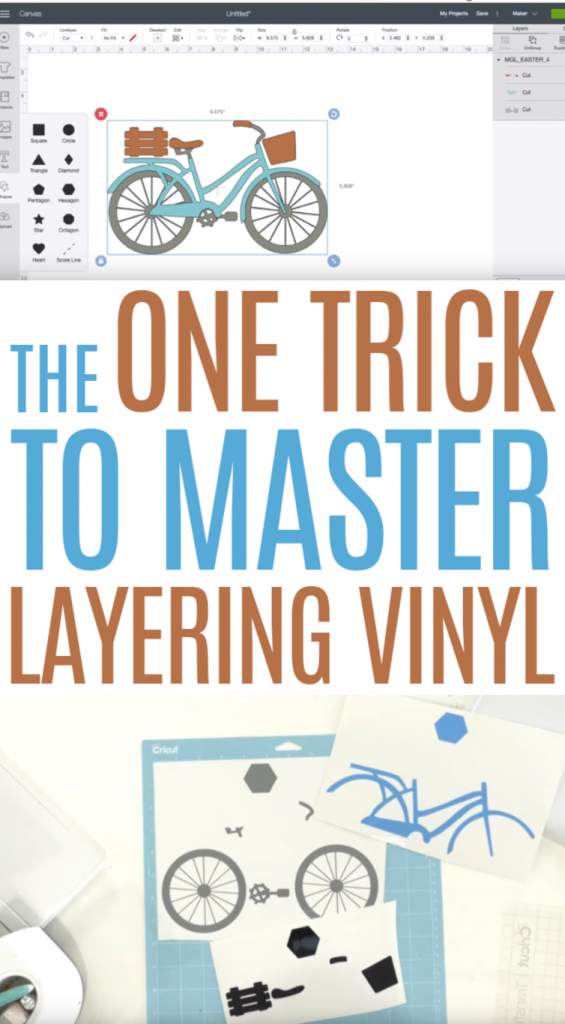 The One Trick to Master Layering Vinyl
Once you know this simple technique, you'll be all set to make any of those adorable multi-layer vinyl projects that you want!
Anything over two layers can seem overwhelming, but we're going to show you just how to tackle those complex designs like the one we're working with today.
We've chosen this Bicycle cut file from our Makers Gonna Learn membership files. As you can see this is going to require us to use 3 layers and might just be one of those projects you shy away from because it seems too complicated.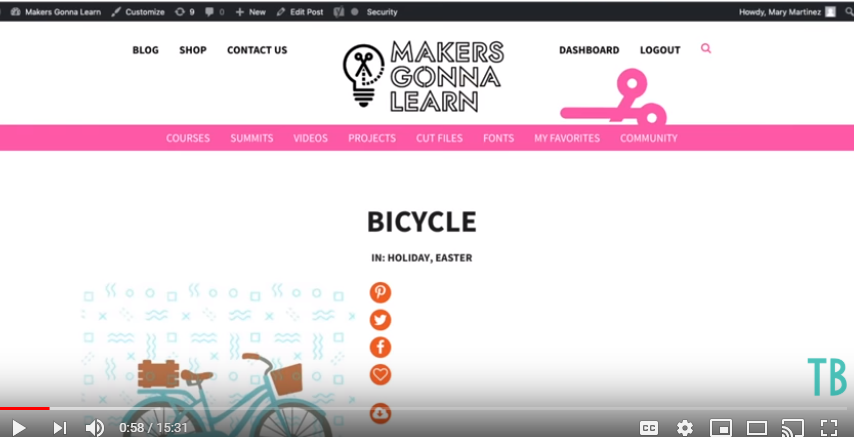 Stick with us through this tutorial and you'll be ready to tackle it!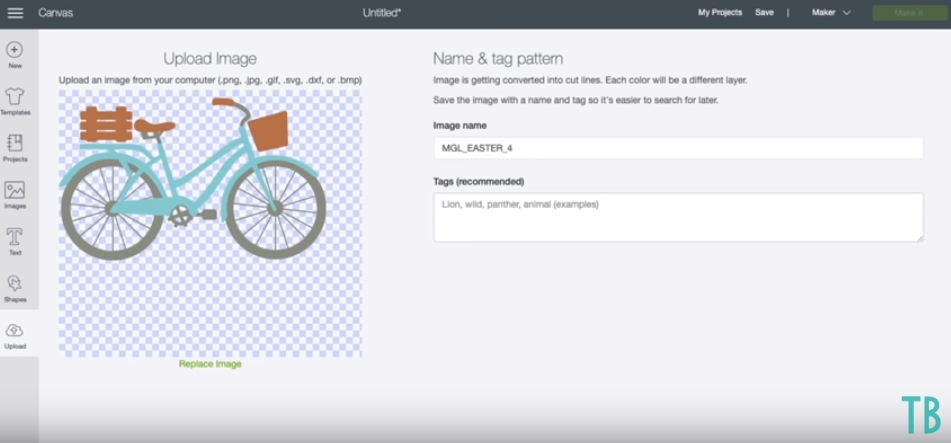 Download your file from Makers Gonna Learn and upload it into Cricut Design Space.
You have a choice between the SVG and PNG files. We're going to use the SVG file since we're going to be using multiple layers of colored vinyl.
By uploading the SVG file, you can see all the different layers and they're all organized for you already! In Cricut Design Space, size your design to fit on the surface that you're using.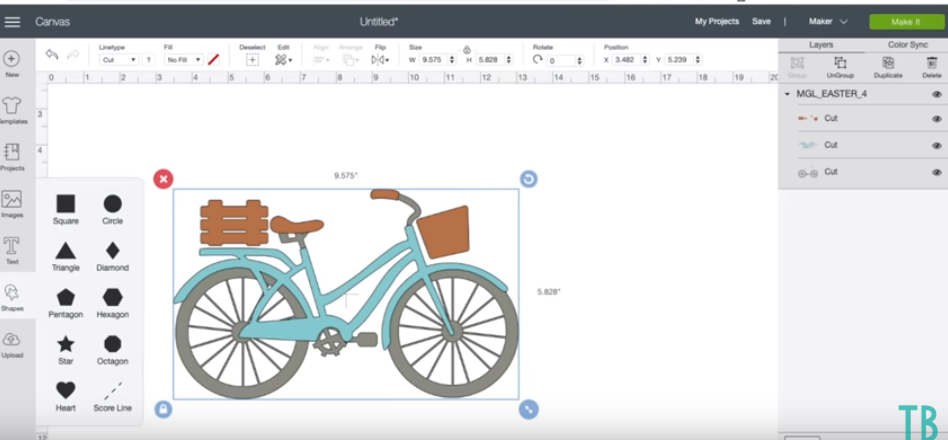 To use our handy tip for working with layers of vinyl, you need to pick a shape.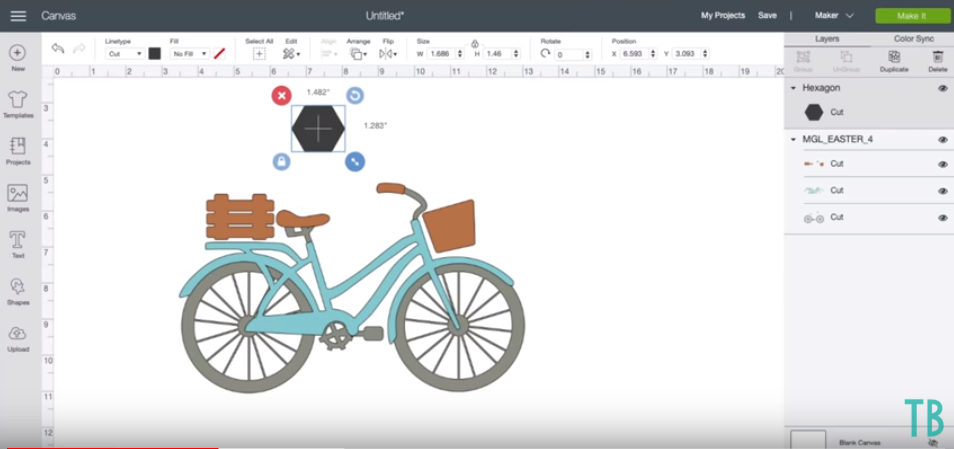 Pick any of the shapes and size it and place it where it can easily be cut off when we're finished with it. Since we're working with 3 layers, we need to duplicate the shape so that we have 3 of them (one for each layer)!
Line all 3 of them up so that one is on top of the other. So, even though you'll have 3 of the shapes, it will look like you only have 1 because they're stacked.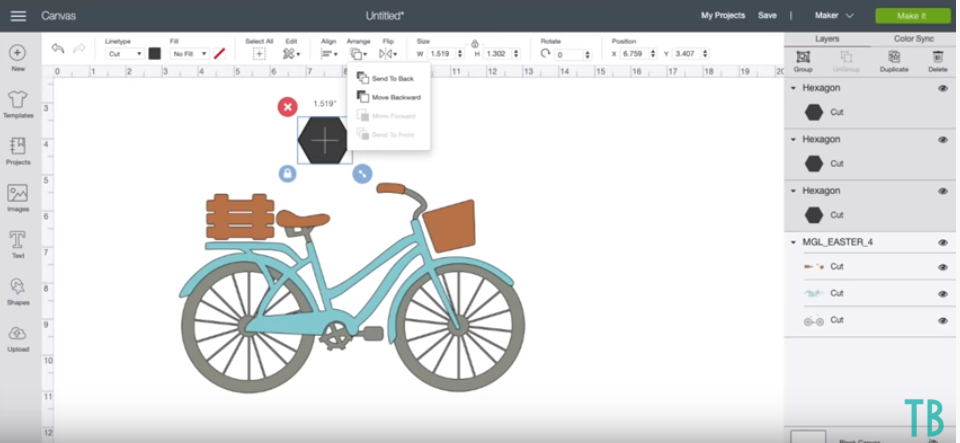 If you're having difficulty lining up the shapes perfectly, here's a little trick for that. Select all of your shapes. Now, go to align and then center.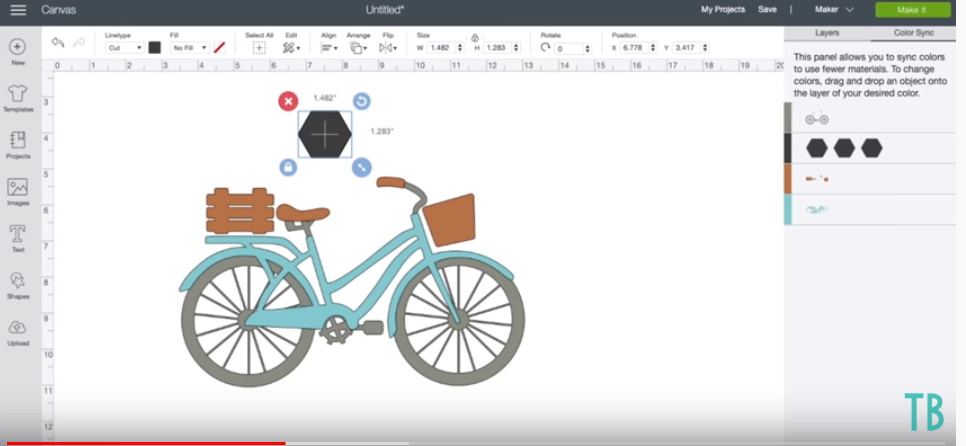 Next, you need to select "Color Sync". Drag each of your shapes to one of the colors in your design.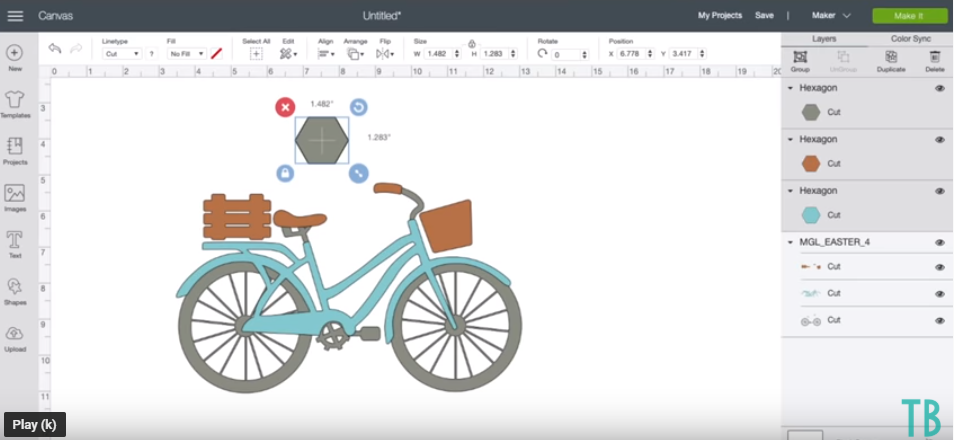 Now, go back to your layers. Click on your design (the bicycle, in this case) and click Ungroup. You should now see each color as its own stand-alone layer.
Let's start with the brown layer. Select the brown layer of the design and then hover over and hold down "Shift" to select the brown shape too. Once you have both of those selected, you want to choose "Attach".
If you need more information and assistance with using Group, Weld, and Attach, be sure to check out our tutorial for these Cricut Design Space functions.
We're using Attach which is like using a paper clip to join our design components together. It is not permanent like Weld and these items can be unattached and reattached as needed.
Continue with each of the remaining colors and use Attach for each one.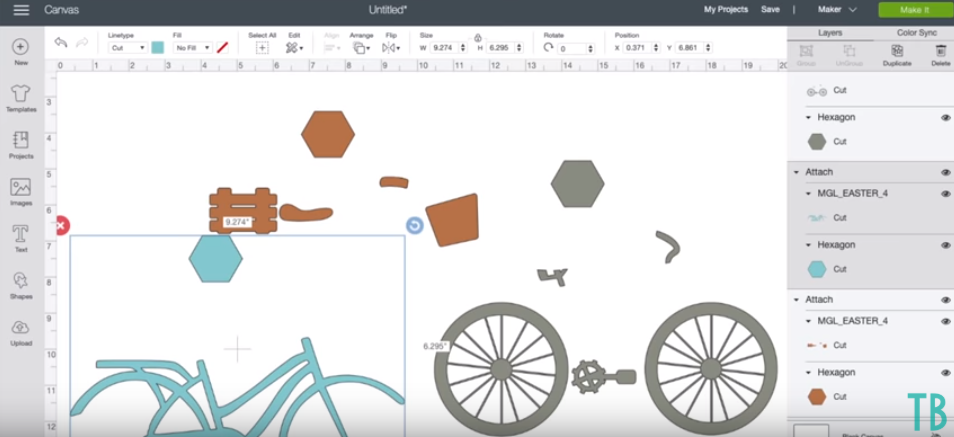 So, we now have the brown layer attached with the brown hexagon, the blue layer with the blue hexagon, and the gray layer with the gray hexagon. You can see that even if you move these away from the whole design, they will move as one attached layer for each color.
The great thing about using the shape (a hexagon, in this case) is that then when it's time to put the layers together, that hexagon will allow us to line them all up perfectly! Isn't that fantastic?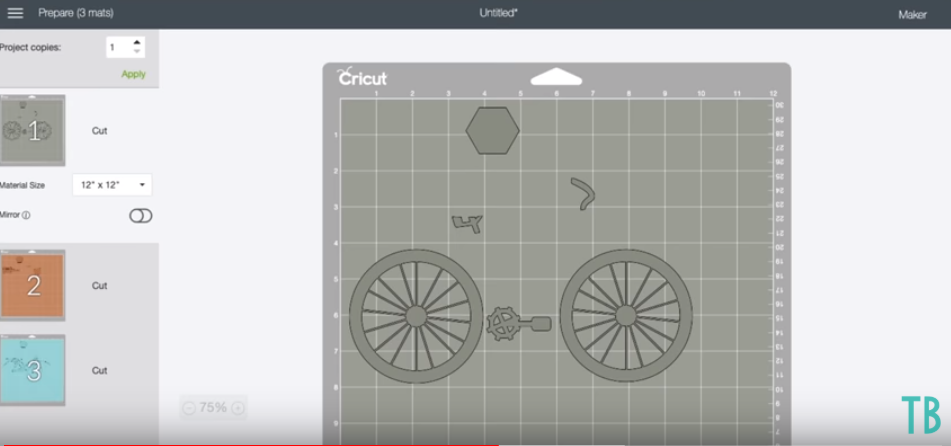 Next, we're going to select "Make it". Design Space will sort our project by the attached colors, placing each layer onto its own cutting mat. Cut out each layer and weed it.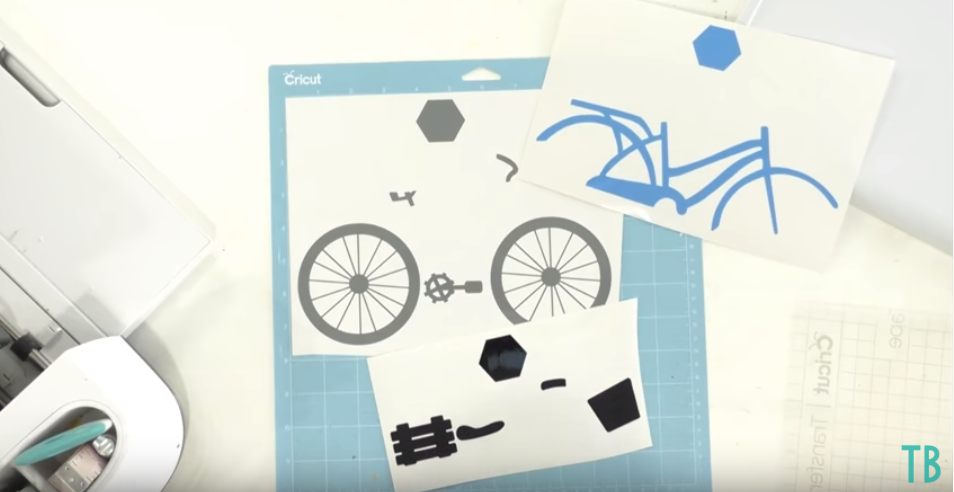 We're going to start with our base layer as our bottom layer and build on that. In this case, the base layer is the gray layer. So, we're going to apply the blue layer onto the gray one first.
Using the taco method (working from the center out to the edges), apply some transfer tape over the blue layer. Burnish well with your burnishing tool. Peel off the backing.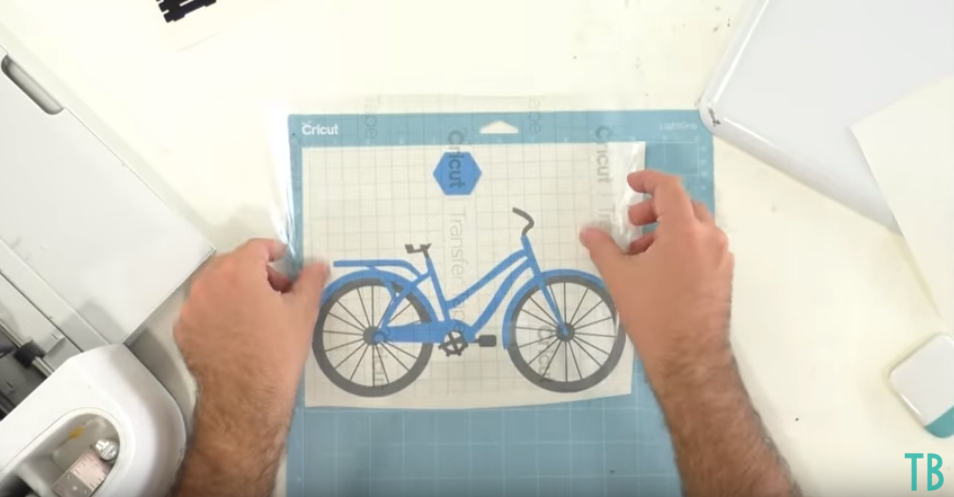 Use your shape (the hexagon here) to line up your layers. The hexagon works really well because the multiple corners on it make it much easier to line things up well.
Burnish this down. Flip the whole thing over and carefully peel the mat away from your design. Burnish again.
Place this off to the side and put your third layer on the mat. We've also placed the backing paper from our base layer onto the cutting mat to keep our design from sticking to the mat.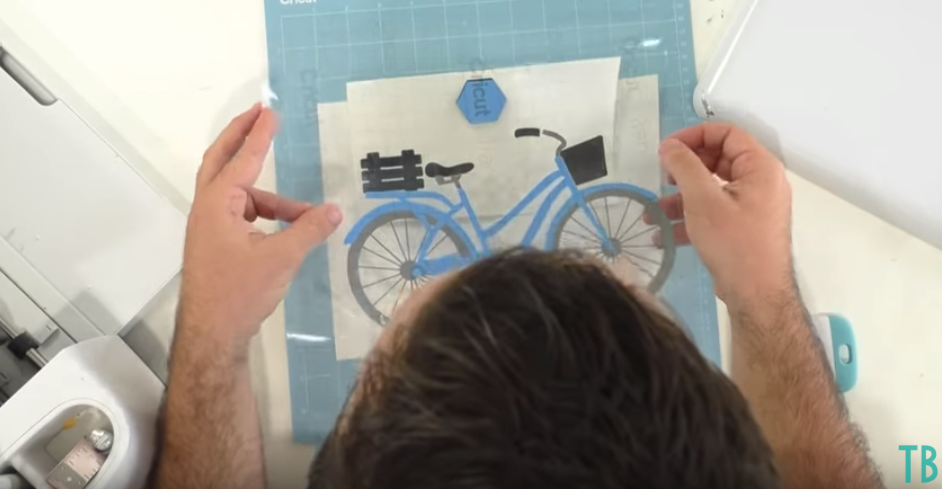 Lay the base layers (now with the blue and gray together) over the final layer (the black layer), using the hexagon to line things up again. Once you have it lined up, be sure to go over the design and burnish it once again.
Flip over the mat and peel it away from your design. Burnish again on the backing side of your project.
Now, peel away the backing sheets from the design. Finally, you want to use a pair of scissors to cut off the hexagon as you don't want this to appear on your final project.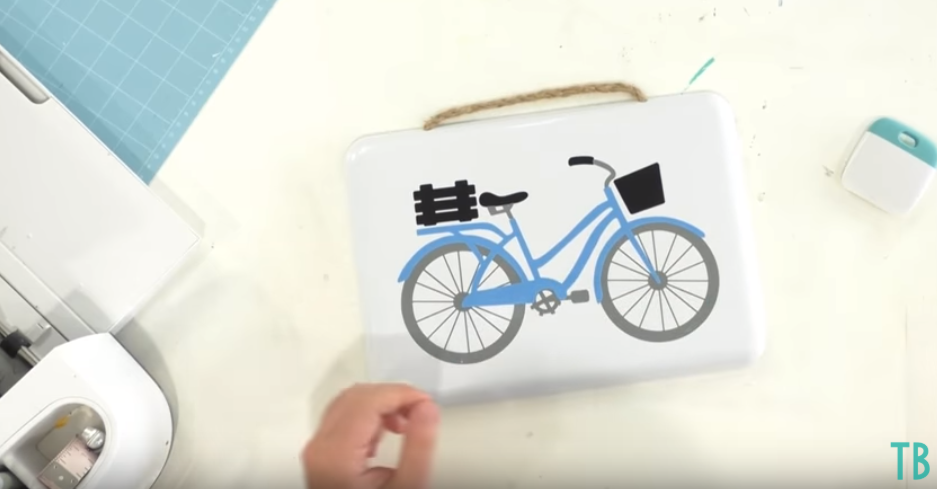 We cleaned our surface with rubbing alcohol to make sure there is no dirt or oils there that might interfere with a good application. Using the taco method, we're applying our design to our surface.
Burnish onto the surface. We also like to go in with our fingers to burnish too!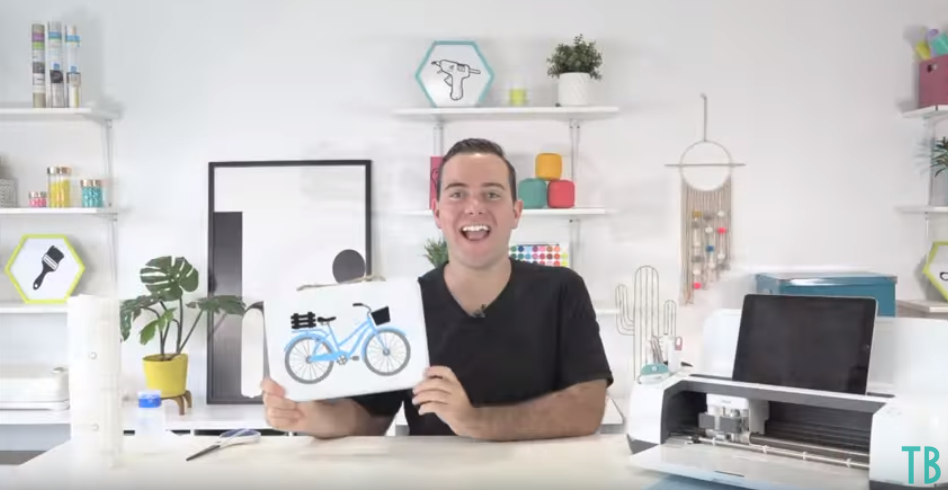 Carefully peel away the transfer tape. Ta da! You have a multi-layer vinyl craft project that is perfect!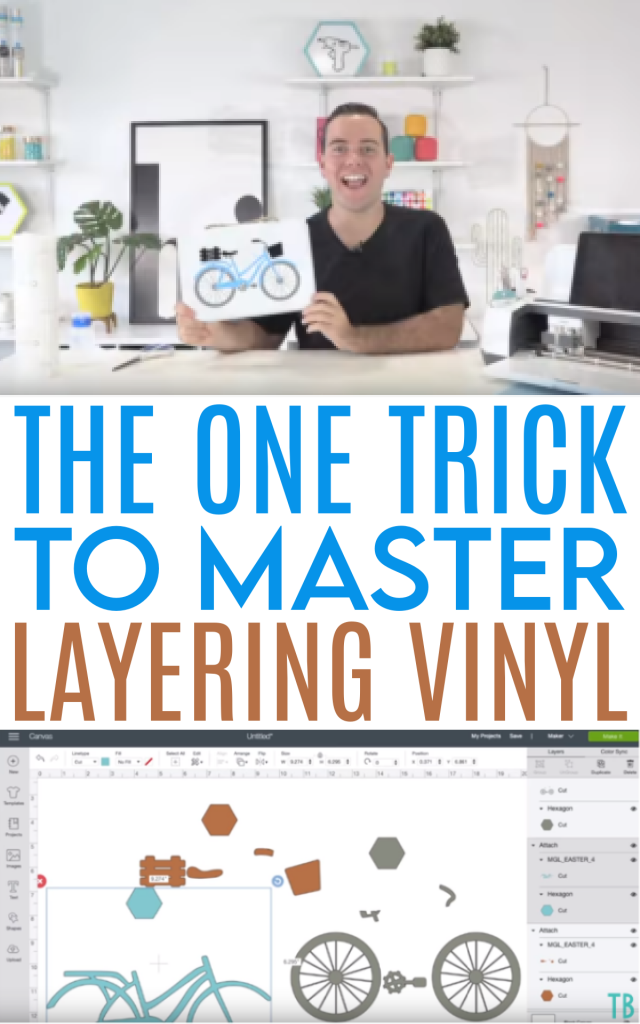 Once you know this simple die cutting craft hack, it's easy peasy to put together those complex multi-layer designs you've been dying to craft with!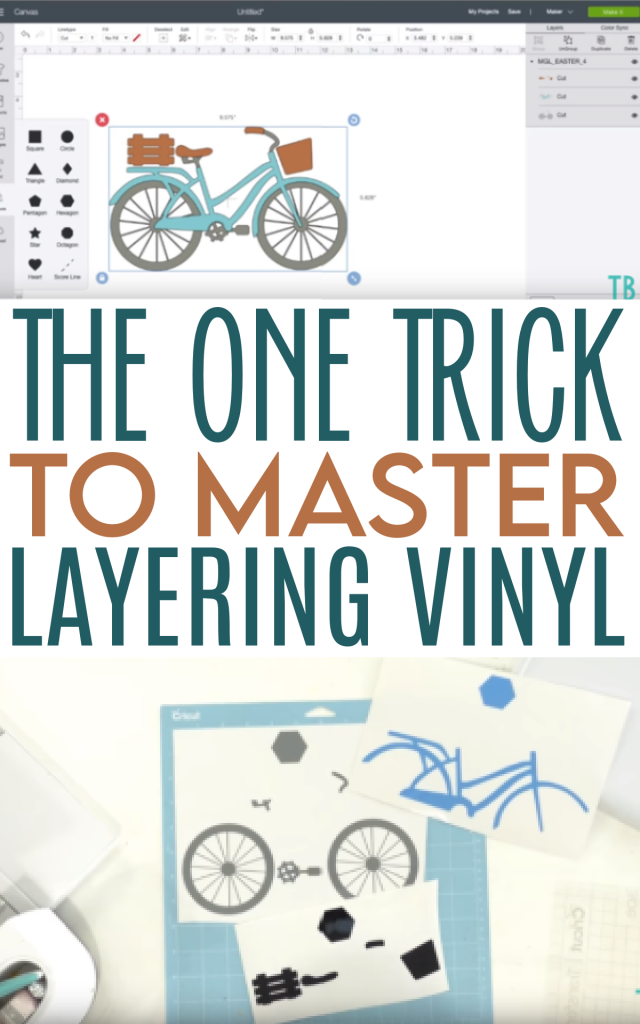 Tanner, Courtney, and the rest of the Makers Gonna Learn Team are all here because we love die-cutting and especially love sharing fun projects and tutorials with fellow makers. We are all great friends and are always having a blast when we are together- you will see this on camera, especially during live streams! We are here to inspire and support you in your crafting journey!