Multi-Layer Ink Blending Card With Cricut
You are going to love this Multi-Layer Ink Blending Card with Cricut we have for you today. It's such a fun project and a great beginner craft project to learn more about blending multiple layers of ink. There are so many different ways you can use this technique to create beautiful greeting cards to send to your family and friends or as part of a paper craft project. Once you see how simple this is and the beautiful results you can get, you're going to want to use this method again and again.
Multi-Layer Ink Blending Card With Cricut
Materials Needed
Cut files and font from Makers Gonna Learn
Cricut machine
White cardstock
Standard A4 sized white greeting card base
Ranger Distress Ink Pads in these colors: Seedless Preserves, Picked Raspberry, Cracked Pistachio, Broken China, and Twisted Citron
Makeup blending brushes
Foam adhesive
Scissors
Getting Started with Our Project
Go to Makers Gonna Learn and download the cut files "cloud 4" and "cloud 5". You're also going to need the font "Passion". Install the font onto your computer.
Open up Cricut design space. We're going to create our card panel by grabbing a square shape and unlocking it. Change the size to a standard A4 size of 5.5 by 4.25 inches. This way we can use ready-made envelopes from a craft or office supply store. Once sized correctly, lock it back up so we don't lose the shape.
Now we are going to bring in one of the clouds and insert the image on our canvas. We're going to size this down and place it where you want it. Next, we need to select both of the layers and select slice to cut out the cloud.
We have that same cloud that we brought in earlier. This time we're going to size it down and flip it to the other side to change the direction of the cloud itself. Select the two layers and slice just as we did the first time. Bring in more clouds and follow this same process.
We are done with our clouds. So now we're going to come in with our text and type "hi". Move it to where you want it and choose "Passion" in fonts. Then we're going to click "Make it".
Cutting out Our Card Panel
It's going to separate these two layers, so we're gonna select "Hi" and move it to another mat. Select mat two and move "Hi" over to our selected space. You can see all your cut lines ready to go, so we're going to select continue and cut this with our machine on white cardstock.
Once the cutting has completed, we're ready to start blending.
Applying and Blending the Ink
Be sure to put something down to protect your work surface before you get started with the ink application. Working on the front of our card base, we're going to begin by applying the Seedless Preserves color. Start at the top and apply all the way out to the edges.
Next, you're going to apply some of the color Picked Raspberry beneath the Seedless Preserves. Again, be sure to bring the color all the way out to the edges and blend it up into our first color. Continue in this way with Broken China, Cracked Pistachio, and finally Twisted Citron. Make sure to blend each color into the one before.
Once you've applied all of the colors, you might want to come back in and apply more of some of the colors if they're not quite as intense as you'd like them. Because this is a water-based ink, you can splatter some water onto your card for another fun effect. Blend as little or as much as you want to get the results you like.
Assembling the Card
Leave the inked card to one side to dry. Apply pieces of foam adhesive to the back of the card panel we cut out on the Cricut.
Remove the backing pieces from the foam adhesive and center your card panel onto the card. Parts of the edges are going to show through and create a lovely effect.
This is such a simple and quick way to make a lovely, cheerful Multi-Layer Ink Blending Card with your Cricut machine.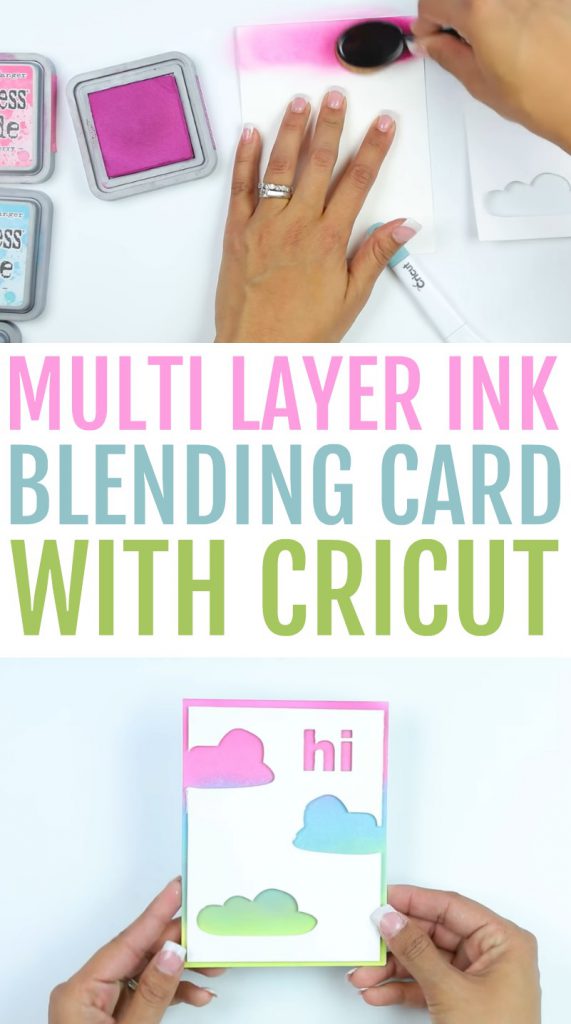 For more fun paper crafting with Cricut, check out these projects too:
Easy Watercolor Card with Cricut
How to Make a Shaker Card with Cricut
Tanner, Courtney, and the rest of the Makers Gonna Learn Team are all here because we love die-cutting and especially love sharing fun projects and tutorials with fellow makers. We are all great friends and are always having a blast when we are together- you will see this on camera, especially during live streams! We are here to inspire and support you in your crafting journey!