Cricut Machine Tips & Tricks – Master Your Cricut Today!
If you're a beginner and a bit overwhelmed when it comes to using your Cricut, you're going to love these simple Cricut machine tips and tricks. They will help you master your Cricut and help you move forward on your crafting journey.
We know that sometimes when you get a new crafting tool like a die cutting machine, it can seem a little intimidating to take it out of the box and learn how to use it. We promise you that it's much easier than it might seem and we can help you to get started and become a Cricut crafting pro in no time!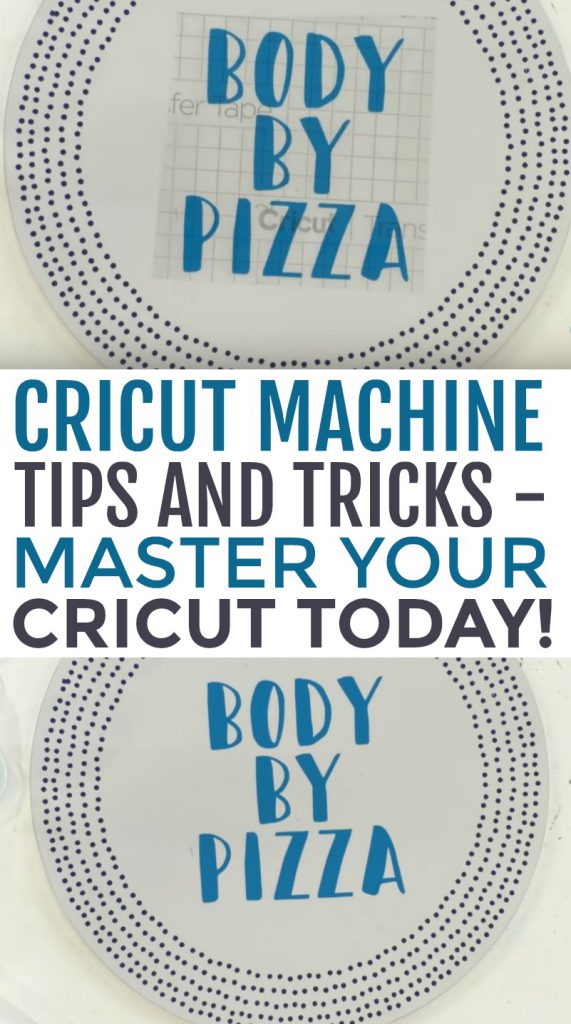 We're going to break things down today for those Cricut beginners! When you're working with Cricut for the first time, you might need some help right from the very beginning. If you need help learning how to cut your first piece of vinyl, we have lots of beginner videos! Check out our Youtube channel here. We will take you step by step through it so you can achieve success right from the start.
Cricut Machine Tips & Tricks – Master Your Cricut Today!
What I'm going to demonstrate first is weeding. We absolutely love weeding on the mat! It is almost like having a third hand and makes it so much easier. We recommend that you use the Cricut weeding tool. There are lots of different alternatives but this our most used tool and we love it!
When you're working with a regular vinyl, I like to go ahead and burnish it first with an old gift card or the Cricut scraper tool. Burnishing it down makes weeding so much easier. If you did not rub your vinyl down well enough, the letters may want to start coming up, but look how well they're staying down after burnishing! Work slowly and keep the vinyl pretty tight against the mat as you go.
As I pull away the weeded vinyl, I like to kind of create a weeding ball. It not only keeps it all together but then as you go in and weed out the little pieces in each of the letters, you can simply pick them out and stick them right to that ball. This way you're not finding these pieces all over your craft table, It helps keep things neat and organized. One tip: try not to touch the mat so you don't lose the stickiness of it.
Once you've weeded your piece, you can now work with your transfer tape. Vinyl needs transfer tape that you add to your design and Iron-on has a built-in transfer tape. We're going to apply the transfer tape with the taco method. Notice that I gently fold it in the middle like a taco shell. Then I place it down starting in the middle and working out to the sides from there.
Once we're done, we can now grab our scraper tool and burnish our transfer tape down onto the vinyl. Once again, this helps make sure that everything is sticking really well. Then, we're going to remove our design from the mat. I bend the mat very carefully. You want to bend it gently as the mats are prone to snapping.
Next, we need to take off the backing. Peel away slowly and carefully. Note that our machine had a new blade in it. Because it is so sharp, it has cut through the backing a little bit. That can happen with really sharp blades and it's no big deal.
My number one tip for applying vinyl to surfaces that are somewhat slick – a mug, a glass, and so on – is that you need to keep some rubbing alcohol on hand. Put some on a little piece of paper towel and clean away any fingerprints or other residue before applying your design. This is a game-changer and will give you much better results in sticking your vinyl onto the surface and having it stay stuck!
Now once again, we're using our taco method to apply our design onto our surface. Simply line it up and position it where you want it and apply it down.
Last but not least is to remove the transfer tape. Once again, work slowly and carefully but after the burnishing and cleaning with the rubbing alcohol, you'll see that you're getting great results.
Now that you see how easy it is to work with vinyl, I want to briefly go over some tips and tricks for working with Iron-On. The thing about iron-on is that it is quite a bit more expensive than vinyl but it does go on way more surfaces – you can even use it on wood!
As I mentioned before, iron-on has a built-in transfer tape which is really great. and it's really awesome. Iron-On is, just as it says in the name, activated by heat so you need to use an EasyPress, heat press, or iron with it. In the Cricut world, they call it iron-on but if you're outside of Cricut, it is called heat transfer vinyl.
One of the things you want to be very mindful of is that heat transfer vinyl has two sides to it. You can see that there is a super shiny side and a duller side. The dull side is actually the adhesive that will stick to your surface when it's heat activated. So of course, that's the side that needs to touch your material.
You'll always place the HTV on your mat shiny side down. So, when it cuts, you need to make sure that you've mirrored your image because it will be cutting from the "wrong" (dull adhesive) side. This way your design will be the correct from the shiny side (the side that will be facing up on your project).
When you click "Make it", you're going to be able to select "mirror" and select your material as "iron-on". It'll even remind you to put the material shiny side down and make sure to mirror your image. It's so great to have them kind of double-check on you and give you those helpful reminders!
Once it's cut, just like with regular vinyl, you're going to need to weed it. Remember that iron-on has it's own built-in transfer tape. In fact, because of that, I find iron-on even easier to use than standard vinyl!
For even more tips and tricks, be sure to use our Cricut Printable Guide from Makers Gonna Learn. It's a great resource to keep handy and refer back to over and over again. In this Cricut Printable Guide, we give you helpful terminology for the software, temperature charts that we recommend, suggestions on what mat to use, and more. We even have cheat sheets in the back for adhesive vinyl and print and cut too!
Lastly, I just want to remind you to be sure to make with confidence. We absolutely love using our die-cutting machine! Each time you use it, you will get more and more comfortable. If you are overwhelmed or frustrated, have no fear! We have tons of videos you can refer to on our Youtube channel.

And, don't forget about our Makers Gonna Learn membership! It's a fantastic place for beginners because with our yearly membership, you get three free full courses as well as other training. We have an amazing private members' only Facebook group too! There are so many friendly community members there who love to help each other and chat about die cutting craft projects, tips, and tricks.
See how easy it can be to master your Cricut? I cannot wait to see what you create and I hope that you learned some great tips and tricks in today's tutorial.
If you want more great Cricut tips and tricks, check out these posts too!
Shocking Cricut Hacks You Need to Know
10 Cricut Hacks You Probably Didn't Know
10 Cricut Hacks that Will Blow Your Mind
Tanner, Courtney, and the rest of the Makers Gonna Learn Team are all here because we love die-cutting and especially love sharing fun projects and tutorials with fellow makers. We are all great friends and are always having a blast when we are together- you will see this on camera, especially during live streams! We are here to inspire and support you in your crafting journey!