How to Make and Apply Vinyl Decals with Your Cricut
Hi everyone! Today, we're going to be teaching you How To Make and Apply Vinyl Decals With Your Cricut. We've got a ton of vinyl tips and tricks to help you master this project and you're going to be able to use them in many other die-cutting craft projects too!
From notebooks to signs to mugs and more, once you learn the basics of making and applying these vinyl decals, you'll be ready for all kinds of crafting. You can even apply vinyl to leather! Make things for your home, wearables, and amazing gifts for friends and family.

How to Make and Apply Vinyl Decals with Your Cricut
We are in Design Space on the iPad and we have chosen our cut file from Makers Gonna Learn. This is one of over 2000 cut files that you could use on your die-cutting machine, We also have over 300 fonts and add more cut files and fonts every single month.
For this project, we're going to work with a notebook. This is just a simple little planner notebook but it could be anything that you want to put your vinyl on.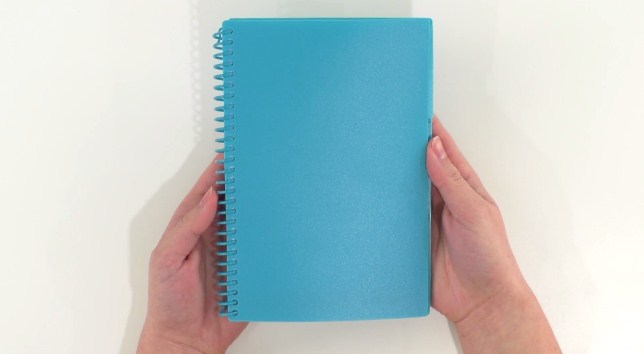 First Steps: Measure, Measure, Measure!
The most important thing that we need to do is measure the surface of your project. You want to make sure that you are not going to waste your vinyl by cutting something that's too big or too small for your surface.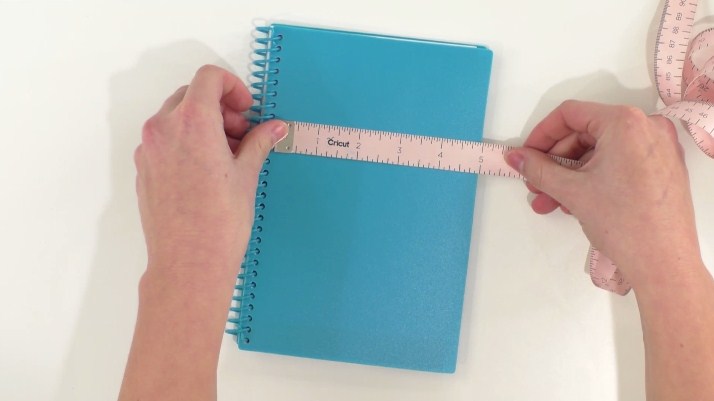 We love this little tape measure from Cricut. It's so handy and works well for any project. You can see here that our material doesn't need to be any bigger than four and a half inches. So, in Design Space we sized it and chose a width of three inches and a half of four inches.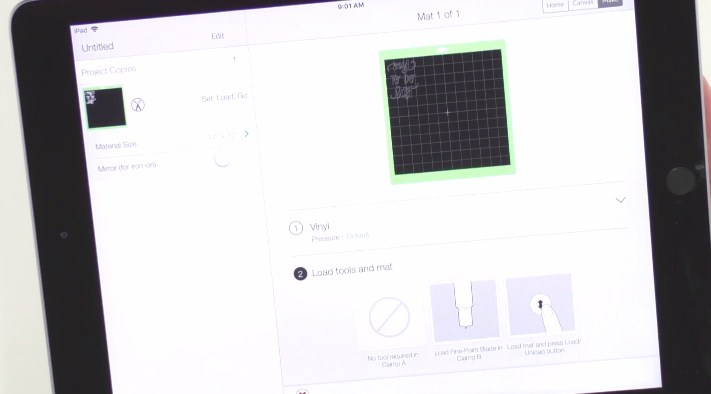 Selecting Material and Pressure
Make sure you always measure your own projects so that you're working with the proper sized material. Once we've sized it, we're going to hit "Make It" and replace what was on the mat. Since this is vinyl, we don't have to mirror it.
We're just going to hit "continue" and we're going to select vinyl. As you can see, the pressure says default so we're going to tap that because we always want to add more pressure especially to our vinyl projects. This gives deeper cuts for flawless weeding.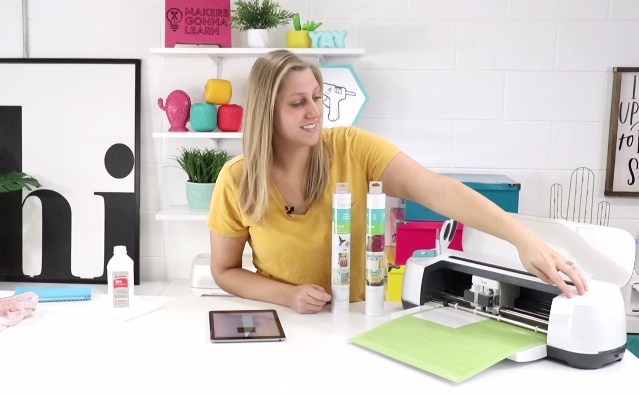 Once we've done that, we're going to load our mat and then press the flashing Cricut button.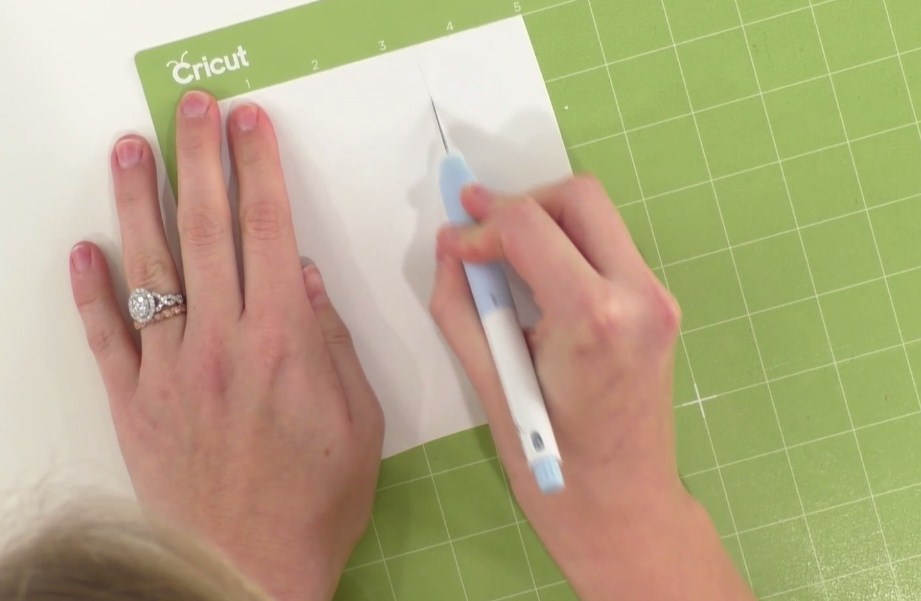 Time for Weeding
Now, our Cricut is done cutting so we're going to unload the mat. The first thing I like to do is take our handy dandy Cricut true control knife and I like to cut off the excess. We always like to save these scraps, because we don't want any of the vinyl to go to waste.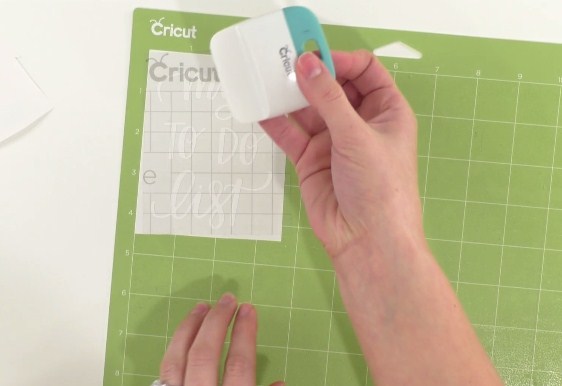 Even though it was cut with more pressure and we always use a good brand of vinyl (we always use Cricut vinyl because it's the best that we've tried), we have another handy little tip for you.
Take the tiny little scraper tool and go ahead and burnish the cut image. This really helps when you're peeling up the excess vinyl to make sure that the letters you want to stay down actually stay down.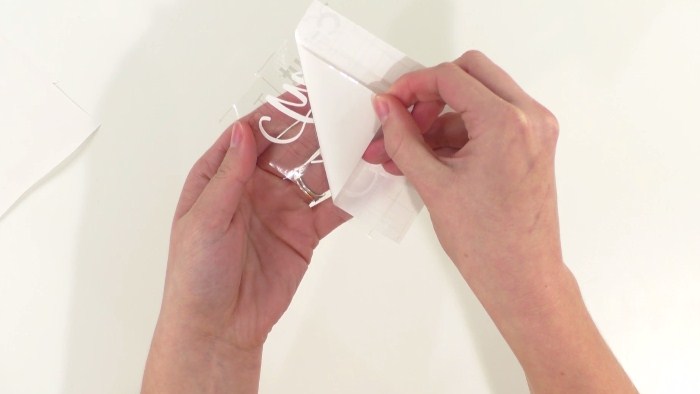 Be patient when you're weeding, especially when weeding vinyl. If you weed too fast, you could accidentally pull up a letter or a word or a design that you really do not want to pull up. Just make sure you're taking your time, really paying attention to what you're doing.
Apply Transfer Tape
Next, we've got some transfer tape cut to size, so we're just going to peel the backing off of that. A good tip here is to "taco" it. Gently fold it into a sort of taco shape and then lay it down with the middle first. Once it lays down and there are no bubbles, you are ready to burnish.
Grab a little scraper tool and just burnish away. Then, peel up your image from the mat. Now, slowly peel off the backing. Everything should peel off really nicely but if not, just lay it back down on your table and burnish it some more. Then, try again.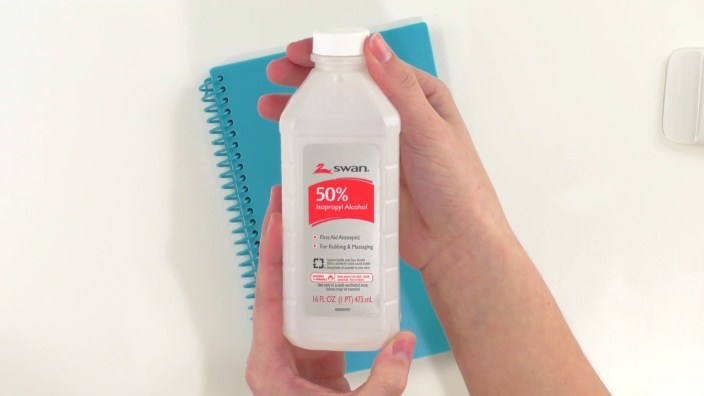 Prep Your Surface
Now this is a great little tip. Before we apply the vinyl to our surface, we're going to use some rubbing alcohol – any kind and any percent will do. Apply it to a paper towel and then wipe it all over the surface that you're applying vinyl to. This really helps your cut design to stick securely and cleanly.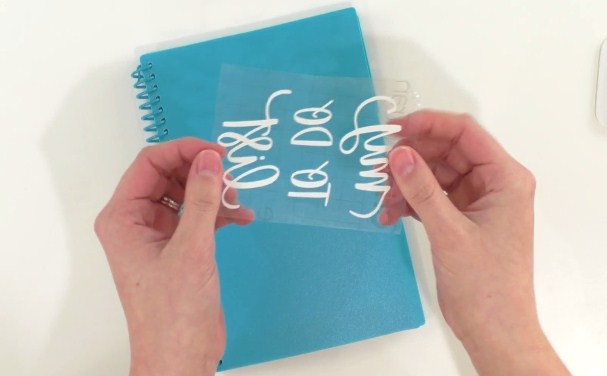 This is not going to work on every surface. If you're applying vinyl to wood, canvas, or anything like that, this might not be the best thing for you to do. But it's really great to use when you can, especially for slick surfaces.
We can now apply our vinyl decal exactly where we want it and then grab our little scraper tool again and burnish everything down once more.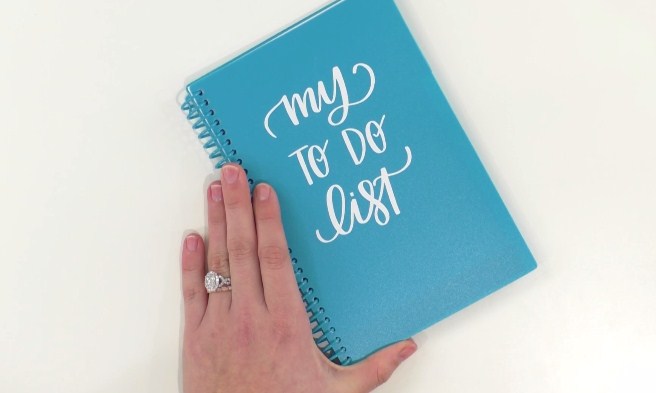 I love how this turned out! With these tips and tricks, you can add vinyl decals to anything and everything with ease. If you would like to learn more about where we got this awesome little cut file or tons and tons more, check out our Makers Gonna Learn membership. Happy creating!
Tanner, Courtney, and the rest of the Makers Gonna Learn Team are all here because we love die-cutting and especially love sharing fun projects and tutorials with fellow makers. We are all great friends and are always having a blast when we are together- you will see this on camera, especially during live streams! We are here to inspire and support you in your crafting journey!