HOW TO APPLY VINYL TO LEATHER
It's not hard to apply vinyl to leather! With our simple tutorial and Cricut tips and tricks, you'll be able to personalize any leather or faux leather (as we're using here) items exactly as you'd like. We're going to customize a notebook so we can use it for storing our super important To Do lists but you can make anything you'd like.
Don't forget, a project like this is perfect for using up those vinyl scraps too! Once you see how easy this is, you're going to be looking for all kinds of leather materials to add your vinyl cut files and fonts on. We love showing you how to stretch the limits of your die-cutting machines and use them in a wide variety of ways.
HOW TO APPLY VINYL TO LEATHER
So, let's get started. First, gather up your materials. We've got a list of what we're using below for you so you can craft along with us.
Materials
Faux Leather Notebook
Measuring Tape
We are using the My To Do List cut file from our Makers Gonna Learn membership.

Working in Design Space
Measure your notebook and size the cut file in Cricut Design Space to fit onto your surface. We're going to be working with two layers – the words and the check marks. We want to cut these in two different colors so I'm going to show you just how easy it is to cut both layers on the same mat. We love this trick!
Ungroup your layers and drag the check marks layer over and beside the rest of the file. Now if you were to click "Make it", you would see that it wants to put each of these layers on separate mats.
So, what we want to do is to change the color of the second layer so that it matches the first one. Now when you click "Make it", it's going to put both layers onto one mat.
Check the materials on your mat and see exactly where they're lined up. Make sure to place each of your layers so that they are lined up the same way in Cricut Design Space too. If needed, you can rotate the layers so they fit properly. Now, simply load your mat, select your material, and let the Cricut do its thing.
Once cut, weed your designs as usual. Then, measure and cut a piece of transfer paper big enough to fit over your first layer.
Apply the transfer tape to the vinyl and burnish with your burnishing tool.
Pro tip: We like to use the taco method to apply the transfer tape and minimize bubbles. Gently fold the tape in half (don't crease it) and lay down with the middle section first. Then, lay the tape down from the middle out.
Peel the backing off and place your design where you'd like it to go on your notebook. Burnish again and peel off the transfer tape. Repeat the process with your check marks.
Isn't this great? We love taking something plain and jazzing it up with some vinyl. As you can see, it's so easy to apply vinyl to leather and it makes for a really fun craft project.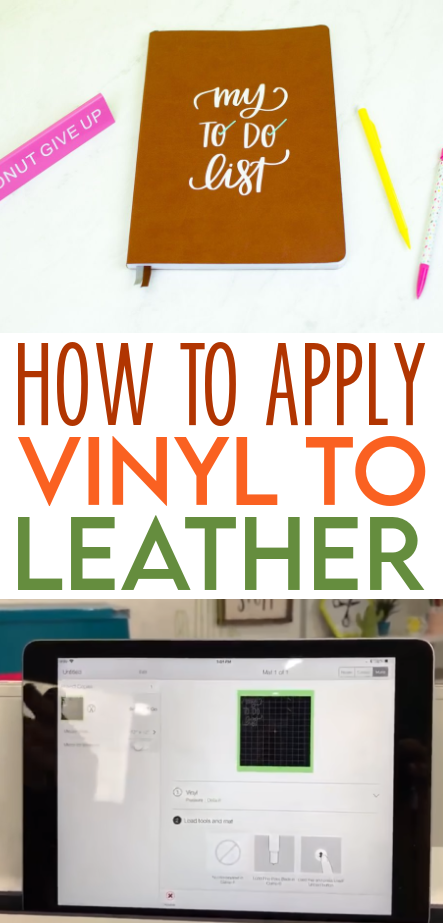 Tanner, Courtney, and the rest of the Makers Gonna Learn Team are all here because we love die-cutting and especially love sharing fun projects and tutorials with fellow makers. We are all great friends and are always having a blast when we are together- you will see this on camera, especially during live streams! We are here to inspire and support you in your crafting journey!