HOW TO SEAL CRICUT PRINT AND CUT PROJECTS
We absolutely adore using printable vinyl. It's really great and I use it all the time. One of the things that I always heard from people is that they're having trouble putting printable vinyl designs on their cars or anything that may get wet, So today, we're going to show you how to seal Cricut print and cut projects.
This tutorial is going to open up so many more possibilities for you when using Print then Cut and you're going to love it! We're going to be using a Minwax Polyurethane Spray. We are absolutely loving this spray. We use it for almost all of our projects! It's fast drying and it's going to seal in everything for you.
HOW TO SEAL CRICUT PRINT AND CUT PROJECTS
Let's start by downloading the "Print Succulents" cut file and upload it in Design Space. Select "Upload" and choose the "Print Succulent" PNG. Now, click "Remove" to remove the background, save as Print then Cut, and insert it onto your canvas.

Printing and Cutting Our Design
You can size this to whatever size you want. Remember that 6.75 by 9.25 is the maximum size Print then Cut your Cricut machine will allow you to do.
Next, simply follow the usual procedure for doing the Print then Cuts. This Print and Cut tutorial will help if you're unclear on how to do this part! We're using our Canon TS8120 and it's perfect for printing these projects! Once you've printed and cut your design, it's time for weeding!
We've weeded our images so we're going to remove them from the Cricut cutting mat and lightly spray them. I'm using some paper as a background to catch any overspray. We're going to start by lightly spraying it with the Minwax.
You definitely need to be in a well-ventilated area to use this product safely. You may also want to take the extra steps of wearing a respirator-style mask and eye protection as well.
If you know that this is going to be getting wet, you probably want to lightly spray it 2 or 3 times in total. Allow it to dry in between coats.
Sealing Our Print and Cut Project
Using Minwax Polyurethane Spray has that long-lasting protection and durability. There are some downfalls with this technique though. Using transfer tape is not as easy and I tend to just use my hands if possible.
Now, you need to let this dry well. Then, after it has really dried, I go around the image and wipe off the excess that is around the image.
Next, we're going to take our cutting board and apply all of these cacti to it. Look how adorable our cutting board is! If you want to use a transfer tape feel free to do so, but again, do it with caution so you don't peel up the polyurethane finish. For these, I just peel them off and stick them to our cutting board.
Isn't this a fun project? Just think of all the great things you can make with Print and Cut cut files that you seal with polyurethane spray. Let us know in the comments below what you make with this crafting technique using your Cricut machine.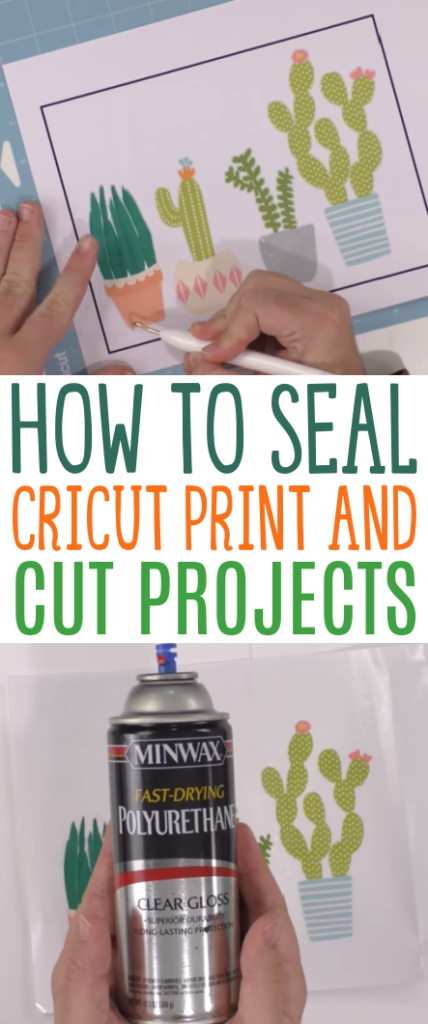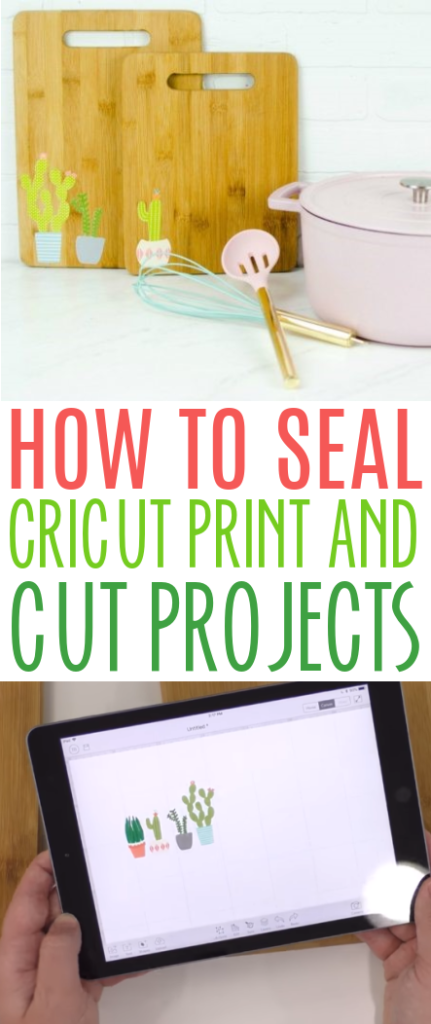 Tanner, Courtney, and the rest of the Makers Gonna Learn Team are all here because we love die-cutting and especially love sharing fun projects and tutorials with fellow makers. We are all great friends and are always having a blast when we are together- you will see this on camera, especially during live streams! We are here to inspire and support you in your crafting journey!