Writing and Addressing Envelopes With Your Cricut
June 1, 2019 by Mark
Hey everyone! Today on the blog we're going to teach you exactly how to address your very own envelopes with your Cricut. It's a highly requested video and I get emails and comments about this all the time.
Just think about how much time this would save when doing Christmas cards or wedding invitations or anything of that sort.
Writing and Addressing Envelopes With Your Cricut
We're going to use our Cricut maker and Cricut pens to be able to write on our envelopes the return address and the address we're sending our envelope to and it's going to be a lot of fun!
This is about a 5×7 envelope, so we just created a rectangle five by seven and put it as our background. We're using fonts from our membership site Makers Gonna Learn. This is our Gracie Lou font. I think it's perfect for using pens and I love the quirkiness of this font.
We like to work with this so that what we see in Design Space looks just like our final product so we work on this in layers. The first layer will be for the shape and size of the envelope. The next one will be for the return address. The final layer will be for the address of the person you're sending it to.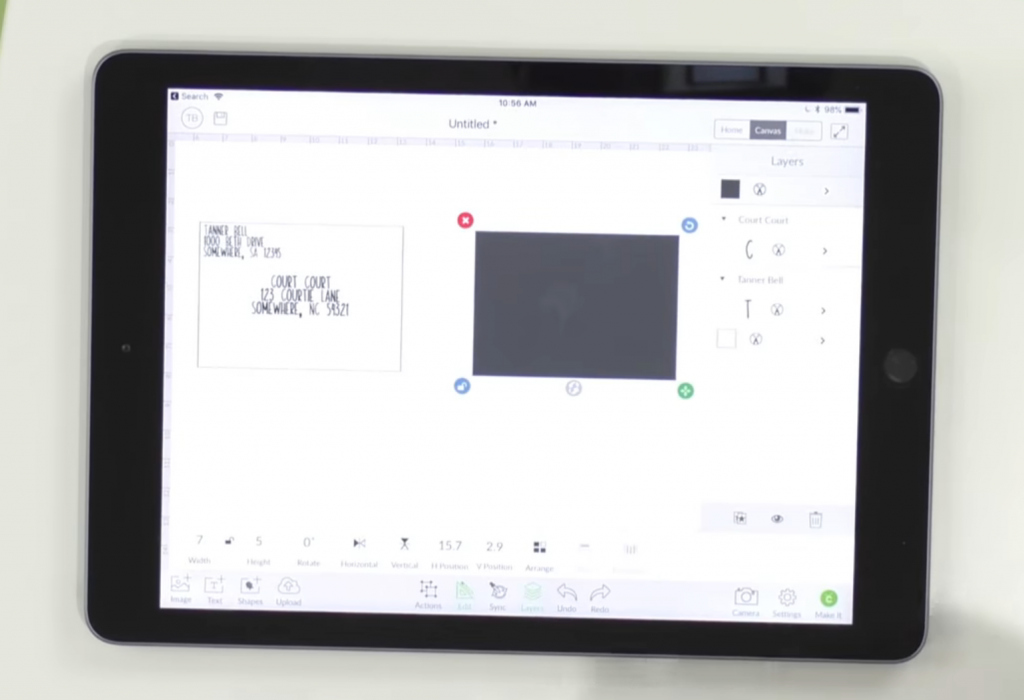 To get started, go to shapes and insert a square. We're going to take this square and select "edit". Next, we're going to make the width 7 and the height is 5. We're going to go ahead and just change the color of the envelope to white by selecting the layer. Next, select "text" and choose our system font Gracie Lou. If you're a yearly member to Makers Gonna Learn, you're going to be able to get access to that font for free.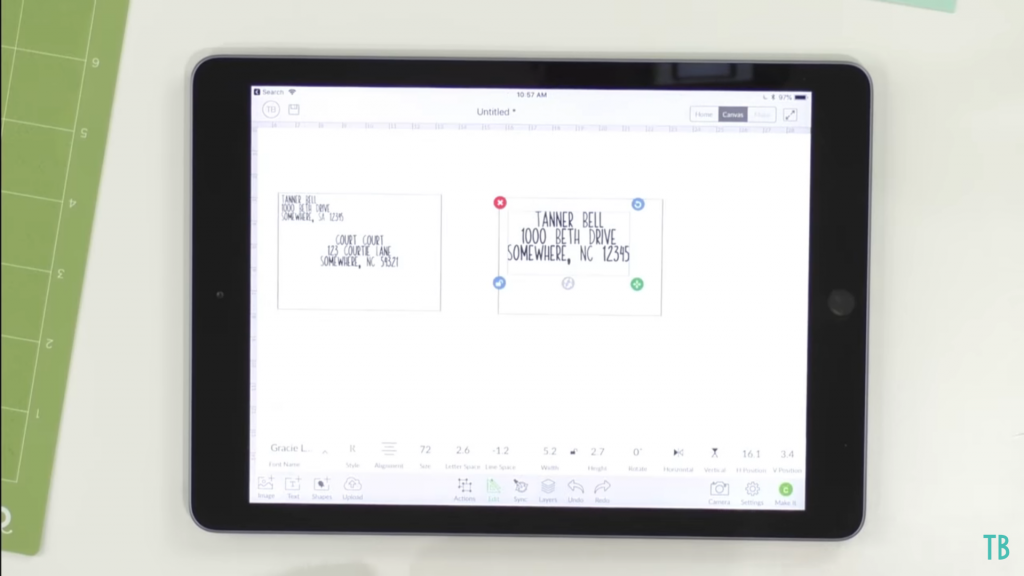 Now, we're going to type out the return address like we have here. so I'm just go type in my name and address. Adjust the line spacing and then align it to the left. So you just want to start sizing this down so that it fits properly on your envelope and moving it into position.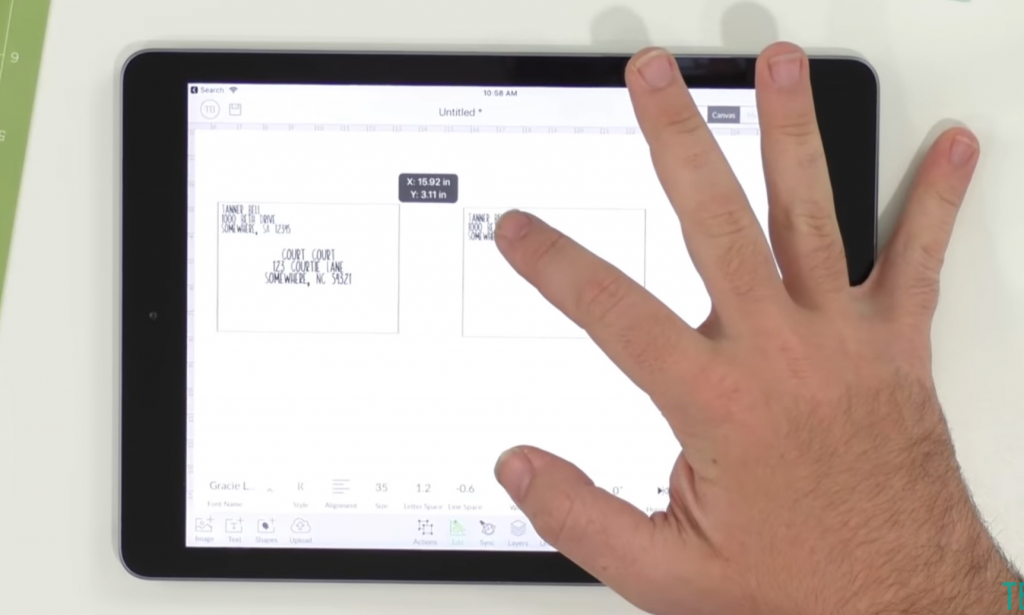 Then what we're going to do is to get another text box and select Gracie Lou font and type in whoever we're sending a message to. Align this it to the Center and then we're going to select line space and bring that down to where we want it.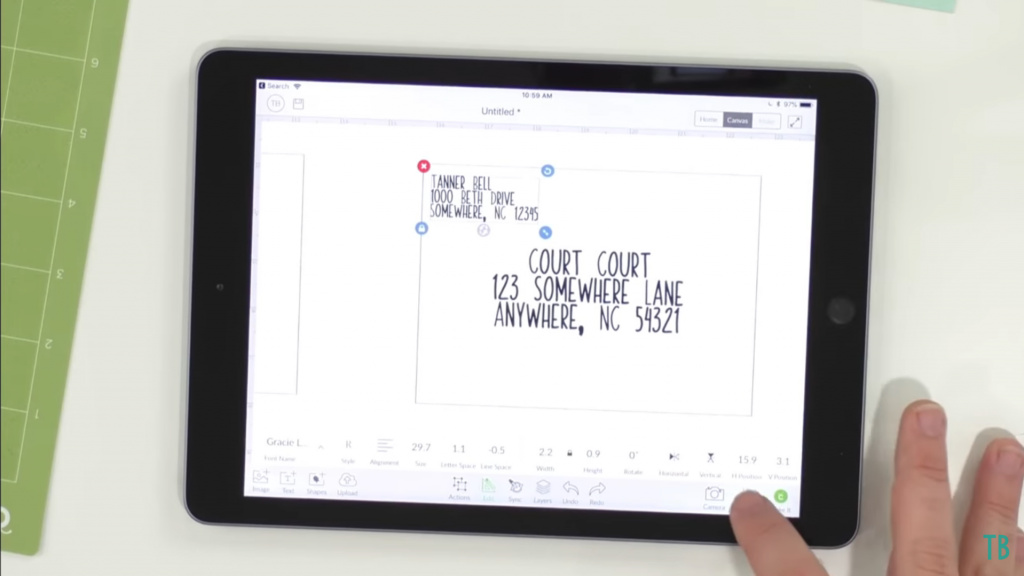 If you, we press "Make it", it is going to go ahead and put this on a two totally different mats and it's going to look very different than it looks on our canvas. What we need to do to make this stay together is first, we need to delete the white rectangle at the back since this was just for reference on our mat. We're going to select the X and delete that. Then select our text, click actions and select "attach".
One big note here is that in the layers panel, you need to change from cut to draw and you want to select the pen you're using. Today we're using the gel pen 1.0 black. So, just scroll through and find that pen and select. Then, repeat that for the other text. Now that we're good to go, it's ready and we're going to be able to press "Make it".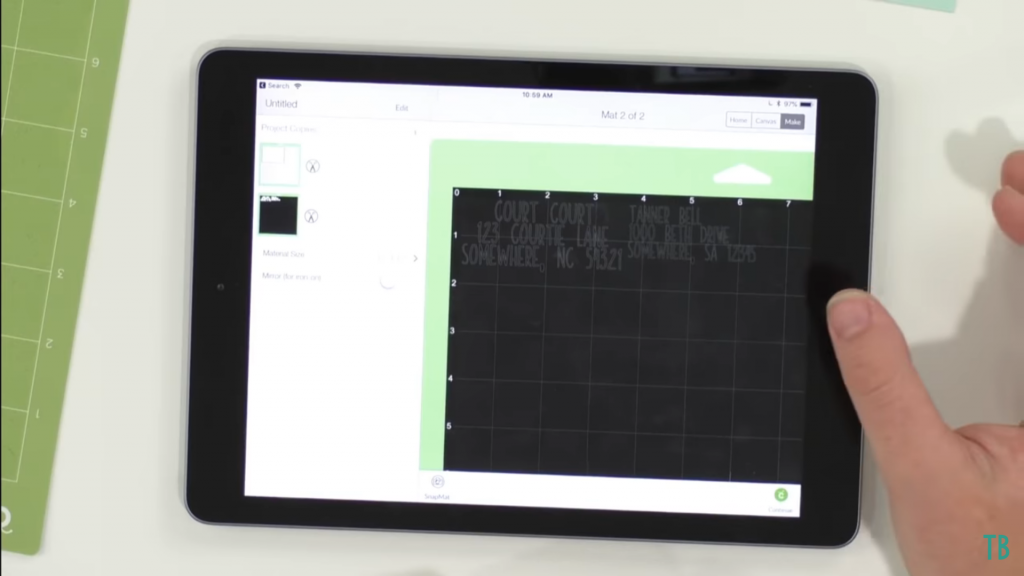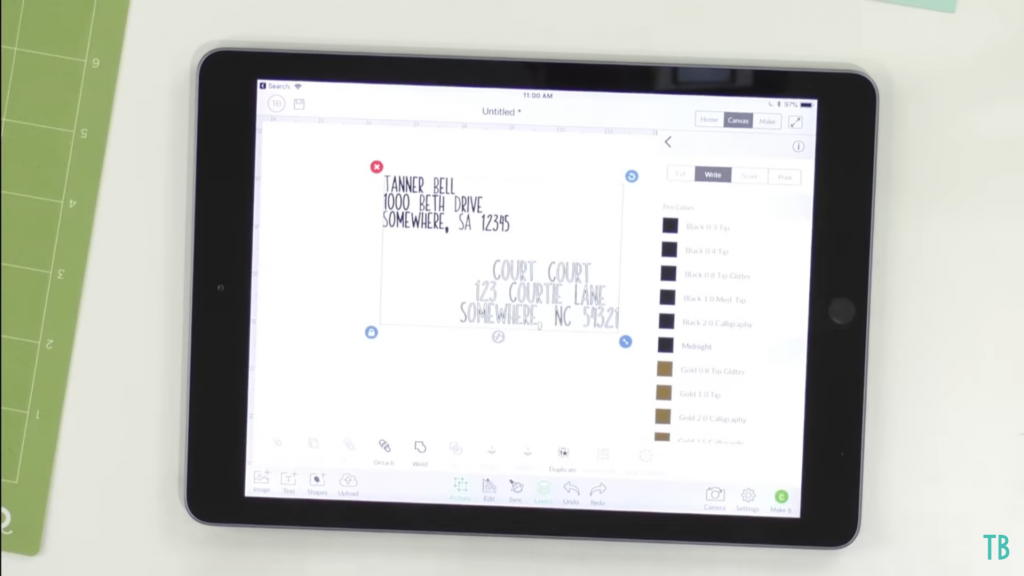 We're going to select replace and it's already formatted right here on our mat. So now, we're able to take one of our envelopes and we're just gonna place it down on our mat right up in the top left-hand corner. Then we can press continue. We're going to connect via Bluetooth and then we're going to take our pen and open it. Put the cap right on top of it so you don't lose it! Now we simply open clamp A and pop the pen into place. Close clamp A. Once you hear that click, you know you're good to go. Next, we're going to select the light cardstock for the envelope and then we're going to turn fast mode on.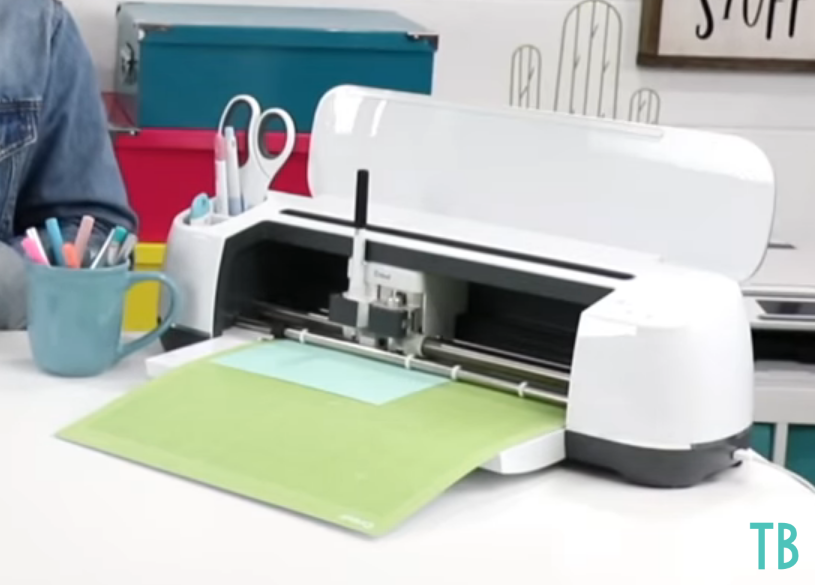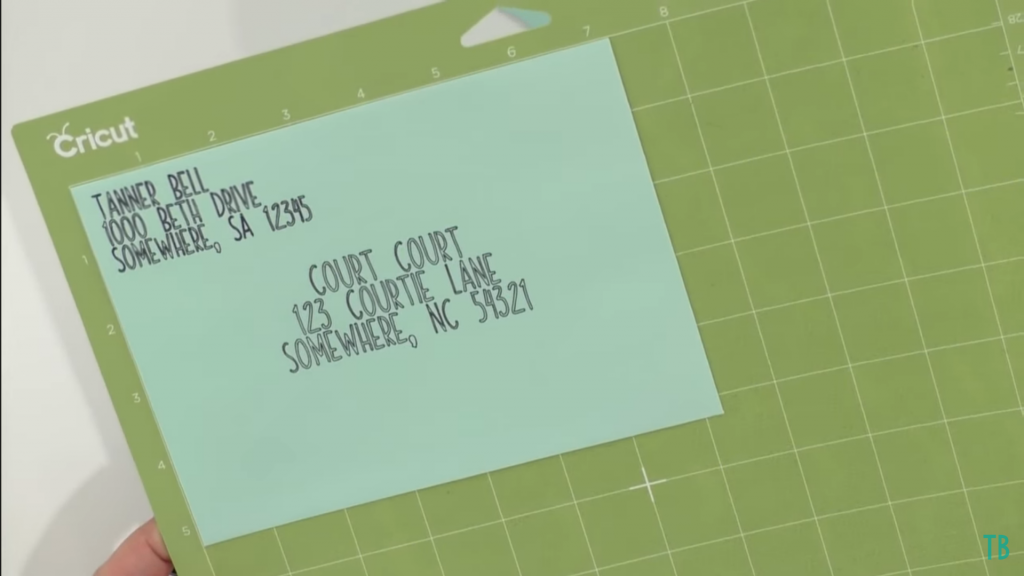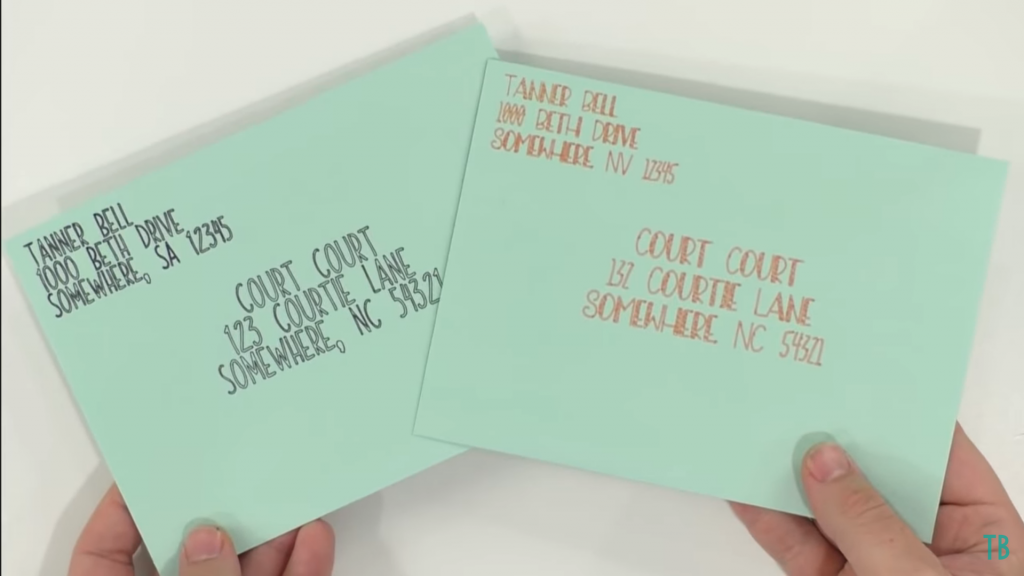 Once you're good to go we'll press the flashing Cricut button and it'll start our drawing. When the drawing has completed, it lets us know on our iPad and then the flashing unload button is happening. So, we just want to press that. Look at how beautiful this turned out! I love the look of it. It is such a professional look and so easy to do. This is such a fun way to address envelopes. This was a highly requested video and I hope we answered a lot of your questions on how to do this process.